Hoi An is not only famous for its unique rows of ancient houses wearing yellow suits. Which comes here also an extremely attractive place in "Cu Lao Cham". Travel here with friends and relatives is nothing better staying at a homestay in Cu Lao Cham, experiencing the life of the people here.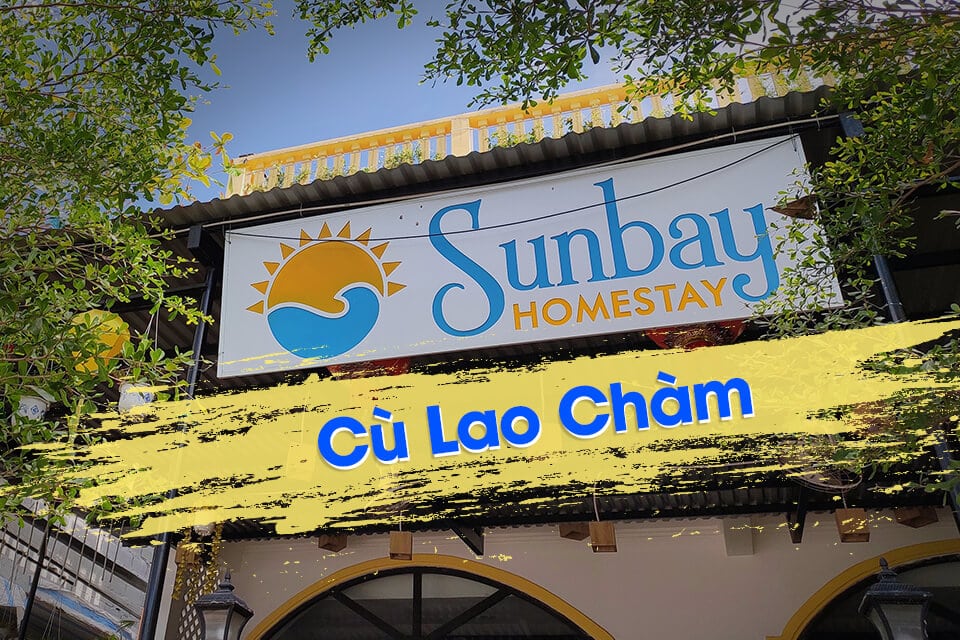 The article bellow I will introduce for you some information about Cu Lao Cham. As well as summarizing some beautiful Cu Lao Cham homestays, beautiful views are free to live virtual for your stay when coming to this beautiful Island
1. Sunbay Homestay (Sea view, harbor and market)
If you are looking for a place to stay when you visit  Cu Lao Cham, don't in two minds about homestay to choice, I will recommend for you with the best view homestay with criteria of the beach is Sunbay Homestay !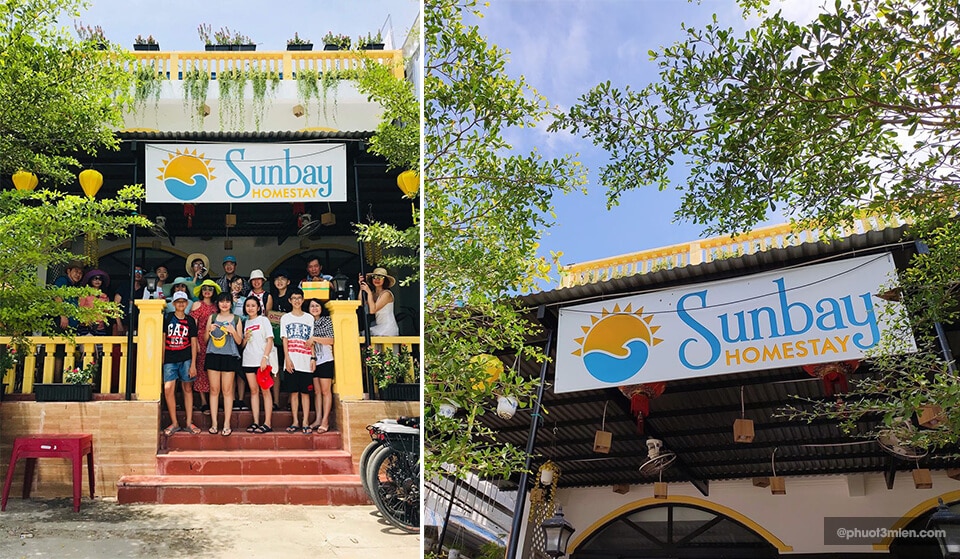 Homestay is located right in the center of Cu Lao Cham Village at the wharf. From here, you only walk about 100m to the North to reach Co Cham Pa well, Hai Tang pagoda, Au Thuy Cu Lao Cham. A little more up is going to Bai Ong, the most beautiful beach called Cu Lao Cham with the green coconut trees.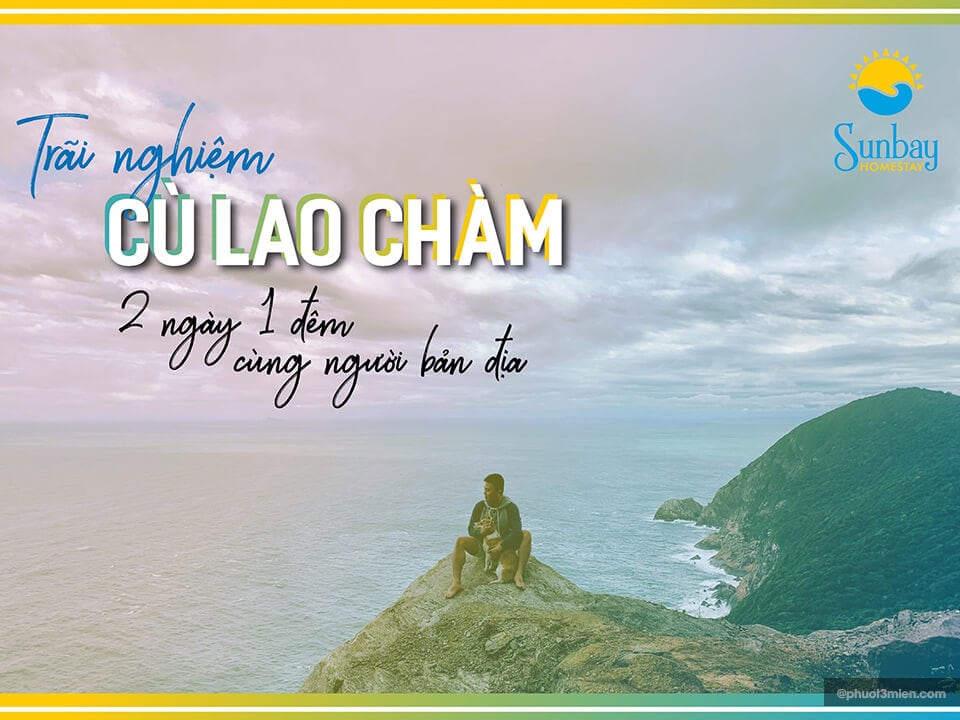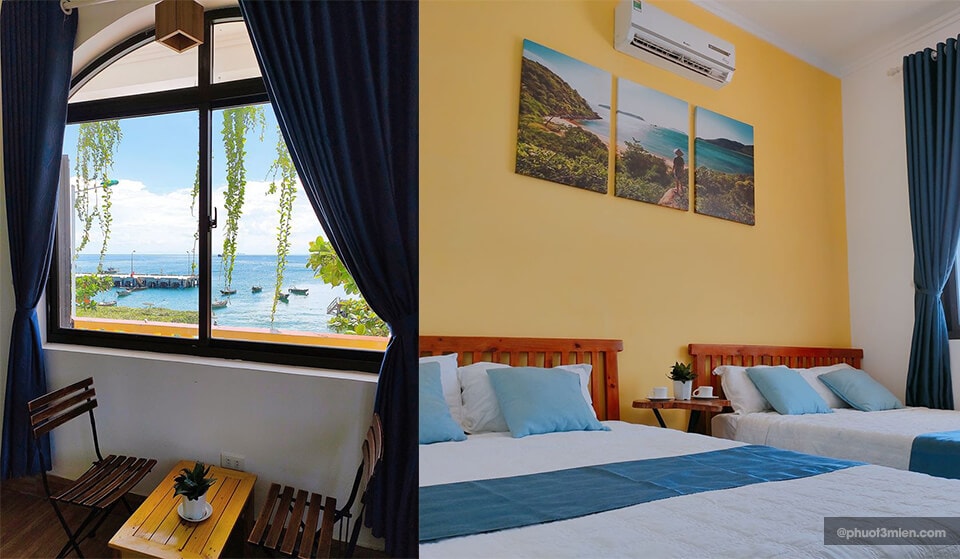 Down to the South, just over 80m is a beach and a basket boat of fishermen in Tan Hiep commune. Cross the high slope at the end of the road to Bai Xep, pristine beach, and countless population corals so beautiful.
At Sunbay Homestay is not only a homestay but also a small cafe right in front of the sea, overlooking the beautiful harbor, and a restaurant to serve the great seafood dishes of Cu Lao Cham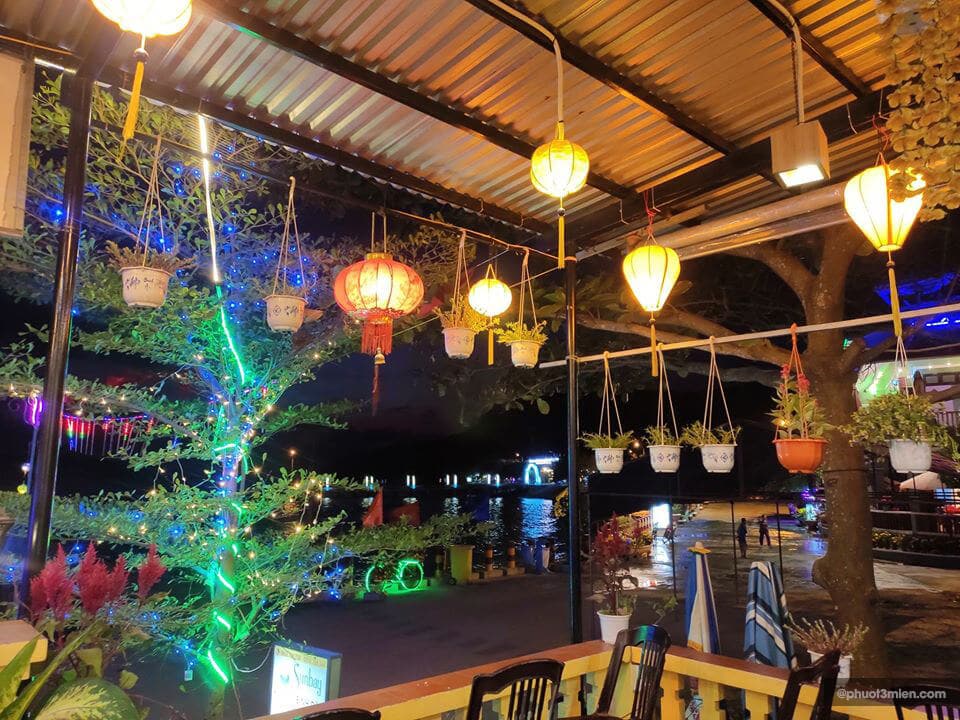 Moreover, Sunbay Homestay also has self-organized tours for you to stay at Sunbay Homestay such as: Sightseeing around the island by wooden boat and diving to see coral, night squid fishing tour, morning fishing tour, sightseeing tour around the island by motorbike, a basket boat tour with fishermen …
Come here to discover all active and feel a fresh places, quite, peaceful, convenient… i think you will be like
Address: market at Bai Lang Cu Lao Cham – Hoi An – 089 898 25 09
Link Booking: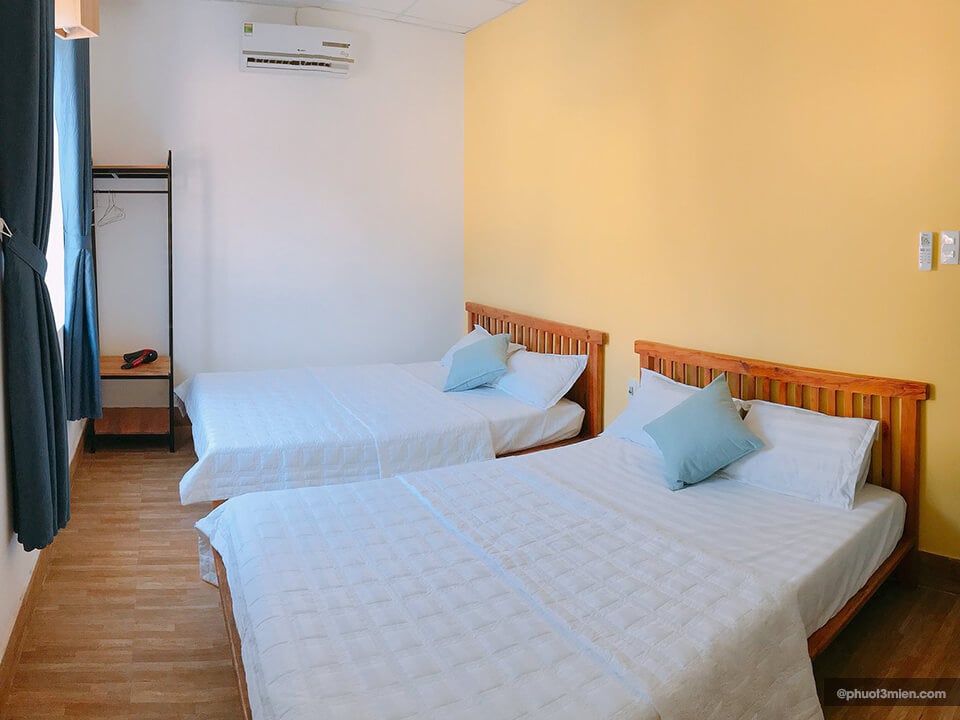 2. Hammock Homestay at Bai Lang ( Recommend )
A great homestay in Cu Lao Cham to stay, the owner is very friendly. Cooking delicious, you will feel excited when enjoying the dishes that she cooks.
If you are going through Cham Island, do not miss the LINH house, great welcome, great meals, comfortable rooms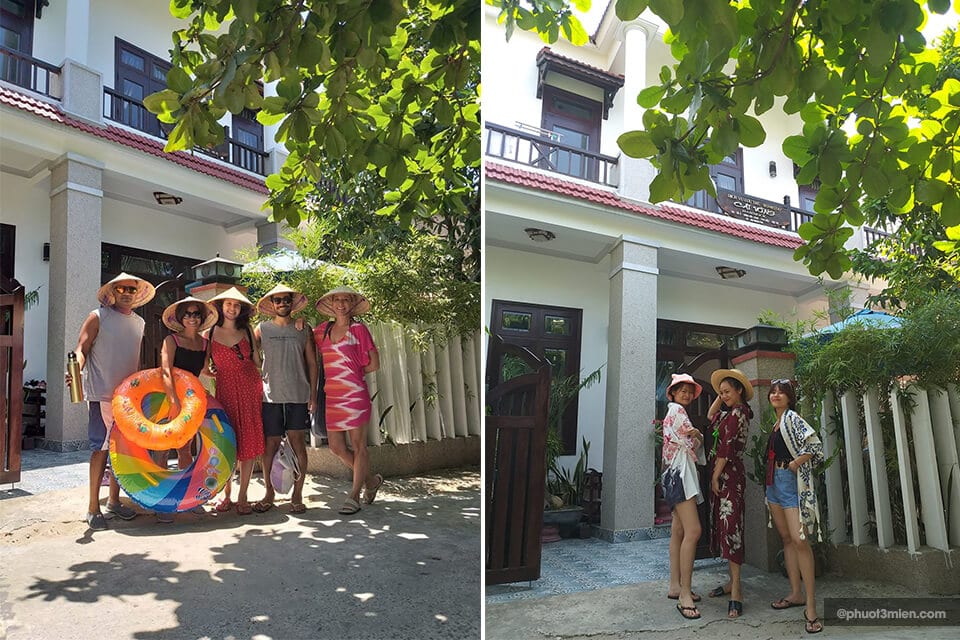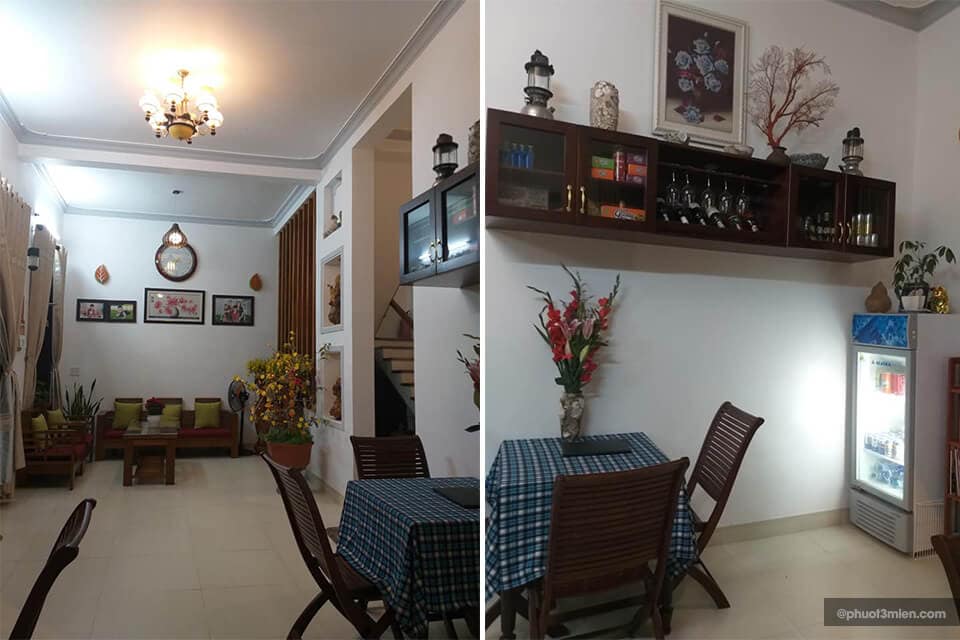 Nice location near the harbor. Ms Linh's house has provides snorkeling tours at the homestay
The room is clean, spacious and comfortable for you to live, has a kitchen, full of things for you to use
Address: Bai Lang _ Tan Hiep (Cu Lao Cham) _ Hoi An
Contact: 0976605750 Ms Linh
Link Booking: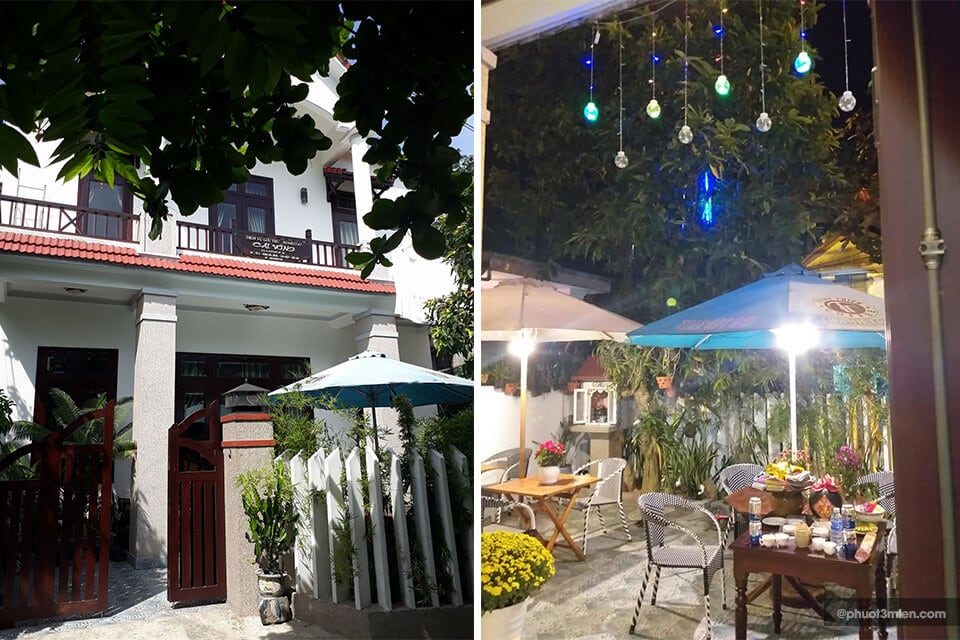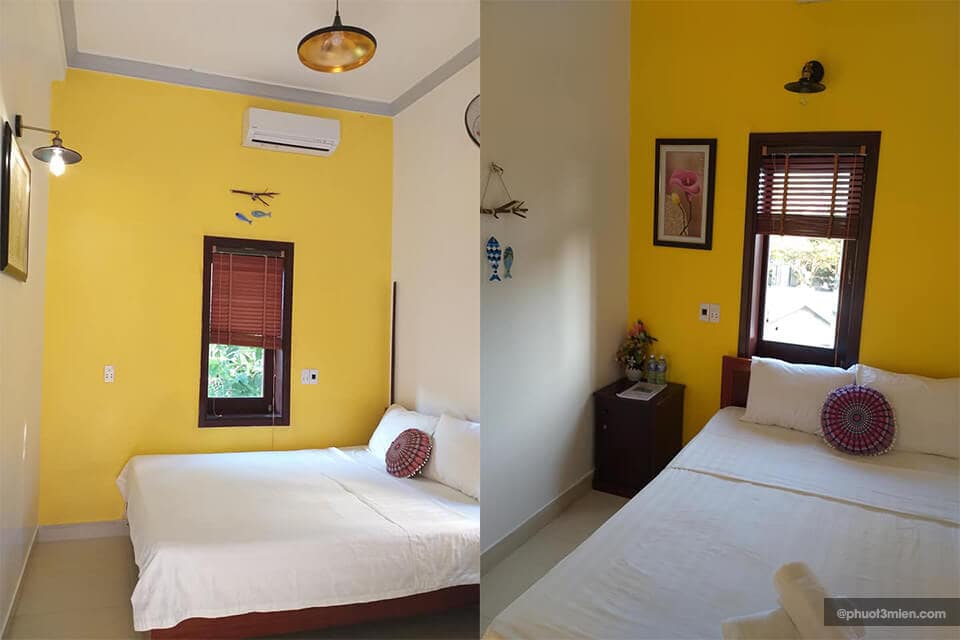 3. Cham Island Homestay – at Bai Huong| have service tour
Homestay on Cu Lao Cham Island – Enjoy a combo of 3 days and 2 nights homestay Bai Huong (only 40 USD – 880,000 VND).
Or a tour of Cham Island 2 days 1 night (20 USD – 440,000 VND) including room, meal, diving / fishing on the most beautiful island in Vietnam.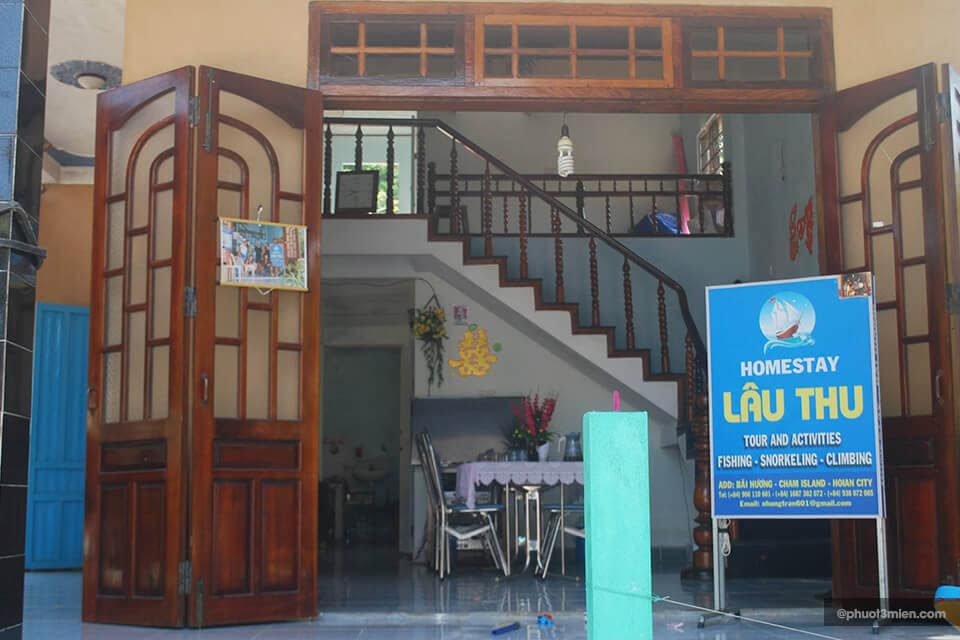 Experience local real-life, discover a beautiful coral garden on a snorkeling tour, be a fisherman for a day and catch your lunch on the hill to watch the sunset, enjoy a cup of coffee right on the beach, eat fresh seafood and enjoy the peaceful starry nights
Besides the tour, the homestay includes rooms and other services for your flexible options if you do not want to book the combo:
Price service at Cham Island:
Accommodation / room: VND 120,000 / person / night (US $ 5.5)
Lunch / dinner: VND 70,000 / person / meal (free tea)
Breakfast: VND 30,000 (with coffee)
Diving /  Go Fishing: VND 150'000 per person (with equipment)
Address: Bai Huong, Tan Hiep, Hoi An – Quang Nam
Contact: 090 611 06 01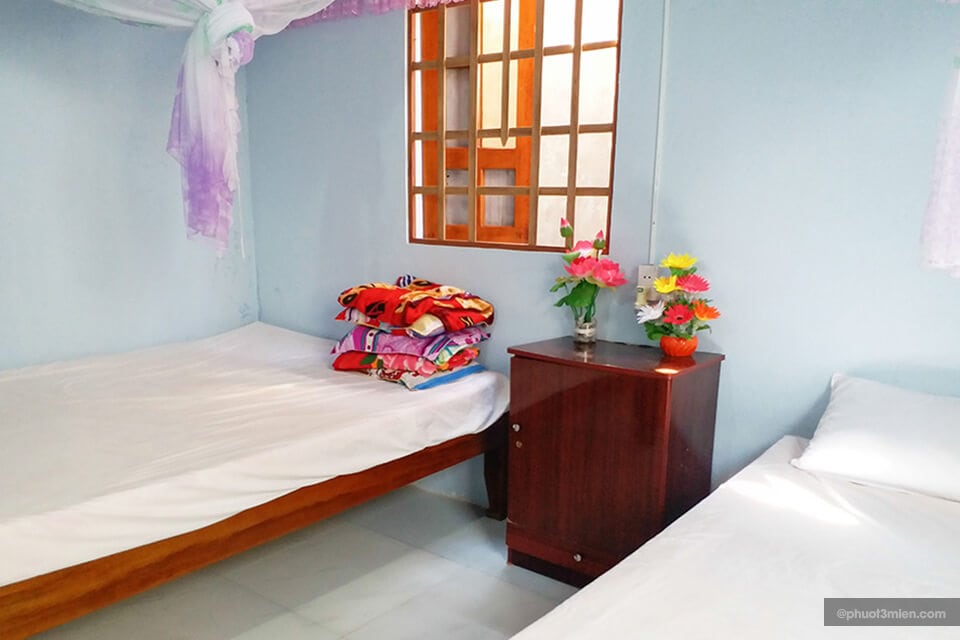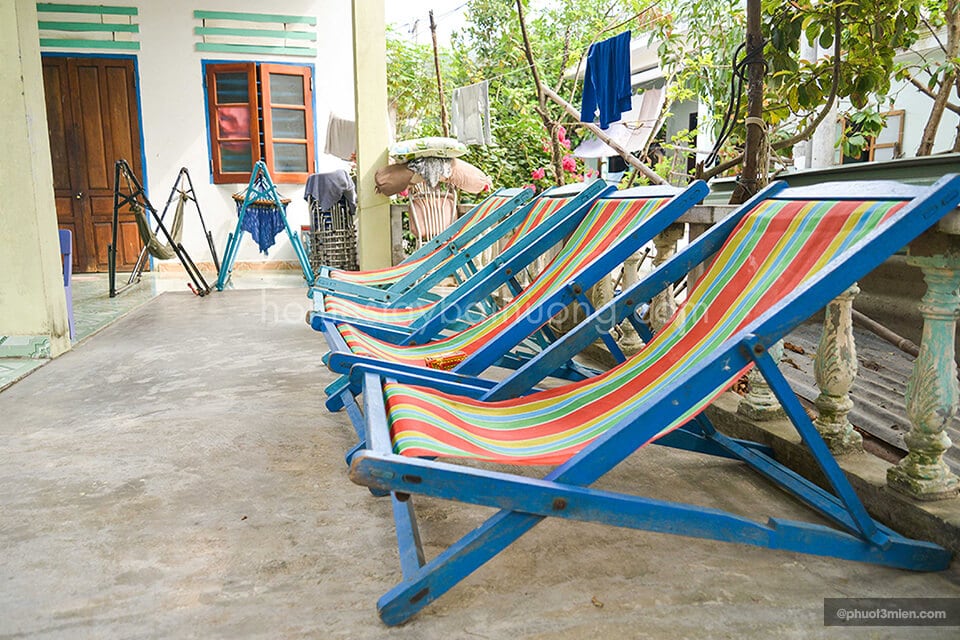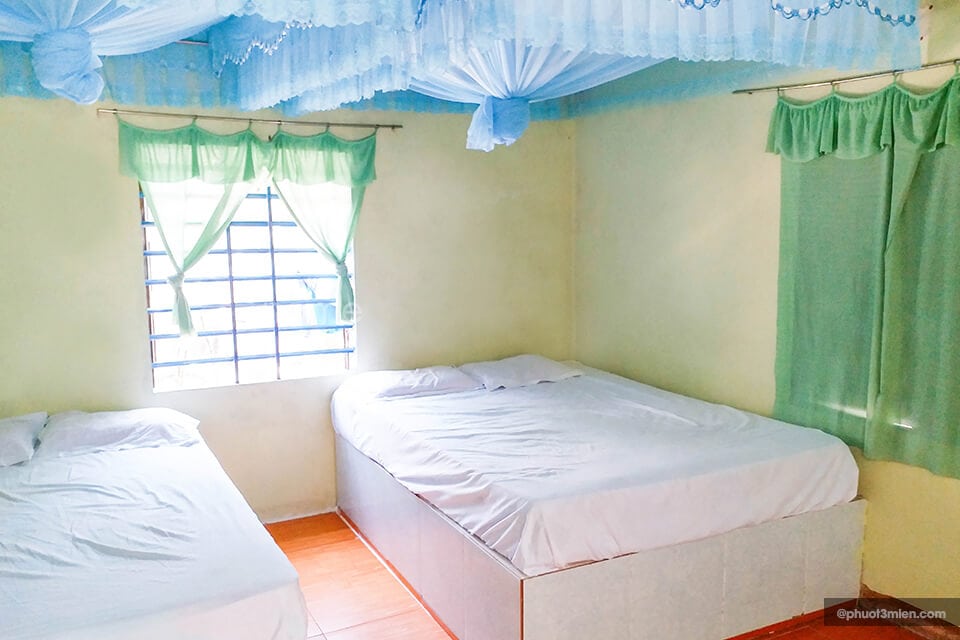 4. Trang Vu Homestay – There are boats for diving to see the coral
Located in Tan Hiep, 1.7 km from Cu Lao Cham Island, Trang Vu Homestay Cu Lao Cham has a private beach area. The house has a terrace so guests can enjoy the wind and sit down to chat with friends.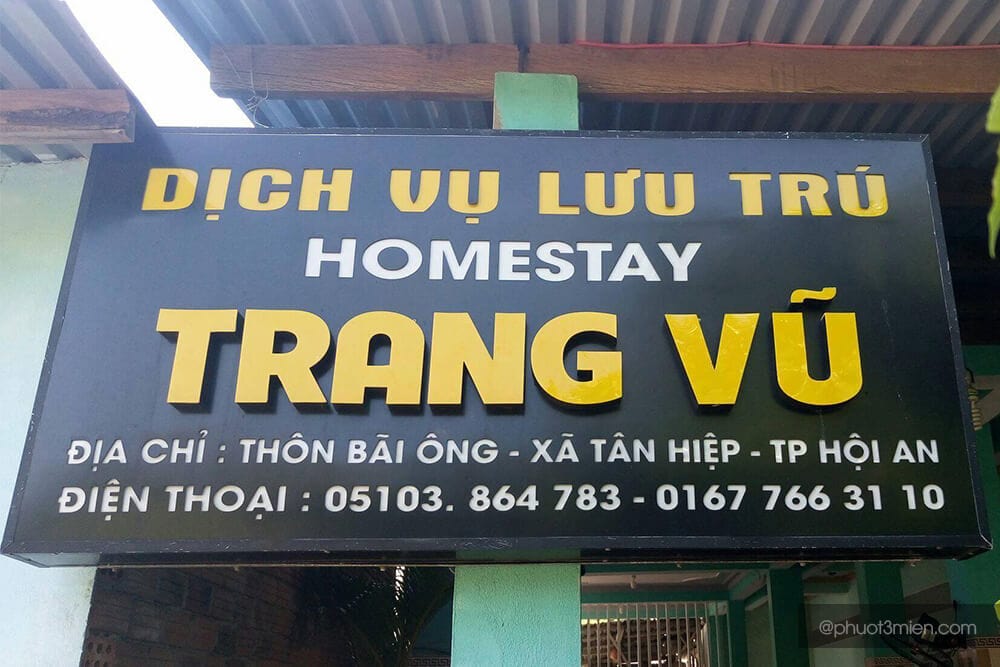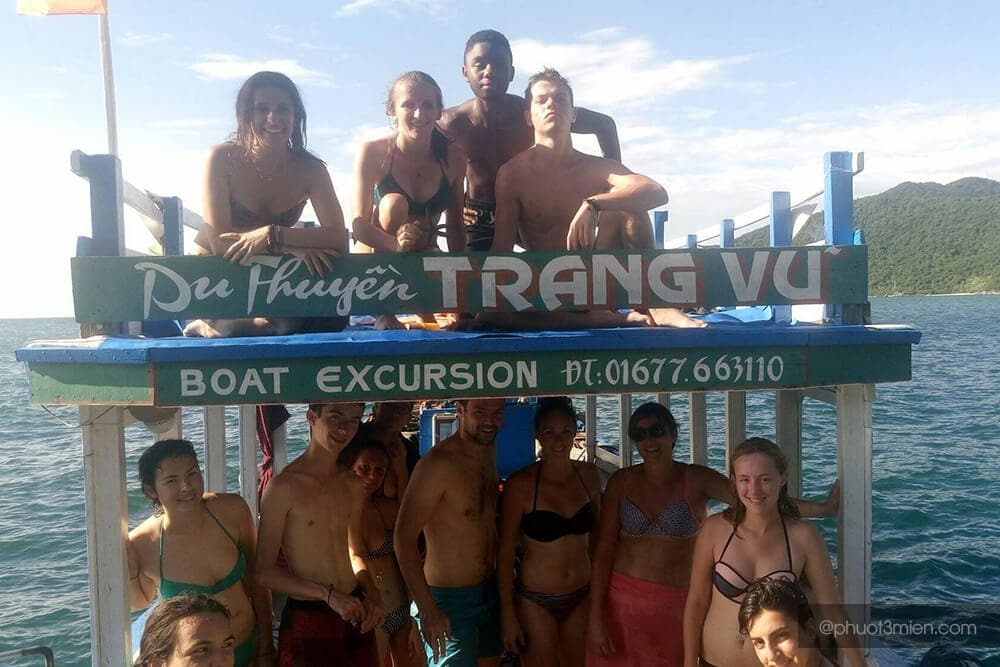 Each room has a private bathroom. There is a shared kitchen at the homestay. Bike hire is available at home and there is a guided tour for snorkeling
Address: Bai Ong, Cu Lao Cham, Hoi An, Quang Nam
Contact : 0377 663 110
Link book Online: https://www.agoda.com/vi&hid=926872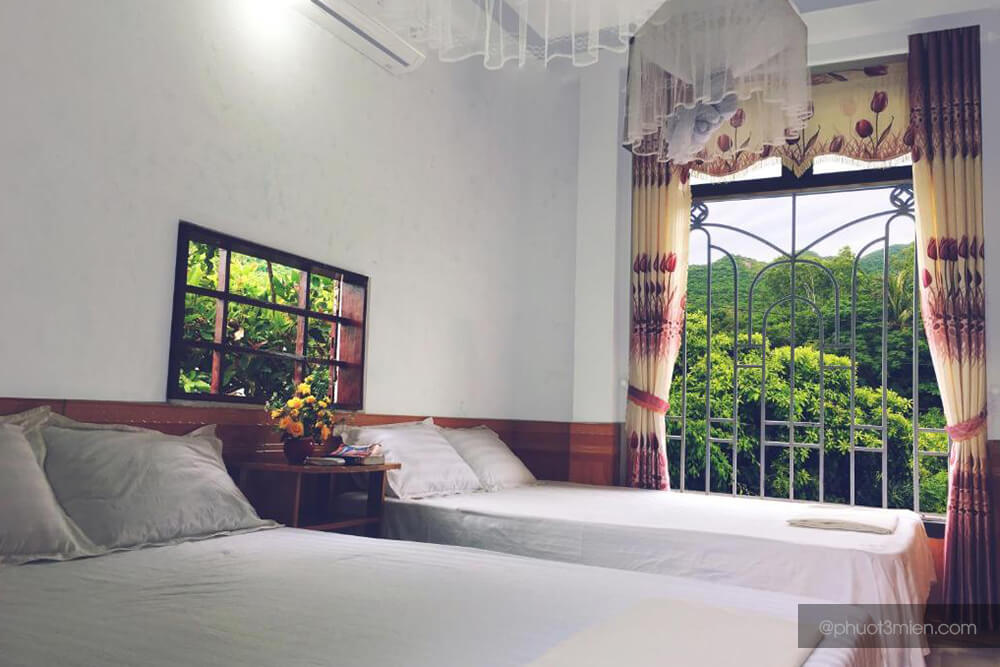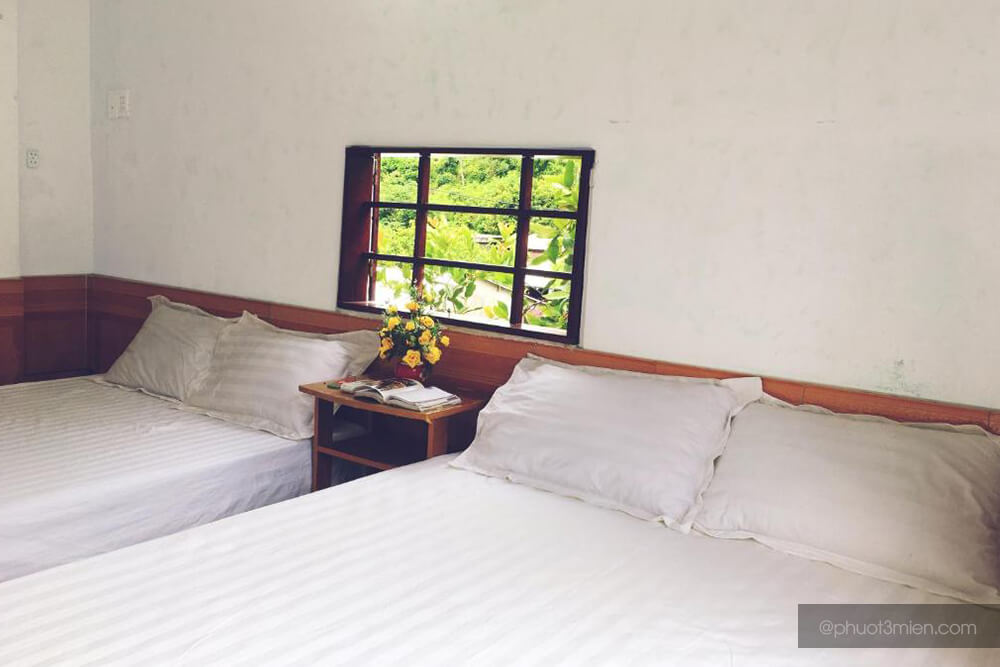 5. Nhi Lo Homestay – Bai Huong party
Share from " Ngan Giang "
The uncle was extremely friendly. The first time I was in a homestay that was treated like a family member. The uncle invited me to eat rice, remove the fish, pick up the food, it feels like eating with my parents at home.
About the accompanying service is also extremely quality, he took to see the coral in the pristine waters, many corals, and extremely beautiful fish. Unfortunately, there are no fishing opportunities to try. But she was able to enjoy the delicious foods of Miss Nhi
Address: Bai Huong, Cu Lao Cham, Hoi An, Quang Nam
Contact: 0354 199 944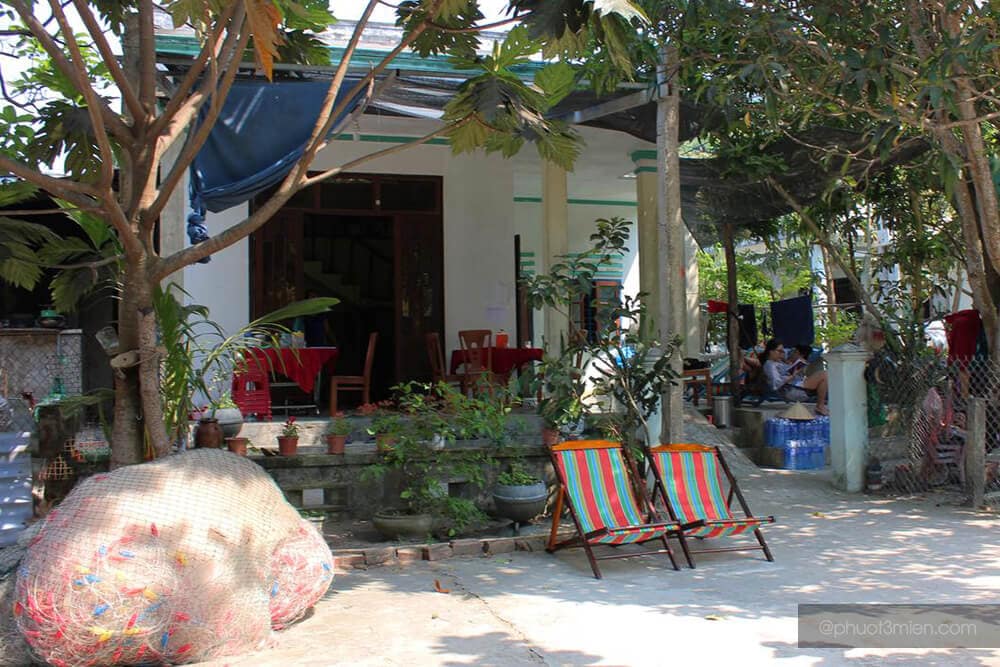 6. Tuan Thanh Homestay – Cu Lao Cham Village
HOMESTAY  located in Group 1 – Bai Lang Village – Tan Hiep Commune – Hoi An City – Quang Nam is a prestigious and cheap Homestay in Quang Nam, which is highly appreciated by customers and tourists for the quality and style of service.
There are beautiful new rooms, with fans, airy … With reasonable prices (contact the hostel for more details) customers can choose for themselves the appropriate room type.
Address: Cu Lao Cham, Hoi An, Quang Nam
Phone: 0906 444 450
Link đặt phòng: https://www.agoda.com/vi&hid=2419392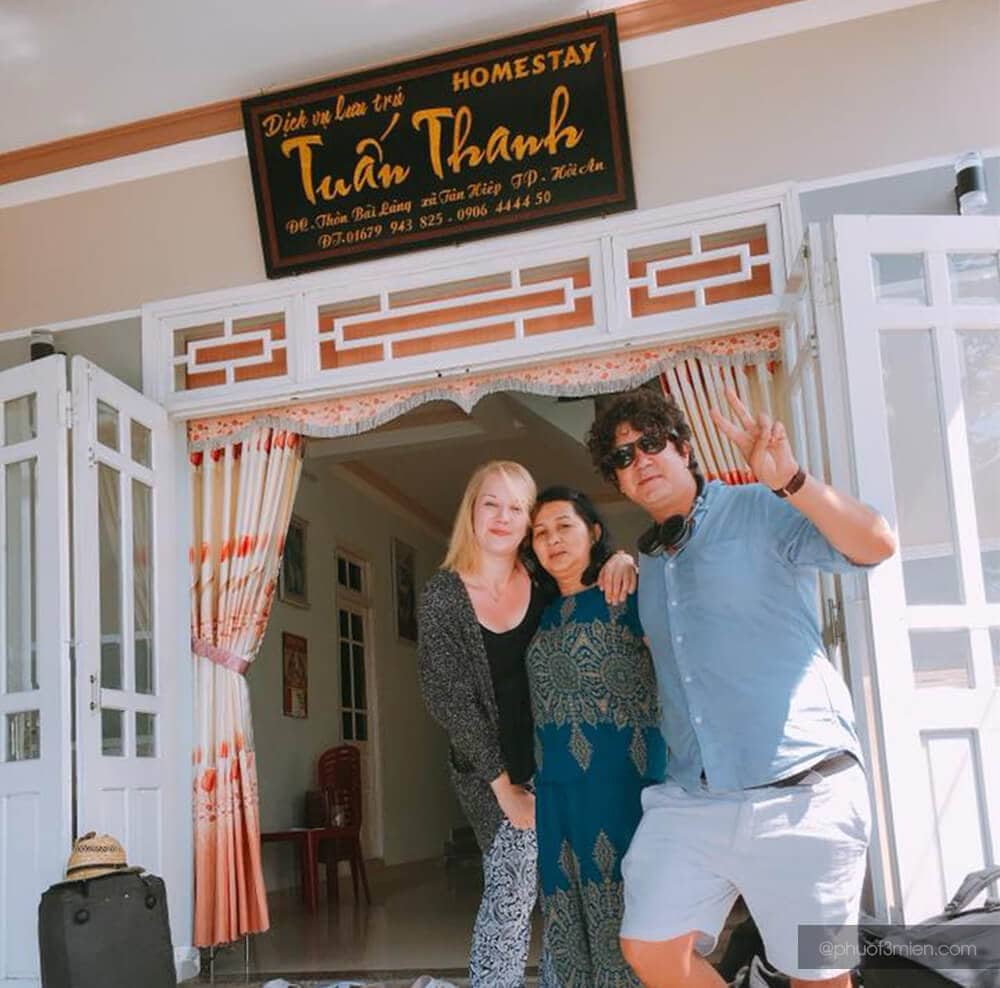 7. Island Smiles Homestay
This is a beautiful place to stay in a quiet fishing village full of peace.
Address: Bai Huong, Cu Lao Cham, Hoi An, Quang Nam
Phone: 090 539 51 23
Link đặt phòng: https://www.agoda.com/vi&hid=1193279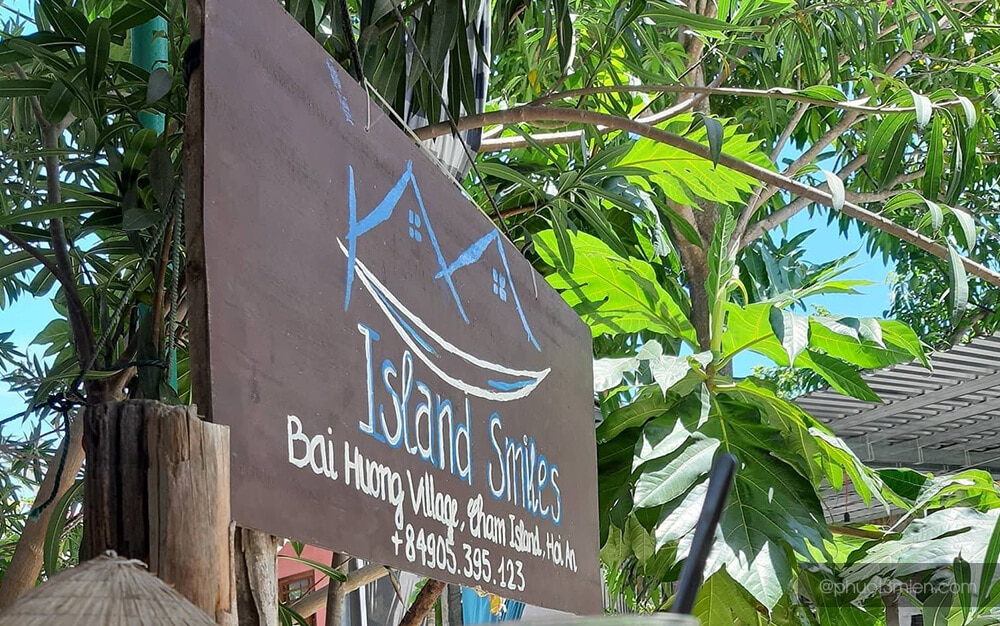 8. Hiep Tung Homestay
Address: Bai Huong, Cu Lao Cham, Hoi An, Quang Nam
Phone: 0354 199 944
9. Ms Tam Hien Homestay
Address: Bai Ong, Cu Lao Cham, Quang Nam
Phone: 0120 618 3516
10. Ms Bich Van Homestay
Address: Bai Ong, Cu Lao Cham, Quang Nam
Phone: 01695 007 779
11. Mr Huynh Van Tri Homestay
Address: Bai Lang, Cu Lao Cham, Quang Nam
Phone: 0974 994 189
12. Ms Thu Trang Homestay
Address: Bai Lang, Cu Lao Cham, Quang Nam
Phone: 0985 237 941
13. Ms Lan Homestay
Address : Bai Huong, Cu Lao Cham, Quang Nam
Phone : 0510 3863 822
14. Ms Hiep Homestay
Address :Bai Huong, Cu Lao Cham, Quang Nam
Phone : 0986 651 448
Bonus: boat & Cano go to Cu Lao Cham
Cu Lao Cham Island is about 20km east of Hoi An city. Traveling from Cua Dai Wharf by Tan Hiep Boat Boat or speedboat. The Cu Lao Cham ferry boat departs from 7:30 am to 8:00 pm daily.
The time to go by boat is quite long, about 2 hours so I recommend it only for those of you who are healthy and do not get seasick.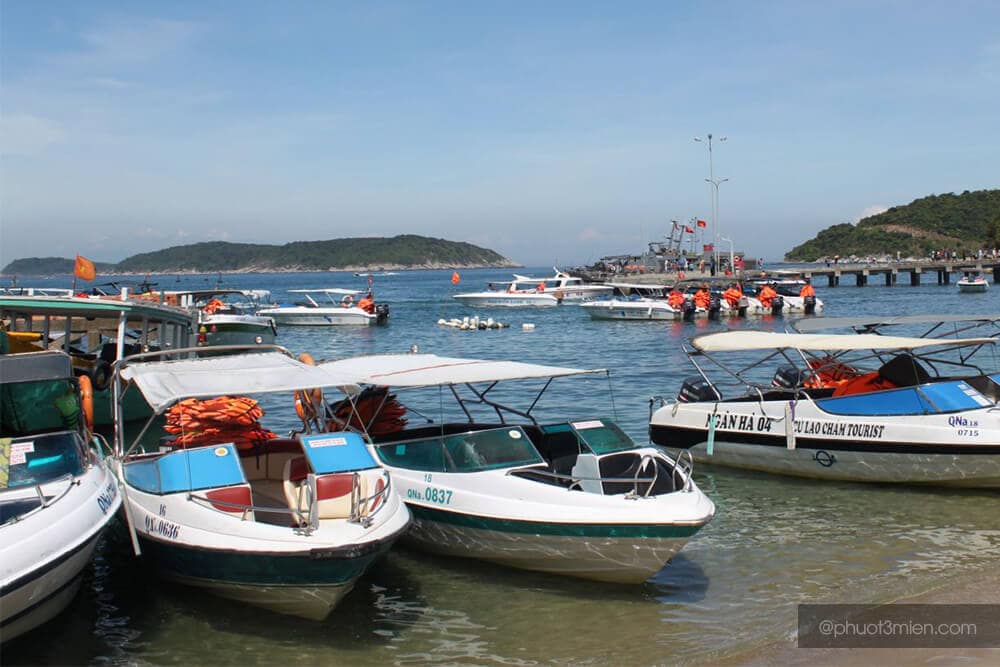 The beauty of taking a ferry is that you can enjoy the vast sea view slowly, letting your soul fall into each wave to forget the feeling of hardship in the city.
Boat cost is cheap, about 40,000/pax, 2 way is 80k + 90k island fee is 170k and sold right on board. For those of you who do not want to take too much time and do not have good health, I recommend you to choose high-speed Canoe.
Going to Cano is free to enjoy the thrills when the ship whizzes by on the sea (it feels so good). It only takes 25 minutes to go by Canoe, so it will save you a lot of time.
The departure schedule of Cano is usually from 8:00 am and afternoon departure from 2:00 pm. There are many ships going to the island every day, so you can rest assured.
The price of Cano to the island two-way is about 390K / 1 you include the fee to visit the island in it. Can you ask the homestay to book it for you?
Writer: Trung Nguyen
See more:
Top 5 restaurants best chicken rice in Hoi An