Together with Cao Lau, Hoi An's chicken rice has now become the signature dish of cuisine culture of Hoi An's people, which makes ​​up the famous brand in the culinary map for local and foreign tourists when visiting to this cultural world heritage. Chicken rice is a Hoi An's specialty that you should  enjoy if given the opportunity to visit this place.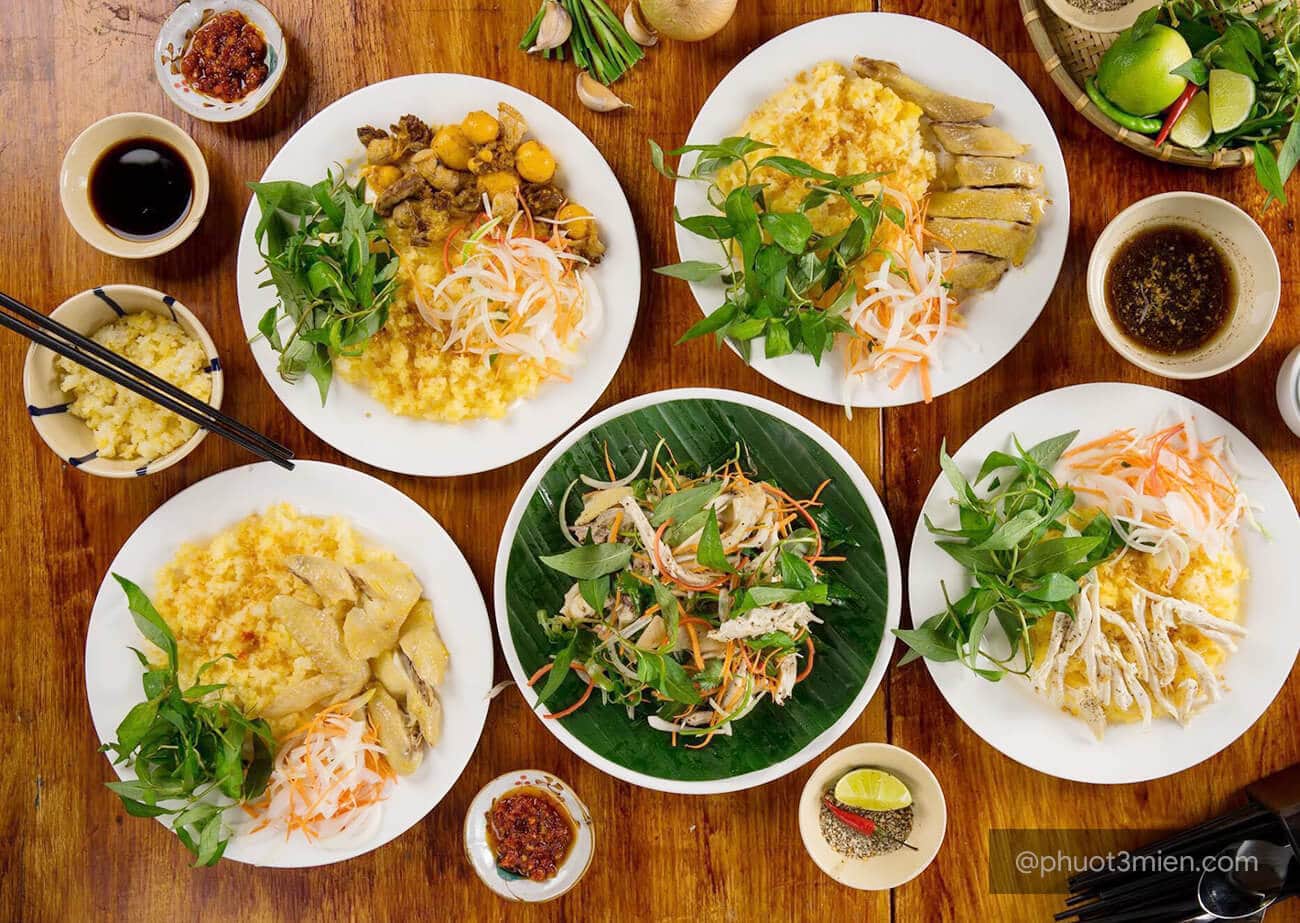 Although the land of Hoi An has always been famous for its rich cuisine with many different delicacies, when we mention to the most delicious dish of Hoi An, many visitors remember it forever the first name to be called is Chicken Rice in the old town (Chicken Rice Hoi An).
Chicken Rice Hoi AN – Culinary Arts of Central Viet Nam 
Walking through the alleies in Hoi An, tourists will be kept hold of seductive aroma of many delicacies. Plenty of snacks are scattered all over in the corner and the road. There is one thing that many people often transmit to each other that not eating Hoi An's chicken rice is considered as not really visiting Quang Nam. Maybe this somewhat exaggerated saying stems from hometown pride when it comes to chicken rice – a strong and unforgettable home flavor of Hoi An's people. However, the fame of Hoi An's chicken rice is also rated by Lonely Planet – a well-known tourism magazine, as "A tasty dish, it's something that makes people loving chicken have to give it a try … "
Chicken rice in general has always been a familiar and popular dish among Vietnamese. Whether it is in different ways of processing according to regional preferences.
The North of our country stands out with boiled chicken rice, which is chop into pieces and dips with salt and pepper combine with lemon leaves,  and eat with rice or sticky rice. Southern chicken rice is a little different in the way of processing, the Southern people prefer to eat greasy or fried chicken to eat with white rice because they prefer the fatty crispy of oil combined with chicken.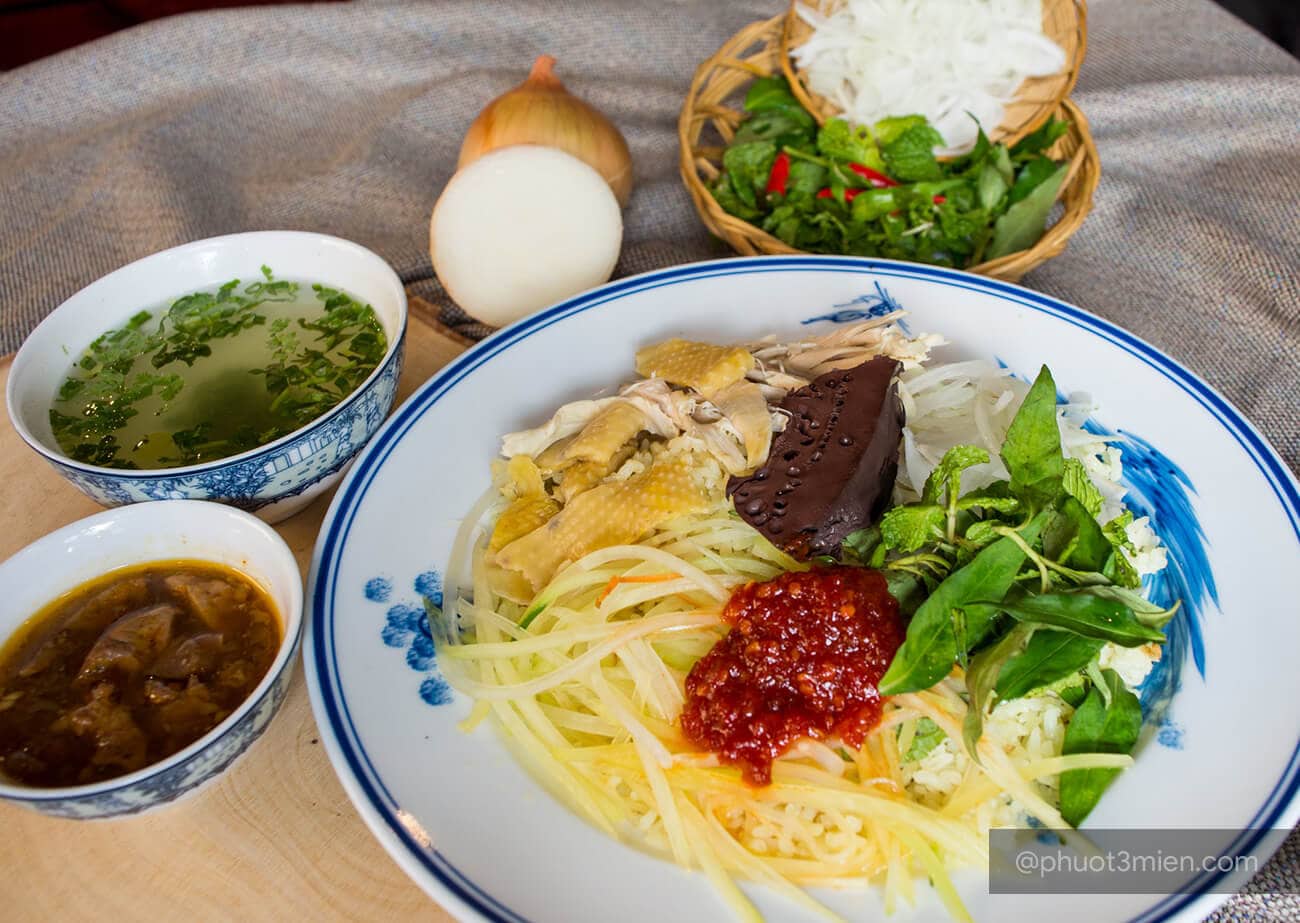 Also in the Central strip or more specifically Hoi An, there is a very different type of chicken rice, which is shredded chicken and mixed with leeks onions and some spices and golden iridescent rice. The chicken meat is carefully mixed with the taste of the old town's homemade chili sauce, and the aromatic chicken fat soup will give visitors an unforgettable impression on this dish.
How did Hoi An people make chicken rice?
What makes Hoi An's chicken rice special features originates the distinction of chicken processing under the "style" of the Central area, ie, shredded chicken is saturatedly squeezed with onion, laksa leaves and spices. Skill of the cook is make the meat taste a little bit fragrant, spicy but not friable and chicken smelling loss.
There is also another way to cook Hoi An's chicken rice, but people in the area of  Tam Ky – Quang Nam or Da Nang usually processe it in this way. Chicken meat is not only boiled and shredded but also cut into medium pieces, crispy golden fried. The rice in crimson orange color made from the red sweet gourd looks very eye-catching. And in accordance with the Vietnam folk poem " The chicken clucked, pecked on a lime leaf ", the dish is presented with finely chopped lime leaves. This is similar to "style" of the North, but not makes the plate of chicken rice lose "feature" of the Central with orange-red rice grains cooked in chicken broth, specially flavored with pickled papaya combined with chutney and soy sauce.
An indispensable ingredient to make  "the art of the dish" of Hoi An chicken rice is fresh turmeric, onions, and the finest fresh laksa leaves selected from Tra Que Hoi An vegetable village. Chickens to make chicken rice Hoi An must choose the right kind of "walking chickens" which is our chicken breeds raised entirely by gardening, their food from nature is also grain corn, to produce the finished product. the chicken pieces are a bit chewy and not chewy
The chicken is boiled until it is then tearing the meat pieces, mixed with pepper, lemon, salt and chopped off onions and laksa leaves. The rice for chicken rice Hoi An is not simple but also requires meticulousness of the chef with many different steps such as washing rice, roasting, cooking …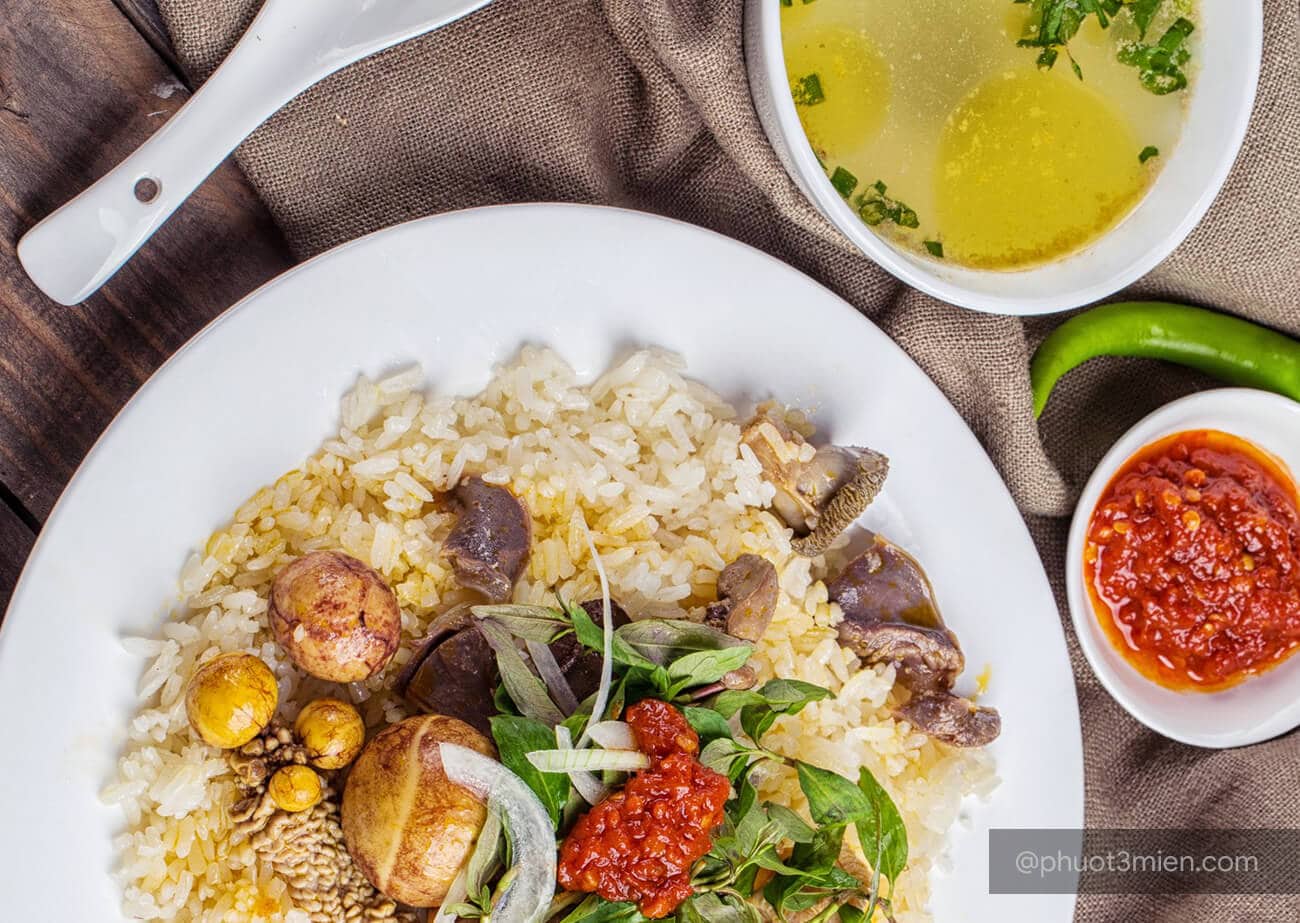 To cook a plate of chicken rice Hoi An standard, the type of rice used to cook should be a half grains rice. Half-grains rice, after being washed, is drained, then stir-fried with chicken fat before being cooked to bring up the hidden aroma inside the rice.
In Hoi An, people use chicken broth for rice directly to cook rice, making this dish special and has a very unique flavor that not everywhere can be found.
The dish seems to be extremely simple, it has never become a culinary symbol that visitors to Hoi An must be curious to try once in their life, and from there on make you will nostalgically forever.
Hoi An's chicken rice is truly a delicious typical dish of the Quang Nam-Da Nang region which sold popularly on the streets. With many famous restuarants such as Ba Bui, Ba Minh, Cika chicken rice in Hoi An or Hong Ngoc and Hai chicken rice in Da Nang, etc,  people come here to enjoy "original" chicken rice with complete shredded chicken, roasted chicken served with onion, leaf lemon, peppermint, pickled papaya. "Hoi An's chicken rice" will make any picky eater nod to compliment on its flavor.
1.Ba Buoi Hoi An Chicken Rice – a long-standing rice restaurant
As a famous culinary spot in Hoi An, any tourist who comes to Hoi An also tries to stop by Ba Buoi Chicken Rice is a restaurant with a long history and the most famous chicken rice dish that satisfies all the most fastidious guests.
Although Mrs. Buoi has passed away, her descendants still inherit her career and continue to develop the brand of Mrs. Buoi chicken rice in Hoi An. The chicken here is marinated with ginger and peanut oil manually before boiling, making the chicken absorbent and retain the fragrant golden lard of Pho Hoi chicken rice.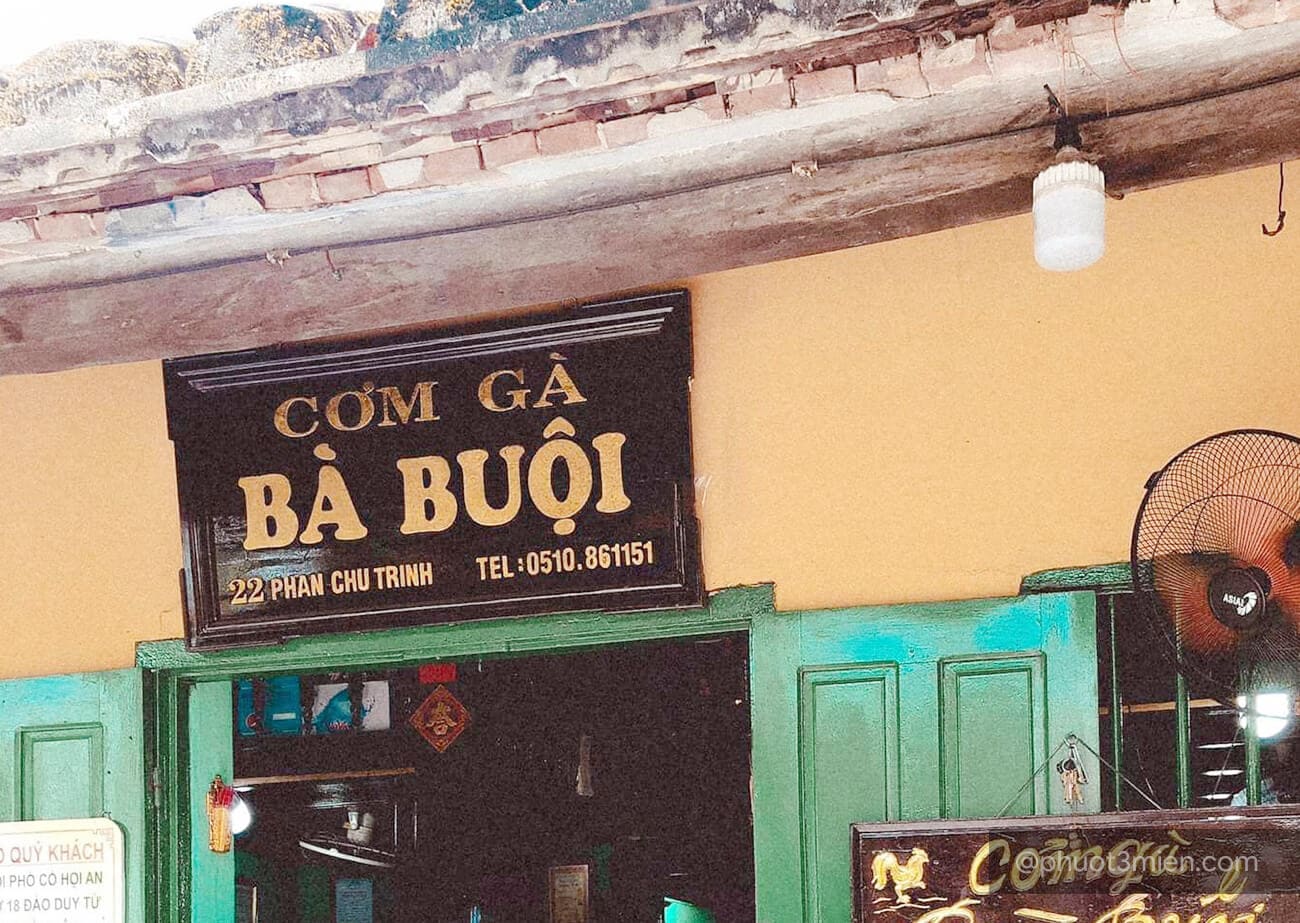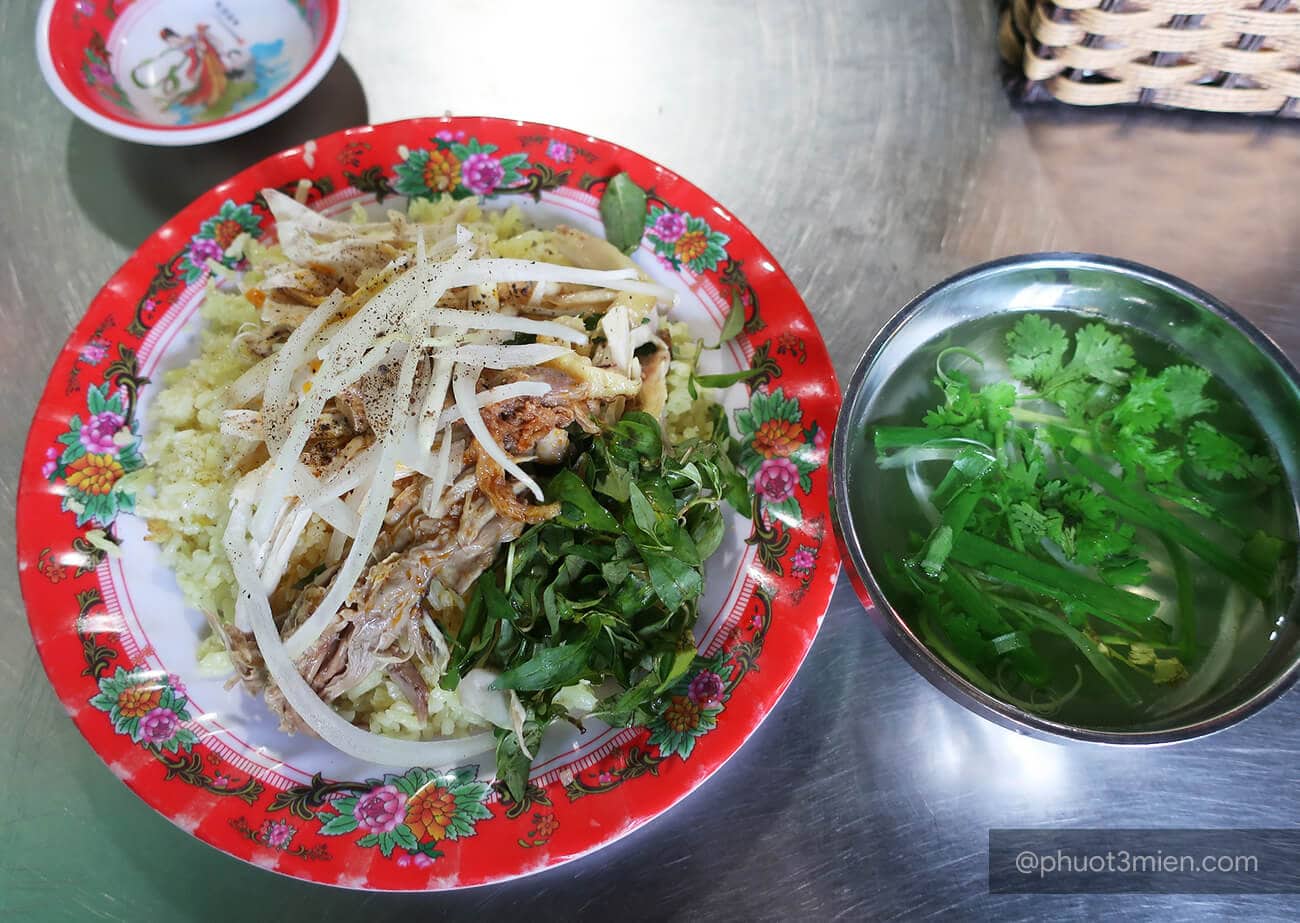 Ba Buoi chicken rice is always served with a cup of homemade Hoi An chili sauce. The best way to eat it is to put some pepper salt and lemon juice in the cup of soy sauce, make sure to mix it well, then eat with chicken rice to taste more perfect offline.
Make sure you won't be able to stop at the first piece! Because of its popularity, the restaurant is always a bit crowded, but certainly the quality of service and food here will make you not disappointed and the wait is not wasted at all.
Address: Số 22, Phan Chu Trinh street, Hội An city.
The shop also has a new branch at 18 Dao Duy Tu with more spacious suitable for groups or families with many members with the same quality of dishes.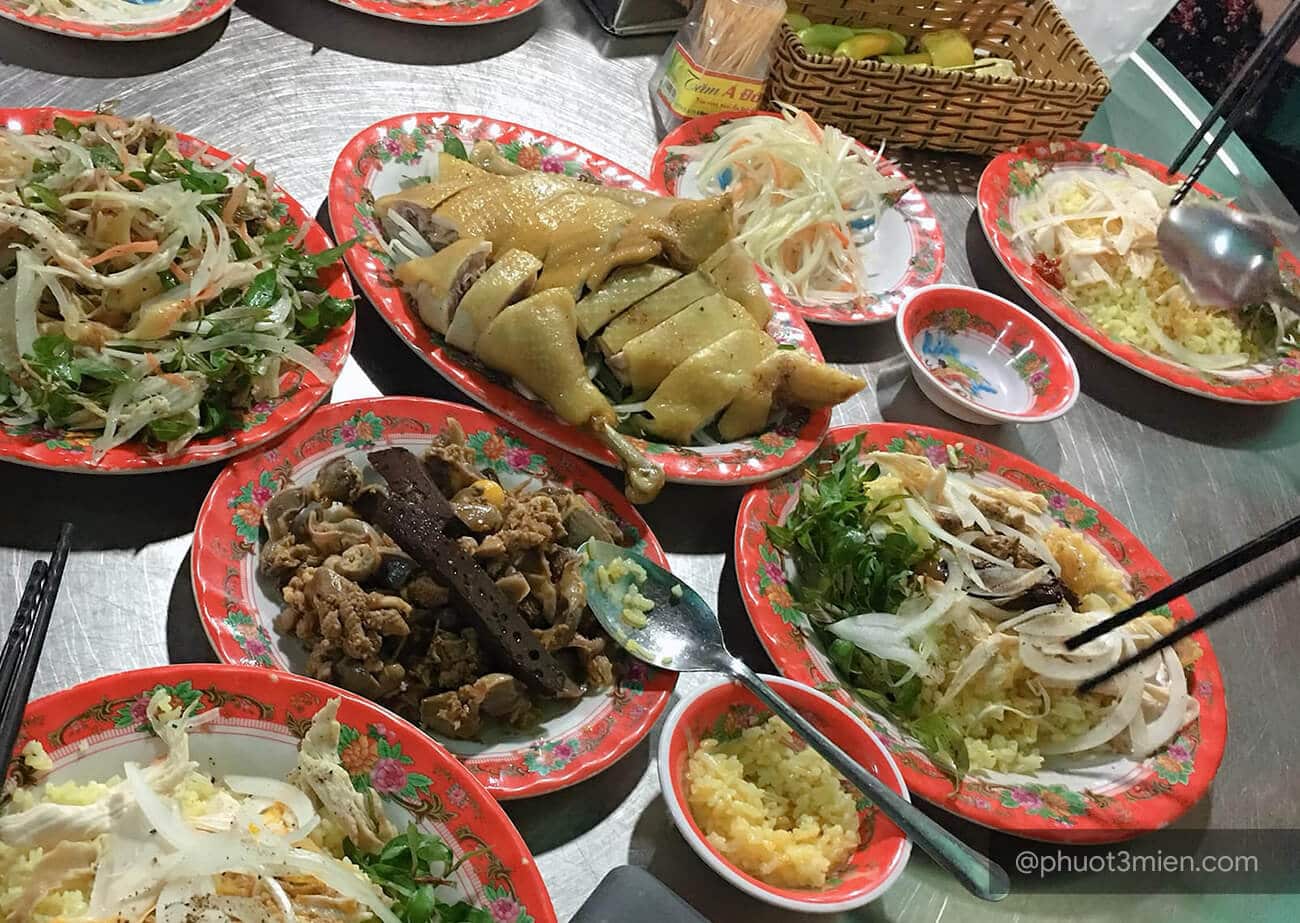 2. BA NGA Rice Chicken–Hội An
Rice Chicken " BA NGA"  is suitable for travelers who prefer the greasy but aromatic flavor of chicken fat, in addition, the sauce covered in chicken rice, rich in brown color, extremely rich and very suitable when combined with rice. Chicken rice here is a part of the meat with a flesh sweet really like.
The warm rice cooked with marinated chicken broth has some spices such as ginger, onion, turmeric with salt and pepper to make up a very pleasant aroma, and even just eating rice, you can feel it. all delicious and fragrant in every grain of rice.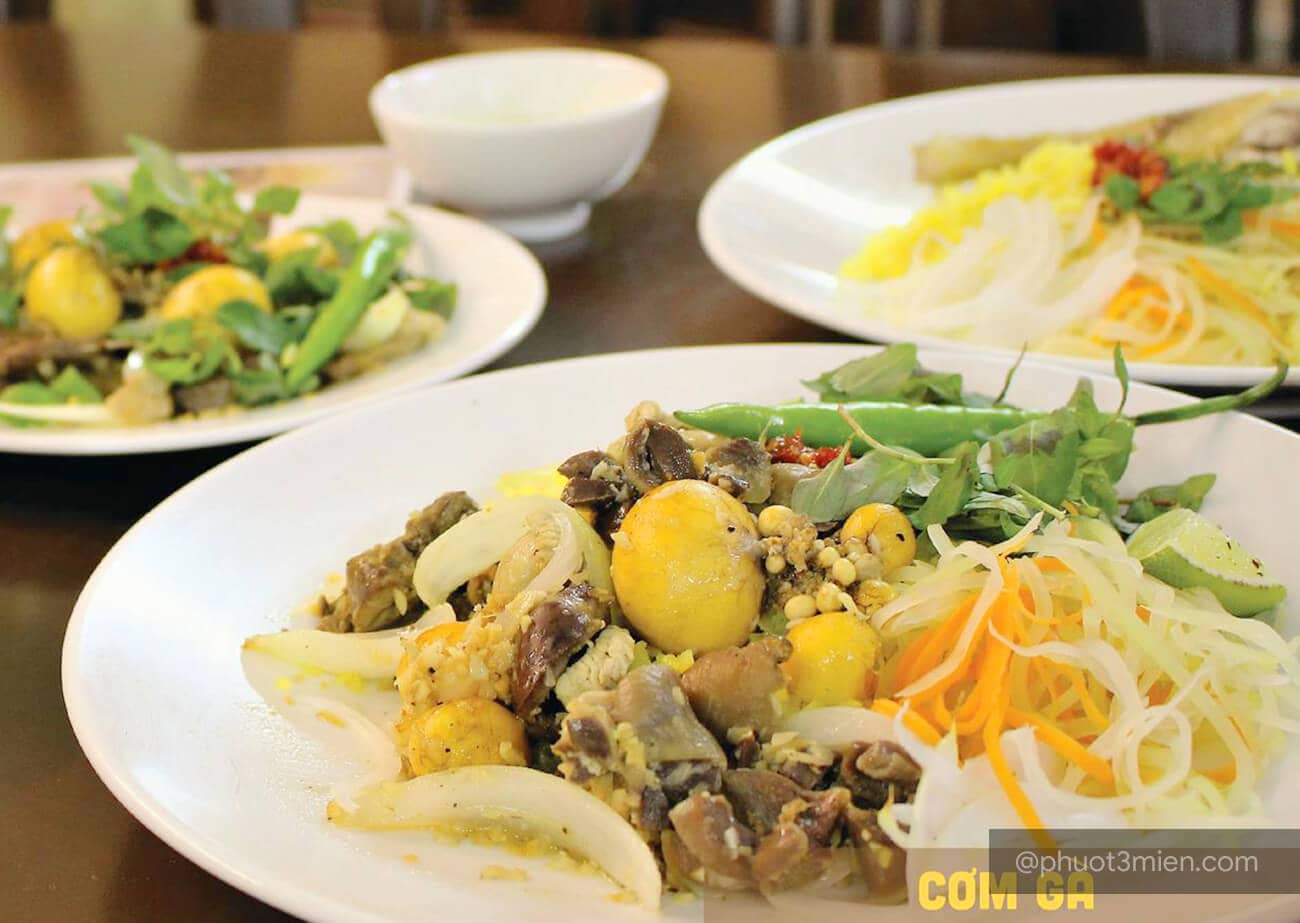 Also, do not forget to order a stir-fried chicken egg to eat with rice. This is also one of the strange dishes here that especially impress visitors when enjoying.
Chicken Rice Ba Nga always in a very crowded and almost full table so the time to order will be a bit long, but if you are not in a hurry and ready to wait to enjoy this "divine" chicken rice, Ba Nga chicken rice nor will it be a perfect choice that makes you absolutely satisfied.
3.BA MINH Rice Chicken 
The menu at Ba Minh chicken rice converges all the specialties of Hoi An such as pancakes, Cao Lau, Quang noodles, … but chicken rice is the main dish and also it has made the restaurant a lot of tourists. More and more to come and enjoy.
Rice used to cook chicken rice here often uses half-grains rice to produce batches of rice with a very fragrant with a very characteristic aroma. Chicken mixed permeability and very bold, suitable for most visitors from domestic and foreign. Another plus point is that the space is very clean, the attentive staff is very dedicated.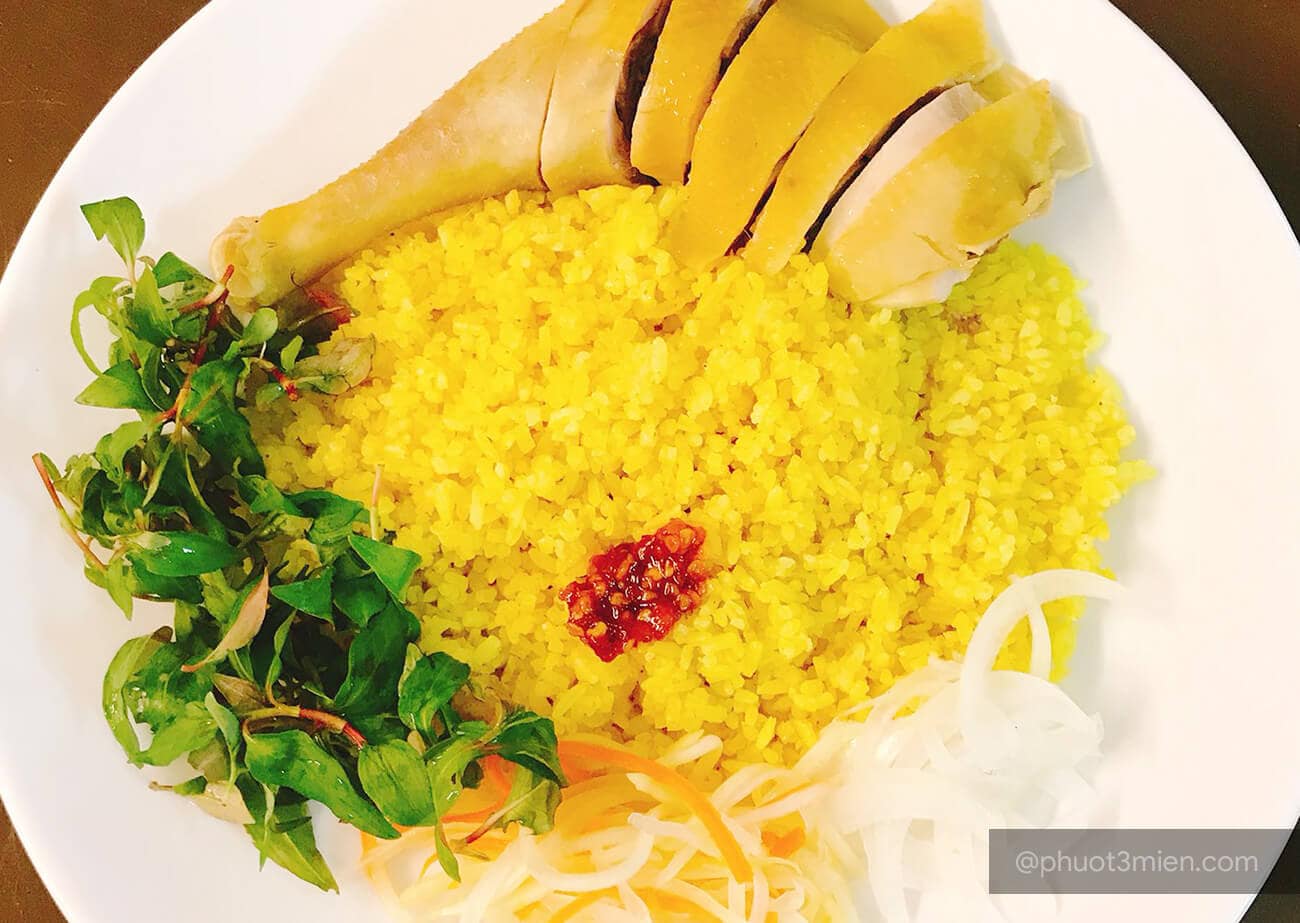 The only minus is probably just a bit far from the old town, if walking, it takes about 7 to 10 minutes. If you have the opportunity to visit, you should try the experience once!
Address: 20 – 22 , Dao Duy Tu Street, Hoi An City
4. Chicken Rice LONG 
Hoi An chicken rice is a delicious dish, still ensuring nutritious ingredients but not tired, so more and more chicken rice restaurants in Hoi An sprout up to serve both locals and tourists to visit. Long Chicken rice is not inferior to other old shops in Hoi An, most of the visitors here are more locals than tourists.
There is a point here that makes me very impressed that I am not a devotee of onions. But when I tried chicken rice with chicken and onion mixed here, it was extremely easy to eat and suited my taste.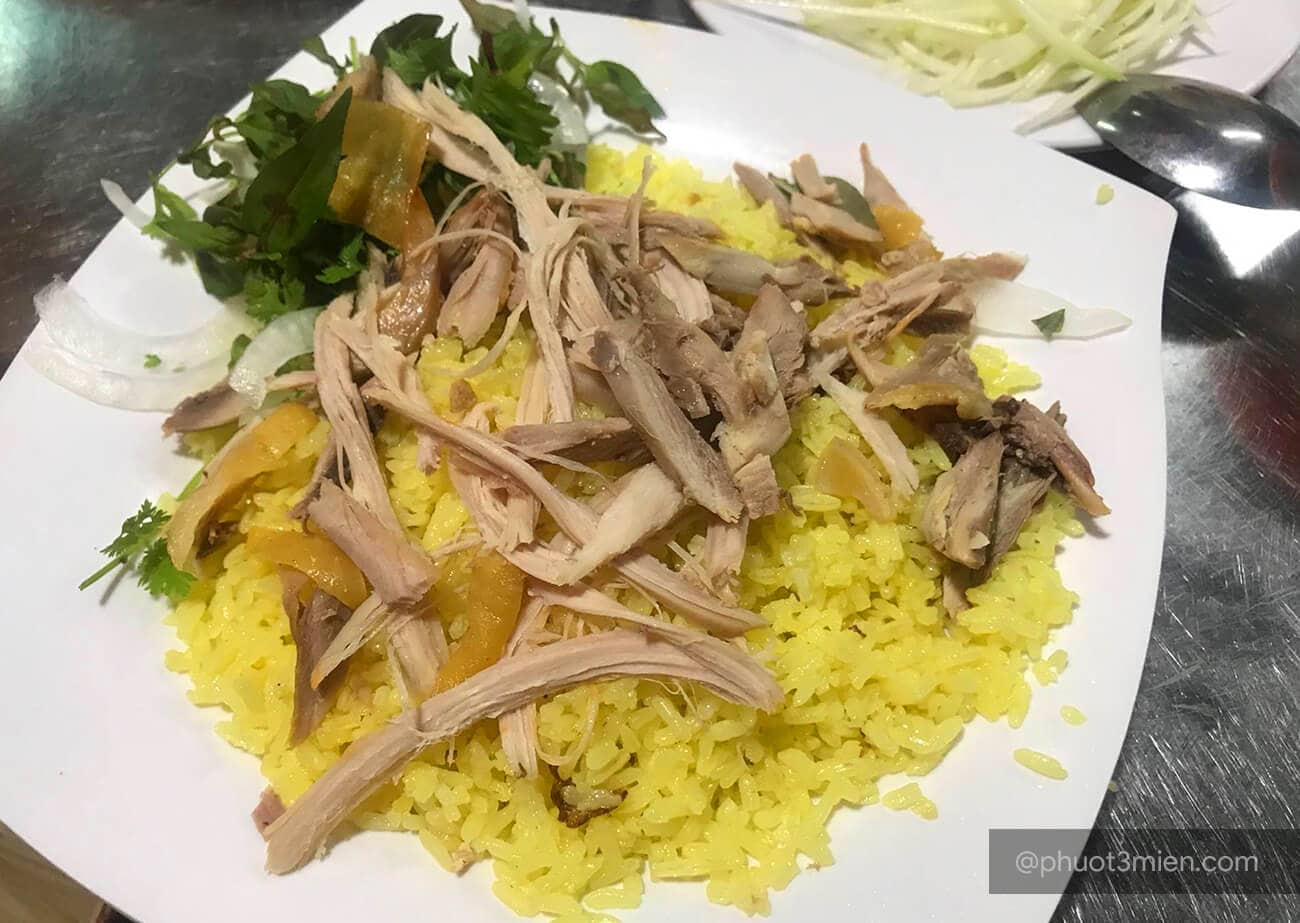 The bar owner shared with him that the difference here is that the onions will be taken soaked in ice with a few drops of lemon right after chopping to make the onions crispy so that they can be eaten with chicken without being affected. pungent.
In addition, the restaurant also sells very tasty chicken rice and is very popular with diners, adding a little satay to make a piece of aromatic, spicy and delicious pork meat, it is delicious!
Address: 53/16 Phan Chau Trinh, Hoi An city
5. BA THUAN CHICKEN RICE – eat with delicious food and bags
Chicken rice will probably not meet the standard of Hoi An without papaya sour pickle with ginger. In Ba Thuan Hoi An chicken rice, in addition to delicious chicken rice, papaya soaked to eat is also a highlight that visitors are very impressed with this restaurant.
And if you want a little more papaya then do not hesitate because the staff here is very friendly and hospitable.
Delicious chicken rice is served with a cup of chicken soup including the heart, young chicken eggs. And chicken blood is also a unique feature that attracts more customers to Ba Thuan chicken rice.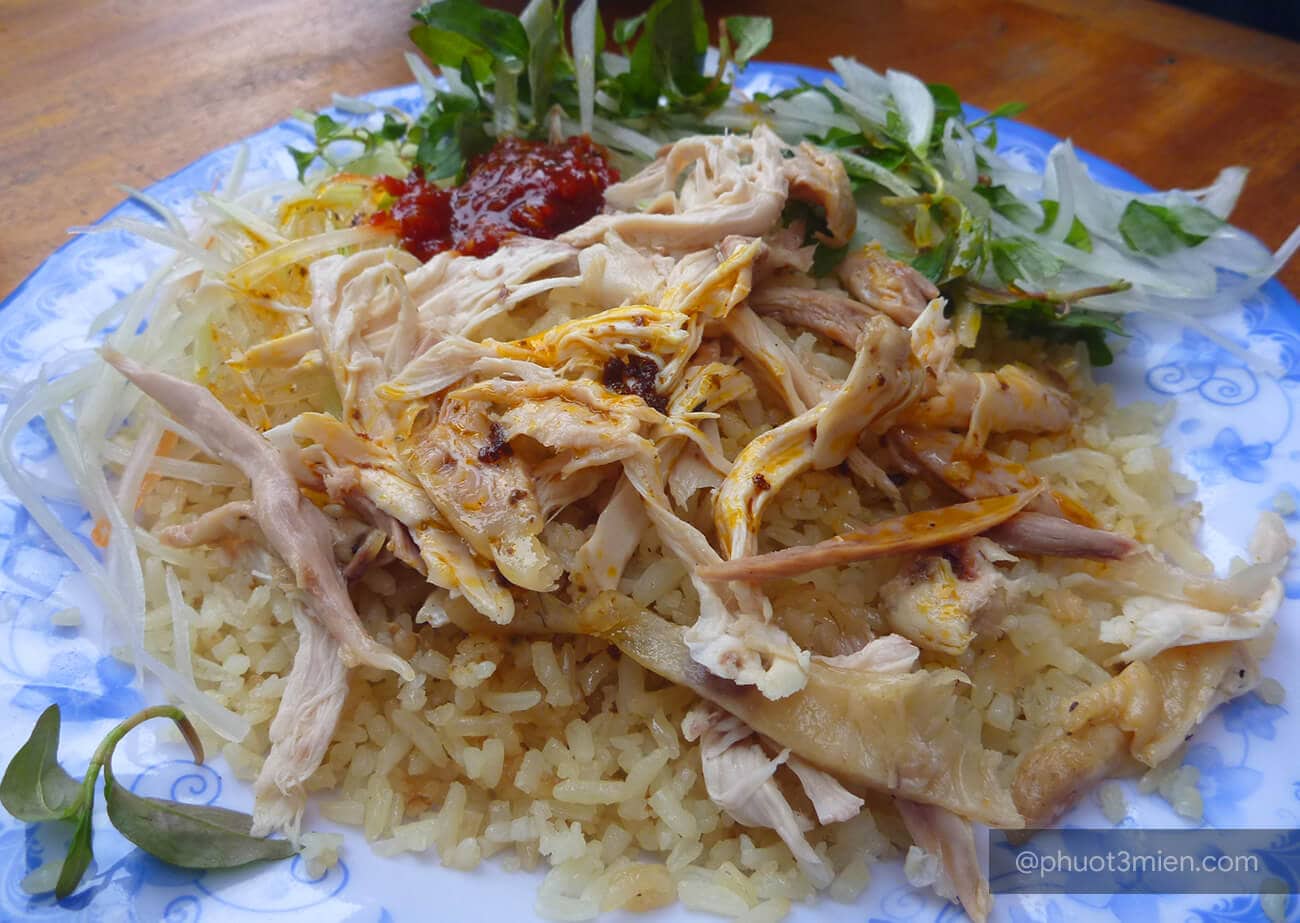 The shop is open all day from 7 am to 10 pm so you can come anytime.
Address: 17/4, Hai Ba Trung street, Hoi An city
Hoi An chicken rice has been a popular dish for a long time but it still makes many diners fall in love with this specialty dish that must be reminded when it comes to Hoi An cuisine.
Hopefully through this article, you can pocket yourself some super delicious chicken rice restaurants in Hoi An. And if you have the opportunity to come to Hoi Street one day, please experience and feel all the interesting features of Hoi An chicken rice dish!
Interesting experience of eating Hoi An's chicken rice is that diners can both see a beautifully decorated plate and enjoy every yellow and sleeky rice grain as well as have a chance to sit happily chatting to friends. What a delicious meal! With all the ingenuity and meticulosity in the processing way, Hoi An's people have created enough unique chicken rice to mark it a special name "Hoi An's Chicken Rice".
Writer: Hong Vu
See more: