Phu Quoc is an island district that provides an unbeatable combination of perfect silky soft white sand beaches, superb hospitality and great value accommodation. Plan your visit to Phu Quoc Island by exploring our comprehensive digital travel platform and discover the beauty of Vietnam's "paradise" island.
A Portrait of Phu Quoc
Phu Quoc represents Vietnam's future.  It is being developed to be Vietnam's luxury tourist destination, smart city, special economic zone, and one of the few places in the country where Vietnamese can legally gamble. With its long stretches of white and yellow sand beaches, crystal clear blue and turquoise waters, stunning beach resorts and casino's, an international airport surrounded by lush rain forests, this small archipelago in the Gulf of Thailand attracts millions of local and international visitors each year.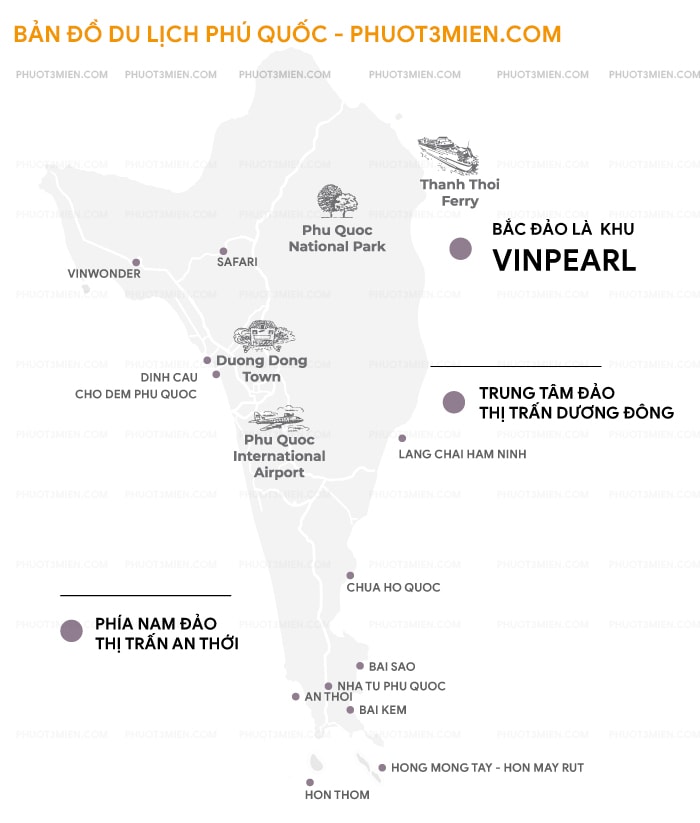 What Does "Phú Quốc" Mean?
The meaning of "Phu Quoc" refers to the districts its rich ecosystem – "Phu" means fertile land and "Quoc" means nation. The island district is also marketed by the following names:
"Dao Ngoc" or Pearl Island: A nickname given to the main island because of the numerous oyster bearing pearls found in the surrounding sea.
"99 mountain" island: The main island of Phu Quoc has numerous mountains with ridges that gradually descend from the north to the south.
Emerald Island: In reference to the island's jungles.
Regardless of what you call this place, one thing is for sure… Phu Quoc is simply spectacular.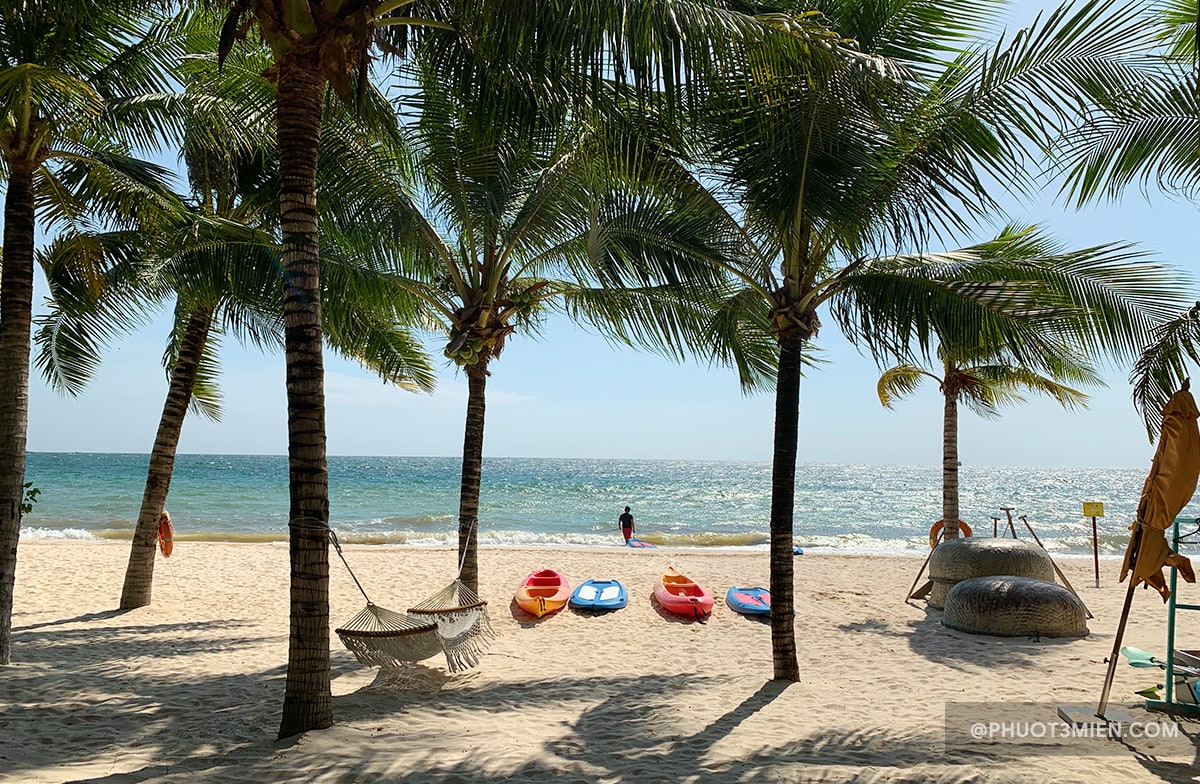 The "Pearl Island" of Vietnam
Phu Quoc represents an ever-growing population encompassing a myriad of ethnic groups, development and tourism, agricultural diversity, and it is home to a rich cultural heritage.  With fresh air, clean water, mostly friendly people, a very low crime rate, and best of all… a lot of sunshine.  The island district is extremely safe. There is a greater chance of you being robbed by your fellow traveler than by local islanders as the punishment for petty theft here is quite extreme.
The islands communities range from towns bursting with vibrant culture to natural areas meant for hiking, snorkeling, birding —and hitting the beach. This island district has picturesque fishing villages rich in history, elegant resort areas boasting upscale charm, and a fantastic countryside. Discover Phu Quoc from the eyes of real travelers, locals, and expats with the islands new "Live like a Local" social media series.
About Phu Quoc
Phu Quoc is an "Island District" situated in the Gulf of Thailand 45 kilometers from the southern tip of mainland Vietnam and only 4 kilometers from nearby Cambodia (10.2289°, 103.9572°).  The district is part of the Kien Giang Biosphere Conservation Area which in 2006 was recognized by UNESCO as a World Biosphere Reserve.
Phu Quoc District consists of 3 main regions: Phu Quoc Island, Hon Thom & the An Thoi Archipelago.
There are 3 tourist complexes: Bai Truong Tourist Complex, Bai Vong Tourist Complex, and Vinh Dam Tourist Complex.
Wastewater Treatment: Duong Dong Pipeline systems and wastewater treatment located in Ong Lang and connects Duong Dong with An Thoi.  Waste disposal and processing is handled at the Ham Ninh Waste Processing plant.
Phu Quoc is blessed with a 150 km long coastline with over 20 beaches.
The administration of Phu Quoc is divided into 8 communes, 3 urban centers and shares no land borders with any other country.
Language on Phu Quoc: Most hotel staff speak at least some English, French, Russian, and Vietnamese. Outside of the tourist area only Vietnamese is spoken. Hand signals and pointing at your map and where you want to go work well for directions. For prices, always ask sellers to write it down or show you the price via calculator. Having a smartphone comes in handy on this island.
History of Phu Quoc
Phu Quoc Island, much like Vietnam, has a diverse history filled with war and bloodshed having fought against the French, Cambodians, Thai's, and the Americans. The island also has its own "Killing Field", but on a smaller scale compared with its neighbor Cambodia. Initial inhabitants of the island include the Chinese, Khmer, French, and Vietnamese people.  The following is a chronological (neutral) account of the islands varied history.
Key Dates
Phu Quoc is an isolated archipelago in the middle of the Gulf of Thailand. Formerly a territory of Cambodia and once called Koh Tral, the archipelago now belongs to Vietnam. It consists of 28 islands with a total area of 593.4 km². Most visitors arrive in Phu Quoc Island, the largest island and district capital, and travel to the other islands by inter-islands ferries and private boats.
Early History – 1ST to 7TH Century

Oc Eo period

According to archaeological evidence (Tombs, tools, pottery, etc) found on the island, humans first inhabited Phu Quoc 2,500 years ago.Most of the artifacts were unearthed in the northern part of the island and there is not much known about who these early inhabitants were or their ethnic origins. A lot of this archaeological evidence can be observed at the Coi Nguon Museum in Phu Quoc Island, near Long Beach Village.
1600's

"Koh Tral"

Phu Quoc Island today used to be known as Koh Tral by the Cambodians and the earliest reference to this island can be found in Cambodian documents dating as early as 1615, which include the island as being part of the Khmer empire. The exact number of Khmer's living in Koh Tral during this period cannot be confirmed but one thing is for certain is that the Cambodian's occupied the island first.

Around 1680, one of the Khmer kings granted Mac Cuu, a Chinese merchant from Leizhou city, Guangdong Province, China permission to settle and develop a large part of the southern Cambodian coast. Mac Cuu then established 7 trading centers, including Ha Tien and Phu Quoc Island, and shortly thereafter they were inhabited by Chinese and Portuguese traders. During this time there were a lot of battles between Cambodia, Thailand, and Vietnam.

1700 – 1769

Early Wars

In 1708, Mac Cuu merged Ha Tien, which included Phu Quoc, with Dang Trong and the area was called "the southern region".
Around 1714 Mac Cuu changed allegiance and sided with the Vietnamese. In return he and his family were granted the right to oversee the development of 7 trading centers under the protection of the Nguyen lords who ruled southern Vietnam during this time.
In 1717, the Thai's sacked and destroyed Ha Tien. The fate of Phu Quoc during this time was unknown.
From 1720 through to 1750's, Phu Quoc island was inhabited by Cambodian's, Vietnamese and Chinese people and these inhabitants were making a living mainly from fishing. The trade of sea cucumbers was quite popular during this time.

1770 – 1802

Rise of Nguyen Anh

In the 1770's, the French missionary Pigneau de Behain, who was seeking to expand his missionary, which was based in Phu Quoc Island. He established a seminary for Vietnamese and Khmer converts and it was during this time that he sheltered Lord Nguyen Anh, future emperor Gia Long, when he was hunted by the Tay Son rebels. From 1782 to 1786, Phu Quoc became a stronghold of Lord Nguyen Anh, who later recaptured the mainland from the Tay Son rebels and become Emperor in 1802.
1803 – 1861

Phu Quoc District Emerges

In the 1800's, under Emperor Gia Long, Phu Quoc had a local administrative office, military presence, and economic activity on the island. John Crawfurd, a British East India envoy visited the island in 1821 and reported that there were approximately 5,000 inhabitants in Phu Quoc.
1862

France Occupies Phu Quoc

1862 – 1963

French Occupation of Phu Quoc

From 1862 Phu Quoc was occupied up by the French, as part of its colonization of Vietnam, and came under the administration of the Governor of Cochinchine. In 1867, Phu Quoc's Vietnamese authorities pledged allegiance to French troops after the French conquered Ha Tien. The French established rubber, pepper, and coconut plantations on the island. Due to its isolation, the French also established a prison on the island.
1964 – 1975

War with USA

Where the French left off, the American's took over and during the American/Vietnam war, the American's took over the Cay Dua prison (coconut tree prison) and expanded it to house over 40,000 prisoners of war. Many of the Vietnamese prisoners were tortured here. When the war ended in 1975, the prison was closed and later reopened as a museum.
1982 – 1985

"One Phu Quoc"

An agreement made in 1982 between Vietnam and The People's Republic of Cambodia (Kampuchea) ostensibly settled the territorial dispute. Another treaty was signed in 1985 affirming Vietnamese sovereignty over the island.
1975

End of Vietnam War

2006
UNESCO designates Phu Quoc as Biosphere Reserve
2012
Opening of the Phu Quoc International Airport

Phu Quoc Fish Sauce receives European Union Protected Designation of Origin (PDO) status, Vietnam's first PDO product.

Phu Quoc Smart City & Phu Quoc 2020 Vision Announced. The transformation of the island begins.

Phu Quoc will be transformed into a digitally connected island through strategic investments in technology and communication infrastructure.

The objective for the Phu Quoc Smart City initiative is to focus on tourism, traffic, e-government and environment while continuing to transform Phu Quoc into a world class tourism destination.

2014
Phu Quoc connected to mainland Vietnam's electrical grid via underwater cable.
2016
Phu Quoc becomes first region in Vietnam to get 4G
2017
Cua Can Commune to become Phu Quoc's 3rd urban center.

The population density is evident along the coastal region of Duong To, the metropolitan area of Duong Dong, Cua Can, and An Thoi. A high degree of urban development in recent years has attracted a growing urban population, which currently represents 39% of the total population of the island.

Phu Quoc Smart City 1.0 Launches

2018
World's longest aerial cable car launched

Phu Quoc People's Committee Deports Foreign Nationals Linked To Trafficking of Counterfeit Products, Child Trafficking, and Illegal Abortions.

National protests, rise of Vietnam Nationalism, and rampant corruption and collusion on Phu Quoc Island prompts authorities to revoke visa's of some of the islands long term expat male community in order to protect Phu Quoc's image and its people. Most individuals are connected to each other and organize Phu Quoc Cham events.

Vietnam's first casino, that allows its own citizens for the first time in history, launches on Phu Quoc Island.

Today
The Vietnamese government has great aspirations into developing Phu Quoc Island as the next big Asian tourist destination. They have already built an international airport, paved all the main roads, and in the third quarter of 2017 the island will have numerous 5 star resorts. By 2030, the Vietnamese government are expecting to have 3MN tourists to visit the island annually. The time to visit Phu Quoc island is now!
Geography
Phu Quoc is an isolated archipelago in the middle of the Gulf of Thailand.  Formerly a territory of Cambodia and once called Koh Tral, the archipelago now belongs to Vietnam. It consists of 28 islands with a total area of 593.4 km².  Most visitors arrive in Phu Quoc Island, the largest island and district capital, and travel to the other islands by inter-islands ferries and private boats.
Proximity To Major Asian Hubs:
Phu Quoc is also located relatively close to all the major Asians cities such as Bangkok, Singapore, Kuala Lumpur, Phenom Penh, Siem Reap, Ho Chi Minh City, Hanoi, Hainan, South Korea, and even Hong Kong, which is one of the reasons why the Vietnamese government decided to transform the region into a special economic zone and tourist destination.
Economy & Demographics
Tourism is, by far, the island's biggest industry and it continues to grow annually.  Resort hotels, restaurants, retail outlets, and operators that organize sports activities dominate the industry.  Fishing and fish related products are the second source of outside income.   The average annual GDP growth is 22% and the per capita income is over 70,000,000VND per year. In 2017, Phu Quoc's gross domestic product (GDP) per capita hit US$5,469, representing a three-fold increase against 2012.
Population
113,000 people in Phu Quoc District (March 2018 est).
Distribution by age
0-14 years: 28.6%
15-64 years: 64.1%
65 years and over: 7.3%
Ethnic makeup
Ethnicity's include Kinh, Khmer, Hoa. Among them, the Kinh people account for 96.3% of the population, ethnic Chinese and Khmer 2.4% is 1.3% of the total population.
Culture
Vietnam is known as the land of smiles and Phu Quoc is no exception.  Everywhere you go, you will be welcomed by smiles and kind help from the locals whether you know Vietnamese or not.   Although tourism is transforming the island district from its war torn past, Phu Quoc is now and will continue to be linked to the fishing industry and this is reflected in the islands vibrant culture.  To absorb some of Phu Quoc's diverse culture, head over to the coastal fishing communities, places of worship, and the wet markets found throughout the island archipelago.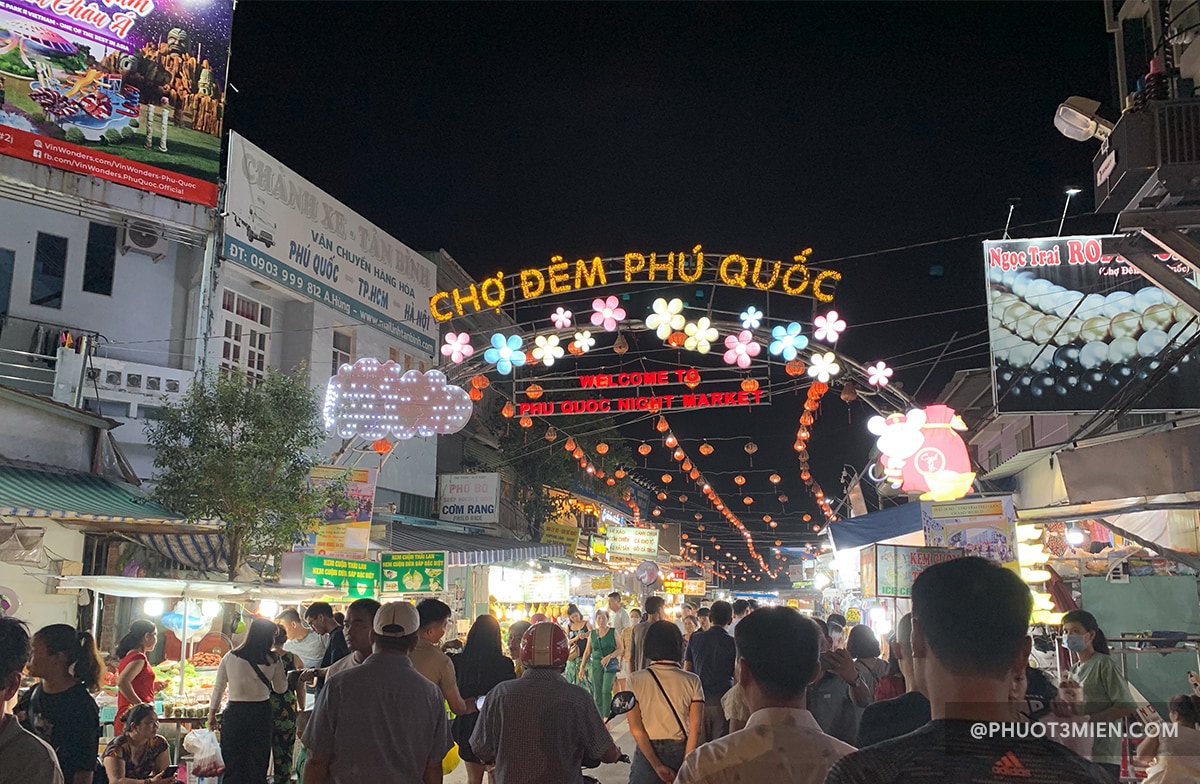 Weather and Climate
Phu Quoc has two seasons — a wet season, dominated by the annual monsoon, and a dry season. Most tourists visit Phu Quoc during the dry season to soak up endless days of sun and comfortable temperatures with low humidity.
Nature
Nature takes priority on Phu Quoc where 50% of the island is classified as protected national park. The forested areas are also a UNESCO biosphere reserve. How will you be one with nature while visiting Phu Quoc?
National Park
Explore diverse ecosystems from dense jungles to mangrove forests and keep an eye out for the great hornbill, macaques, and anacondas while visiting the Phu Quoc National Park.
Ganh Dau Trail
Hike Phu Quoc's most popular trail. This easy trail will take you through a flat section of the Phu Quoc National Park, past old growth trees while hearing the soothing sounds of nature.
Waterfalls
Discover fern shrouded waterfall pools in the middle of the jungle and plunge in.
Pepper Farms
Phu Quoc produces over 1,000 tonnes of high quality black and white pepper each year and it is impossible to explore the island without seeing one of the numerous pepper plantations. Tour a Phu Quoc pepper farm and bring some back with you.
Nightlife
For the most part the Phu Quoc nightlife scene is relatively quiet compared to other tropical island destinations such as Phuket, Bali, or Boracay. This island caters to more of a mature crowd with a preference for families, groups, and couples – think Maldives or Fiji. With that being said, on Phu Quoc you will find a lot more upscale lounges, some of which are next to the beach and some perched on top of a hill. That's not to say that there aren't any dance clubs on Phu Quoc, it's just that the party options are very limited and the environment is more intimate.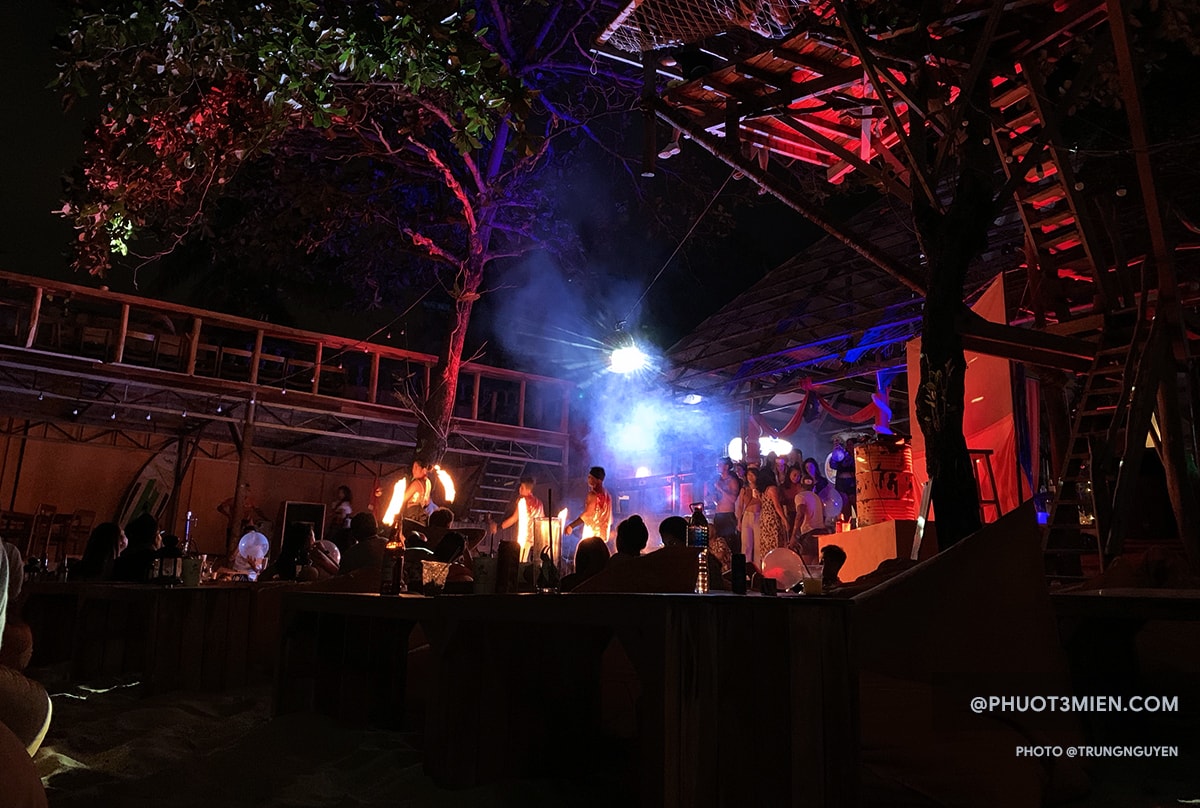 However when Phu Quoc does decide on throwing a party, it goes all out – international DJ's, premium beach front locales, and beautiful people from all over the world. Every year Phu Quoc hosts a 2 week long music festival attracting a large international crowd – one of Asia's largest musical festival and a traditional that began in 2017.
The bar scene on the island is quite exciting and diverse catering to all demographics – from backpackers to sommelier. Mostly concentrated in the Bai Truong area, the bars on the island are plentiful so if your time is limited and you are looking for a great place to have a drink and meet other people, then be sure to read our Phu Quoc Pub Crawl Guide, the definitive guide on where to drink and bar hop on Phu Quoc. From beach bars to hole-in-the-wall types, everything can be had on Phu Quoc Island. Beer lovers should definitely check out some of the islands microbreweries and sample some of the freshest beer produced on this side of the planet.
Chemicals In Sunscreen Are Harming Coral Reefs According To A New Study
While over fishing, pollution and development all pose threats to the coral reef, a new study recently revealed that sunscreen and the ever so popular skin whitening cream has a damaging effect on Asia's coral reefs and you may want to think twice before putting it on. One drop of the damaging chemical, known as oxybenzone, is enough to damage the fragile coral reef system.
What are the alternatives to toxic sunscreen?
The best option is to not wear sunscreen at all but we all know that this is not entirely feasible. Coconut oil has shown to protect you from the sun but it can also darken your skin, something which most beach going Asians avoid while Westerners strive for. You can also switch to a "reef friendly" sunscreen product that is made with titanium oxide or zinc oxide, both of which are natural ingredients and more eco friendly.
Where to Stay in phu Quoc
It doesn't matter if you're on the island for a romantic getaway, a family holiday or a conference – there are accommodation options to suit all the above and more.  Phu Quoc is also Vietnam's only island that has multiple 5 star international resorts.
The best five star luxury beach resort and hotels in Phu Quoc are for those with a penchant for splurge and beyond the usual offerings of a hotel. Phú Quốc is home to some of the best luxurious resorts in all of Asia. But where should you stay to enjoy the best services, accommodation features and the highest level of hospitality an island resort has to offer? With all the new offerings it can be tough to make decision based on neutral unbiased advise but fear not as we here at phuot3mien.com have hand-picked the very best 5 star and 4 star boutique and luxury hotels in Phu Quoc to bring you our collection of stylish romantic retreats.
Check now: this link