It doesn't matter if you are a backpacker looking for a cheap hostel or an upscale traveler looking for the most luxurious getaway, Phu Quoc can accommodate either need. Here are our top picks.
Located in the Gulf of Thailand, the largest island of Vietnam – Phu Quoc Island – is a majestic tropical coastal beauty.  The island is a part of Kien Giang Province, now home to roughly 100,000 people, while its total area reaches as large as that of Singapore. People on the island basically earn a living by fishing, agriculture, and tourism. Traveling to Phu Quoc Island, you are visiting Vietnam's most famous home of high-quality black pepper, traditional fish sauce, and natural pearls!
Read more: Top 10 Reasons to Visit Phu Quoc Island
You might have your to-do list for this magnificent island. In this article, we are going to scan through characteristics of typical areas on Phu Quoc Island so that you can figure out where you want to stay. Several choices of accommodations are provided for you as references.
Bear in mind, the high tourist season of Phu Quoc is from April until September, meaning it's best to book ahead. We recommend visiting during the dry season though—from October to March so you can experience all the charm of the island.
Enjoy!
Main Areas to Stay in Phu Quoc
Phu Quoc District refers to the cluster of 28 islands of all sizes and shapes, among which Phu Quoc Island is the largest and most lively one. This pearl island is basically broken down into regions with different characteristics, with the most commonly visited being the Long Beach. This 20 km yellow sandy beach is the most awesome places to catch the golden sunset of Phu Quoc. Most of the well-known restaurants and attractions also concentrated in this area. If you wonder how an island can stun you with its restaurant density, head to Tran Hung Dao Street!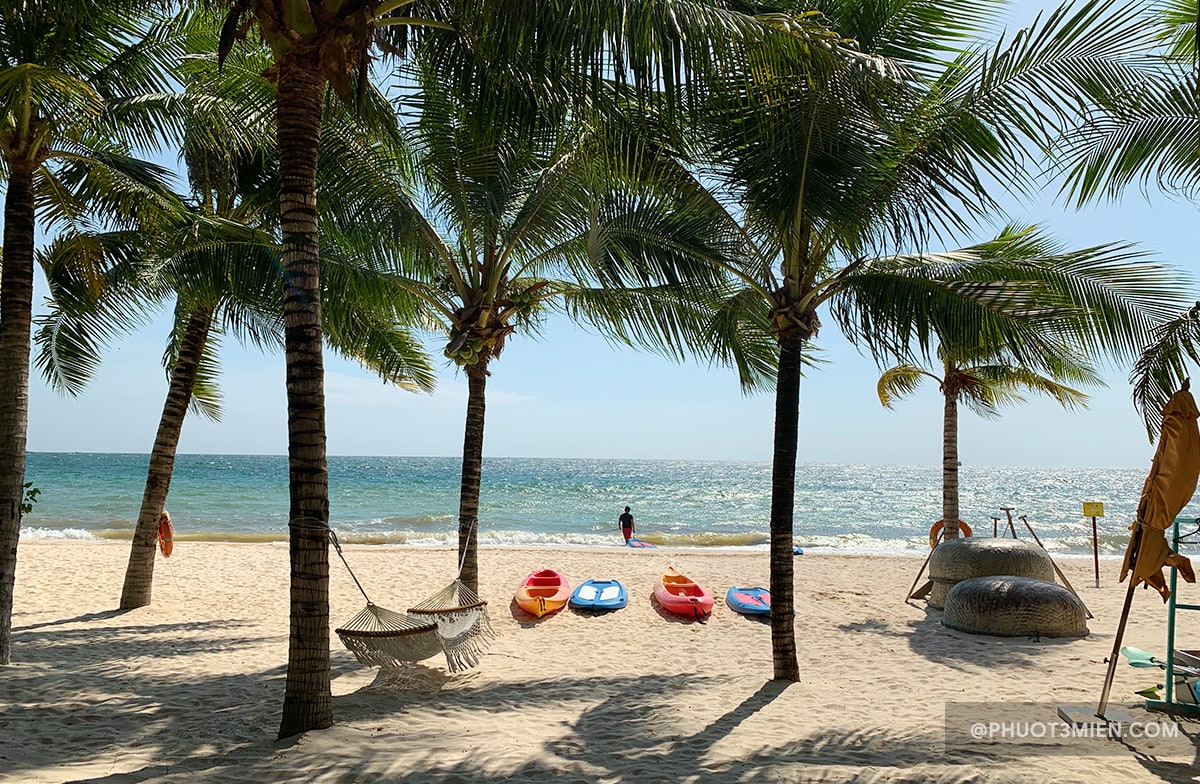 People also divide Long Beach into three regions: The North, The South, and Long Beach Village. The North is where a wide range of temples, resorts, hotels, nightlife, and shopping sites can be found. If you are into arts, cultural spotlights, and historical sites, this is the place for you! Long Beach Village is near there too. It looks similar to the backpacking area of Saigon and Hanoi, with a variety of tourist services such as accommodations, bars, restaurants, laundry shops and motorbike rental places.
The South, on the other hand, is newly developed. It houses several high-end resorts and villas for rent. The place is quiet and luxurious, and only a 15 minutes' drive from the airport. The beach here is a lot less crowded than at the north.
Another luxurious site you cannot miss (if you are looking for luxury) is Emerald Bay (or Kem Beach). Housing only international five-star resorts, it is the most exclusive beachfront resort realm of Phu Quoc Island. The beach is away from the bustle of Phu Quoc's city life, with superb-quality resorts offering you a full range of hospitality services.
If you wonder which beach is the most naturally beautiful one on the island, find Sao Beach. The sunrise here is spectacular, with the morning chill, soft breeze and golden sun coloring the soft ripples of the water by the horizon. The sand is pristine and the waters turquoise. This area is good for doing day trips, however, would be quite laid back at night. Most hotels here are quite old here.
So these are the main areas you can stay at in Phu Quoc island. Chose what appeals to you and then find a hotel from the ones mentioned below. They are categorized according to budget.
Luxury Resorts
JW Marriott Phu Quoc Emerald Bay Resort & Spa
JW Marriott is among the very first resorts on this island. You and your family spoiled from beginning to end by the staff who go out of their way to make sure your stay is comfortable. Apart from the resort's majestic architecture, the location and the scenic views make this resort the complete package. However, you may want to avoid the windy season (from April to September) since the pools could be too cold and the beach might not be ideal for swimming. This applies to the whole island and not just the resort.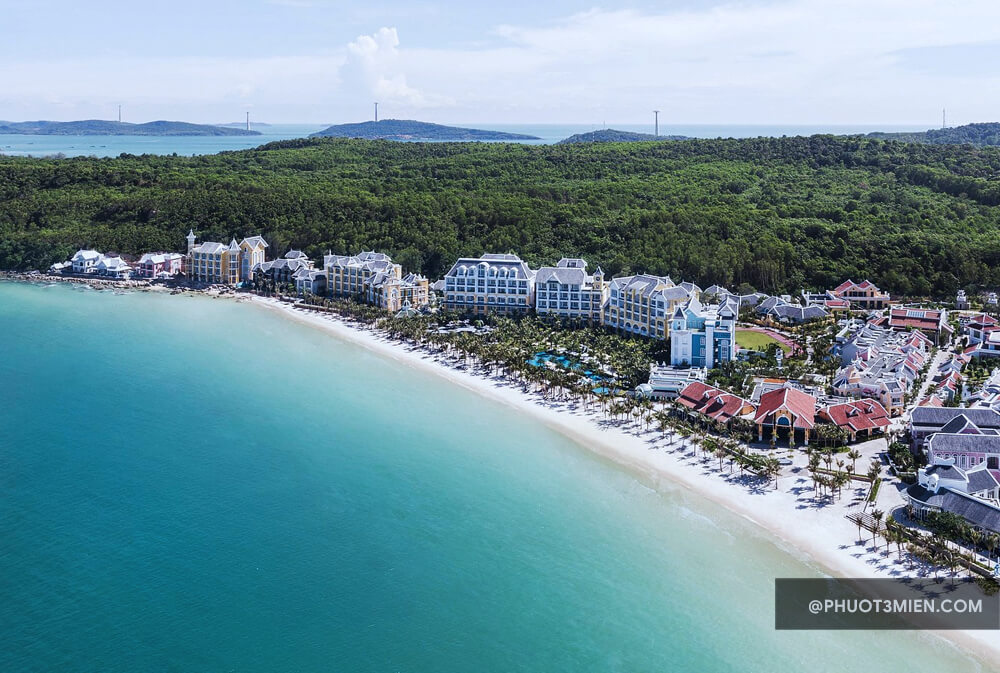 Information:
Price: from 700 USD/ night
Location: Emerald Bay, Phu Quoc Island
Website: https://www.marriott.com/en-us/hotels/pqcjw-jw-marriott-phu-quoc-emerald-bay-resort-and-spa/overview/
Booking Online:
Booking: link here
Agoda: link here
Salinda Resort Phu Quoc Island
Blended into the most magnificent sandy beach of Phu Quoc, Salinda Resort brings visitors a beautiful panoramic view over the wide, calm sea. The resort is located conveniently and not too far from main attractions of the island, hence you can easily enjoy day trips of sight-seeing during your stay. The restaurant and spa make your stay that much better.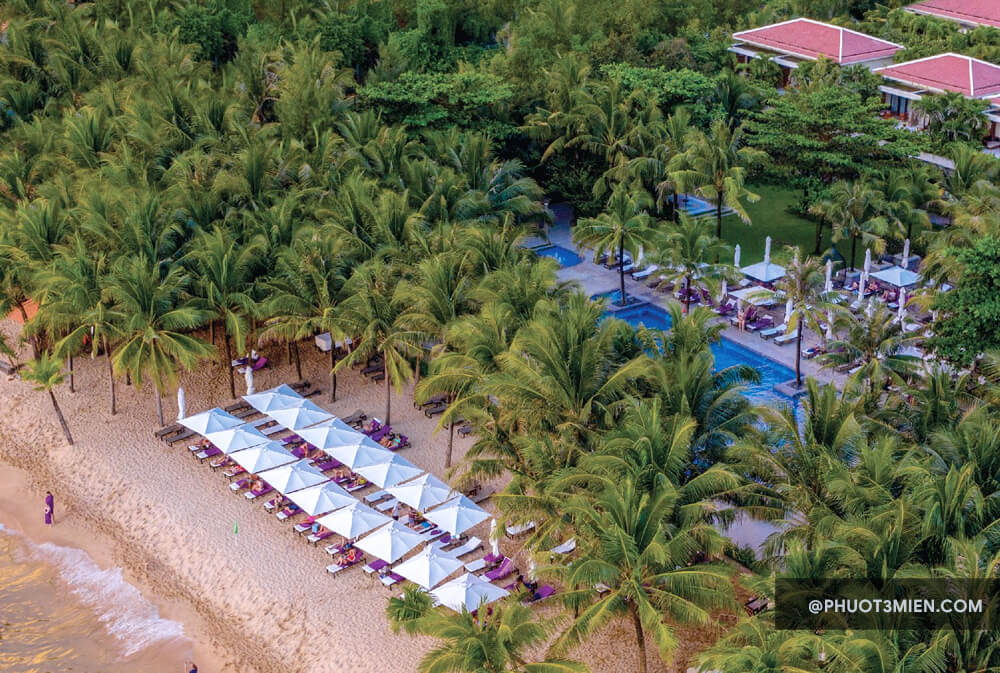 Information:
Price: from 220 USD/ night
Location: The North – Long Beach, Phu Quoc Island
Website: https://salindaresort.com/salinda-resort-phu-quoc-island
Link Booking Online:
Booking: link here
Agoda: link here
La Veranda Resort Phu Quoc – MGallery by Sofitel
A French seaside mansion will be where you live! Similar to other resorts in town, La Varanda provides full range services, inclusive of restaurants, spa, and pool. The resort particularly emphasizes on practicing Tai Chi and Qi Gong as a relaxation treatment.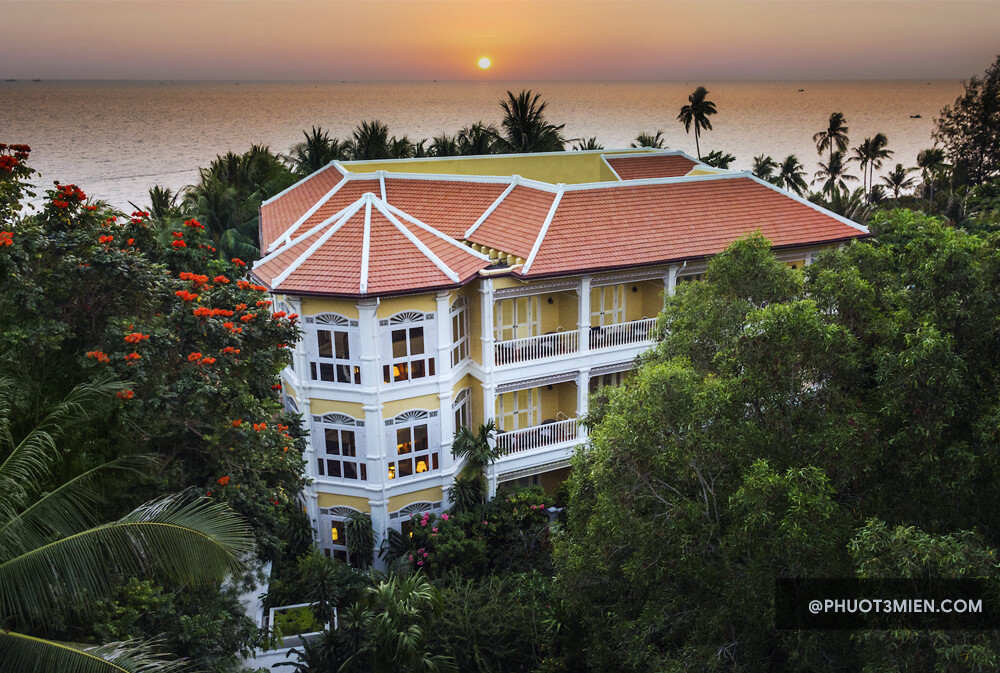 Mid-Range Hotels
Looking for a mid-range accommodation for your trip? You can either book directly with the hotel, book via booking.com, or highly recommended lately: book your stay with Booking.com.
Cassia Cottage
Known as a boutique resort that is eco-friendly, this resort is located right in the middle of the hustle and bustle of the island. This is the perfect spot for you if you're seeking convenience and relaxation.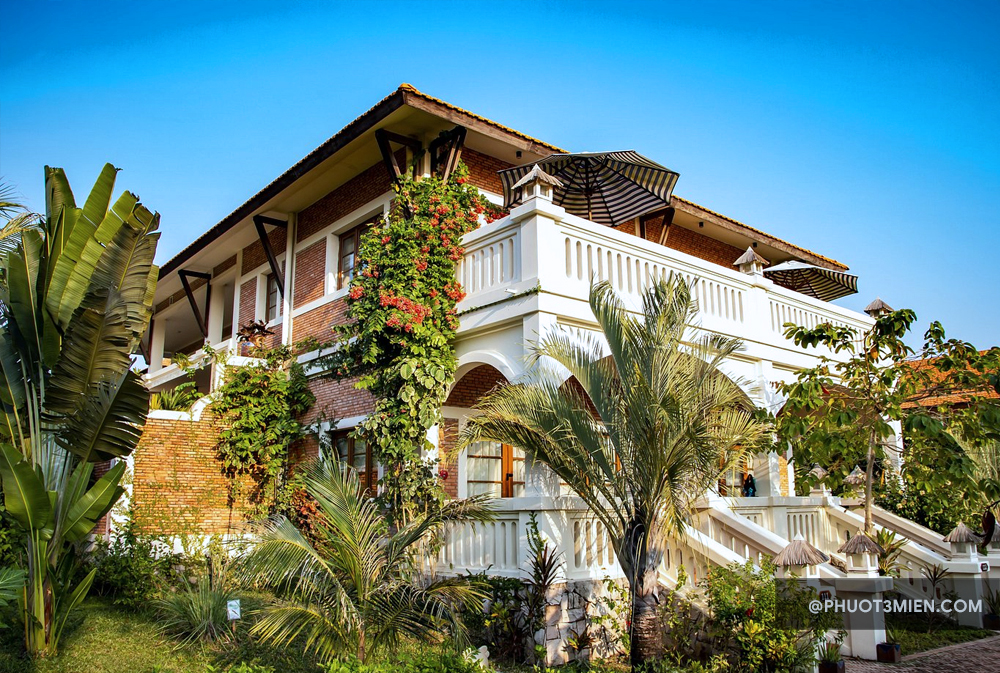 Information:
Price: from 143 USD/ night
Location: Tran Hung Dao Street – Long Beach, Phu Quoc Island
Website: update later
Booking Cassia Cottage Resort Online:
Booking: link here
Agoda: link here
Daisy Resort
This resort is settled on a western hilltop, away from the bustle right below on the busy Tran Hung Dao street. The place is ideal for you to enjoy some greenery. You get the best of both worlds though as it is only a 10-minute walk to the beach, where the sunset is magnificent.
Information:
Price: from 70 USD/ night
Location: Tran Hung Dao Street – Long Beach, Phu Quoc Island
Website: http://www.daisyresort.com
Link Booking:
Booking: link here
Agoda: link here
Mango Beach
While most resorts and tourist attractions are on the west side of the island, this beautiful resort is on the east. The chilly sunrise can be all yours here. Besides, it is quite close to Phu Quoc National Park – an exclusive biosphere of the area. If you are seeking for a trip of relaxation, in which you don't really want to be close to the rest of the crowds, this is where to go.
You should contact the host in advance to see if the location really suits your trip's purpose.
Information:
Price: from 91 USD/ night
Location: Near Ham Ninh fisher village, Phu Quoc Island
Website: Mango Beach Resort
Link Booking Mango Beach Resort:
Booking: link here
Agoda: link here
Rocks Beach Boutique Bungalow
This family-run resort is also another hidden pearl of the Pearl Island. Hiding in the Eastern coastal region, the accommodation provides guests with a beautiful and slightly rocky beach. You can hire a bike and go explore the mountain, choose to partake in some kayaking.
Budget Accommodation
If you are not a fan of co-surfing, several options below should be good:
Lien Tho Village Resort
This place is a bit away from the city center and the beach. However, there are bicycles and bikes for free borrow. Your stay with be comfortable with all the necessary amenities and there is also a big swimming pool. Most importantly, the hospitality is what makes the place.
Phu Nam House
This homestay shares the same owner of the previous Lien Tho Resort. It is built on the edge of a tropical forest, so chilly fresh air and lots of nature is what you can expect. The place is also just 1 km from Sao Beach – the most beautiful beach of the island.
Information:
Price: from 12 USD/ night
Location: Near Sao Beach, Phu Quoc Island
Link Booking Phu Nam House:
Booking: link here
The Venue
You will enjoy staying in a tropical garden with a calm and quiet atmosphere. The place is neat and clean, and the host is truly hospitable.
Price: from 21 USD/ night
Location: Duong Dong Town, Phu Quoc Island
Website: https://www.booking.com/hotel/vn/the-venue.vi.html
There you go! Whether you pick your accommodation at the center of the hustle and bustle or hide in the quiet remote area, you surely will have a great time on the island if you enjoy it right. Pay a visit to the Phu Quoc National Park a visit when you have time so that you will love this island even more thanks to its amazing biosphere reserve. Don't forget to drop by a pepper farm to witness how this island produces the most well-known pepper nationwide. Maybe talk more to the locals, exchange your adventure stories and fill up your trip with lots of smiles and love from new friends.
If you enjoyed reading this article and would like some more fun info about what to see, do and eat (and a bunch of interesting cafes!) in Vietnam, follow us at the Travel Blog Phuot3mien!