Phu Quoc – or as the Vietnamese people often call it "Pearl Island" – has lived right up to its nickname for having white-sand beaches and pristine natural scenes. Now imagine you have two perfect days to spend, what would you do on this gorgeous island? No more wondering, the answer is here!
Located in the island clusters of the Thailand Gulf, Phu Quoc stands out among the rest for being the biggest and also the most beautiful island for its undeniable charm. The white sand, clear turquoise water and mountain mass surrounding the island will definitely pull together an unforgettable trip. Follow this itinerary below and you'll see why!
How to Get There
This island belongs to Kien Giang province, which is about 250 kilometers from Ho Chi Minh City. There are usually three forms of transportation if you travel from Saigon: airplane, bus, and motorbike. However I only recommend traveling by air or by bus as going on a motorbike will take you a lot of time for a two day trip.
Traveling by airplane is the fastest way because it only takes you an hour. You can choose from three airlines, with Vietjet Air and Jetstar Pacific offering more cheap flights than Vietnam Airlines. While the general price for the first two companies is around 200,000 VND to 400,000 VND, it doubles when you fly with Vietnam Airlines (or even more). However, the setback of low-cost flights is that you have to book rather early in advance or there won't be any flights available. After landing, you can easily catch a taxi to the island center, which is ten kilometers away from Phu Quoc airport.
Taking a bus to get to Phu Quoc from Ho Chi Minh City is a bit trickier since you can't drive straight to an island! In this case, you'll have to take two routes: take a bus to a city in Kien Giang province, and then take a boat to reach Phu Quoc. Below is some useful information for regarding bus lines to Rach Gia and Ha Tien and it'll cost you around 150,000 VND to 180,000 VND:
Phuong Trang
Address: 272 De Tham, D.1
Hotline: 1900 6067
Website Futa Bus Lines: https://futabus.vn/en-US
Kumho Samco Busline
Address: 272 De Tham, D.1
Phone number: +84 28 39 225 112/+84 28 39 225 113
Website Kumho Samco Buslines: https://www.kumhosamco.com.vn/en
Upon your arrival in Rach Gia or Ha Tien, you can take either a hydrofoil or a ferry to reach Phu Quoc. Superdong and Phu Quoc Express are two companies that offer hydrofoil service from both departure points: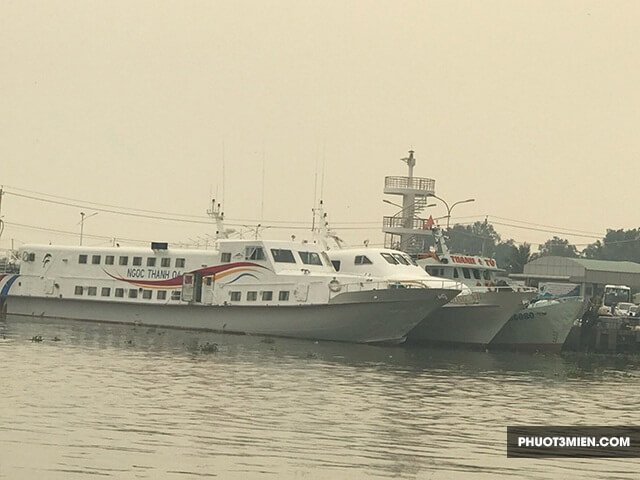 Superdong
Address: They have a main office in Phu Quoc and various branches in other cities, including Saigon.
Hotline: +84 919 664 660
Website Superdong Website: https://superdong.com.vn/
Phu Quoc Express
Address: 15 Tran Hung Dao, Duong Dong, Phu Quoc, Kien Giang
A60 Phu Thuan, District 7, Ho Chi Minh City
Phone number: +84 297 6281 888/+84 283 8733 686
Website Phu Quoc Express Website: https://www.pqe.com.vn
But before starting your journey to this lovely island, don't forget to do some research on the best times to visit Phu Quoc. You'll have chances to enjoy the beaches in perfect weather, capture the most colorful season for coral reefs, or even experience Phu Quoc in the low season, or what I like to call "the sneaky mode".
Where to Stay
Two days to spend in Phu Quoc gives you just enough time to stay in a luxury resort or affordable homestay depending on your preference. Just like any other famous traveling spot in Vietnam, there's a wide range of accommodations for you to pick from.
Fancy Resorts
JW Marriott Phu Quoc Emerald Bay Resort & Spa
This resort is truly a glorious heaven for those who want a "bipolar" experience between a magnificent man-made resort, and its surrounding untouched beauty of Phu Quoc beach. Located alongside Bai Khem, JW Marriott Phu Quoc was designed by Bill Bensley, leaving only wonders to those who have stayed here. Want a taste of classic architecture with modern amenities served with international quality during your trip to Pearl Island? This is the place.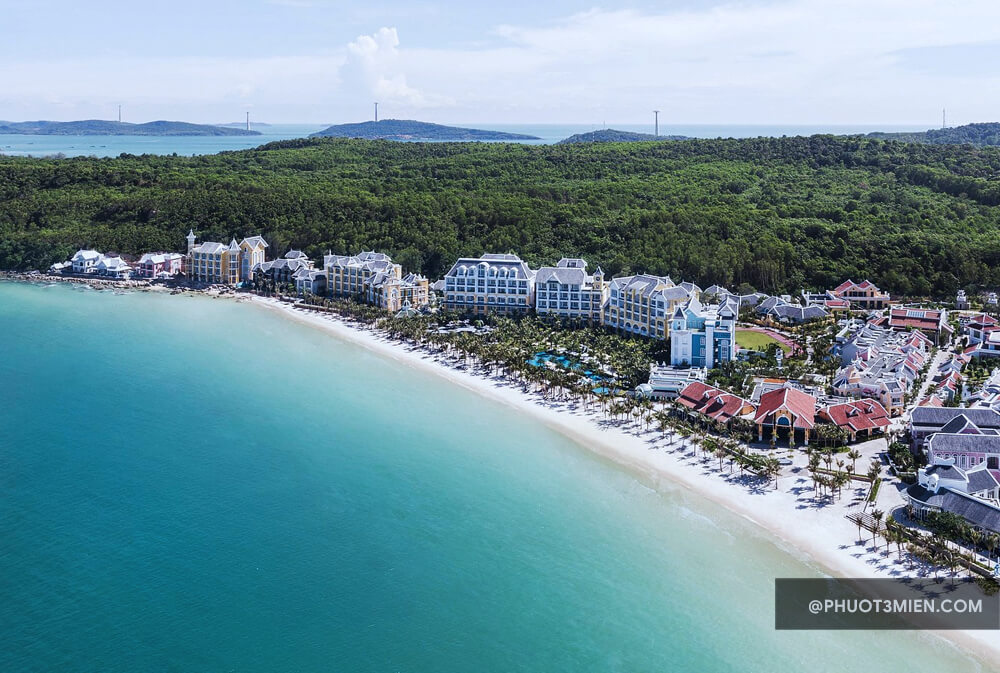 Address: Bai Khem, An Thoi town, Phu Quoc, Kien Giang
Phone number: +84 297 377 9999
Website: https://www.marriott.com/en-us/hotels/pqcjw-jw-marriott-phu-quoc-emerald-bay-resort-and-spa/overview/
Booking with Agoda: link
Price: starting at 450 USD
Vinpearl Resort & Spa Phu Quoc
Vinpearl is a five-star resort of Vingroup – a large Vietnamese corporation specializing in many trading activities, including tourism. You can expect quite a traditional yet luxurious design. Moreover, Vinpearl Phu Quoc has many other entertainment activities to offer guests, ranging from waterpark games to a zoo. This resort is definitely a blend of local images served in high quality.
Address: Bai Dai, Phu Quoc, Kien Giang
Phone number: +84 297 351 9999
Website: https://www.vinpearl.com/en/vinpearl-phu-quoc-resort
Booking with Agoda: link
Price: starting at 150 USD
Mid-range Resorts
Peppercorn Beach Resort
This resort is located just seven kilometers from Dai beach and offers great value for money. With its unique architecture of thatched rooms, you can experience a very homey stay at Peppercorn. Other features are also available to elevate your trip such as a restaurant, bar, nail and massage spa.
Address: Group 8, Chuong Vich, Ganh Dau, Phu Quoc, Kien Giang
Phone number: +84 297 3989 567
Website: https://www.peppercornbeach.com/
Booking with Agoda: link
Price: starting at 65 USD
Bamboo Cottages & Restaurant
This hotel is doing its part in preserving the environment by mainly relying on solar energy and its cool setting in a beautiful coconut garden. With its beachfront location, you can easily enjoy sunrise and sunset scenes just a few steps away from your room. Or should I say, your cottage because this hotel has a cottage design, which is a traditional house of the Vietnamese people. Come enjoy a relaxing stay here and immerse yourself in nature!
Address: Vung Bau Bay, Cua Can Village, Phu Quoc, Kien Giang
Phone number: +84 297 2810 345
Website: https://www.bamboophuquoc.com/
Booking with Agoda: link
Price: starting at 40 USD
Day 1
Morning
Let's start our day with the legendary cuisine of Phu Quoc: bun quay, or translated into English as stirred vermicelli. The reason behind this name lies in how you eat the dish. Fresh shrimp and fish are carefully minced into a paste, which is later spread inside the bowl. Before eating bun quay, stir the mixture with hot soup to fully cook it. The flavor wafting from the bowl will also be richer and tastier! You can try one of the below restaurants for the best bun quay in town:
Bun Quay Kien Xay
Address: 28 Bach Dang, Phu Quoc, Kien Giang
Opening hours: 6:30 AM to 11:00 PM
Price range: 15,000 VND to 30,000 VND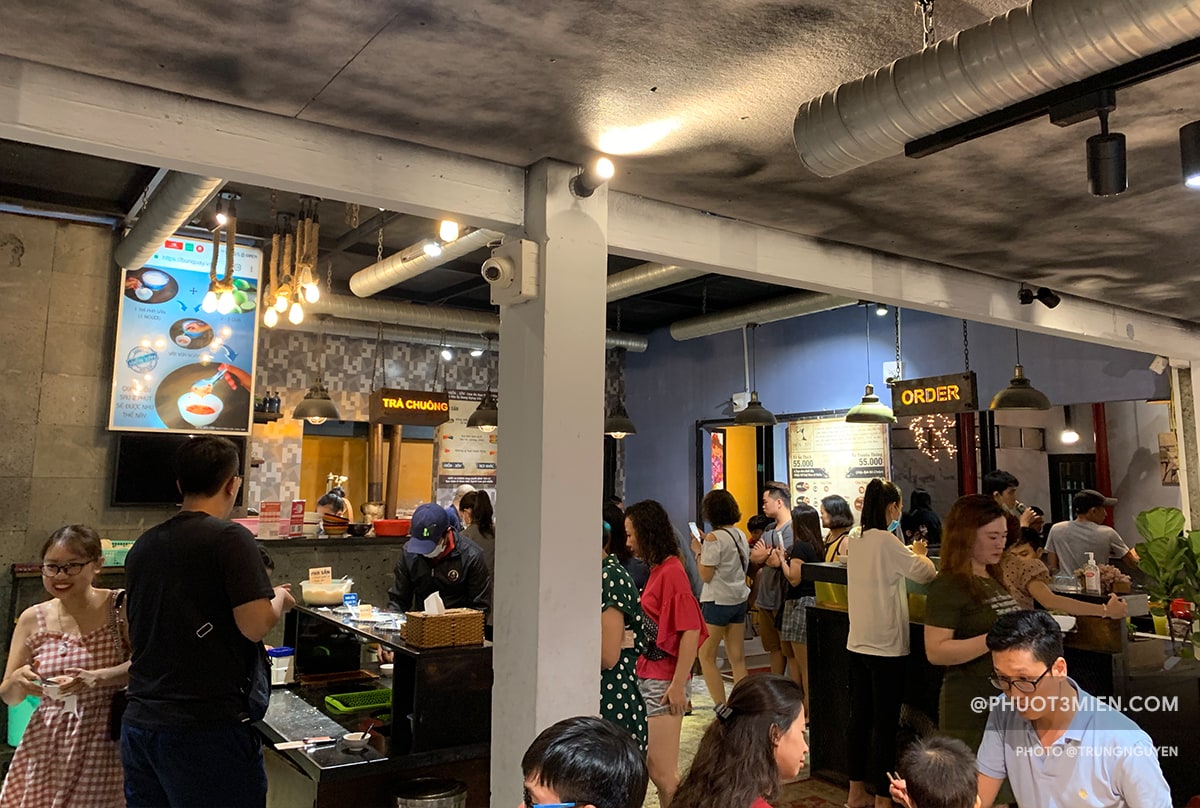 Bun Quay Thanh Hung
Address: 157 Ba Muoi Thang Tu, Phu Quoc, Kien Giang
Opening hours: 9:00 AM to 11:00 PM
Price range: 20,000 VND to 25,000 VND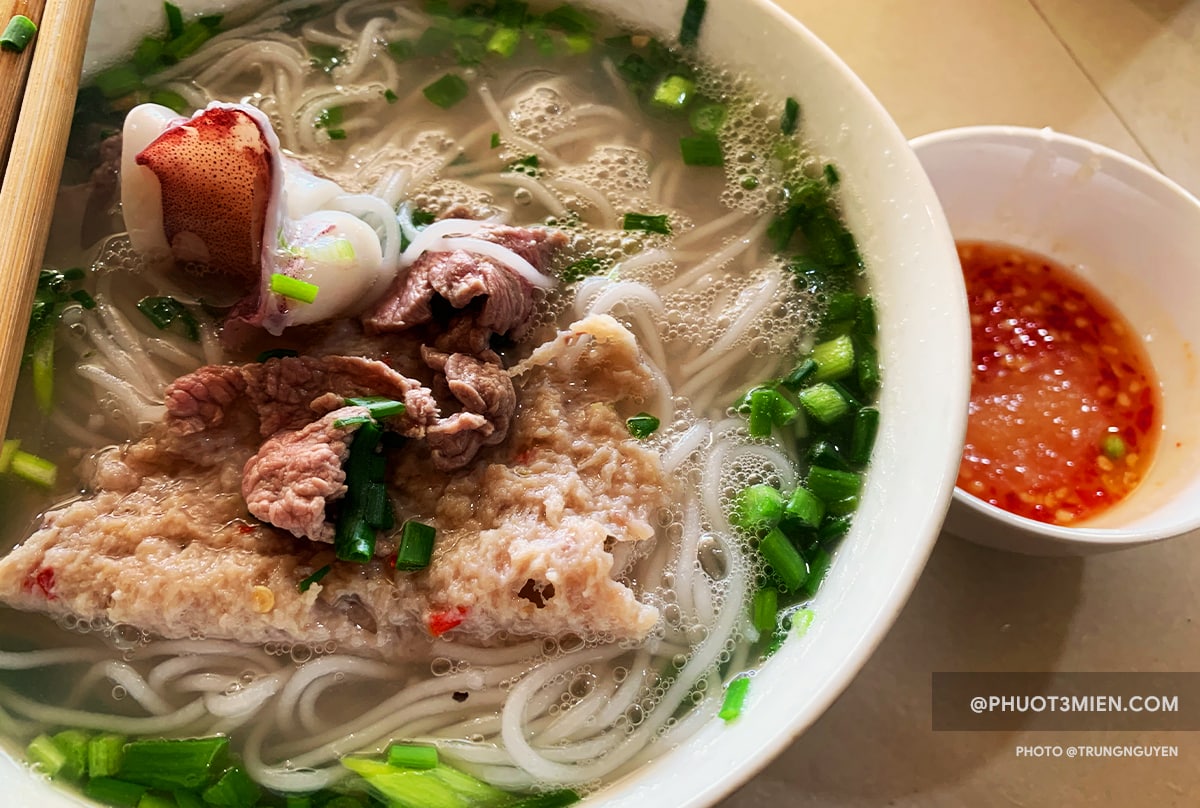 After breakfast, you can head to Ham Ninh fishing village. Located about 20 kilometers from Duong Dong town, this is a village with picturesque scenes and fishermen still living by their ancient trade. Do a little shopping here and bring home some marine souvenirs. Ham Ninh village is also said to be a very photogenic spot so you can take lots of photos with beautiful backgrounds of the wide sea and clear sky above you. When lunchtime is near, enjoy a seafood feast prepared on the boats of fishermen. The delicious food and the local friendliness will certainly make your day.
Afternoon
After a tour in Ham Ninh village, let's go to Bai Sao –  one of the most beautiful beaches in Phu Quoc. It is situated in An Thoi town, and you need to travel around 20 kilometers to reach it from Ham Ninh village. But the road is very wide and smooth, so don't worry if you travel by motorbike. Put on your swimsuit and rush to the sea!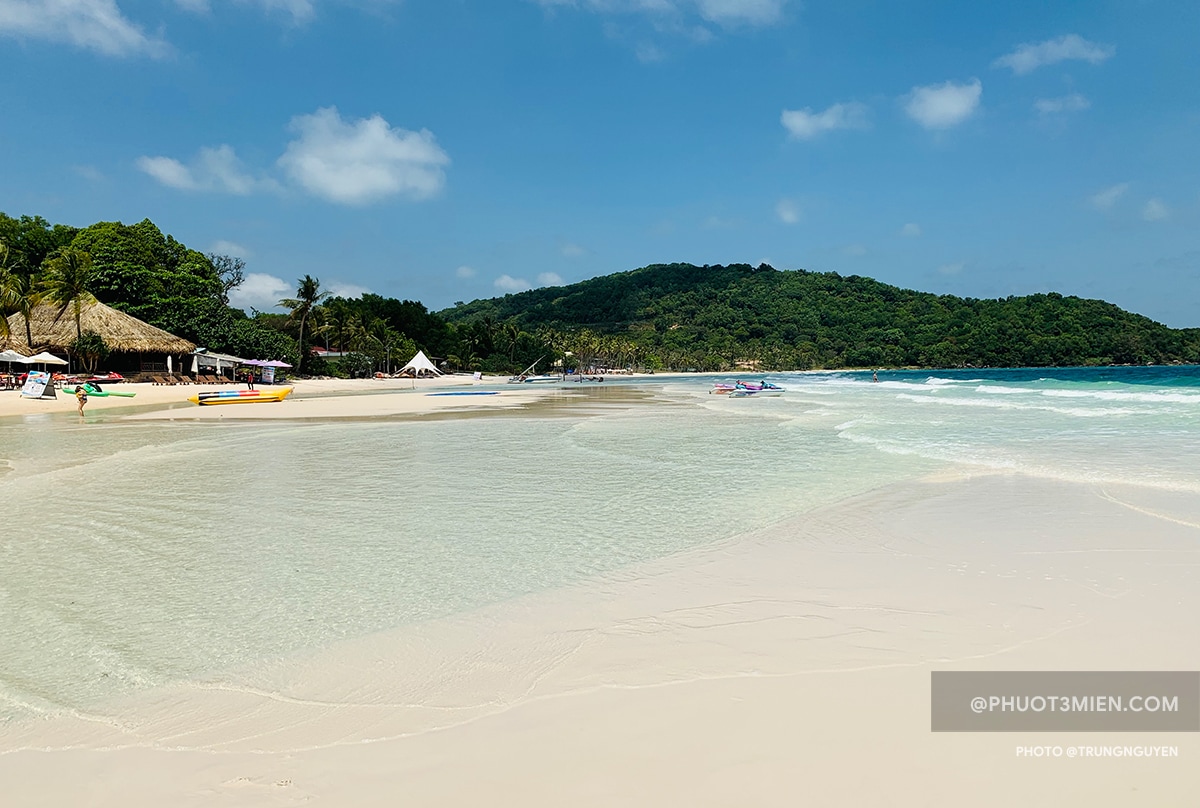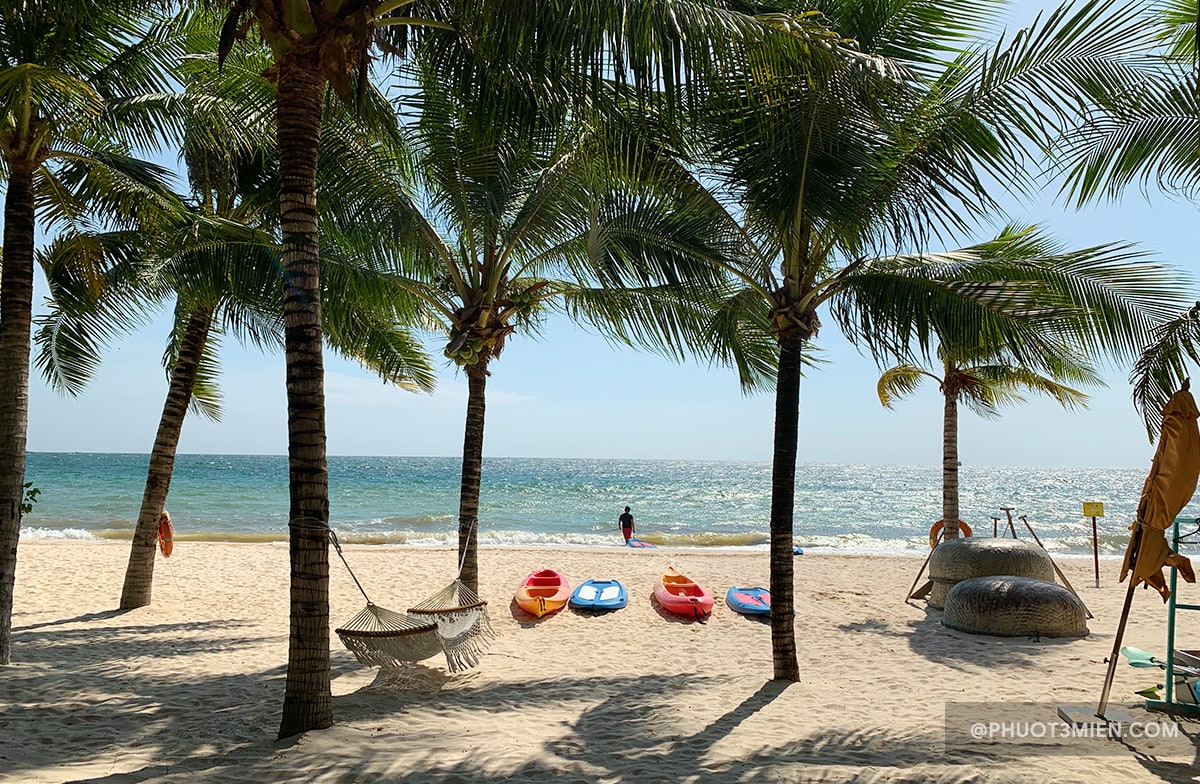 An Thoi station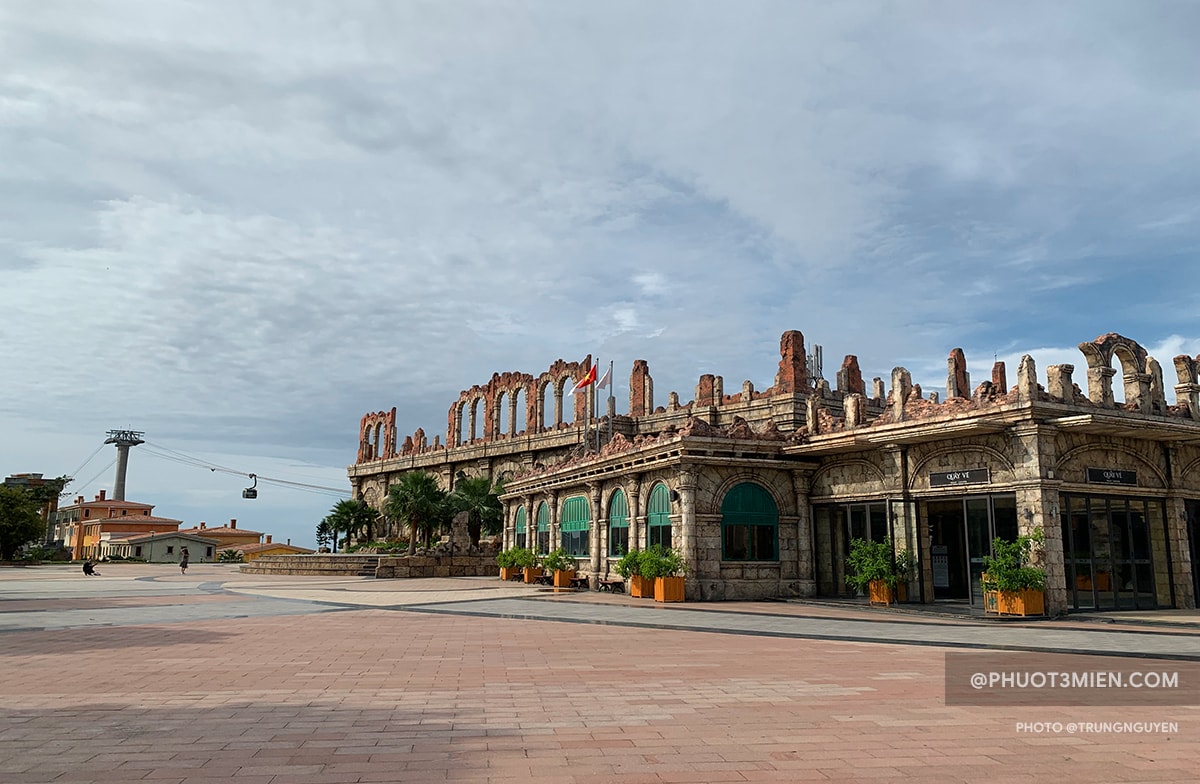 Evening
One of my favorite night activities on this island is visiting Phu Quoc night market, where you can have an extreme local experience by enjoying food and doing some shopping.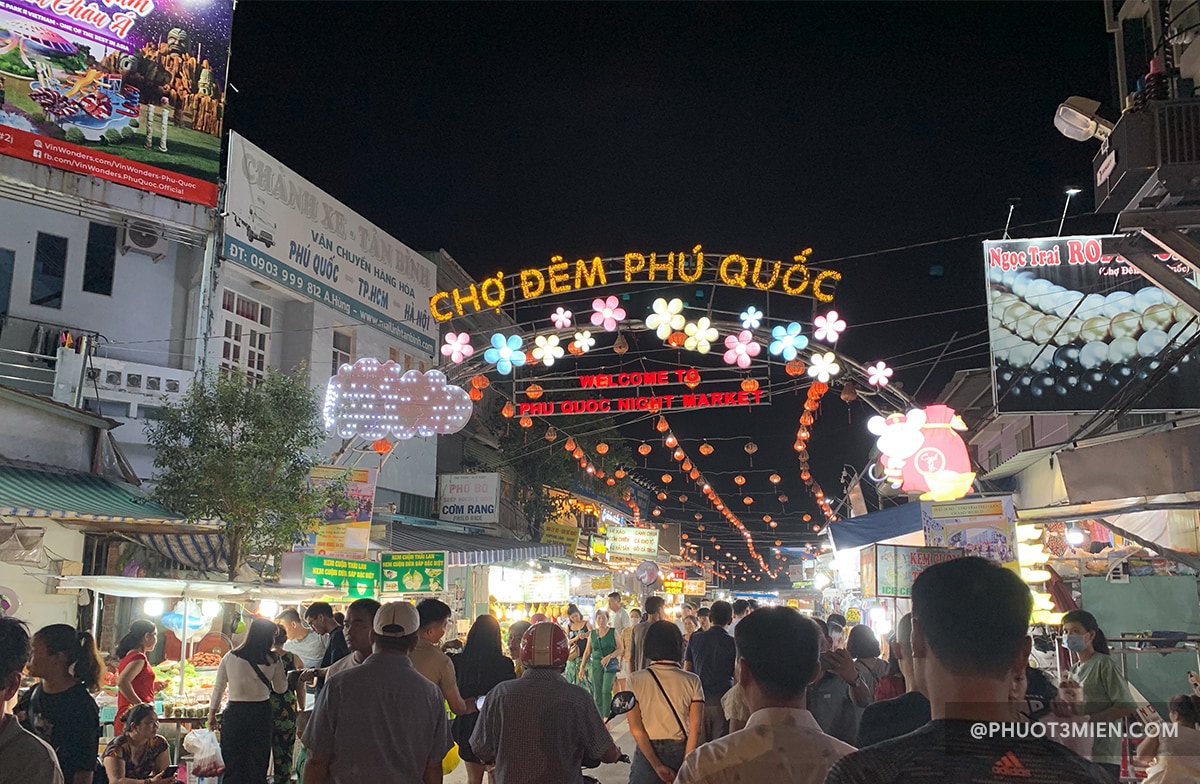 Speaking of food, there are plenty of street vendors and big restaurants. You should really try Phu Quoc special street food such as grilled sea urchins, handmade coconut candy, sweet banh uot, and tons of other dishes. Finish this food tour and you can call it a day.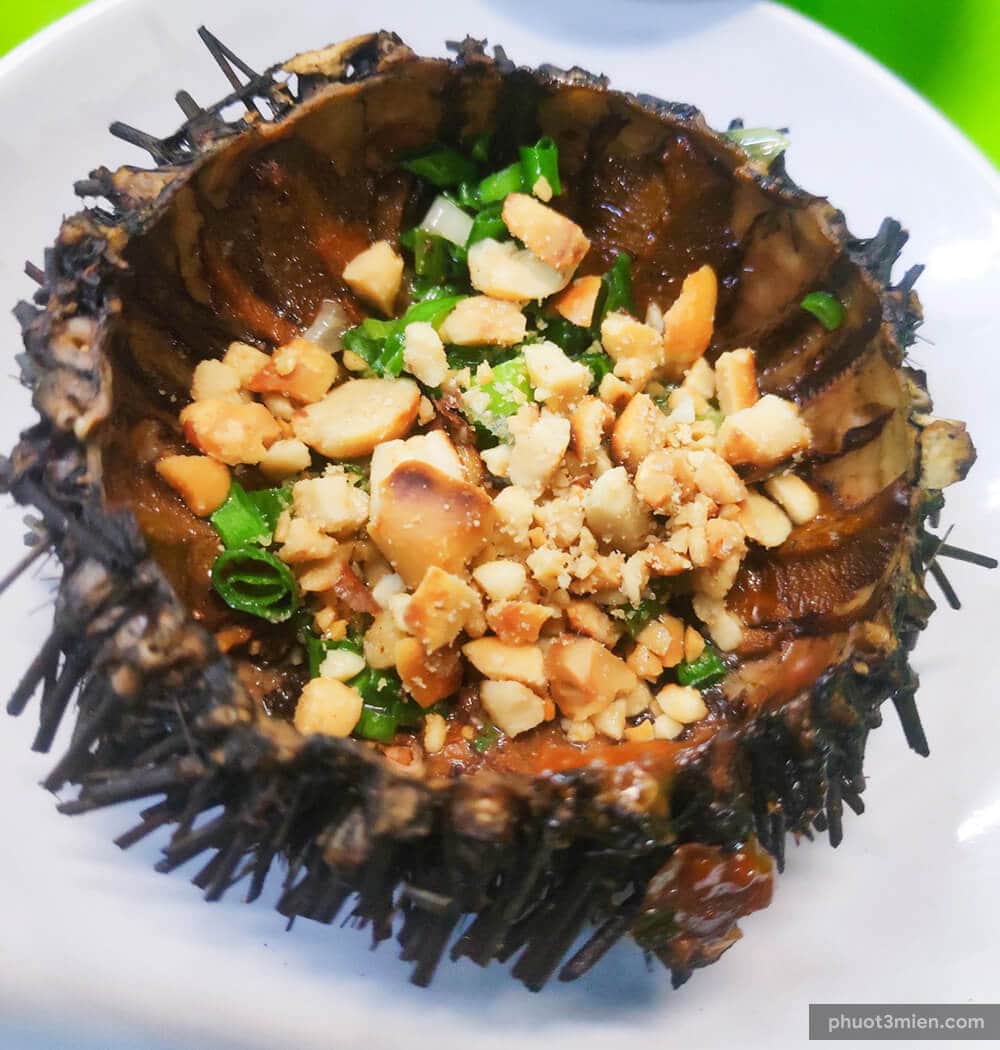 Day 2
Morning
On this second day, you must try mackerel noodles for breakfast. Mackerel fish is cooked in many ways, but it is often fried or steamed according to the cooks' style. This special bowl of noodles still has the fresh oceanic flavor from the fish broth and tasty seasoning from the cooks. With herbs and scallions on top, you will slurp up every last bite until it's finished!
Banh canh Phung
Address: 27 Bach Dang, Phu Quoc, Kien Giang
Phone number: +84 91 907 62 39
Opening hours: 6:30 AM to 10:00 PM
Price range: 20,000 VND to 30,000 VND
Banh canh Hanh
Address: Bach Dang, Phu Quoc, Kien Giang. This restaurant is next to Phung.
Opening hours: 6:30 AM to 9:30 PM
Price range: 25,000 VND to 30,000 VND
Next comes a spiritual trip to Truc Lam Ho Quoc monastery. This place is in the southeast region of the island, with one side facing the mountains and the other meeting the horizon of the sea. The view is remarkable so come prepared with some viewing "materials"!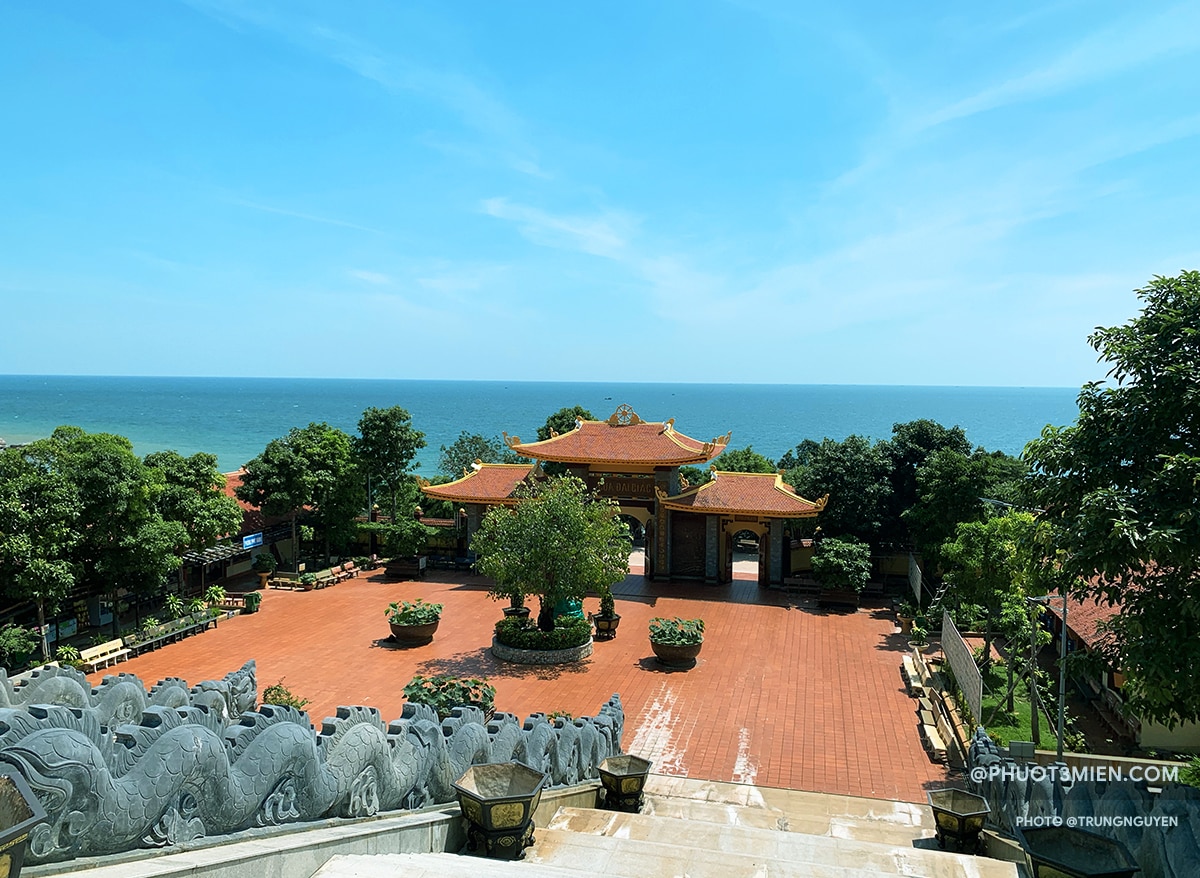 The final stop
Now that we're getting close to the end of the trip, I really recommend visiting Dinh Cau temple. Located just beside Duong Dong river, this temple was built right on a rugged cliff and has become a unique structure of Phu Quoc island. Traditional beliefs have long been very important to the fishing community of Phu Quoc island, resulting in this extraordinary temple. Every year, they visit this temple and pray for good weather and a good catch. Besides traditional ritual practices, you can also enjoy a marvelous sunset from Dinh Cau. The temple has a great view of the whole sea reaching out to the horizon.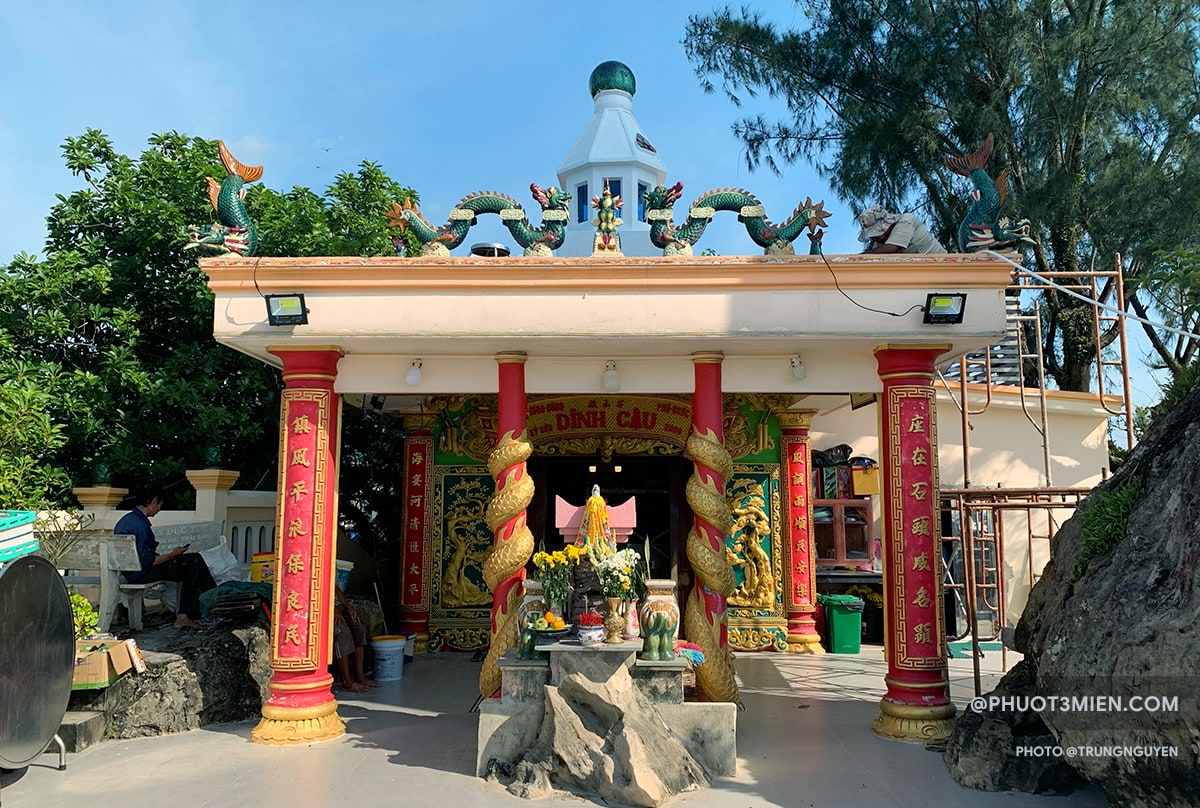 Phu Quoc is indeed a mesmerizing island. You can have a handful of different experiences from soaking in the sea to discovering the traditional culture of local people in just two days. So what are you waiting for? Pack up and go!
If you're still not convinced to visit Phu Quoc, give this article a read. Or check out these links below for information about the other islands of Vietnam:
An Expert Guide to Ly Son Island
Your Guide to Visiting Cham Island (Cu Lao Cham)
If you enjoyed reading this article and would like some more fun info about what to see, do and eat (and a bunch of interesting cafes!) in Vietnam, follow us at the Travel Blog Phuot3mien!