When traveling, it is very important to find a place that has a comfy bed, a clean floor, and bathroom, all with good service. That is why high-end accommodation must be considered.
Together with food, accommodation is one of the key factors that decide whether your trip is going to be a good or bad one. When traveling, it is very important to find a place that has a comfy bed, a clean floor, and bathroom, all with good service. That is why high-end accommodation must be considered. There are a countless number of accommodation services in Hanoi that meet the demand of millions of visitors coming to the city every year. Here are the top 10 best accommodations in Hanoi and the pros and cons.
Nha Ben Rung – U Lesa
Have you ever dreamt of staying in a house built in a forest, in order to run away from the busy city for a while? If you have, U Lesa is where your dream will come true. The best thing to do here is to take as many pictures as you can because the design of the house and the atmosphere is alluring! The three houses of U Lesa are built in the pine forest of Soc Son Ward (15 kilometers from Noi Bai International airport.)
See more Images in Fanpage: https://www.facebook.com/ULesaRetreat/photos
Which house you stay in depends on the size of your group. The Wooden House a beautiful small house for two people, which has a view to the pine alley, a BBQ section on the top floor, and an outdoor concrete pool to soak in and relax. White Garden House is a bigger building with a capacity of four people. It has a poetic balcony, a perfect space for reading books. Finally, the Brick House is the biggest. It can host 15 people! You will have a small yard for a BBQ party with your group of friends and family. Although it is located in a forest, you still can expect to have air conditioning and a water heater. Furthermore, you can always borrow the bicycle from the homestay to explore the surrounding area such as the lakes and Temple of Saint Giong.
Pros:
Food catering is available

Fresh air and peaceful atmosphere

Free bicycle service

Private toilet

Friendly staff

15 kilometers from Noi Bai International Airport
Cons:
Mosquito alert! Because of the site, there will be mosquitos in the evening. You should bring your anti-bug spray.

Distance from the city center. It will take you about an hour ttravelingby car to the city center.

Room price increases on the weekend.
Information:
Address: Lam Truong Area, Minh Phu, Soc Son Ward, Hanoi

Phone number: 0989 331 234
Price range: 1,199,000 VND – 1,499,000 VND

Book via Facebook:

Nha Ben Rung

Website: http://nhabenrung.vn/
Urban Getaway 
This is a modern wooden-glass villa in Soc Son district, one hour away from Hanoi. Every corner of this house is fantastic for photos. There are two bedrooms: the small one on the ground floor is suitable for a small family or couple. The bedroom on the first floor has a huge bed, which can fit three people, and the room also has extra mattresses. All rooms have air conditioners and electric fans. There is a fully-equipped kitchen in the house so you can bring some ingredients and cook your meals there.
See more Images in Fanpage: https://www.facebook.com/UrbanGetawayVietnam/photos
You can also order delicious food from the staff living nearby! In the afternoon, you can go jogging in the pine forest or go to the paintball center nearby to have some fun. The swimming pool is located one kilometer away from Urban Getaway so you can escape the heat of Hanoi!
Pros:
Peaceful space in the pine forest

15 kilometers from the airport

Private kitchen

Private bathroom
Cons:
No bathroom amenities and towels available

No charcoal for the BBQ grill. You must prepare it yourself.

43.5 kilometers from Hanoi

The price increases from Thursday to Sunday
Information:
Address:Lam Truong Area, Minh Phu, Soc Son Ward

Phone number: 0989 331 234
Price range:  2.000.000 – 4.000.000đ

Facebook: Urban Getaway 
Satori Homestay
Who wants to live in a boho-style apartment in the heart of Hanoi? Satori Homestay is a delightful and colorful space located just a minute away from Sword Lake. In the morning, the sun lights up the whole room, making you feel like you're in a tropical heaven. In the evening, the wind blows inside the house to cool off the day's heat. Every detail in this apartment, from the colors to the small decorative items, are unique yet sophisticated, which reflects the owner's great taste for art.
See more Images in Fanpage: https://www.facebook.com/satorihomestay/photos
At Satori Homestay, you have access to a private bedroom, a balcony that has an awesome view of the streets of Hanoi, a blossoming tree, a cute kitchen with many plates and bowls, a fridge, and a washing machine. Imagine how fabulous it is to sit in a luminous room, drink a cup of Vietnamese coffee, and write in your travel journal. This is what it means to truly enjoy life.
Pros:
1 minute of walking to Sword Lake

9 minutes of walking to Hanoi Old Quarter

Friendly staff

Shared kitchen

Coffee shop nearby
Cons:
No elevator

Shared bathroom
Information:
Au Frais Homestay
Au Frais Homestay is one of the most luxurious apartments in Hanoi. This penthouse is quite big with two balconies with a view to West Lake. There are two bedrooms, one common room, and a kitchen in Au Frais Homestay, each of which is furnished with opulent furniture.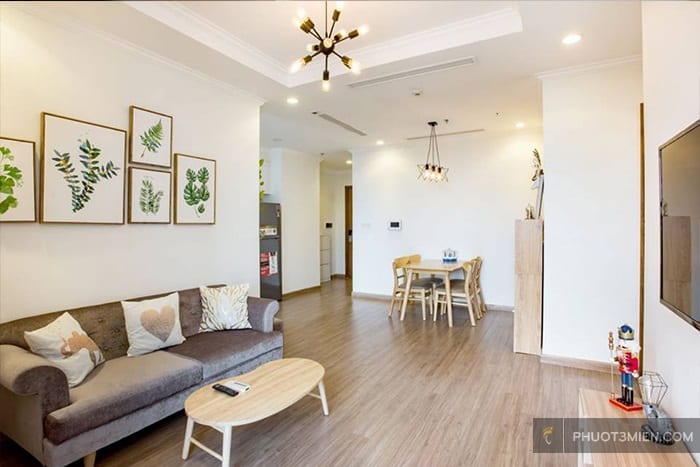 The elegant style makes you feel sophisticated and ready to take on Hanoi. What I love the most in this place is the lovely indoor swing and the outdoor bed, so you can lay on it listening to the sounds of the city and the conversation of your friends.
Pros:
5 mins away from West Lake

The space is huge

Ideal balcony for BBQ party

Stunning decoration
Cons:
Only 2 bathrooms

You will have to take the stairs from the 8th to 9th floor, as the elevator stops on the 8th floor.
Information:
Address: 23 Tay Ho, Tay Ho Ward, Hanoi

Booking Phone number: 0247 303 4488
Price range:

2,000,000 – 2,500,000 VND (91 USD – 114 USD)
Pan Pacific Hanoi
Pan Pacific was formerly Sofitel Hanoi. It has a great view of the West Lake, Truc Bach Lake, and the Red River. The stylish rooms are decorated with neutral and warm tones, like a soft yellow. The interiors come in modern and Vietnamese design. Each room has a private bathroom, which has a relaxing bathtub or shower and French bathroom amenities.
See more Images in Fanpage: https://www.facebook.com/panpacifichanoi/photos
You can find food two restaurants located inside the hotel. Ming Restaurant offers Chinese food and Pacifica has an international buffet. There is also a rooftop lounge which has a panoramic city view!
Pros:
Buffet breakfast at Pacifica Restaurant is excellent

The staff are friendly and helpful

Location is near West Lake

Pools
Cons:
The bed is a little hard and the pillow is a little soft

The noise of the busy street might annoy you

3 kilometers to Hanoi Old Quarter
Information:
Address: 1 Thanh Nien, Ba Dinh Dist., Hanoi

Phone number: 024 3823 8888
Price range: 2,400,000 – 4,500,000 VND (109 USD – 197 USD)

Fanpage:

Pan Pacific Hanoi
Link Booking:
Somerset West Point Hanoi
This property is well adorned with the impeccable design of every piece of furniture. The theme colors of Somerset West Point Hanoi are red, light brown, and they make use of natural daylight, which gives the room a fresh and warm touch.
After exploring Hanoi, there is nothing better than throwing yourself on the comfortable bed of Somerset West Point to relax. Not to mention its dining room is clean, neat, and simply amazing. This place is fit for those who like sightseeing, history, and culture.
Pros:
Located 2.1 kilometers from West Lake, 2.4 kilometers from Ho Chi Minh Mausoleum

Features a private kitchen and public gym

The resident lounge is perfect for entertaining a group of friends
Cons:
5.5 kilometers to the city center
Information:
Address:2 Tay Ho, Quang An, Tay Ho Ward, Hanoi.

Phone number: 024 3934 5656
Price range: From 2,000,000 VND (100 USD)

Website: https://www.discoverasr.com/en/somerset-serviced-residence/vietnam/somerset-west-lake-hanoi
The Lapis Hotel
500 meters away from the Hanoi Opera House is Lapis Hotel. Guests love staying at The Lapis because of the vintage decoration, the fancy swimming pool, and the very nice room. Every room in Lapis Hotel is carpeted and furnished with beautiful pieces.
See more Images in Fanpage: https://www.facebook.com/thelapishotel/photos
In the room, you will find a cable flat-screen TV, a minibar, and private bathroom that comes with bathrobes, slippers, a hairdryer, and toiletries. If you feel hungry but don't want to go out,  Gambretta Restaurant, located inside the hotel, is always ready to serve you. Furthermore, a sun terrace and a shared lounge are where you can relax and sunbathe. The Lapis Hotel is especially loved by couples.
Pros:

– Walking distance to Hanoi Old Quarter and Sword Lake

– Fancy pool, jacuzzi, sauna, steam bath

– Friendly staff

– Good view from the pool
Cons:

– Some rooms have no windows

– Breakfast portion is a bit small
MORE INFORMATION 

Address: 21 Tran Hung Dao Street, Hoan Kiem Dist, Hanoi, Vietnam

Phone number: 024 3633 3333

Price range: 2,000,000 – 3,500,000 VND (91 USD – 160 USD)

Fanpage The Lapis Hotel: https://www.facebook.com/thelapishotel/
Link booking:
Hyggy Homestay
What makes Hyggy Homestay stand-out from the other thousands of accommodation in Hanoi is the huge garden. This is the ideal place if you are looking for a getaway within the city. The bungalow was built next to a flower market, where you can wake up early in the morning and go shop for some flowers to give to your loved one or yourself (because you deserve it).
Though the bungalow is small, the owner did a very great job maximizing the use of the space. It is fully equipped with one bedroom, a kitchen space, a living room, and a bathroom. As mentioned, the garden is the best part of this house, where you can gather with your friends for an intimate party.
Pros:
A big garden with a lot of trees and shadows

A helpful host

Located near the local market, West Lake, and Tran Quoc Pagoda

Provides first aid kit
Cons:
7 kilometers from Hanoi Old Quarter

Mosquitos. Bring mosquito spray.
Information:
Address: 

244 Au Co, Nhat Tan, Tay Ho, Ha Noi



Phone number: 00842439352677

Price range: 1,600,000 VND (76 USD)

Lacaito Homestay
Update: stop business
Lacaito Homestay (which means "is a nest") is located just one kilometer from Hoan Kiem Lake, or Sword Lake, hidden in Hanoi's French Quarter. It has two well-decorated spaces, the bigger one is called "The May" and the other space is called "Funky." Both spaces are fully-equipped with one bedroom, private bathroom, a small living room, a cute kitchen, and a lovely garden. Once you stay a night on the comfortable bed, you will never want to leave. Plus, the check-in process is quite simple. All you have to do is contact the owner for the key to access the house and that's it!
Pros:
Walking distance to Sword Lake

Private kitchen is available

Private bathroom

Quiet and nice atmosphere

Extra bed upon request

Friendly staff
Cons:
Parking lot is not available. You will have to find a parking lot nearby.

Booking rooms is difficult since they are always full. Ideally you should reserve your room one week before arrival.
Information:
Phone number: 096 322 38 68

Price range:

800,000 VND (40 USD) – 1,000,000 (50 USD)



Above is the list of the best luxurious accommodations to stay in Hanoi. I hope it will help you find a great place to stay when in Hanoi. Have a good time exploring the capital of Vietnam.
Also, you might want to check out our article about 5 must-try break-fast in Hanoi, confessions of a shopaholic: guide to shopping in Hanoi , and how to spend 2 days in Hanoi. We also focus on culture and socially responsible traveling so you can give back to the special community of Vietnam.
If you enjoyed reading this article and would like some more fun info about what to see, do and eat (and a bunch of interesting cafes!) in Vietnam, follow us at Phuot3mien Blog!