The Independence Palace and the War Remnants Museum are places you must visit when in Saigon. But what do you do when both of these close for lunch?
Vietnam's come a long way in providing services for tourists over the last three decades, but some habits die hard. If any of you have turned up to a museum or attraction late morning or early afternoon, you'll know what I mean. The lunch break starts as early as 11 AM at some sites and don't reopen until 1 PM or later. Unless you feel like a really long lunch, you might end up at a loose end for a few hours.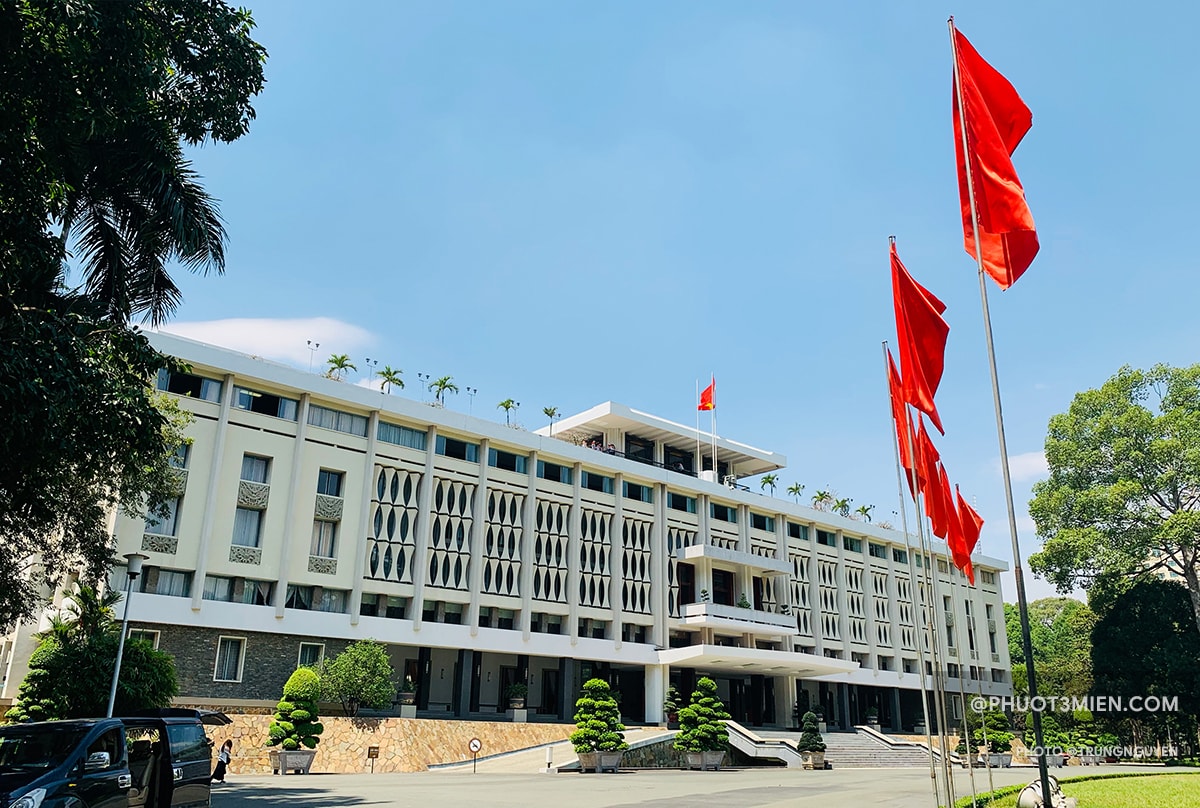 That's exactly what happens if you're trying to take in the major sites around D1 and D3 in Saigon. You get kicked out of Independence Palace at 11 AM, and the War Remnants Museum doesn't open until 1:30 PM. If you're smart, you will have already visited Notre Dame Cathedral and the Central Post office in the early morning light, and possibly even done the rounds of the other major architectural highlights like the Opera House and People's Committee building.
It's too hot to walk too far in the sun, and restaurants want you in and out as fast as you can to make way for the next wave of hungry tourists. If you're in this situation, we've devised an exploration tour of the leafy streets around District 3. You'll get to spy some of the exceptional architecture still dotted around the city and be reminded of the rapid pace of change taking place. The juxtaposition of the old and the new is quite striking in these areas.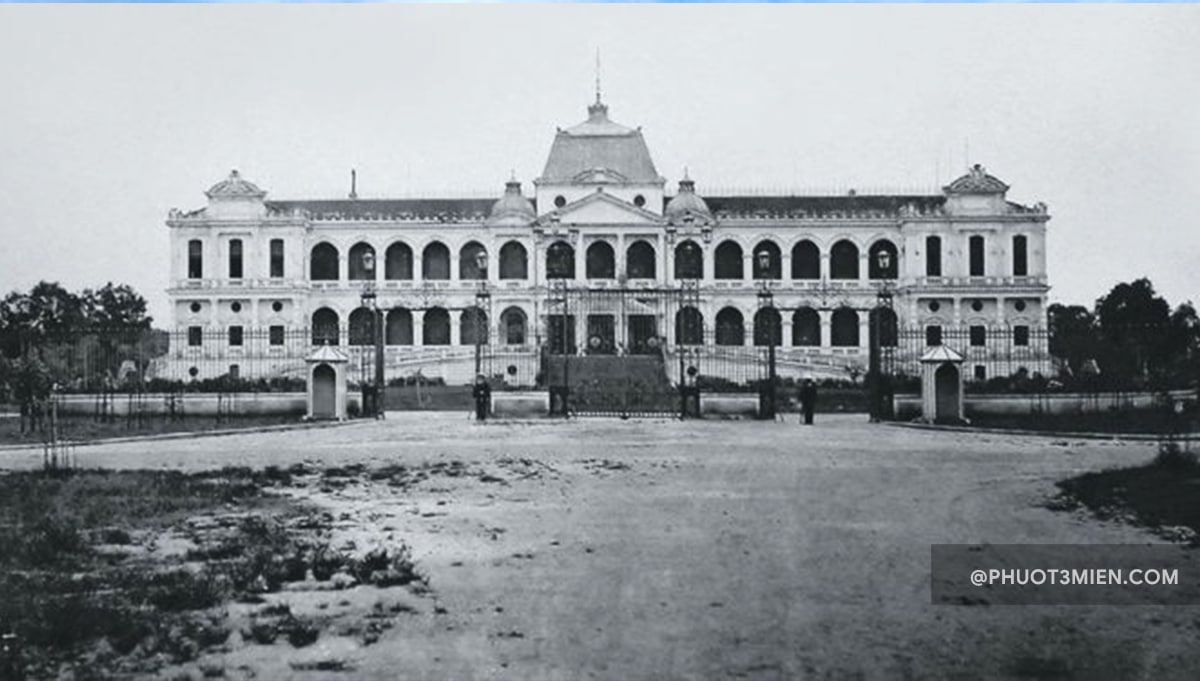 Some of the interesting buildings along the way are shielded somewhat by fences and high walls, but it's still possible to get a glimpse and take pictures of the impressive architectural features. We've mentioned a few highlights in the route below, but there are many others if you keep your eyes peeled. If you get hot and sweaty en route, there are dozens of cute cafes along the way.
Suggested route from Reunification Palace
Total distance: 2.7 kilometers
Estimated walking time: 45 minutes (plus pictures)
While you visit the Independence Palace, remember to see the tanks and helicopter on the campus which has lots of interesting information. When you get inside the palace, the ideal direction is from the ground floor to the rooftop, and the basement is the last stop. A little tip is to buy a cold drink, relax on the rooftop, and have a good view of the city before moving to the basement. There are English, French, and Vietnamese descriptions at every exhibited room and item, so you can easily understand the history.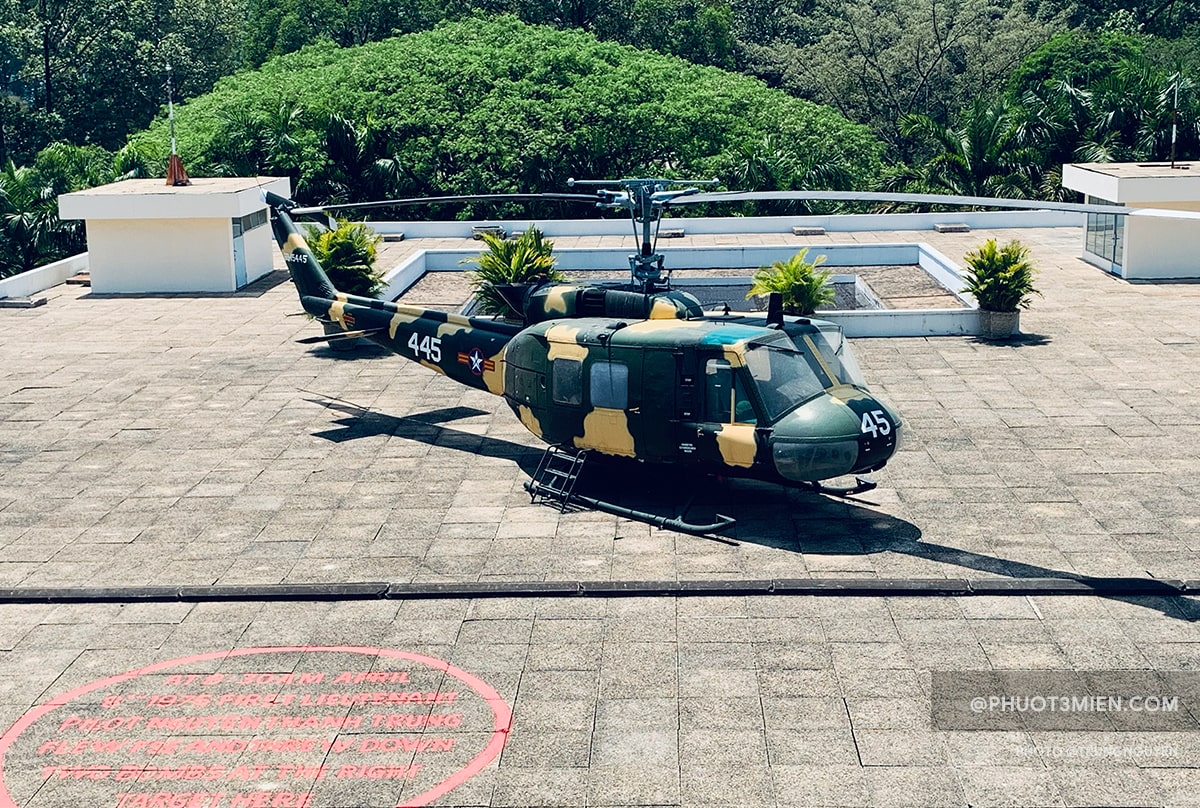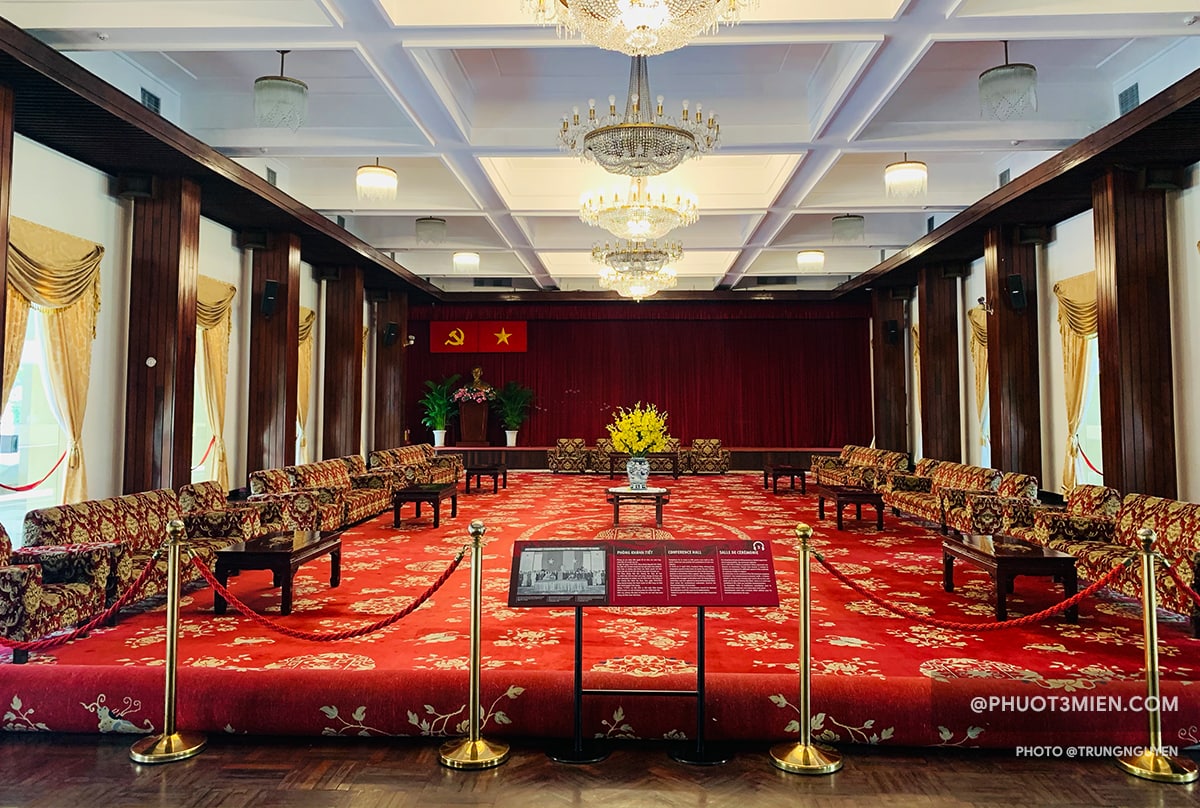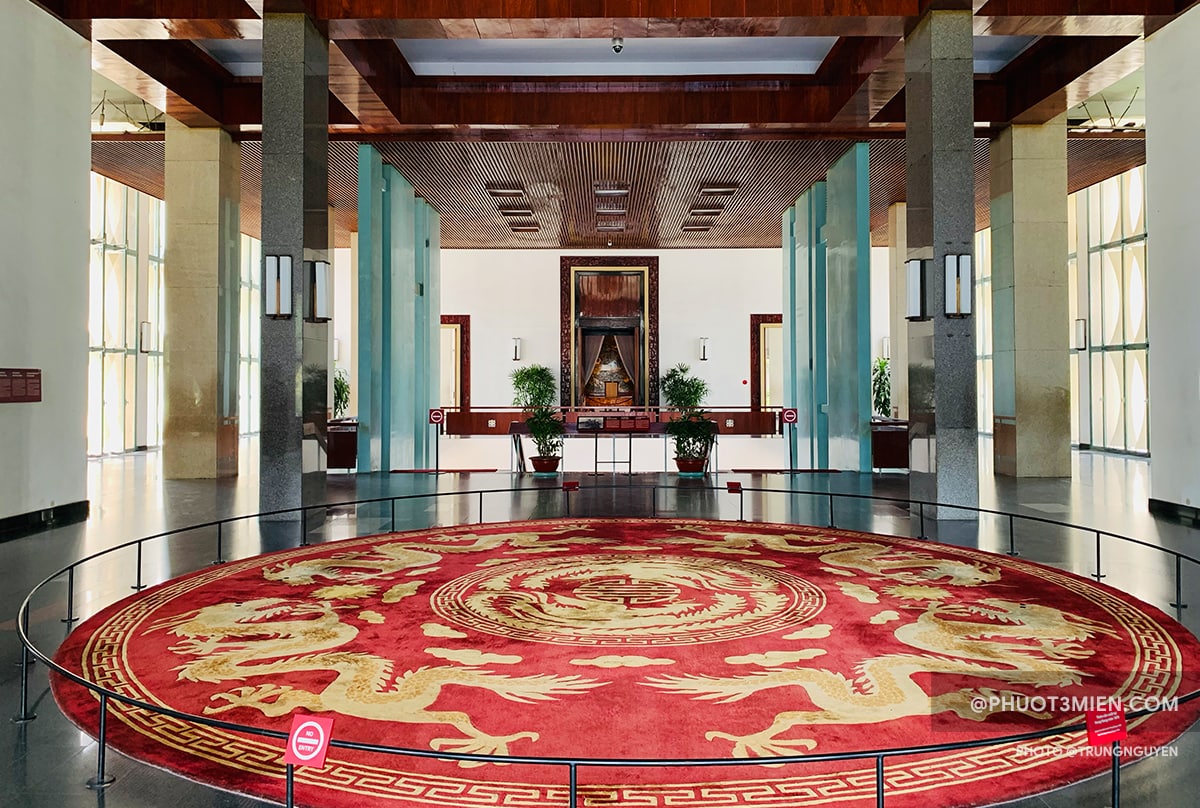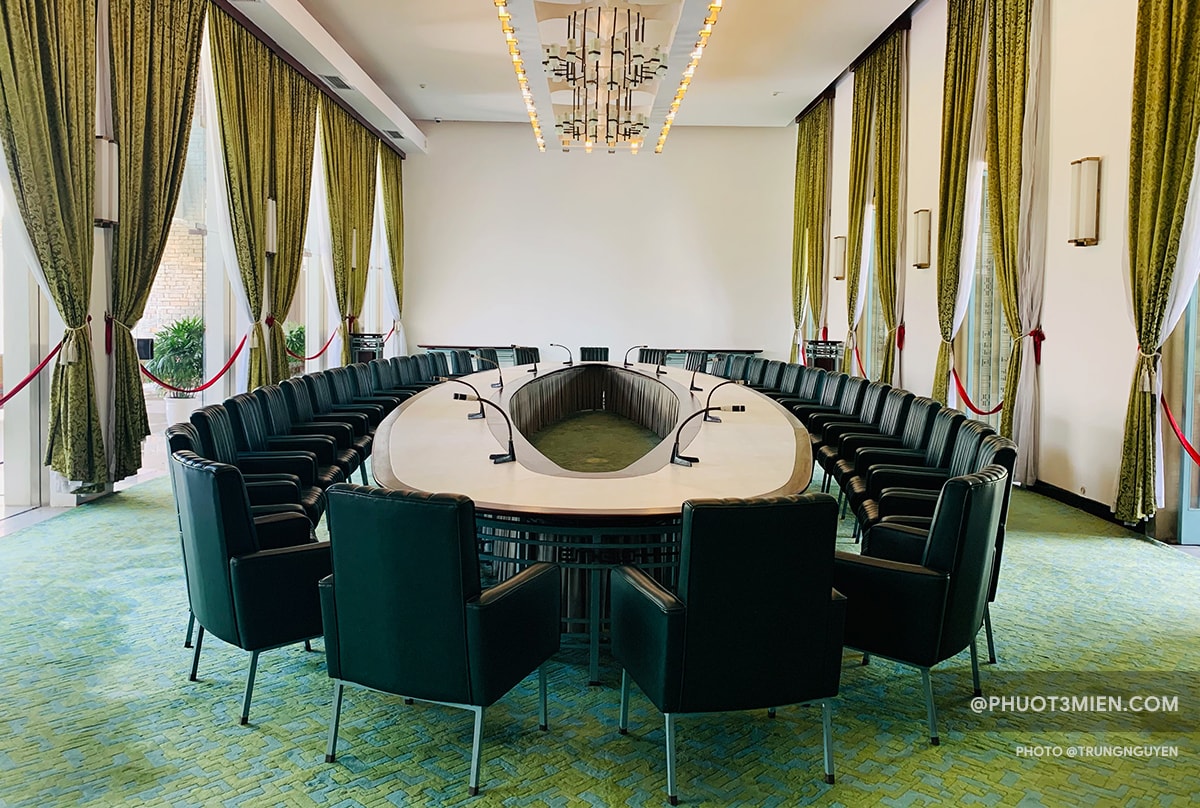 Cafe time and What to eat
Exit the grounds of Independence Palace from the back gate on Huyen Tran Cong Chua Street and turn right. When you reach the corner, turn left onto Nguyen Thi Minh Khai and then one block down, turn right onto leafy Truong Dinh.  This busy little street always has something happening.
When you reach Vo Van Tan, a few blocks north, turn right. If you keep walking straight for a couple of blocks, you'll reach the War Remnants Museum. But what's the point in that? It will not be open. Instead, turn left onto Tran Quoc Thao. At the next corner, you'll see the impressive Archbishop's Residence. You can't get in, but you can still get some impressive shots through the fence.
Continue straight ahead along the west side of the palace, to the next corner and turn right onto Ngo Thoi Nhiem. This street is home to many cafes and restaurants if you're feeling like some refreshment. Top picks include the Mexican Restaurant, Rico Taco, and the C on Global Food Factory, next door. There's another cool cafe down the lane directly across from these two. Cafe Soi Da has a lovely garden setting and provides a serene oasis on a hot day.
For a list of some awesome cafes click here: Cafe Hopping Vietnam
Continue down the street until your reach Le Quy Don and turn left. Continue straight ahead, pass a museum and art gallery on your left before arriving at the gorgeous Gao Restaurant on the next corner. Gao's drawcard is its beautiful decor, and its extensive menu of Vietnamese favorites. Their more expensive dishes are meant for more than one person, but there are plenty of options for solo travelers, such as an excellent range of vegetarian dishes. If you have room after mains, try their delicious pepper ice cream. We promise it won't taste anything like it sounds.
On leaving Gao, continue north on Le Quy Don till you come face to face with one of the spaciest child care facilities we've ever come across. It's quite astounding. Across the road on Vo Thi Sau is the very worthwhile Vietnam Women's Museum. It's free to get in and doesn't close for lunch. The Ao Dai display is worth at least a few minutes of your time. There are English labels on the exhibits, and you'll find out some fascinating facts on the pivotal role of women in Vietnam's success throughout the ages.
Turn East on Vo Thi Sau, and circle the block to Nam Ky Khoi Nghia. Unbelievably, the beautiful colonial style building is part of the same childcare complex as the space age wonder dome. The bonus is you've just discovered where the famous statue of Ho Chi Minh with the child and book went. This iconic figure used to take pride of place in Nguyen Hue (Walking) street until the recent renovations.
Next place
Take a peek down Tu Xuong street on your right to see some of Saigon's fanciest houses, several of which are now glitzy restaurants. Back on Nam Ky Khoi Nghia, you'll pass by the gorgeous Madam Curie school. This school is one Vietnam's biggest and another excellent example of Saigon's remaining French colonial architecture. At the corner of the school, turn right onto Ngo Thoi Nhiem. On your left, you'll see a small lane. Follow it to discover another hidden cafe – House number 7 Coffee Shop. You may need directions from one of the locals in the house at the end to find it.
Returning to the main street, head straight to Le Quy Don and turn left. Two blocks down, on the corner of Vo Van Tan, you'll arrive at the entrance of the War Museum which is hopefully open by now. Note the HUGE mansion to the right of the museum entrance. Aren't they doing well!!
The War Remnants Museum exhibits many sad and gruesome photos of the war, so prepare your mind before entering. If you go with your family and have children, the kid play area on the third floor is a great place for your kids while you explore the museum. The tiger cage is a highlight of the museum, make sure not to miss it. There are many nice souvenirs and campaign posters for purchase in the lobby worth buying. When you finish exploring the museum, Highlands Coffee inside the compound is a great way to unwind and comprehend what you just saw.
As I said in the introduction, the highlights mentioned are but a few of the impressive buildings on this route. Don't forget to peer beyond fences and look up as you walk along. There are many hidden gems and great picture opportunities at every turn. Take advantage of them before the rapid pace of development engulfs them for good.
Further reading: Saigon War Remnants Museum
See more Articles:
Saigon's Best Art Destinations: Contemporary, Galleries, and Architecture
Travel around Saigon by Bus (Saigon Buses 101)
Enjoyed this article and would like more fun information on what to see, do and eat in Vietnam? Follow us at Travel Blog!