Last trip to Quang Binh, I wonder what to eat in Quang Binh hahaha really lucky for me because I met a native of Quang Binh ( he grow up in here) introduce for me all of the food delicious also the restaurant is good too, so I will share the information about the food I know for you refer.
These restaurants myself used to be experienced also my friend ( a native of Quang Binh) sure is good, rest assured. The article below I will summarize for you refer to the breakfast, lunch, and dinner.
By the way, in the article, I would like to thank my friend, just an acquaintance online. When I travel to Quang Binh, He had spent time led me to discover Quang Binh. Thank you have given me a wonderful trip.
Besides, would you like to rent a motorbike in Dong Hoi, can you contact the number phone to book: 0978 211 325 ( Mrs. Thu). She always enthusiasm with customers ( lovely girl). I have never been liked a service rent the motorbike really good as here before. They have a car pick up you at the airport free.
Okay, let's go to discover all of the delicious food in Quang Binh.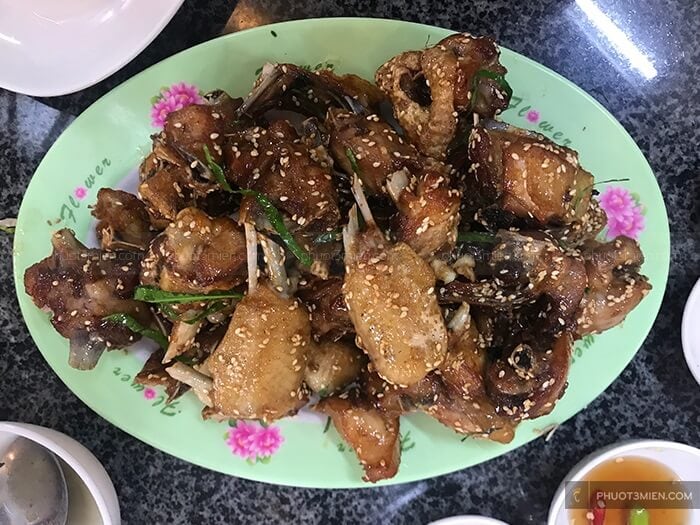 Breakfast in Dong Hoi, Quang Binh
I travel to Quang Binh three days, my friend led me go to eat breakfast 3 dishes different . All of dishes is a noodle, because I want to eat noodle in the morning.
The first day, I eat snakehead gruel fish. The name so strange hahaha.
"Snakehead Gruel Fish" in Quang Binh
At first I heard the name "Snakehead Fish Gruel" I thought it was gruel. But, when they bring a bowl of gruel to know that it is not gruel. Kaka
Actually, it's like a noodle in Saigon. Called gruel soup without seeing only noodle made from rice flour with added tapioca flour. Snakehead fish is made quite well and meat is also toughness
Long square cut bread is tough and flavor fragrant. Quang Binh Snakehead Fish Soup Gruel is a favorite dish of the people here every morning, so the shop is very crowded
The price is cheap: 20.000vnd ( about 1$) / bowl served with fried spring rolls, and small iron vegetables
At the Porridge Soup 75 located on Le Quy Don Street, Dong Hoi City.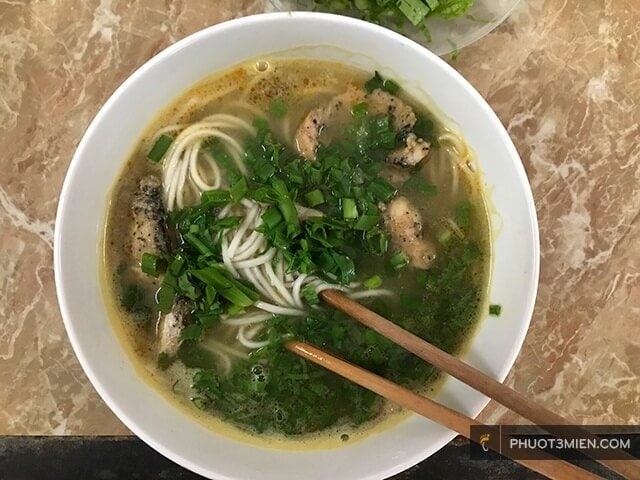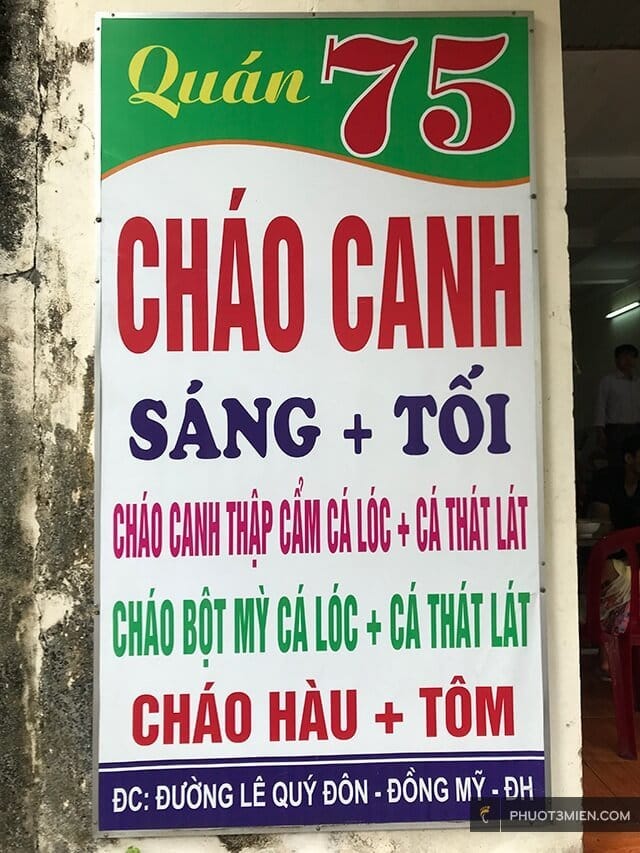 Eel Vermicelli, Quang Binh Eel Soup
Day 2 in Quang Binh, I go to Thien Duong Cave and Mooc Spring. That's why the native friend has arranged a very reasonable eating schedule.
Eating Eel and Eel Soup with the same directions to those places is very convenient. Great yet, because there must be a counselor, how easy was your trip.
I ordered a bowl of eel soup because I'm lazy to eat vermicelli. The thick soup is served with bread and wet bread with raw vegetables, soft eel dipped in savory fish sauce. Eating with bread again will not be fast hungry.
Price: 30.000vnd ( about 1.2$) / bowl Ms. Nganh at 18 Hoang Dieu, Đong Hoi City.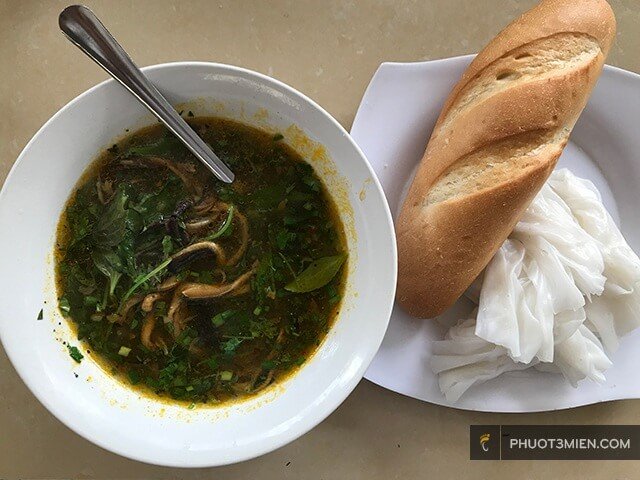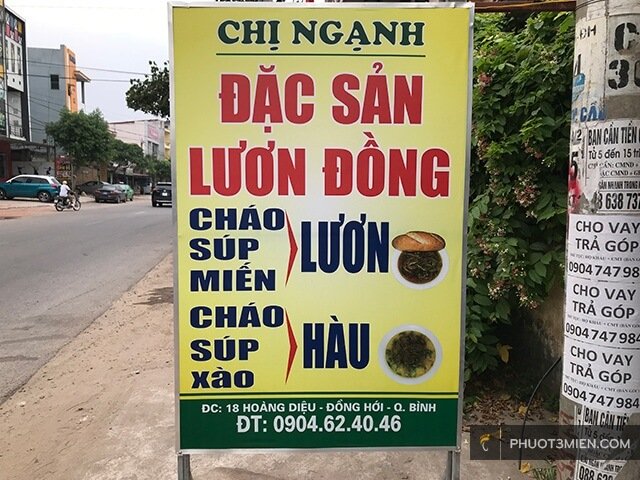 " Calf Noodle" Quang Binh
Update: Restaurant is close now
Quán nằm nằm trong TP Đồng Hới, gần cầu Nhật Lệ. Bán cả ngày và quán cực kỳ đông khách.
Ngoài món phở truyền thống như, tái , nạm gầu mang hương vị miền bắc, vì ông chủ là người gốc bắc. Thì quán còn có món phở Bê, tức là thịt con bê bỏ vào phở.
Giá: 30k/tô địa chỉ quán ở 38 Lê Quý Đôn, TP Đồng Hới, Quảng Bình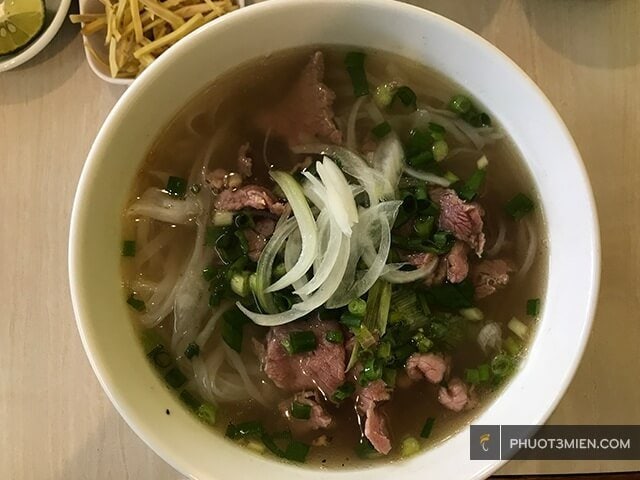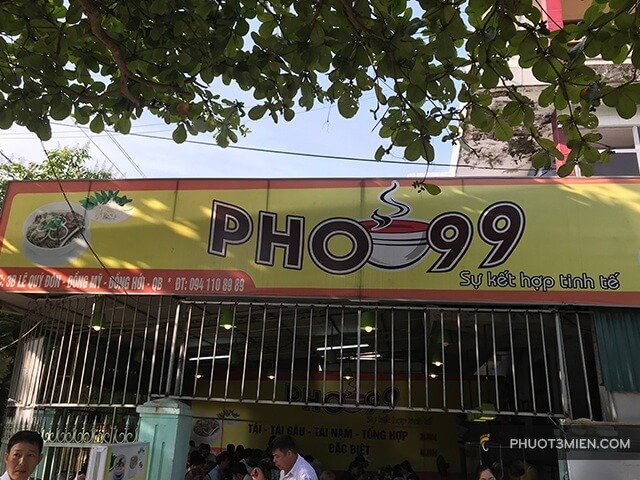 Bonus some restaurants
Some other eat breakfast in the morning for you reference. This is provided by the native friend, because for 3 days, I can not go to eat to review
Beef Noodle: Bac Phuong Restaurant – No. 5 Thanh Nien Street
Rice Noodle :Diep Linh Restaurant –  Le Quy DOn Street, Dong Hoi city
Oyster Gruel: Thuy Duong Restaurant -Phan Boi Chau Street, Dong Hoi City
Porridge Soup:
Suong Hong Restaurant: 38 Nguyen Trai, Đong Hoi
Ba Hong Restaurant: 51 Nguyen Huu Canh, Dong Hoi
O Hanh: 4 Le Thanh Dong, Đong Hoi, Quang Binh
 Gia Bao Restaurant: 74 Nguyen Huu Nghi, Đong Hoi, Quang Binh
Roll rice paper
Huong Kieu Restaurant: 5 Co Tam , Dong Hoi, Quang Binh
Tam Đuc Restaurant: Le Thanh Đong, Đong hoi
Thuy Phuong Restaurant: 9 Co Tam, Đong Hoi
Lunch and Dinner in Quang Binh
Lunch and Dinner I eat at tourist destinations, so this information is provided by the native friends. I summarized for your reference.
I grouped it into categories like seafood restaurants, snacks, etc.
Chicken Dishes at Luu An Restaurant
Good restaurant, reasonable price, I eat there 2 times I still eat more hahaha. Boiled chicken when customers order rather than to the freezer, the owner is enthusiastic and friendly.
Recommend this restaurant, please remember to visit. The address is at the gate of Dong Hoi airport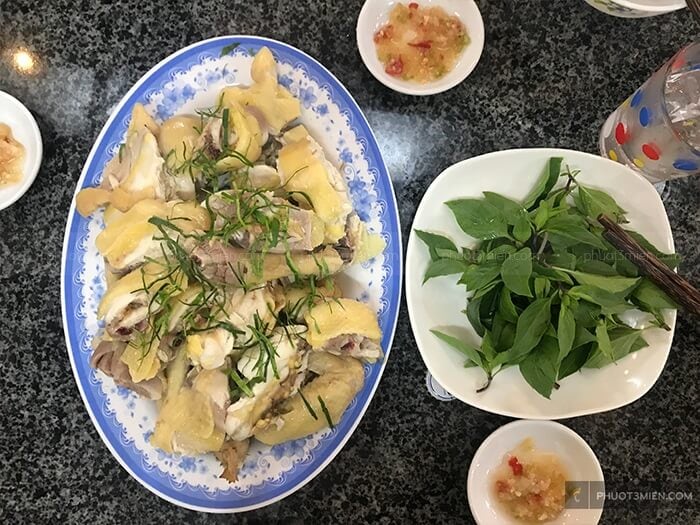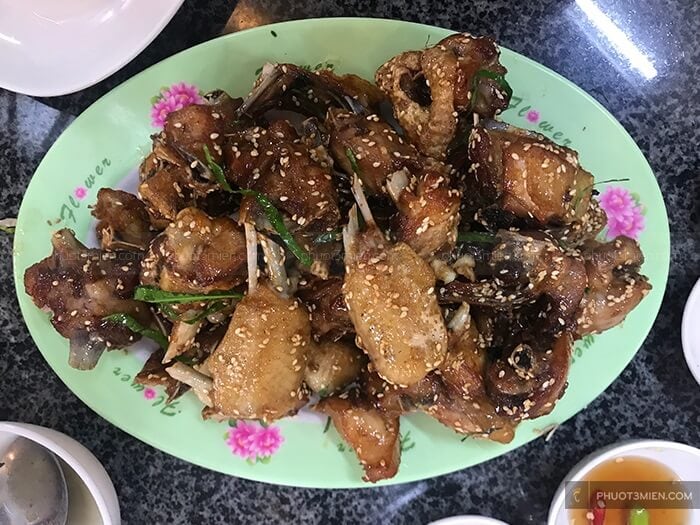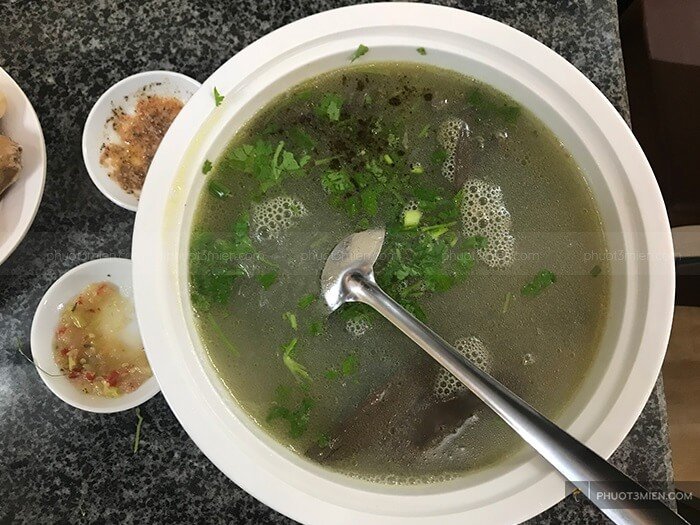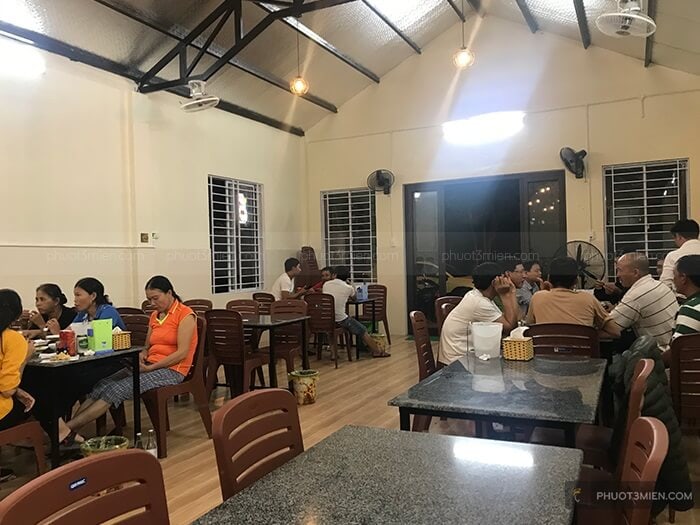 Specialist forest " Cay Xoai" Restaurant
Specialized food forest here is delicious processing. Reasonable price but very enthusiastic service
Very suitable for groups that go east because the restaurant is very spacious. There is always parking.
With dishes: Deer Star; Mountain goat; Ban Pig; Chicken Hill; Lamprey; Tortoise.
The price is reasonable: Hot pot 120.000đ (about 5$) / for a table of 4 people. Combo meat Pig 300.000đ ( about 15$),  Chicken 350.000đ ( about 15$)
Cay Xoai Restaurant is located at 74 Phan Dinh Phung – Dong Hoi City – T. Quang Binh.
Contact reservations if needed: 0932.599.299 – 0905677588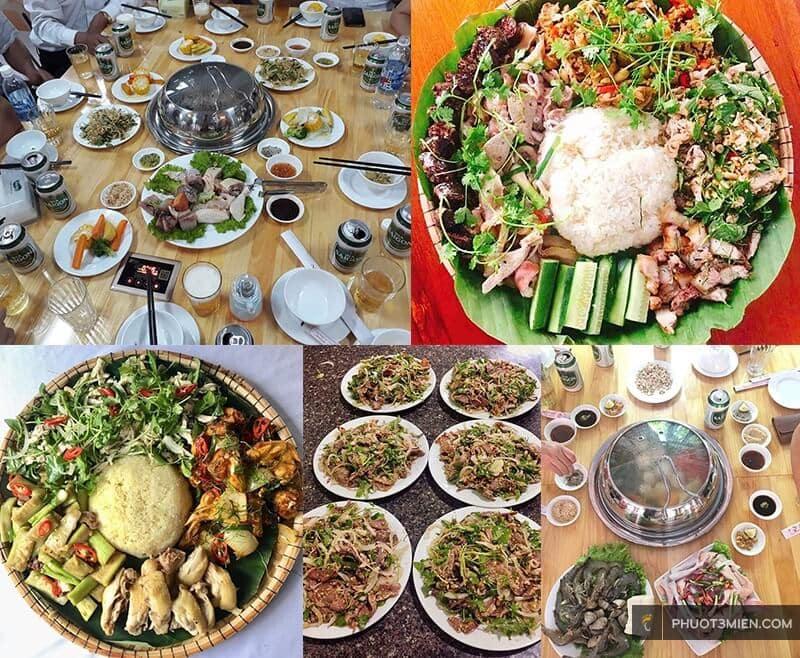 Seafood Restaurant in Dong Hoi Quang Binh
Including dishes such as shrimp, squid, crab, fish, etc. Suitable for those who like to drink some of these restaurant are ok.
Minh Luu Seafood Restaurant
Spacious restaurant widely, cool right next to the beach, with an enthusiastic service team. Some typical seafood dishes of the restaurant are Squid one sun, Sea shrimp, Clam, Scallop, Snails, Mussels, Crabs, very affordable prices.
Address: Minh Luu seafood store 185 Truong Pho street. Opposite Nhat Nhat hotel union gate
Call to make a reservation: 0911863683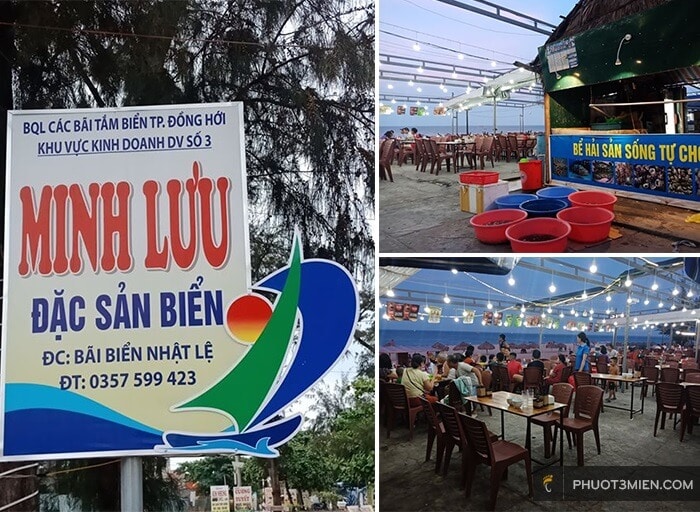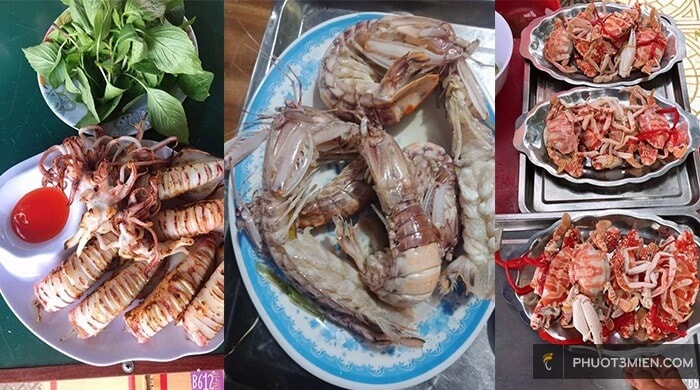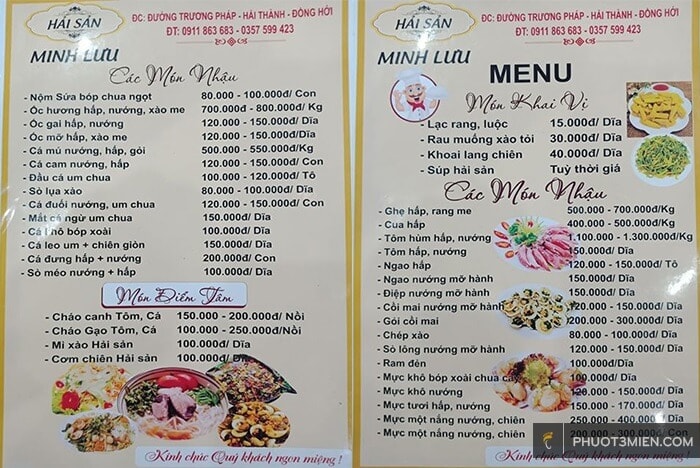 Me Toai Seafood Restaurant in Quang Binh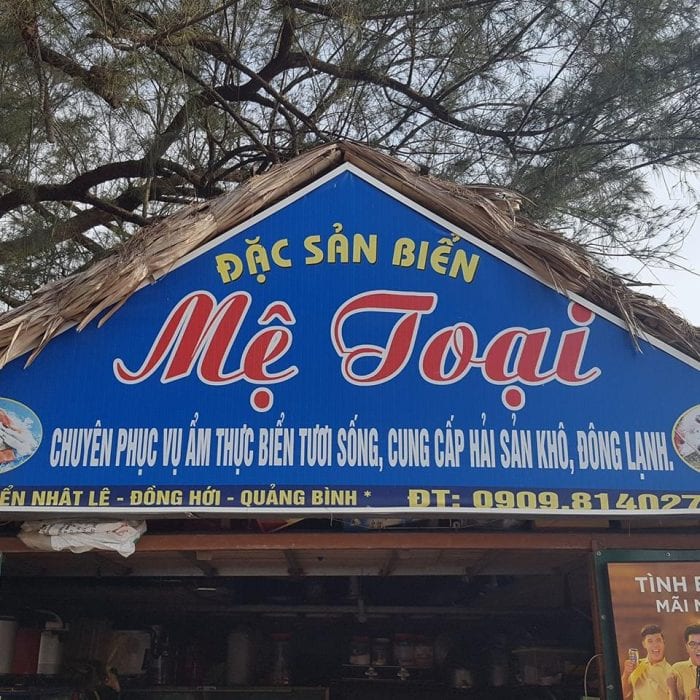 Restaurant Chicken Hill:134 Ly Thuong Kiet, Dong Hoi City, Quang Binh. Famous for its chicken hill, baba, boar.
Ngoc Toan Restaurant:  118 Huu Nhi , Đong Hoi
Chang Chang Restaurant: 198 Tran Hung Đao, Quang Binh
Restaurant Binh Minh: Nguyen Van Troi , Đong Hoi – Specializing in seafood
Nam Thanh Restaurant: Huong Giang Street, next to a long bridge, Dong Hoi City
Quoc Dung Restaurant: Quang Phu beach, Truong Phap street
Pho Bien Restaurant: Quach Xuan Ky and Dong Hoi Streets
The Restaurant for dinner : Bare foot homestay : 404 nguyen Thi Dinh Bao Ninh. Great.
"Khoai" Fish hotpot, Chicken Hotpot
They sold on evening, "Khoai" Fish is sold by the season, major is winter
Minh Ha Restaurant: Truong Phap Street, Dong Hoi City
Đao Quan Restaurant: 27 Phan Bội Châu, Dong Hoi City..
Binh An Hotpot: Located in the alley 49 Ba Trieu, Dong Hoii
Tan Quy Đao: Small Area 10, Dong Phu
Eal Gruel Rice
Thuy Duong Restaurant: Phan Boi Chau Street, Quang Binh 
Thanh Thuy Restaurant: QL1A, Loc Ninh, Dong Hoi City
 Hien Vy Restaurant: 5 Nguyen Pham Tuan, Dong Hoi
Vegetarian restaurant in Quang Binh
Phuoc Nguyen Restaurant: 10 Huong Giang, Dong Hoi City
Duong Sinh Restaurant: Le Van Huu, Dong Hoi City, Quang Binh
Motobike for rent Quang Binh – contact Mr.s Thu nha: 0978 211 325 ( Đảm bảo uy tín nhất Quảng Bình ) Có xe oto đưa rước luôn
Snack in Quang Binh
"Banh Loc, Banh Nam"
They sold in the afternoon, could you buy make a gift for friend
Me Xuan:  Le Thanh Đong Street , Đong Hoi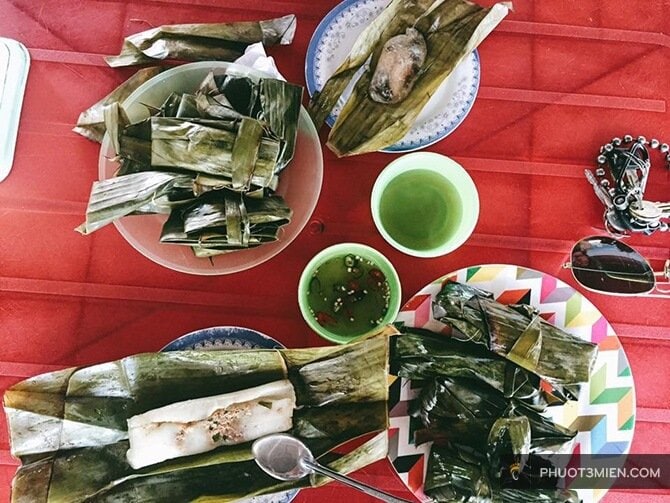 Hoai Thuong Restaurant: Le Thanh Dong
 Di Thai Restaurant : 13 Đong Hai
Dì Thuy Restaurant: 11 Thanh Nien
 "Khoai" Cake
Sold in the afternoon
Tu Quy Restaurant : 17 Co Tam, Dong Hoi City
Ly Ly Restaurant : 11A Co Tam
Co Nam : 13 Tran Hung Dao , Dong Hoi city, Quang Binh
Banh Beo Quang Binh
sold all day
Co Van Restaurant : 82 Le Thanh Đong,Dong Hoi City, Quang Binh
Di Tiep: 27 Le Thanh Dong
Tu Quy Restaurant: 17 Co Tam
Co Nhon Restaurant : Dong Hai Street, Dong Hoi City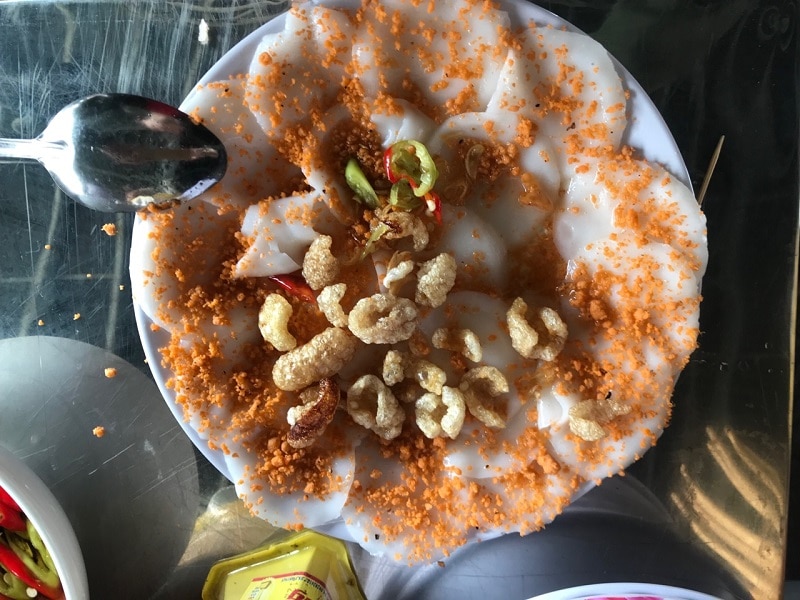 Ice Cream, Sweet Gruel
In the evening, go to eat sweet gruel in Quang Binh is ok. You can go to the theater square fire, spacious yard cool all kinds of dishes, or ice cream shops Thien Huong are good too.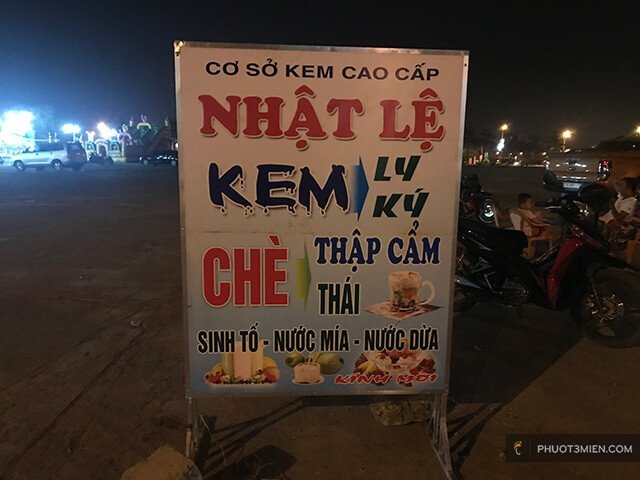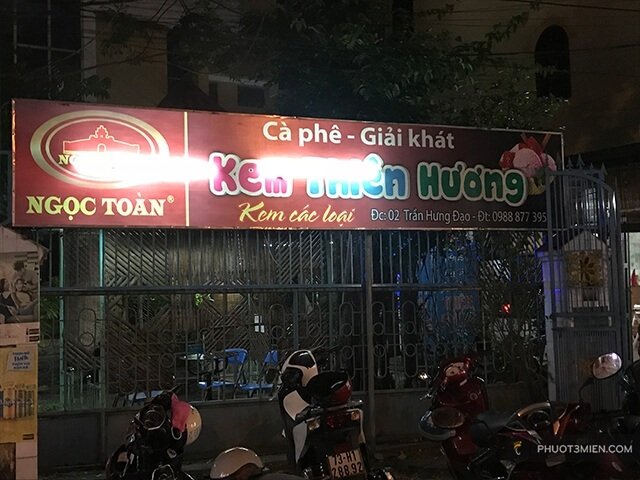 Coffee in Quang Binh
Cafe is my indispensable drink every day. Should go to Quang Binh also have to try to find a restaurant to drink.
Being led to a native land that always likes, sea view, beautiful decor. I quite like it, just drinking and swimming at the same time
BayHops Cafe
Accidentally knew to visit, when going to Quang Phu Sandhill, suddenly my friend remembered the restaurant, so we together come here. From the sandhill, go straight up a bit to the right-hand side
A small introduction board was a little hard to see. The entrance is a dirt road with 2 quality casuarina rows. Enough virtual living corner, generally beautiful scenes
Just sipping a cup of coffee while enjoying the sea breeze, it feels so peaceful. This is the cafe I introduced to you first because I like this restaurant.
When I arrived, a group was renting this place to take photos of the yearbook. The view is very beautiful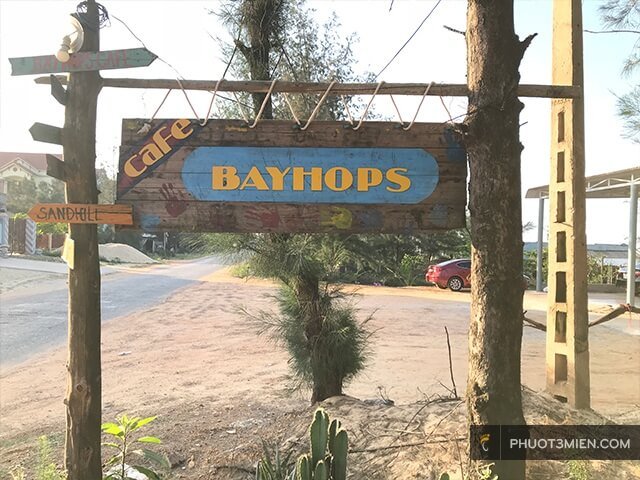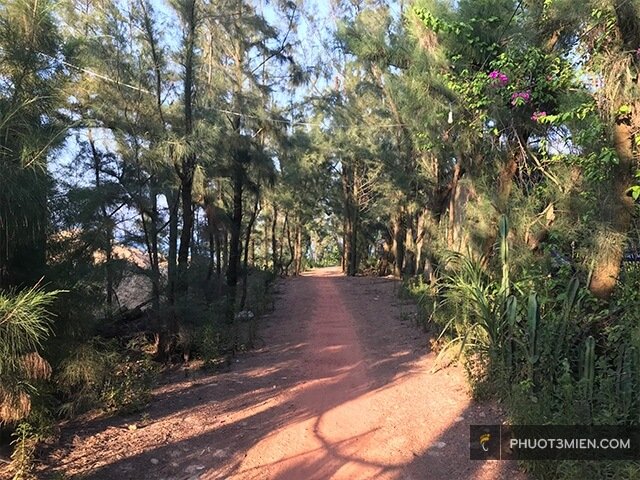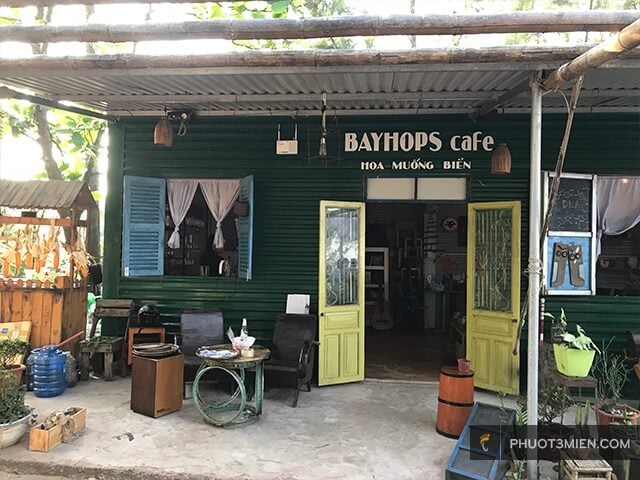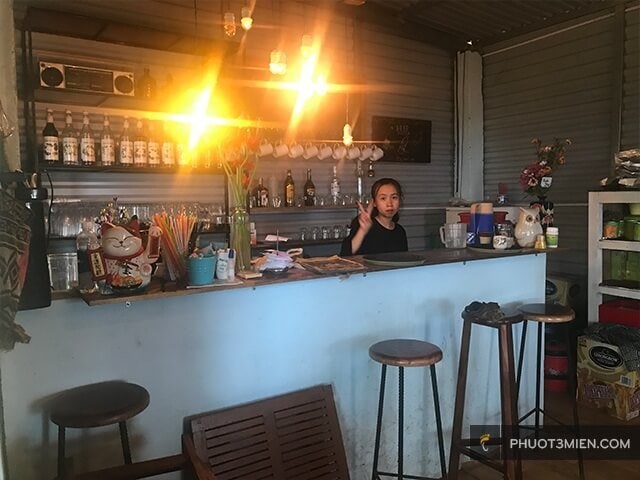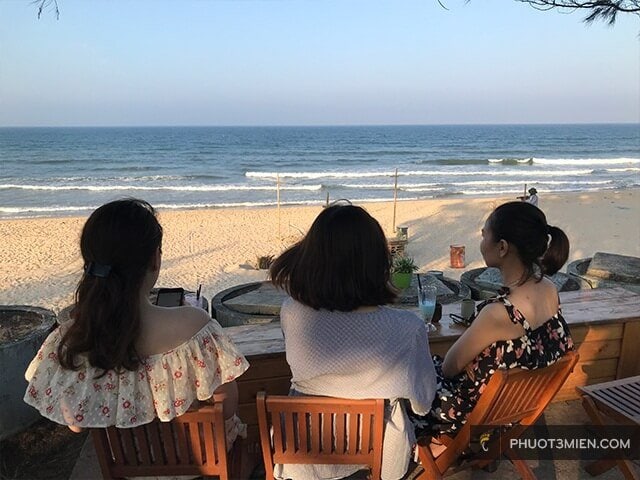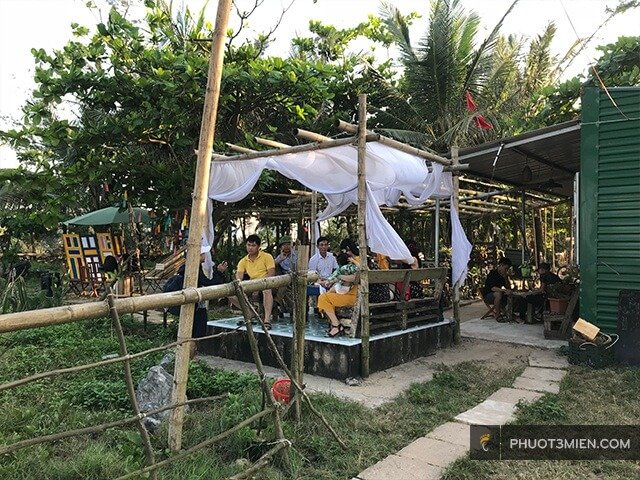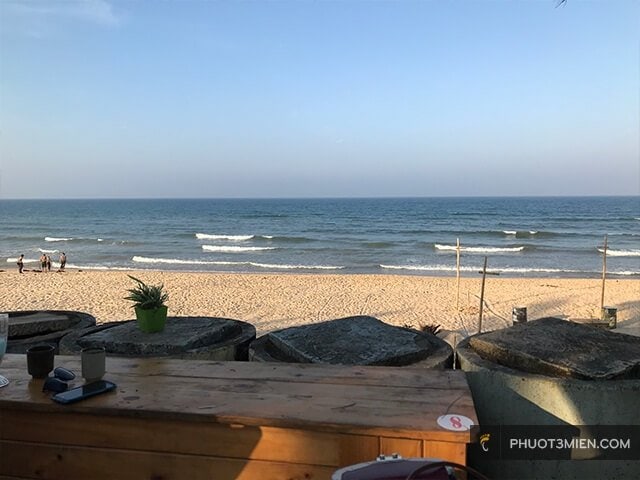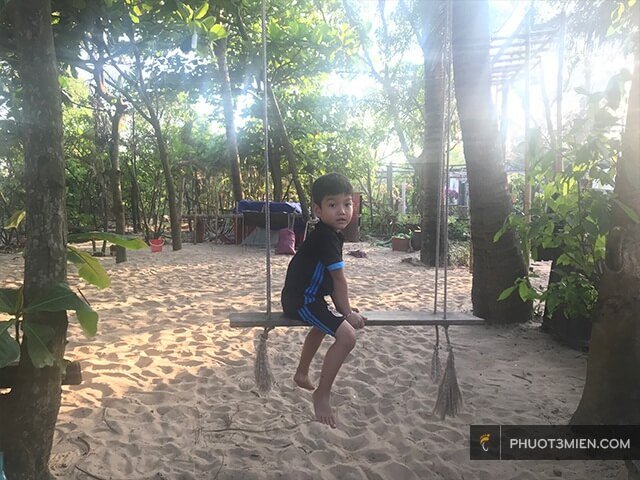 Cafe & hotel GEMINAI
The restaurant has a nice view, very delicious sweet potato sweet gruel Luxurious space, the price is also quite reasonable, you should visit to experience it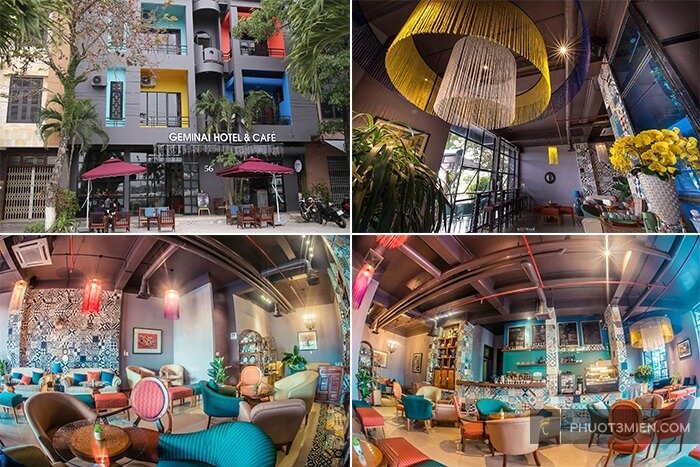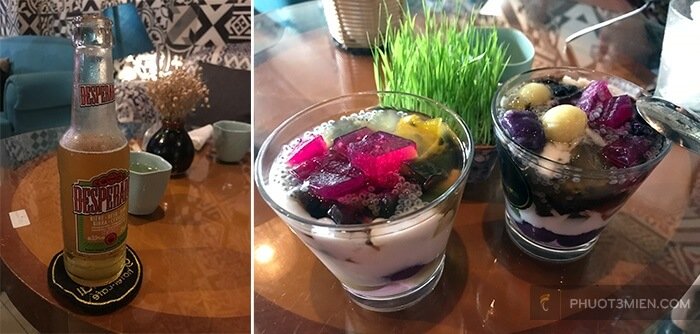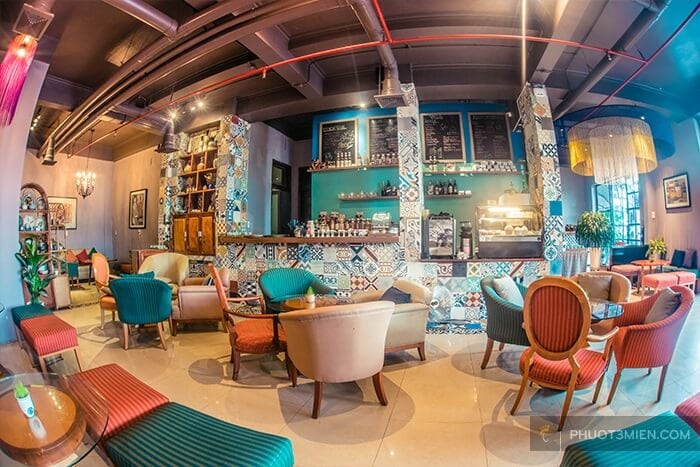 Cafe Xe Đạp
Convenient on the way to explore Quang Binh, then see. Come and check out, the bike display shop is always good for selling bicycle parts, I see that there are accessories. Maybe finished selling open cafe bike view
Where to drink coffee in the morning is quite ok
Located on Duong Van An Street, Number 16 or something I don't really remember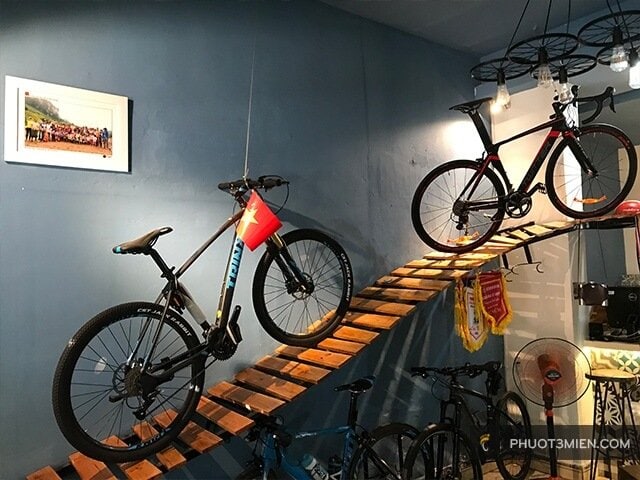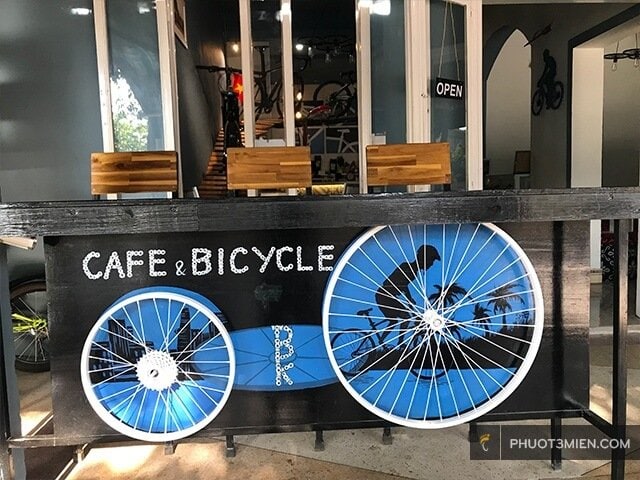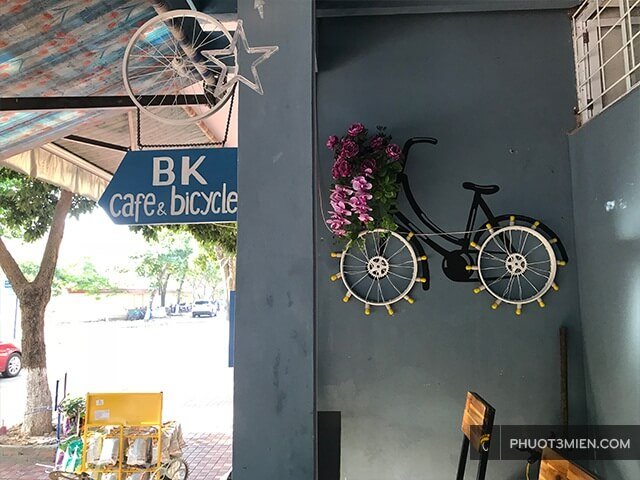 CoCo's Cafe
This shop I go in the evening, a nice view. There are fish ponds for making rivers and streams of different types, each night with a lot of mosquitoes in the evening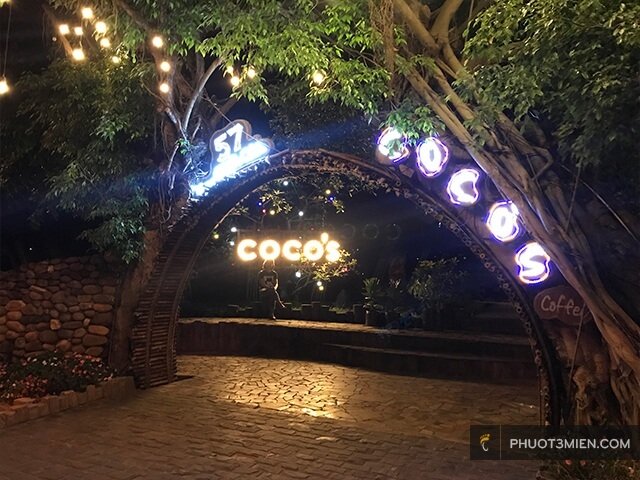 There are also some more shops, I will update later. My hand is tired
I hope some of the above information will help you find a satisfactory store. I wish you a happy trip to Quang Binh
In addition, if you want to book a room in Quang Binh on Agoda, click on the link below, which is discounting face value for this summer
Writer: Trung Nguyen