Finding a place to stay always seems everlasting and exhausting. Don't worry, because this article will introduce you to the best accommodation in Phong Nha!
Phong Nha National Park is a must-see destination in Vietnam with its stunning landscapes, surrounding rural village life, and hospitable local people. It is also a paradise for exploring caves, grottoes, and underground rivers with some of the most astonishing rock formations in the world. There is plenty to see and do in Phong Nha, so finding a place to stay is crucial. Below are the best accommodations in Phong Nha that will help you make the most of your trip.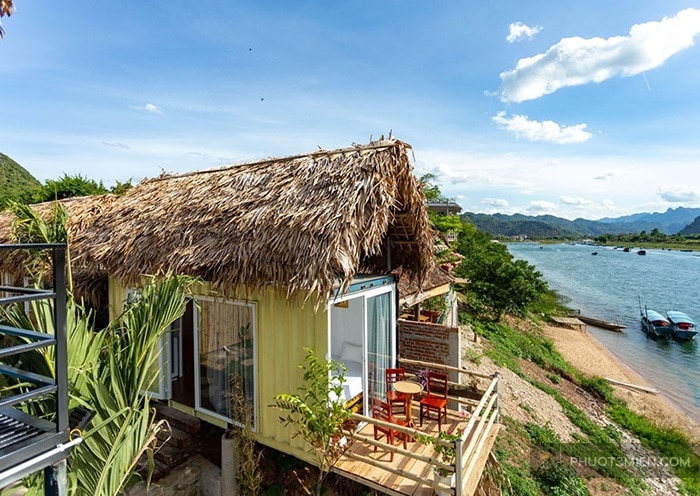 If you are looking for Homestay near Phong Nha, to advantages sightseeing many places near Phong Nha. This article Phuot 3 Mien will summarize some homestay near Phong Nha with the criteria of beautiful view and reasonable price for your reference: let's go
Homestay & Hostel near Phong Nha cave
This place as Phong Nha Cave, Heaven Cave, Vooc, Chay river, Dark Cave are close to each other, but it is far Dong Hoi city, you cant hard to discover all of them one day. Therefore, finding a Homestay near Phong Nha will make it easier to move.
1. A Little Leaf Phong Nha
This homestay right at the banks of Son river, the way into Phong Nha cave.
They have two dorm room, Every room dorm have six bed single, with the style container so unique, specialty have view of the river really good, omg so relax when you stay here, not only view to sighseeing but also have a place to swim perfect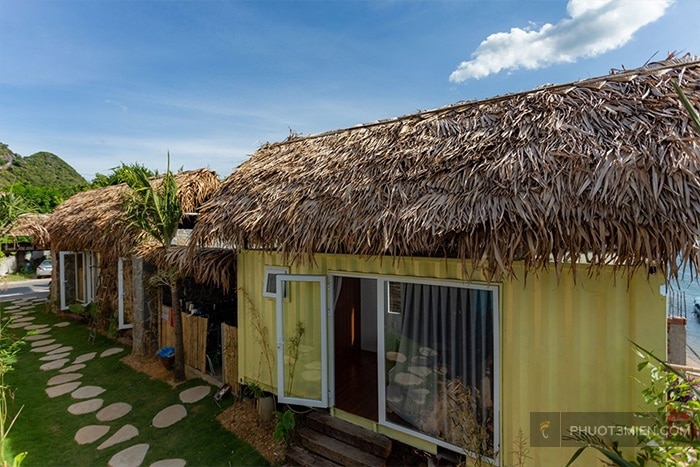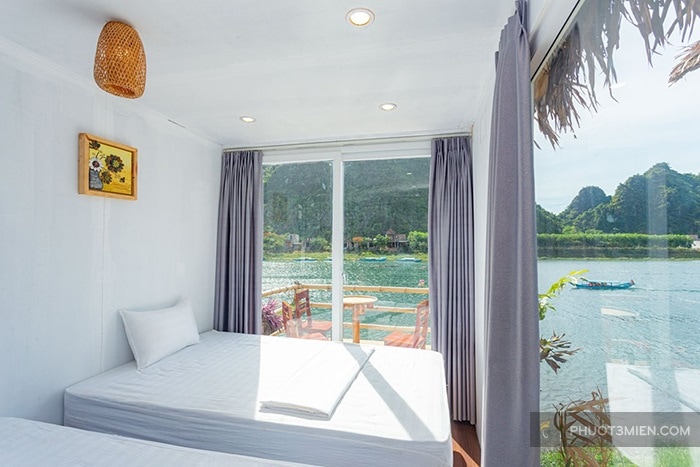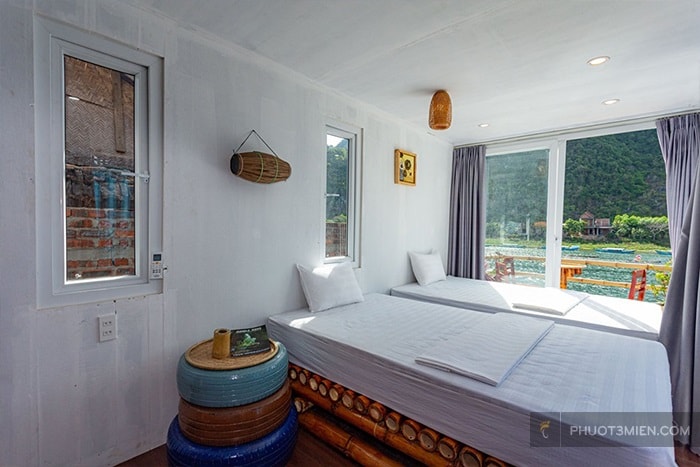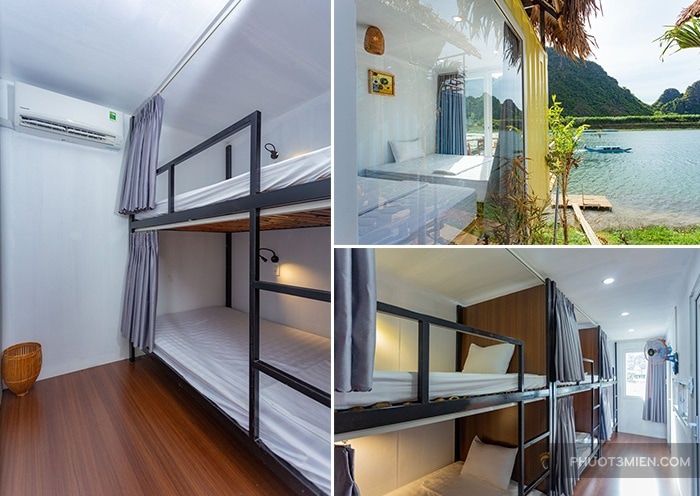 A Little Leaf near Phong Nha, there have served seafood fesh barbecue for team, family, really ideal.
Beside, they have a one room for family ( 2 single bed), balcony can see over view the river, mountain, oh wao amazing love it ( it suitable for family have 4 people)
Address: Thôn Hà Lời, Phong Nha, Bố Trạch, Quảng Bình
Phone: 0941366088
Link Booking here:
2. Diep Le Homestay Phong Nha
This place is a one of the most appriciatest location in Phong Nha Quang Binh. Customer love this place more than any different homestay near area.
Appriciated on Agoda to 9.9 point almost absolute. Also very good room rates only from 100k on Agoda
The garden have a terrace overlooking the mountain, you can see the pristine of the nature.In the campus of Diep Le homestay, they have build water park, bar serve. An oven, fridge, stovetop, and kettle are also provided. Buffet breakfast can be enjoyed.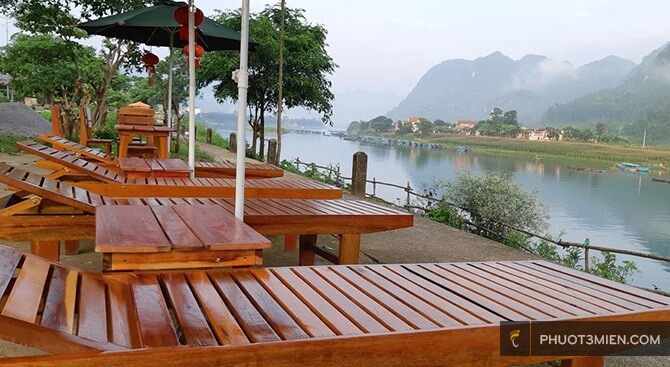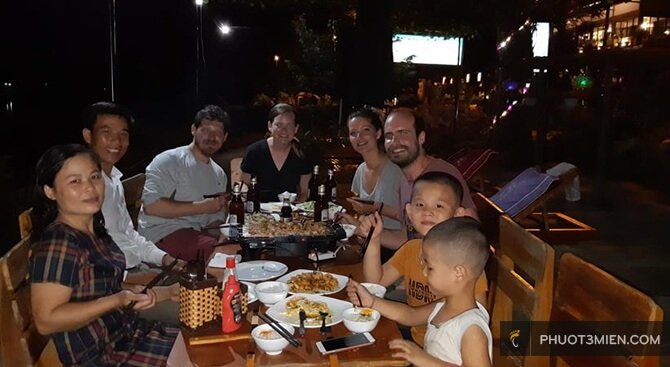 Information:
Address : Provincial Road 562, Son Trach, Bo Trach, Quang Binh.
Link Booking here:
3. Phong Nha – Tuan Garden House
Chủ nhà siêu thân thiện luôn. Giường rộng, nằm thoải mái, WC trong phòng nên rất tiện. Đồ dùng đều mới Nhân viên luôn giữ phòng sạch sẽ
The supper lovely owner, always smile, friendly if you stay here im sure you will be liked. Each room always have a bed large, clean toilet. They clean up everything elaborately so you can look at it and feel secure right away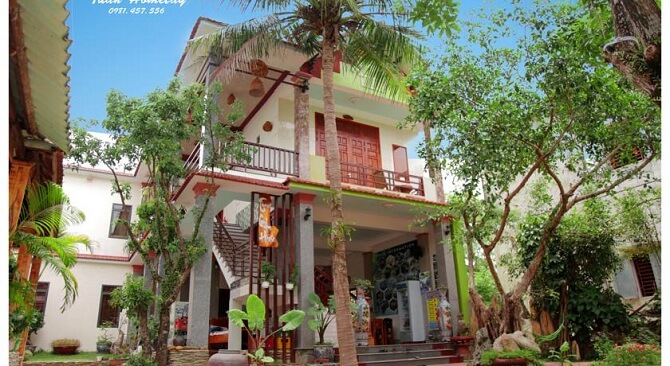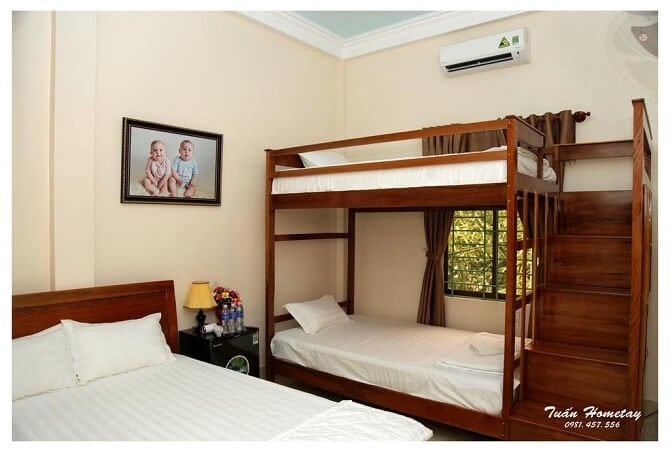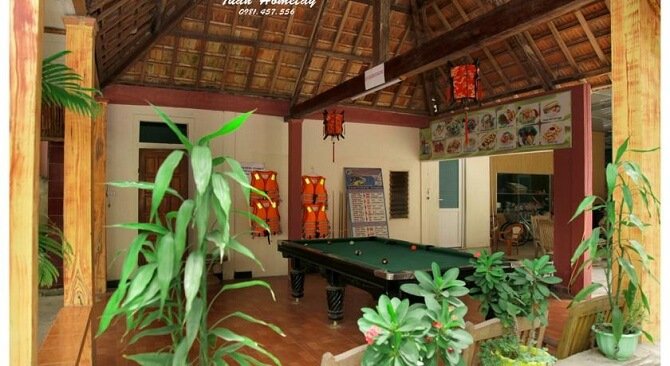 Homestay near Phong Nha have a terrace for guess can go out to sunbathing , view overlooking the mountain… BBQ and restaurant right at the corner of the campus.
From Diep Le homsestay to Phong Nha Cave about 500m and Easy Tiger bar about 800m….
Information:
Address: Phong Nha, Cu Lac, Son Trach, Bo Trach, Quang Binh
Price from 350.000 VND ( about 15$) on Agoda, click link Review and book the room.
Link Booking here:
4. Village House Phong Nha
Village House is literally a home to me. I remember the first time I arrived in this area. It was dark at night and all the famous homestays nearby were completely full, so I was quite nervous. Luckily, this homestay was available. The moment I came to this house, I was a little bit surprised. It was way bigger than what I expected. One of the owners told me that his homestay is the combination of two houses – his house and his relative's house.
The dorm rooms are spacious, clean, and they even have separate bathrooms. The private rooms offer personal bathrooms, air-conditioners, hot showers, free wifi, and mini cupboards for drinks. Another unexpected thing was that I booked a dorm bed at first, but the house nearby was under construction, so the owner proactively moved me to a private room. He was even kind enough to not charge me another penny! 
This house is only a 15-minute ride from Phong Nha National Park, so you can easily observe mountain views of the park from your stay. The house also provides free hammocks, chairs, and bicycles. I sat on a chair near the Son river to relax and enjoyed nature from dusk till dawn. Another great point is that the house includes free breakfast which is out of this world! They have a wide range of food, such as banana pancakes, stir-fried noodles, and pho. When I left, the chef even gave me an extra banana pancake.
More information:

Price range: 125,000 VND – 450,000 VND (6 USD – 20 USD)

Google Maps directions:

Village House
Link Booking here:
5. Jungle Boss Homestay 
Jungle Boss Homestay is a one-of-a-kind accommodation nestled in a big jungle and rice paddy fields. You can easily observe farmers harvesting and water buffaloes grazing while enjoying your hot cup of tea. Because it is conveniently located between Phong Nha National Park and the center of Phong Nha town, it offers a perfect getaway to relax after excessive activities. 
You literally don't need to worry about anything because it also provides free breakfast, free bicycles, and a swimming pool! If you love trying authentic Vietnamese cuisine, their farm-to-table restaurant will gladly serve you. Not only do the rooms supply wifi, private bathrooms, hot showers, and a free laundry service but they also have mosquito nets, fresh sheets, and more. If you need to get into town, take one of the bicycles and ride along the serene riverside for three kilometers. During meals, you will have the opportunity to interact with the local people and other travelers. This is the best time to learn more about the Vietnamese culture from your hosts, so don't be afraid to ask them anything!
More information:

Price range: 680,000 VND – 950,000 VND (30 USD – 41 USD)

Google Maps directions:

Jungle Boss Homestay
Link Booking here:
6. Sy's Homestay near Phong Nha
The great location is this homestay is surrounded by rice fields, villages, far away is Phong Nha Ke Bang mountain. I really enjoy cycling in the fields in the morning. Lovely homestay owner.
There are also a variety of delicious breakfast options, water available with reasonale price, other menu available for reservation, in-room snacks with prices okay, and homemade dinner available every night. ( all service eat and drink hahah)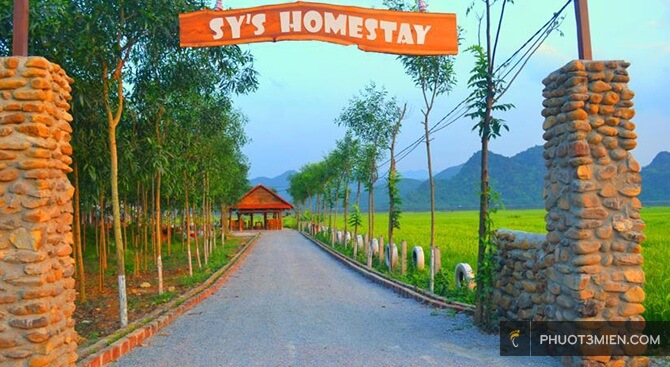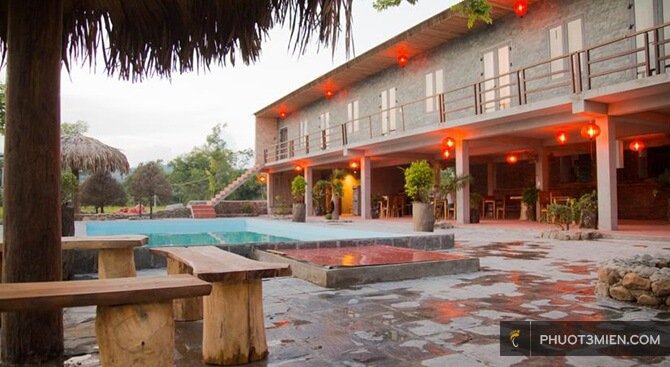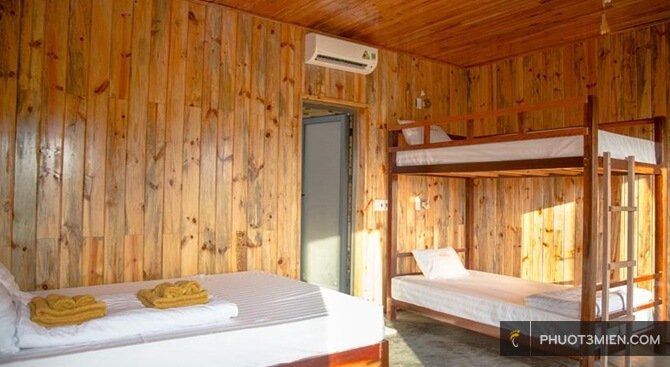 The owner of Homestay can be arrange a driver get you back Dong Hoi. Everything can be paid by credit card or atm card ( include visa or napas debit card) really convenient. ( note: if you use international card credit or debit, remember ask the bank about fee charge when you use in vietnam okay)
Address: Cù Lạc , Sơn Trạch, Quảng Bình
Link Booking here:
7. Phong Nha Rustic Homestay
The outside of the room they have put some table and chairs can you use when you want to feel the fesh air outside.The mountain in font òf your eyes so exciting. All of the rooms have private toilet and they have prepared available slippers and free toiletries.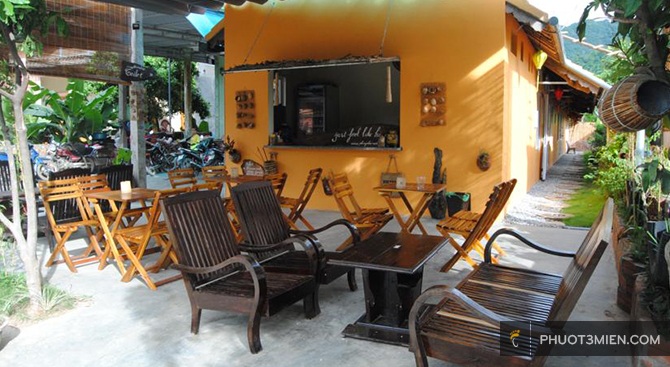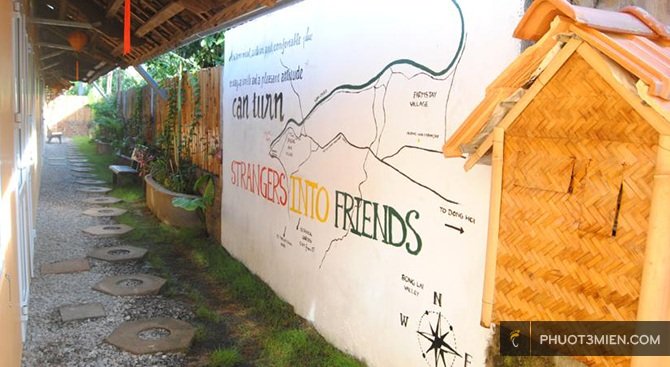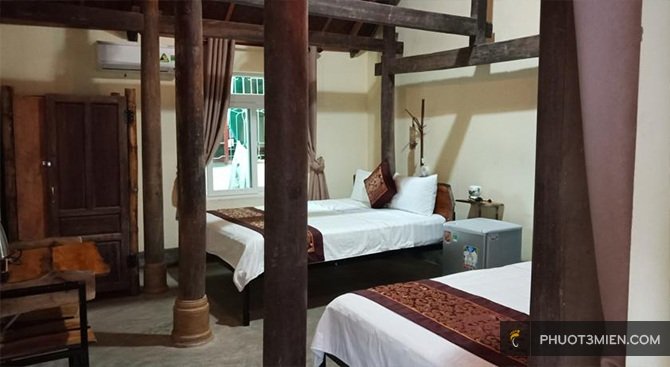 Everything is clean fesh and comfortable. Food at Homstay provide so good ( fesh and delicious). If you want to discover this place have a native of quang binh, can you hire bicycle (free) or motobike or taxi just lost few minute to come there ( i think you must try cause so happy)
With the style unique design, tone color like Hoi An
Address: ĐT20, Phong Nha, Sơn Trạch, bố Trạch, Quảng Bình
Phone: 0164 478 0380
9. Garden House Phong Nha
Located on the banks of the Son River going to Phong Nha Cave. Room rates range from 350.000 VND (20$) to 600.000 VND (30$) a night.
Link review và đặt phòng: https://www.agoda.com/vi&hid=1618427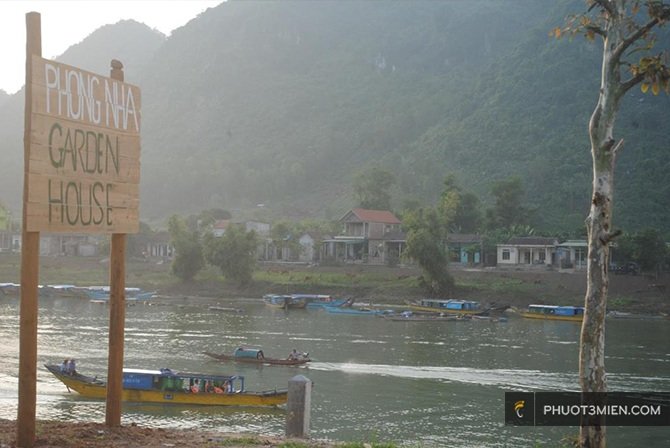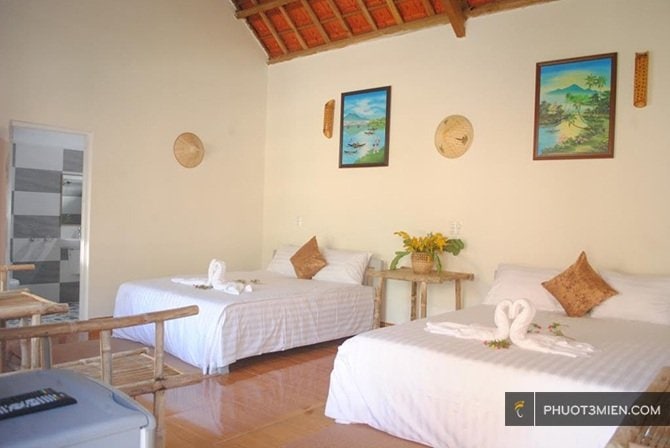 With some places list Homestay near Phong Nha cave, i hope will get for you a little bit information useful and finding a accommodation the best that you love in Phong Nha Quang Binh
10. Ho Khanh Homestay 
Everyone knows Son Doong – the biggest cave in the entire world. But do you know who first explored it? It's Mr. Ho Khanh – the owner of this homestay. The homestay is traditionally designed with hand carvings and it sits nearby the bank of the Con river. It also provides a wide range of accommodation, from private rooms to bungalows.
The host of this house is the founder of Son Dong cave – the biggest cave in the world!
All of these options are equipped with free wiFi and free bicycles for you to easily discover the surrounding area. Motorbikes here are available for rental. If you have any concerns, don't worry, because the hosts – Mr. Ho Khanh and his family will do their utmost to help you. While eating with his family, why not ask him how he found Son Doong cave? I believe you'll hear many adventure stories!
More information:

Link Booking via Fanpage:
https://www.facebook.com/people/Ho-Khanhs-Homestay/100054198803426/
11. Phong Nha Mountain House 
Have you ever dreamed of sleeping in a treehouse? This accommodation is built in the traditional wooden stilt house structure, and it's the only house of its kind in the area. From the house, you can easily admire the beauty of the village when the sun rises and sets. All rooms have a fridge, air-conditioner, electric tea pot, and a big balcony.
This is literally a house from my dream!
Don't forget to try their free buffet breakfast. Bicycles are also provided with no charge so you can easily reach the center of town.
More information:

Link Booking here:
12. Chay Lap Farmstay 
Chay Lap Farmstay is a fantastic accommodation built right at the entrance of Phong Nha National Park. It is only 20 minutes away from Phong Nha cave and very close to other famous attractions. Because of the huge space, it can satisfy the needs of different kinds of guests, from families and friends to couples and solo travelers. 
If you have a chance to come here, you must check out the swimming pool and the farm where you can grow your own fresh vegetables and fruits to eat. The area of the garden here is widely filled with local vegetables and seasonal fruits from bananas, cabbage, water spinach to lettuce, turmeric, ginger, and cucumber. Chay Lap Farmstay also offers a variety of water-sport activities such as swimming, kayaking, yachting, water jets, and basket boat. You will never feel bored if you stay here.
More information:

Price range: 700,000 VND – 980,000 VND (30 USD – 42 USD)


Booking link:

https://chaylapfarmstay.com/vi/

Google Maps directions:

Chay Lap Farmstay
13. Pomelo Homestay 
Not far away from Phong Nha National Park, Pomelo Homestay is a perfect place for your getaway. The beautiful houses here are painted with lively yellow, surrounded by the orchard smell, and situated near rice fields. This place is not a touristy homestay at all, so you can easily feel at ease and relaxed here.
All units are equipped with air conditioners and a dining area. Free breakfast is served every morning. You can relax in the garden or the white terrace of your room.
More information:

Price range: 373,000 VND – 800,000 VND (16.04 USD – 26 USD)

Google Maps directions:

Pomelo Homestay
Link Booking here:
14. Phong Nha Lake House Resort | Bonus
Situated beside the picturesque Dong Suon Lake in the mountainous region of Quang Binh Province, Phong Nha Lake House Resort provides affordable accommodation. It is family-friendly and provides luxurious lake view villas as well as bungalows.
All of the units here are constructed using natural materials, from timber, stone, mud, and brick to cane, thatched roofing, Vietnamese terracotta tiles, and handwoven textiles. The resort has a stunning balcony right in front of the lake where swimming and kayaking are possible. Free wifi, breakfast, and a swimming pool are also available.
More information:

Link Booking here:
15. Phong Nha Farmstay 
What puts Phong Nha on the traveler's map? The answer is definitely majestic nature, and Phong Nha Farmstay is doing a great job promoting that beauty by offering peaceful views overlooking an ocean of rice paddies. The rooms are well-equipped with a private bathroom and some of them even have a balcony. And guess what, you don't have to go out to have dinner since the bistro downstairs serves not only Asian but Western cuisine.
Occasional movie-screening and live music are also available almost every night, and in the morning, you can go swimming, cycling, or playing billiards after a delicious breakfast with no extra fee.
More information:

Price range: 1,372,000 VND – 3,280,000 VND (59 USD – 141 USD)

Google Maps directions:

Phong Nha farmstay
Link Booking here:
Summarize: Trung Nguyen
Remember like and share, tks.
See you soon and enjoy it
Now that you have a lot of options when it comes to accommodation in Phong Nha, you don't need to excessively research anymore. And while we're on the topic of Phong Nha, don't forget to check out these useful articles below:
A Full Phong Nha Ke Bang Guide For Every Budget
If you enjoyed reading this article and would like some more fun info about what to see, do and eat (and a bunch of interesting cafes!) in Vietnam, follow us at the Vietnam travel Blog!