Where should you stay in Da Nang if you're on a budget? I will answer your question by breaking down the different areas of the city. By the end of this article you will not only have a good idea about where to stay, but you'll also know a little bit about Da Nang's neighborhoods.
A Glimpse of Da Nang
Da Nang, a coastal city located in Central Vietnam, is a perfect spot for every traveler's getaway. With scrumptious food, beautiful beaches, and amazing scenery, it has stolen millions of hearts from the youth to the old. 
There are plenty of things to do in Da Nang to keep you busy for several days. From outdoor activities like hiking and exploring temples to bingeing on delicious seafood and other local specialties, there's something for everyone.
While there are plenty of places you can get to easily, be it by taxi or on a rented bike, popular destinations like the Hai Van Pass or a day-trip to Hoi An will take some more planning. To make sure it all goes smoothly and you can enjoy your trip, research any tours or transportation you use carefully.
Whether you come here to relax or party, this article can help you find an ideal place to stay, so stay tuned and scroll down!
The Dragon Bridge Area
Is this the first time you've been to Da Nang? If so, staying in the Dragon Bridge area should be your top choice! Located in the center of the city, this area has all the fun you could ever dream about, from eating in a local market to watching the Dragon Bridge blowing fire at night. It also backs up to the exquisite Han river, where you can peacefully have a morning workout or an evening stroll. This area is not necessarily close to the beach, you would have to rent a motorbike or take about a 15-minute stroll to the water. This area is indeed the best of both worlds. Therefore, don't forget to book one of the accommodations below:
1. Seahorse Hotel & Hostel by Haviland
Only a few steps to the amazing Han river, Seahorse Hostel is a modern accommodation that can easily help you discover Da Nang to the fullest. Whether you want to have a relaxing leisure travel or a party-all-night trip with your friends, there will always be a room that can satisfy your demand. Not only do the rooms look inviting, well-furnished, and artistic but they also offer patios and phenomenal city views. Free wifi, a parking lot, a 24-hour front desk, and ticket service are also included.
Doesn't the room make you feel a little bit oceanic?
Downstairs is a Joi Coffee & Bar, where you can enjoy authentic Vietnamese cuisine and beverages, such as coffee with condensed milk or various banh mi selections. The Saigon banh mi has pate, BBQ pork, ham, pickles, and cilantro; meanwhile, the Da Nang banh mi features shrimp, pork belly, quail egg, lettuce, and chili sauce. By the way, don't forget to try the specialty here – banana coffee milk which may sound a little bit strange but trust me and give it a try!
More information Seahorse Hostel & hotel by Haviland:
Booking link:
Price range: 202,000 VND – 1,864,000 VND (9 USD – 80 USD)
2. AnNam Hostel
Does cheap price pair with good quality? With AnNam hostel, the answer is yes! Only a few minutes from the main attractions of the city, such as the Han river and market, this hostel will help you explore the most of Da Nang. The fact that it only offers bunk beds in dormitory rooms can be a plus point if you love making new friends.
All the dorms look simple and clean. Furthermore, they are equipped with air conditioners, free wifi, and a terrace or balcony with great views.
More information:
Booking link:
Price range: 80,000 VND – 180,000 VND (3.44 USD – 7.74 USD) – 7.74 USD)
3. Stingray Hostel
With the soft colors of yellow and brown, Stingray hostel makes visitors feel totally comfortable. The hostel has every essential room for you to choose, such as bunk beds in a dorm, single rooms, or double rooms. Despite being absolutely clean, there are only shared bathrooms in the accommodation. But if you don't mind this detail, be prepared to meet new friends and sleep peacefully!
More information:
Booking link:
Price range: 170,000 VND – 450,000 VND (7.31 USD – 19.35 USD)
4. Kon-Tiki DaNang
Have you ever dreamed about a hostel that can also be a coffee house? Well, you've come to the right place! By opening a coffee shop on the ground floor, Kon-Tiki Da Nang is an awesome spot for travelers to engage in chit chat and to stay during their vacation. The hostel is well-furnished with stylish decoration from the picture frames on the walls to the modern bathrooms, making it a unique accommodation that you can never forget.
A short drive from the airport, KonTiki Danang Hostel is only a few steps from the famous Dragon Bridge. This makes it easier for you to catch the times when the dragon spits fire! Apart from the location, the hostel is also popular among couples traveling on a budget as it features some simple, private rooms apart from its ten-bed dorm rooms.
The staff at KonTiki are also super friendly and always ready to help you decide where to go next, what to explore if you're only in town for a day or organize a ride for you to the airport or your next destination.
The rooms of the hostel, such as bunk beds and deluxe rooms, are carefully cleaned every day. Moreover, this accommodation has a terrific rooftop balcony where you can breathe in fresh air, cool wind, and the amazing view.
More information:
Booking link:
Price range: 130,000 VND – 450,000 VND (5.59 USD – 19.35 USD)
5. Areca Riverside Hotel
Only a couple hundred meters away from the local market, Areca Riverside hotel is a perfect hub for gourmet food. The furniture is stunning, classy, and warming, which makes you just want to hop on a plane to Da Nang soon as possible. Like typical accommodation at the same price, the hotel also offers double rooms and triple rooms.
But what makes it special are the superior twin rooms and suites that have a spectacular view of the Han river. Air conditioners, TVs with cable channels, free wifi, and private bathrooms are supplied. With all these advantages, you will definitely have a good time here.
More information:
Booking link:
Price range: 420,000 VND – 886,000 VND (18.06 USD – 38.09 USD)
6. City Hostel Da Nang
If you're looking for a nice, cozy, and comfortable hostel, City Hostel Da Nang is where you should stay. The cheerful yellow decoration in combination with a mixture of modern and vintage design create a welcoming atmosphere. What astonishes visitors is the price – only 140,000 VND (6 USD) for a bunk bed! And for that quality, service, and location, you may utter "How on Earth can a wonderful place like this exist?"
More information:

Booking link:
Price range: 140,000 VND – 558,000 VND (3 USD – 24 USD)
My Khe Beach area
My Khe, one of the most marvelous beaches in Asia, is a must-visit destination when you visit Da Nang. This is also the expat's main area, offering good chill nights out, and everything is easily accessed from here. Better than that, do you love the idea of effortless fun, from swimming and surfing to sunbathing and munching the best seafood? If the answer is yes, you'd better book one of these hotels:
1. Rom Casa Da Nang
Full of color and creativity, Rom Casa Da Nang is the hostel that will light up your stay. It always surprises me when old shipping containers magically turn into colorful and lively architecture, and Rom Casa has done an incredible job with this. Everything you need is within an arm's length away since there is a wonderful rooftop terrace, library, barbecue, game room, and swimming pool.
The bright colors make for a welcoming stay
The hostel has been built using giant, plain containers converted into comfortable living spaces, with a green area, decorated with plants and flowers for you to seamlessly blend in with nature. Setting itself apart from other hostels, Rom Casa is not only creative and unique, but it also creates a place of complete relaxation for guests. Wooden chairs dot around the cool swimming pool–even cooler during hot summer days. Understanding that you will need some time to catch up with work during your long vacation, so the owner has added a working space suitable for traveling digital nomads.
That's not all, head up to the rooftop and you will find hammocks! Claim one for yourself, grab your favorite book to read, a coffee from the cafe and spend your time swinging. When you're done, head down to Rom Casa's Bar & Cafe on the ground floor.
All of the rooms come with AC and are fitted with personal lockers, reading lamps, and power sockets. You can find joi just by simply relaxing at the on-site bar downstairs, Rom Café. The hostel is just a few steps from the marvelous My Khe beach and from here, you can easily access to Marble Mountains or Asia Park. So take your time, because sooner or later, you will discover this lovely city to the fullest.
More information:

Booking link:
Price range: 209,000 VND – 930,000 VND (9 USD – 40 USD)
2. LightHouse Hostel Da Nang
Many people believe that because of this hostel's special location, it deserves the name "lighthouse". In fact, you will have expansive views out to sea on every floor. The rooms are incredibly clean, tidy, soothing, and spacious. Staying here will help you kick off a day perfectly since the accommodation offers Western and Asian breakfast.

More information:

Booking link:
Price range: 8 USD – 29 USD (193,000 VND – 663,000 VND)
3. Bong Mai Motel
Run by a family, Bong Mai Motel will make you feel the hospitality of the Vietnamese people. At the motel, the quadruple rooms to deluxe family rooms include a desk, a flat-screen TV, a private bathroom, and a fridge. One big plus point for the accommodation is that they have a wonderful terrace where you can watch the waves breaking on the shore.
Moreover, you can easily get access to the main attractions, nearby markets, and fishing villages from the motel.
What a lovely room hosted by lovely people!
More information:
Booking link:
Price range: 370,000 VND – 513,000 VND (15.91 USD – 22.06 USD)
4. Brilliant Majestic Villa Hotel
A new hotel in Da Nang, the Brilliant Majestic is a fantastic place to stay if you want to be close to both the city center and the beach. While the name might suggest it's a five-star luxury hotel, it offers great rates, especially since the rooms are new and the location is excellent.
Love breakfast? Then book this place as it consistently receives high ratings for its food and beverage offering. And let's face it, going out and exploring a new city is no fun on an empty stomach. This hotel also has an outdoor pool so if you didn't get enough swimming in at the beach, you can catch up once you get here.
Booking link:
Son Tra Mountain Area
Not far away from the center of the city, the serene Son Tra mountain area will be a great fit if you need a place to have fun but also chill, relax, and get to know the local life. The highlight of this area, Son Tra mountain, possesses phenomenal beauty, especially when the sun rises and sets. And of course, don't forget to check out amazing accommodation in this area, especially the two ones below:
1. CT-Hostel Da Nang
CT-Hostel is a one-of-a-kind place with unique architectural features that make it stand out among the rest. Having creatively transformed normal rooms into colorful cabinets, this accommodation has attracted a huge number of travelers, especially the youth. Not only is the playground big, but the hostel also utilizes it very well.
The yard is divided into different sections, such as the rest area, coffee spot, BBQ garden, and billiards tables. You can also use wifi and bicycles for free. Are you ready to have fun?
More information:
Booking link:
Price range: 180,000 VND – 300,000 VND (7.74 USD – 12.9 USD)
2. Tropical Forest Danang
You know what? I believe Tropical hostel can surprise you at first sight! This is indeed the most interesting accommodation concept in Da Nang. Moreover, everything inside is clean, neat, and restful. From typical dorms and deluxe rooms to rare capsules and villas, this hostel has them all! Each room includes air conditioning, and some rooms even have a terrace.
You can play darts at Tropical Forest Hostel & Apartments, and have free use of bicycles. In the morning, take an early hike to Son Tra mountain and watch the sunrise above the silent city. You came here to relieve your stress right?
More information:
Booking link:
Price range: 122,000 VND – 1,392,000 VND (5.24 USD – 59.85 USD)
Ngu Hanh Son (Marble Mountains) Area
The Marble Mountains, a group of mountains that create a unique and different ambiance to the city, is one of the must-see attractions in Da Nang. Moreover, this area is to the south of the city, far away from the loud motorbikes and hustle. Pristine beaches are also nearby. If you're looking for leisurely travel on the way to Hoi An, head straight to this location! Check out these recommendations:
1. Hanami Hotel Danang
A classy hotel just about seven minutes from the beach and about ten minutes from the city center, the Hanami Hotel offers excellent value for money. Modern rooms are available in various categories ranging from twin and king to family-friendly.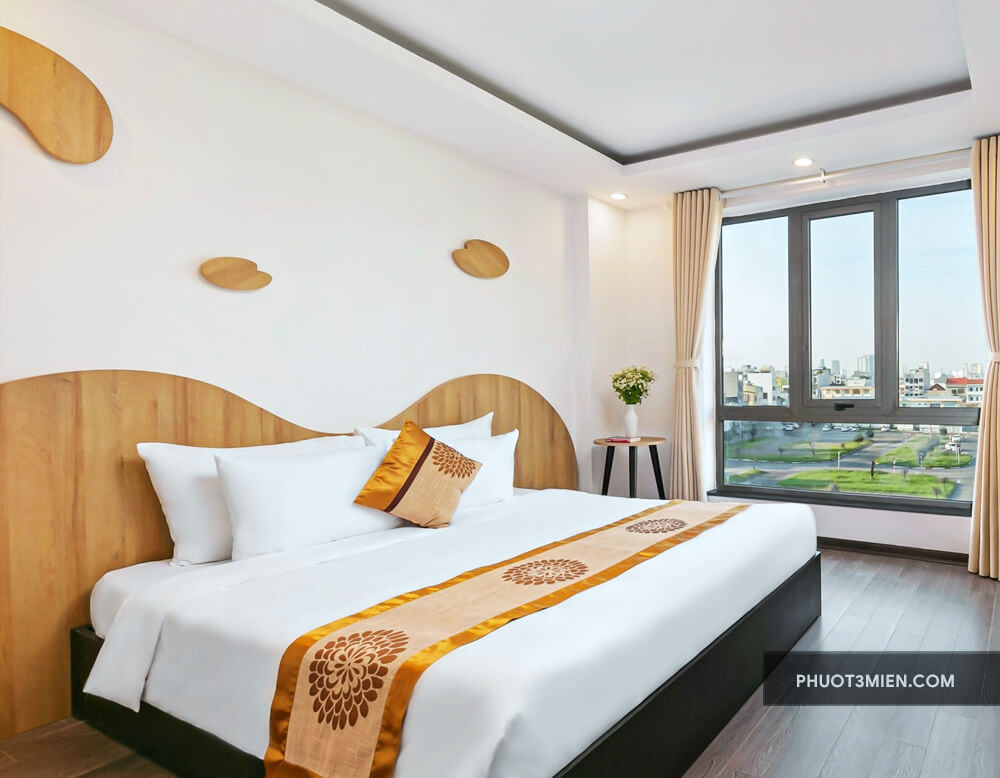 Stay here for quick access to Da Nang's buzzing restaurant scene and venture out on the hotel's free bicycle for a day of exploring and yummy seafood and other popular dishes. If you're interested, the team at the Hanami will be happy to help you book tours or connect you to a motorbike rental so you can explore the area.
Booking link:
2.

The Shine hotel
Do you want to have your own world? The Shine Hotel Da Nang, offering studio apartments, will make your wish come true! Their apartments are well-equipped with everything a house needs, from cupboards, stoves, and fridges to king beds, private bathrooms, and air conditioners. Isn't it nice to have a place where you can truly relax after excessive outdoor activities?
Additional services when staying at the hotel:
Free use of swimming pool in hotel premises
Free 2 teas, 2 coffees per day
Free 2 bottles of mineral water per day
Free daily room cleaning
Car booking advice, ticket booking and tours to all tourist attractions
Rent a motorbike and laundry service at the hotel at an affordable price
More information:
Booking link:
Price range: 540,000 VND – 700,000 VND (23.22 USD – 30.1 USD)
Airport Area
What is the benefit of staying near the airport? It saves you a lot of time, especially when you have less than a full day in Da Nang. Some outstanding recommendations are:
3. Homestay Halley
Need a place to rest after a tiring flight? Homestay Halley is worth your time! The homestay has large double rooms and quadruple rooms, and all of them are equipped with terraces, free wiFi, air conditioners, and flat-screen TVs. Located in a residential area, this accommodation will also allow you a window into the authentic daily life of the local people.
More information:
Price range: 190,000 VND – 327,000 VND (8.17 USD – 14.06 USD)
4. Quan Quan Hotel
Only one and a half kilometers from the airport, Quan Quan Hotel features air-conditioned rooms with free wifi throughout the property. The rooms are all nice and well-decorated. Free private parking, a kettle, and a flat-screen TV with satellite channels are always available.
For your comfort, you will also find free slippers and toiletries in your private bathroom. Car rental is also available, so if you need to hire one, just ask the staff here.
More information:
Booking link:
Price range: 320,000 VND – 600,000 VND (13.76 USD – 25.8 USD)
5. 4 Seasons Hostel Danang
If you want your stay to be an experience, the 4 Seasons Hostel is a great option for you. Apart from rooms with six to ten bunk beds, it provides modern clean facilities such as a terrace, a fully-equipped kitchen, and a common area.
What makes this place special is that (for an additional cost) it offers a cooking class. Join in to learn how to make your favorite Vietnamese food and spend some time with the other guests. And of course, after the class, you get to enjoy the treats you made together with your new friends. What's not to love about that?
Booking link:
Hotels vs Homestays in Da Nang
Da Nang being one of the country's most popular seaside destinations, it's hardly a surprise that there are countless accommodation options. From fancy hotels and resorts to budget hostels and cute homestays, the city offers a bit of everything. Which one is best for you depends on how you like to travel and how much you'd like to/can spend.
If you are looking to chill out by a pool or on a private beach and want to take advantage of facilities like a gym and spa, a hotel or upscale resort is a great option for you. Alternatively, if you want to spend more time exploring the city and do some outdoor activities, a budget hotel or hostel might be better as you won't be there much. Hostels are also great if you want to meet people to join your day trips or share travel stories with.
Finally, homestays are a wonderful option if you are on a budget or simply would like to spend some quality time with locals. In Vietnam, many people rent out spare rooms to guests, giving you the chance to experience their way of life. Depending on the type of homestay, you might have the chance to share meals with your host or have them take you on a tour of their favorite places in and around the city. What better way to get to know a place and ditch the beaten track than on the back of your host's motorbike?
When booking a homestay, pay attention though. Since there are no standards or regulations, accommodation styles and quality vary widely from one place to the next. Some hosts might only rent out one room in their house to 1-3 travelers at a time. Others might have several rooms available, turning their homestay into a family-run bed and breakfast.
Another tip: be aware that houses will probably be a lot more basic than hostels or hotels. Be mindful and respectful of that. For example, rooms without A/C or small, shared bathrooms are not uncommon. This information is all available when you book though, so none of it should come as a surprise when you arrive. If there are some unexpected shortcomings in the place you booked, you can always cancel and find another one. That's the advantage of a place like Da Nang, you have countless backup options.
With this guide, I hope that you will be able to find a suitable accommodation for your stay in Da Nang. And don't forget to check out Your Guide to Authentic Central Vietnamese Cuisine, A Full Guide to Ba Na Hills (The Golden Bridge is Here!), and Nightlife in Danang to enjoy your days in this city from head to toe!

If you enjoyed reading this article and would like some more fun info about what to see, do, and eat (and a bunch of interesting cafes!) in Vietnam, follow us at Vietnam Travel Blog!