List the beautiful coffee shop in Hoi An, will be an ideal stop for you when traveling here. One of the attractions to tourists with ancient architecture and historic constructions – combined with a very vintage and unique bar space. All have created very unique features and left visitors with a beautiful impression places.
In addition, the culinary culture of Hoi An is one of the highlights that create an attractive attraction for tourists everywhere when once coming to this land. Perhaps that is why someone has said that to come to Hoi An must eat chicken rice, bread and coffee. Without one of the things above, your trip to Hoi An really could not be completed.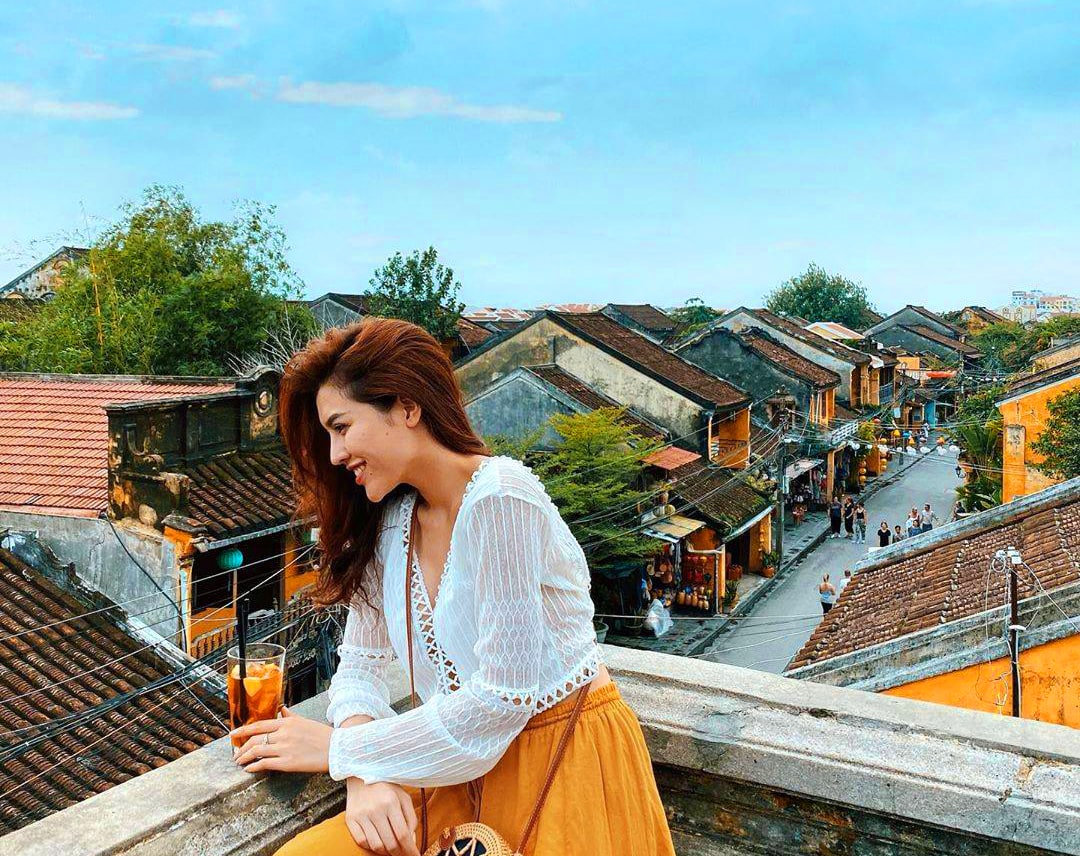 Whether you are out on the town looking for the village's best cafes, diving into the world of Vietnamese coffee, or simply looking for a place to boost your local and casual experience, you'll find a good choice in the list below.
I needn't say that Hoi An is unique because everybody knows it is! Although the town is small and doesn't have many large entertainment venues or shopping malls, people tend to fall in love with it and extend their stay. So, what is there in Hoi An that is so attractive? It is not only about the delicious cuisine, picturesque old tea-houses, or the charming Hoai River, but it is also home to an up-and-coming cafe culture.
The article below will recommend for you one of the famous " Hot Hit" and "Best" in Hoi An at the moment. Now, let's go go to discover hehe
1. FAIFO COFFEE – Sparking virtual view
Have you ever tried to look at a fanciful Hoi An from above? If not then Faifo Coffee Hoi An is a completely best choice for you. Hoi An has many cafes with high view, but only in Faifo coffee gives you a "chill" feeling that no words can describe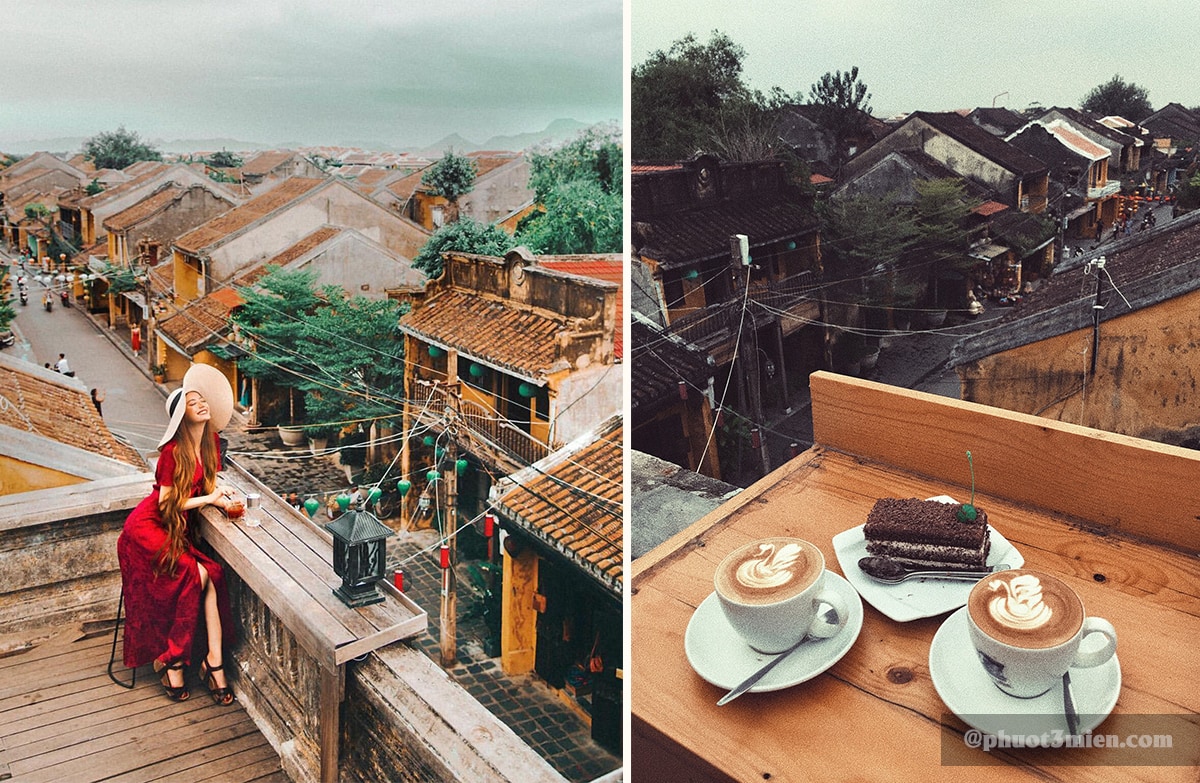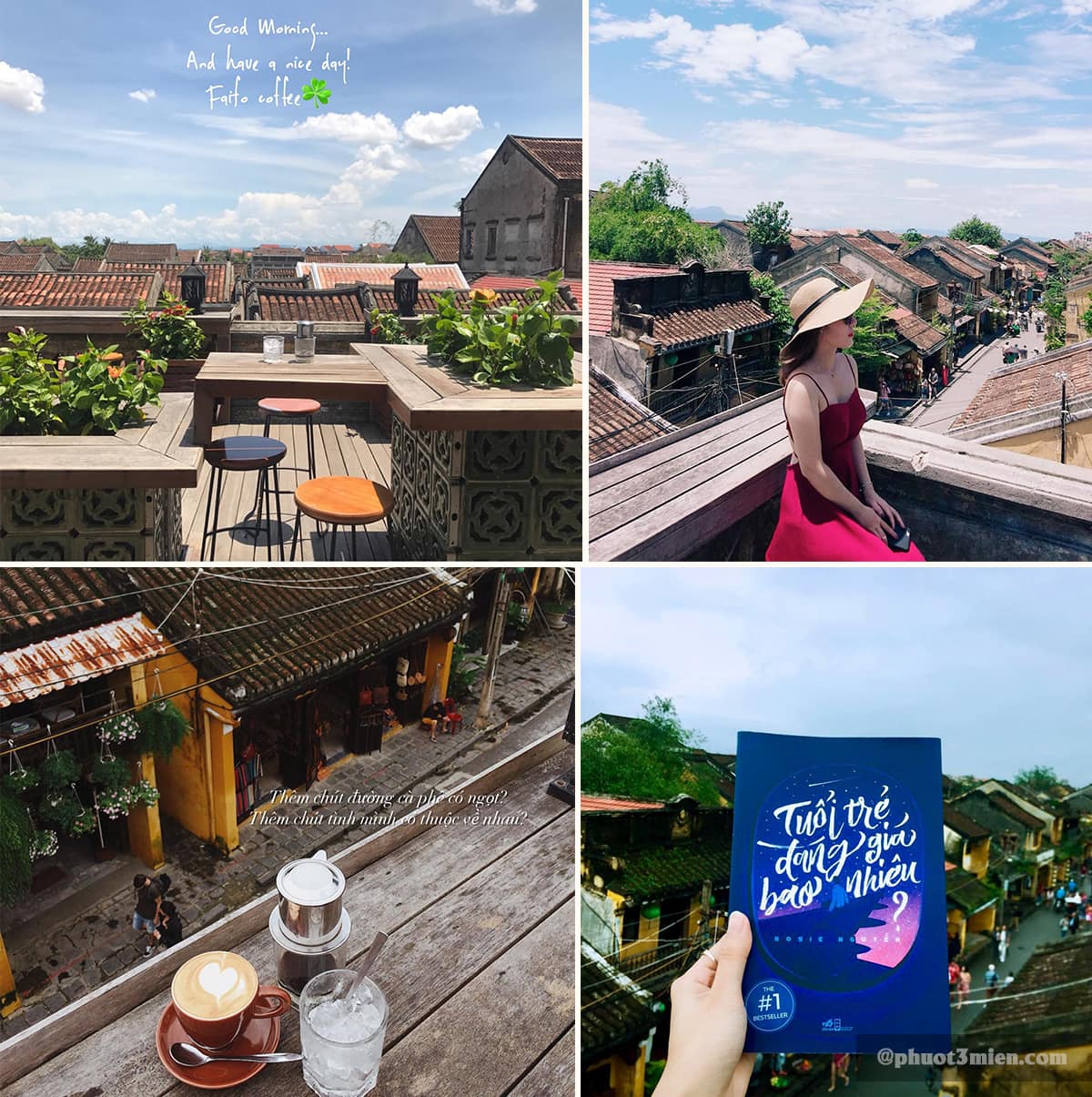 The menu in FaiFo have a variety drink have for you many choices, for example, coffee, juice fruit, …. so on, coffee to teas and of course they are of high quality with a very reasonable price; Croissants and iced milk coffee are the best sellers here that you should try.
Enthusiastic, friendly, and hospitable staff is also one of the plus points for Faifo Coffee.
The weather in Hoi An on Summer is quite hot, so if you want to enjoy the view from the corner of this roof, you should come in the afternoon. Chatting with friends by a cup of aromatic coffee watching the sunset spread on the corner of the street in a golden color and waiting for the lanterns to be lit all over the streets will definitely be a beautiful memory and bring you photos to Life is one of a kind in Hoi An!
Instagram with many view for virtual of Faifo:
https://www.instagram.com/Faifocoffee/
Address:  130, Tran Phu Street, Hoi An city.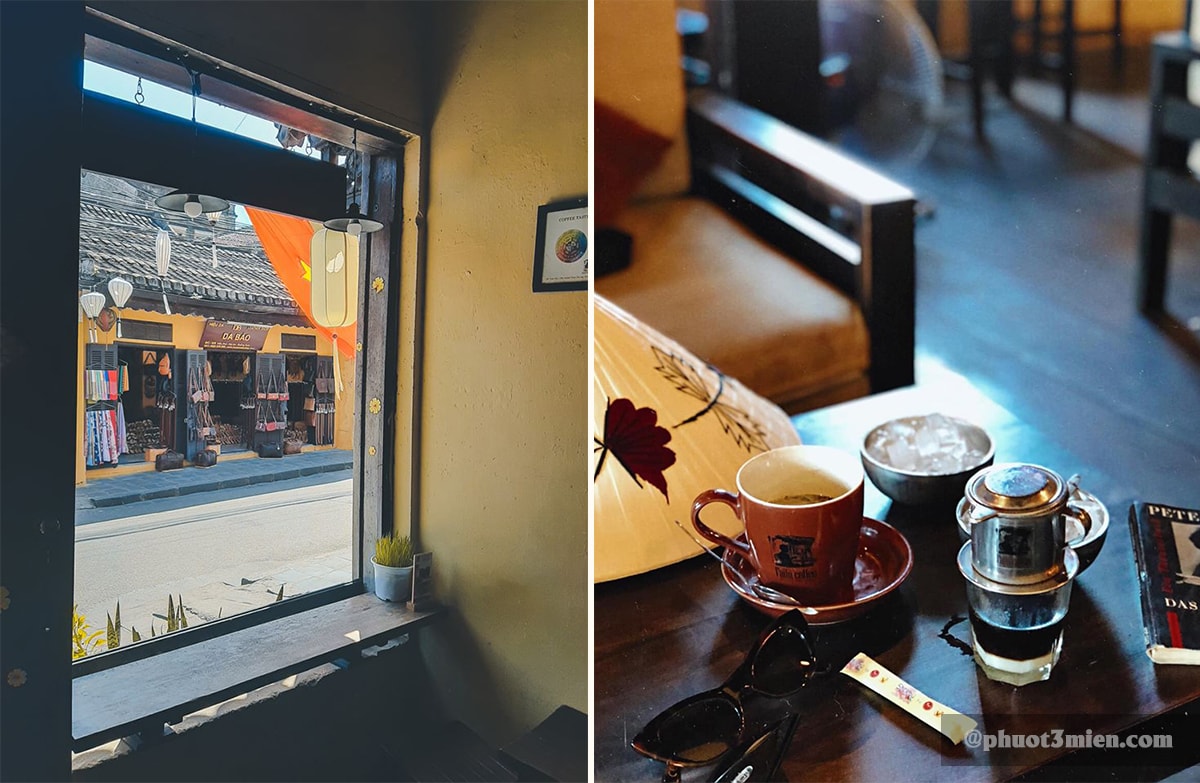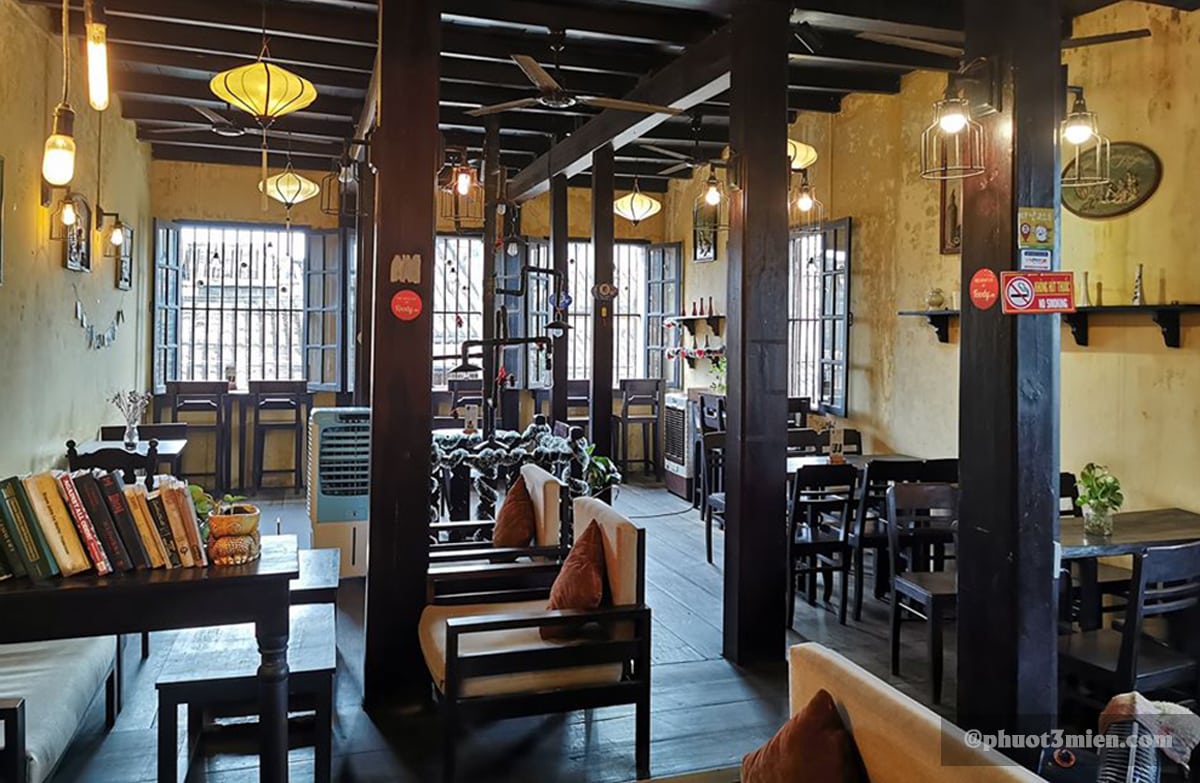 2. The Espresso Station
In 2014, a man quit his secure job for a passionate urge: to search for and bring the finest organic coffee beans to consumers. And so began the mission of this small cafe. Located off an alley close to the ancient town, The Espresso Station always comes to mind when I'm looking for a great space with good sips. With its airy small yard covered with plants and showered with sunlight, I can toil away at work or meet up with a friend. Take a seat in a hidden corner to read your book, take a few photos like the Vietnamese youth, and read up on Vietnamese coffee while waiting for your beautiful drink.
If you already know that Vietnam is the second largest coffee exporter in the world, have you ever wondered why the coffee value is not high? It is partly because Vietnam still grows their beans with dated methods and many farmers do not take proper care of their beans, so the quality is not as high. However, this has changed in recent years, thanks to the support from enthusiastic cafe owners like The Espresso Station. So now that we have special coffee beans, what makes this coffee shop unique? I suggest stopping by to find out, talk to the well-trained baristas, and give the healthy "Dark Soul Latte" a try!  
MORE INFORMATION:

Address:

28/2 Tran Hung Dao street, Hoi An city


Phone number:

+84 905691164


Opening hours:

10

AM – 7:30 PM


Fanpage:

The Espresso Station




Price range:

45,000 – 80,000 VND
3. PHIN COFFEE WORKSHOP – Rustic and Simple Style 
Phin coffee workshop is really one of the coffee shop for the customer love the rustic and simple style, the spacious fresh with two main colors are blue and yellow. This color is inspired by Hoi An, intimacy and impression are unforgettable feelings for visitors when coming here.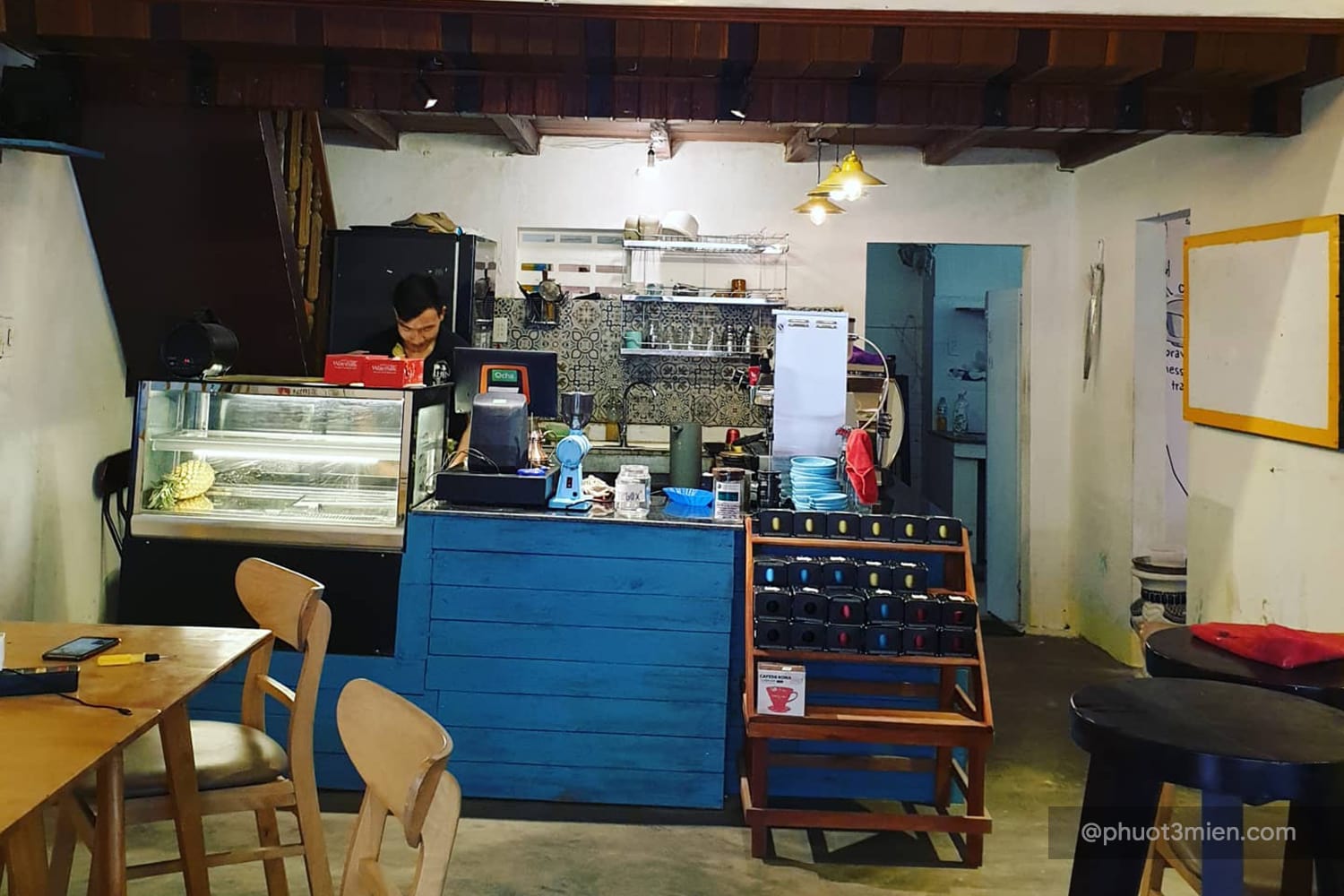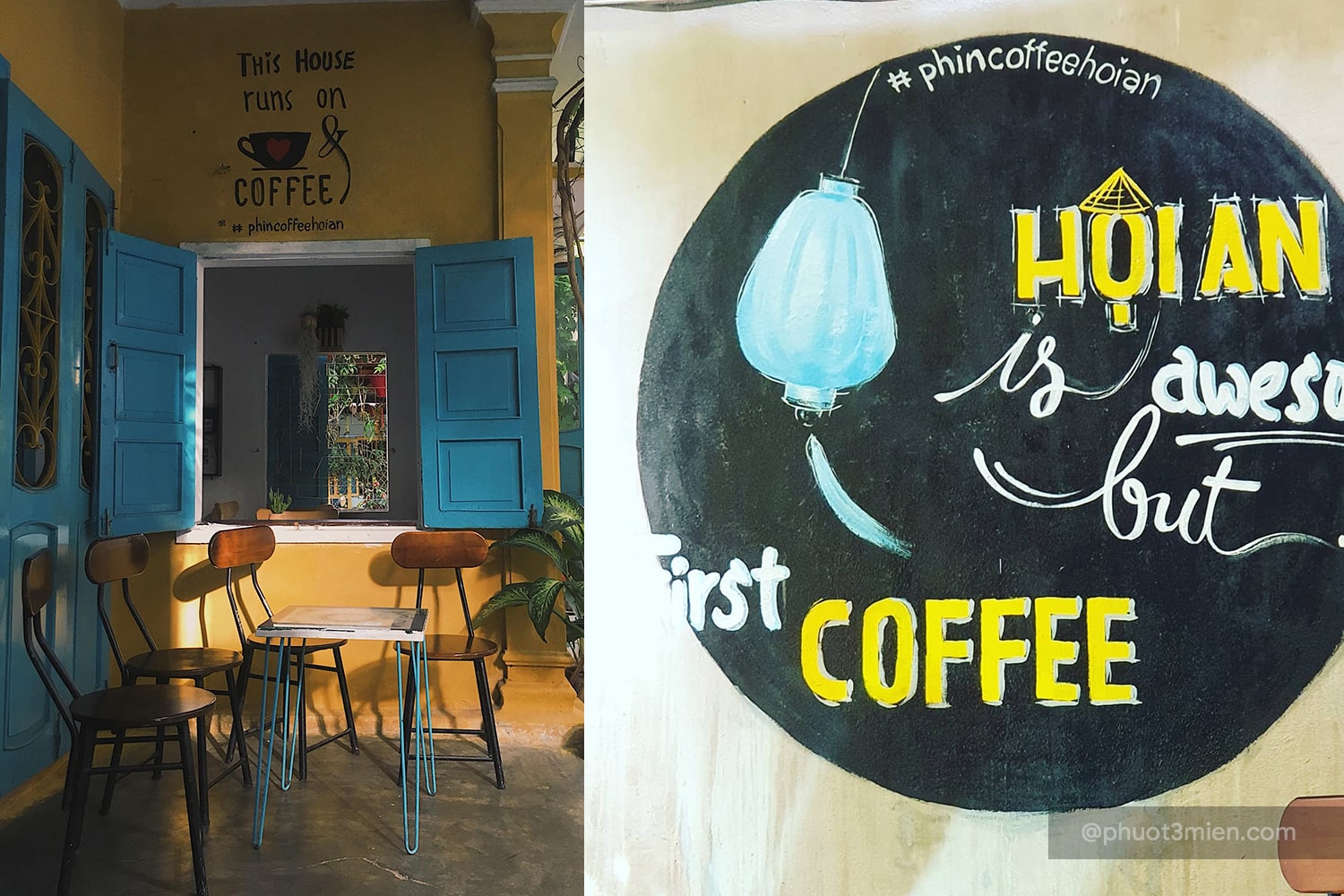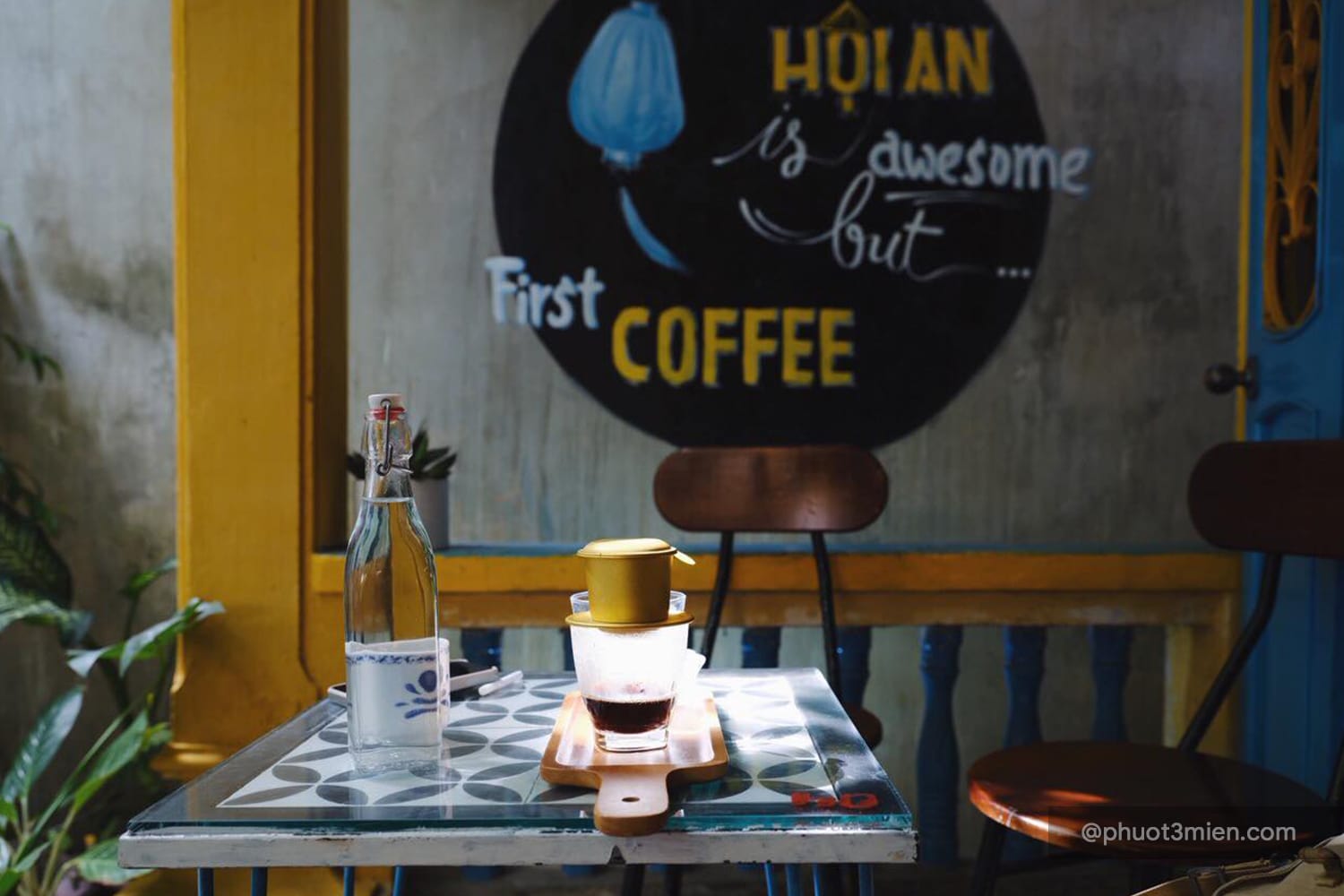 In addition, the investment and professionalism in all stages from the selection of coffee beans, roasting and meticulous preparation have brought the "top" coffee cups to the "hard fans" of the company. genuine coffee. From traditional filter coffee or "imported" coffee such as Espresso, there are unique flavors and are guaranteed to satisfy all the most discerning travelers.
In addition, the investment and professionalism in all stages from selection of coffee beans, roasting, and meticulous preparation have brought the best coffee cups for the "hard fans" of genuine coffee. From traditional coffee coffee or "foreign" coffee such as Espresso, there are typical flavors and ensure the satisfaction of all the most demanding visitors.
In addition to enjoying coffee at Phin Coffee, you can also purchase hand-picked bags of handmade coffee from which you can make the finest coffees at home for yourself and your friends.
The shop is only open from 8 am to 17 pm and will close in the evening, so please note to arrange your arrival time.
In addition, the shop also serves some healthy healthy breakfast foods you can check out in the menu.
Address: No. 188/7A Tran Phu Street, Hoi An City, Quang Nam.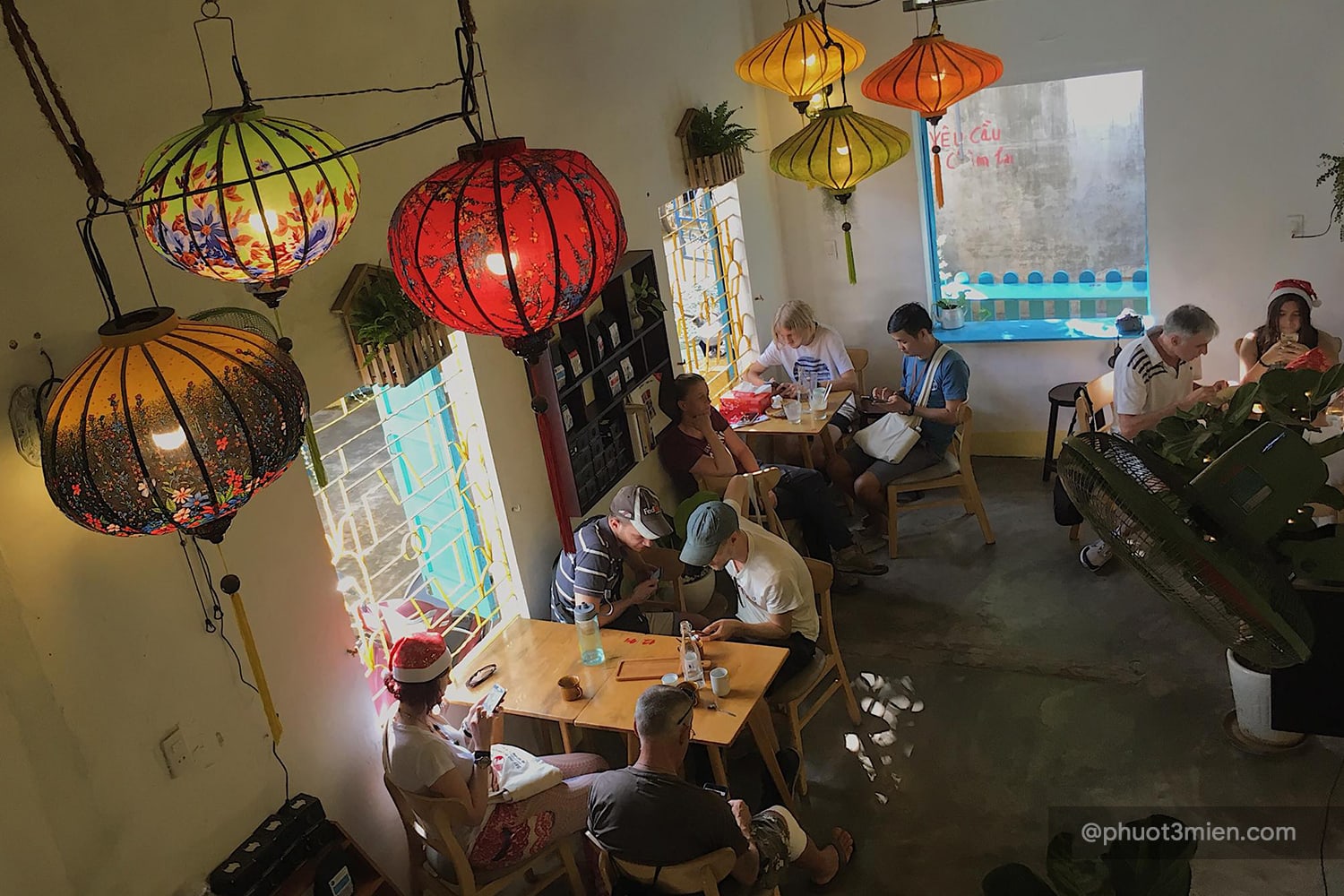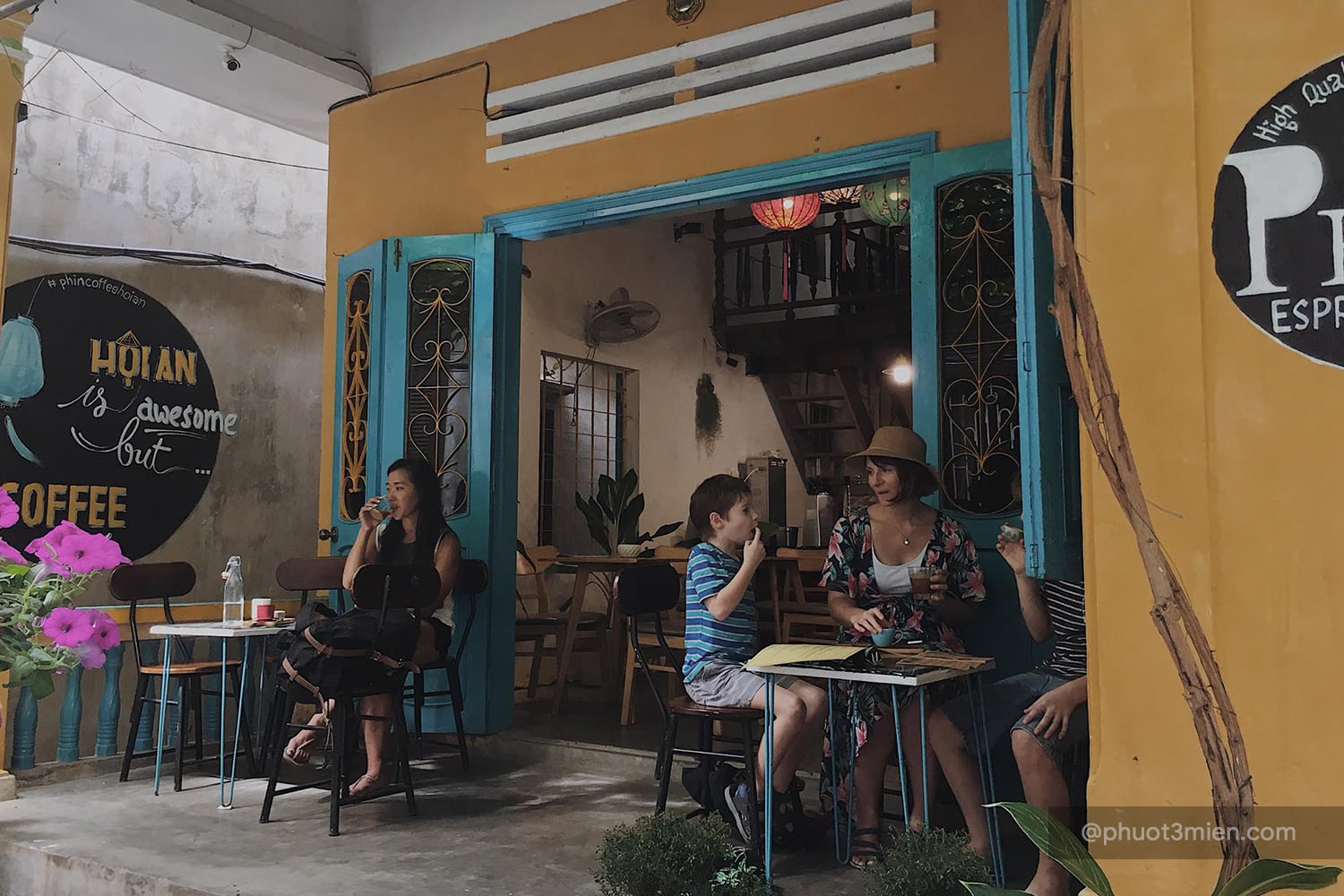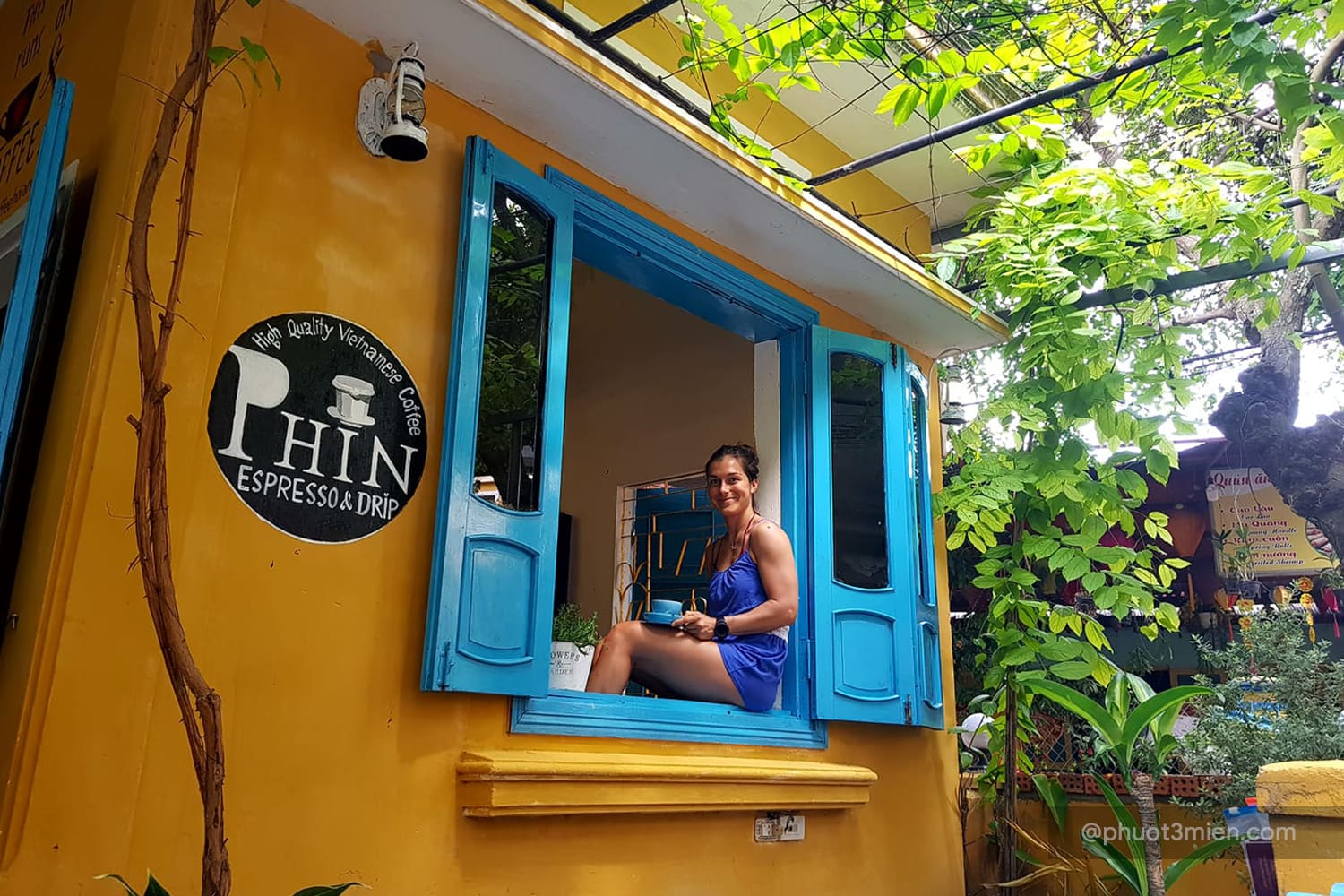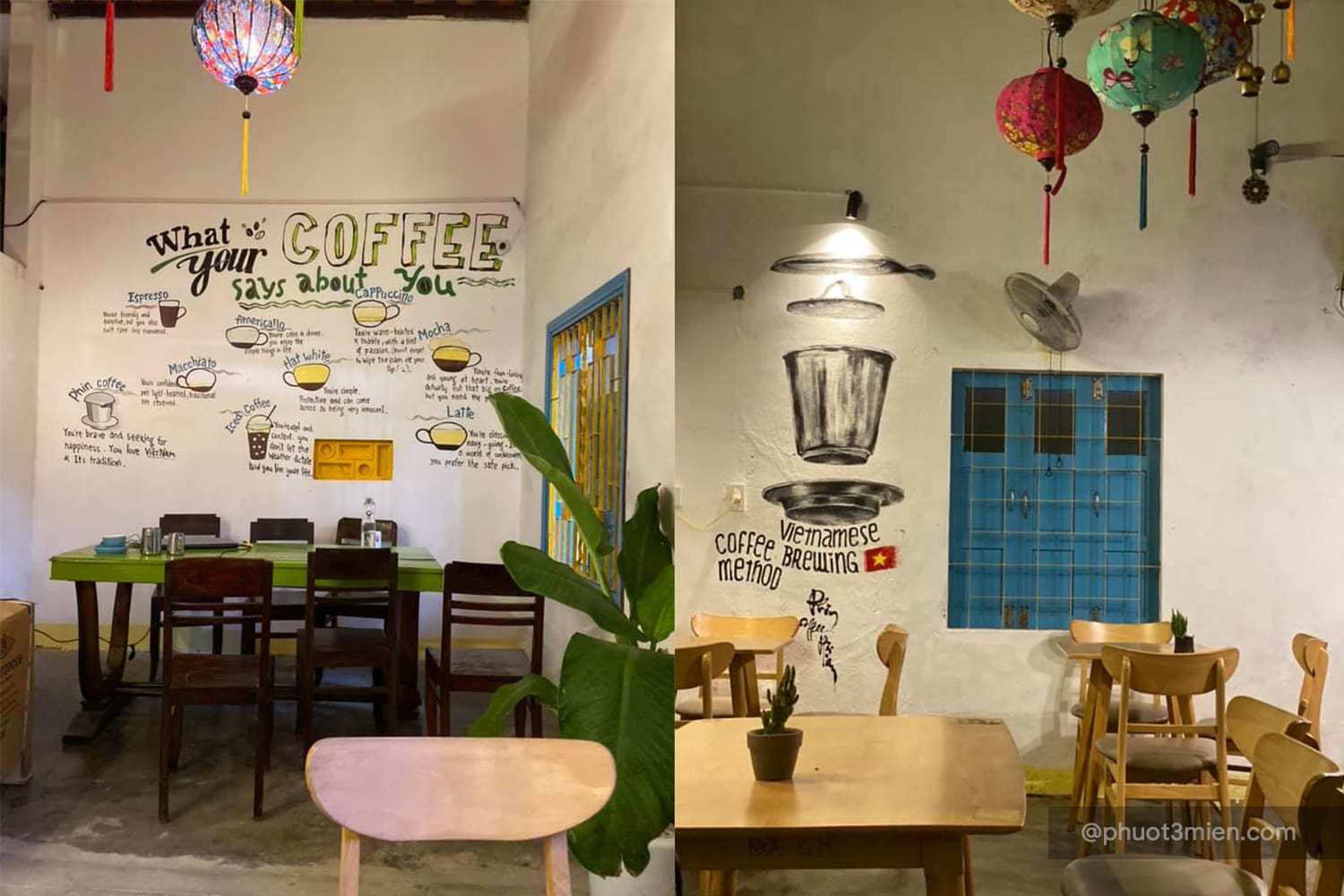 4. The Bird House Café – Nice view cafe in Hoi An
The Bird House Hoi An is a stylish and cozy vintage cafe located a few steps from the famous Japanese bridge in Hoi An.
The space is beautifully designed/decorated and with care down to the smallest detail. The furniture is amazing, the arrangement of the furniture has a cozy feeling.
The best fact about this place is its location – right by the river, relaxing with panoramic views right by the river – what could be better?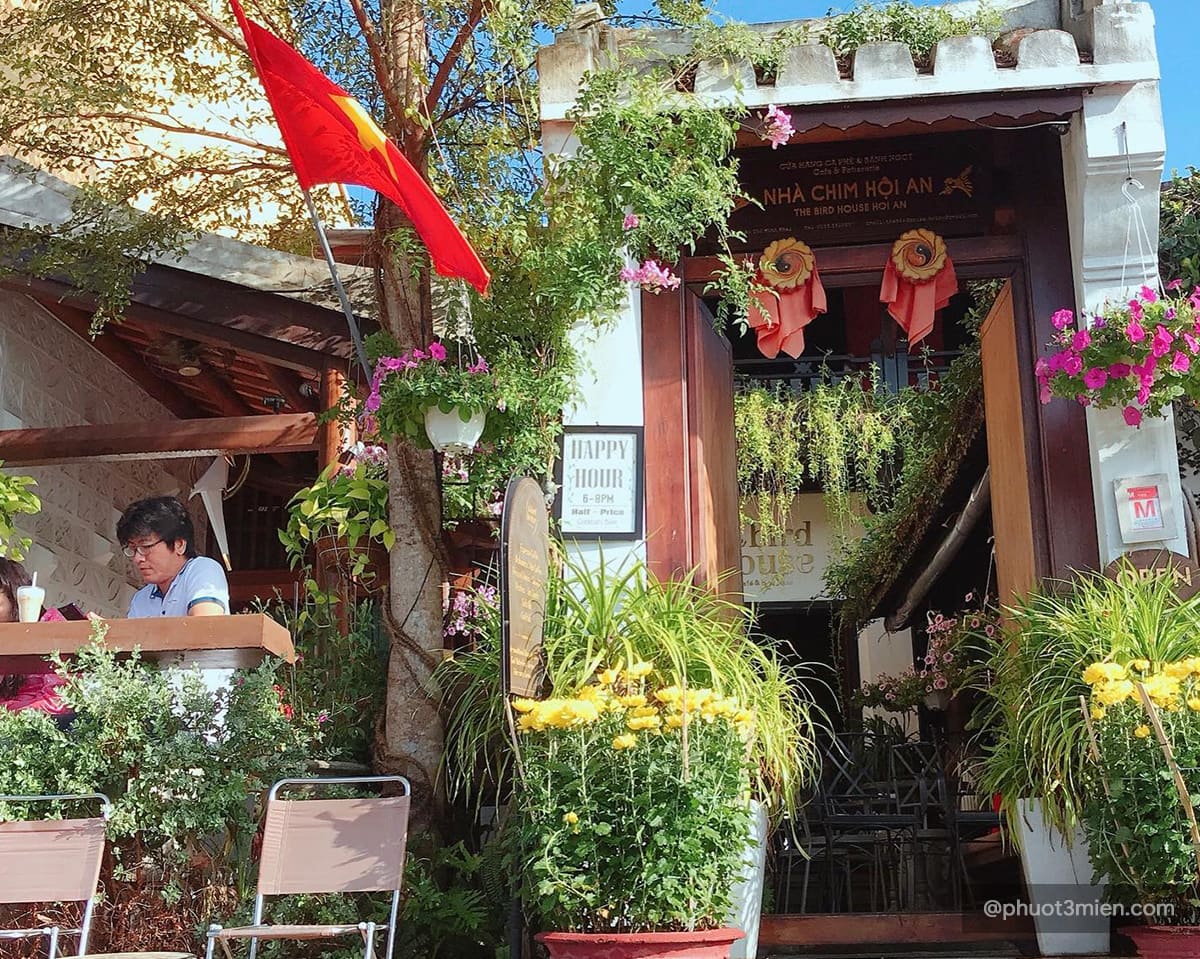 The birdhouse is a small piece of history right on the river, offering great food and refreshments. Peaceful and sophisticated atmosphere, a hidden gem in busy Hoi An where you can sit back, relax and enjoy this beautiful town
A cafe with a beautiful space, very suitable for you and your friends to chat and enjoy delicious drinks here.
Address: 7 Cong Nu Ngoc Hoa – Hoi An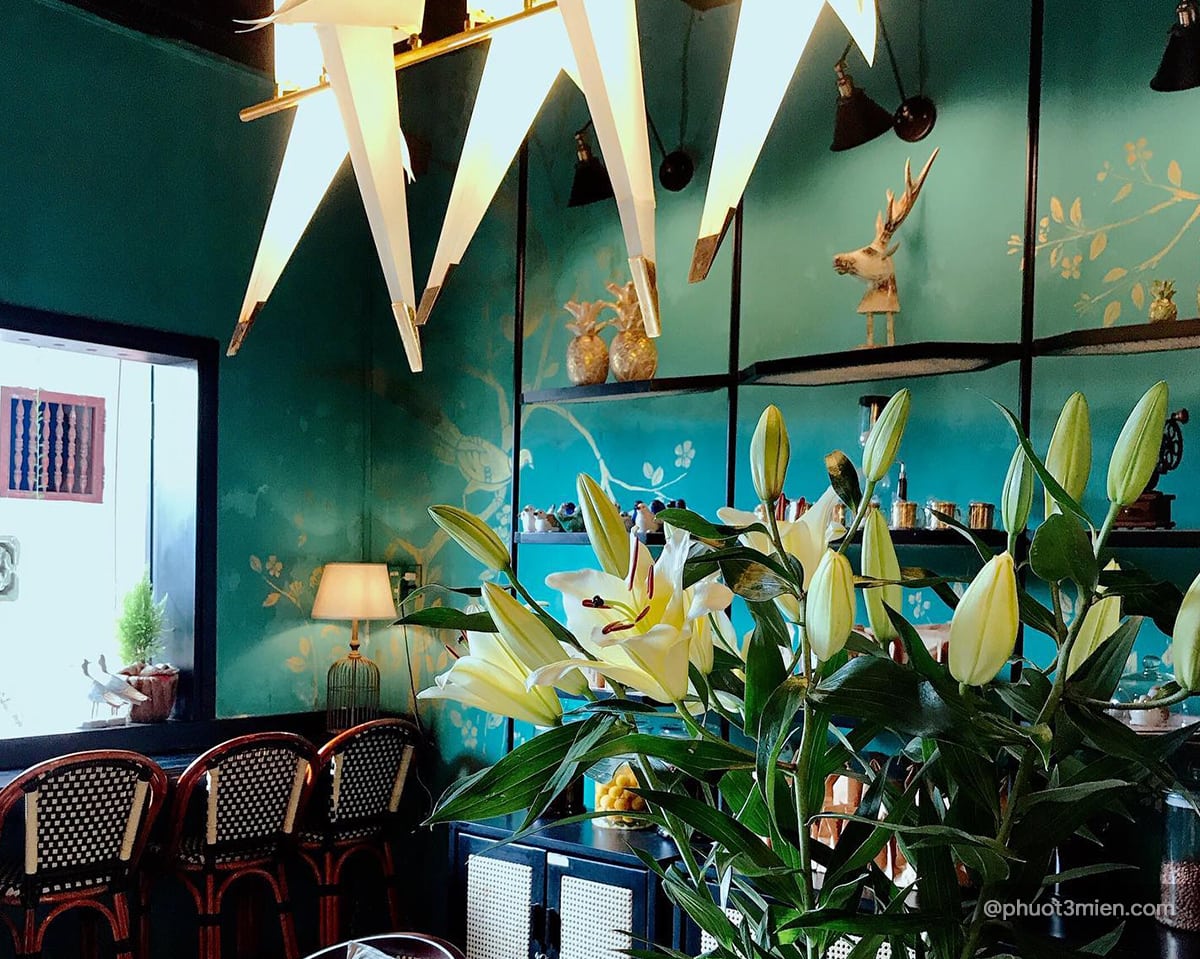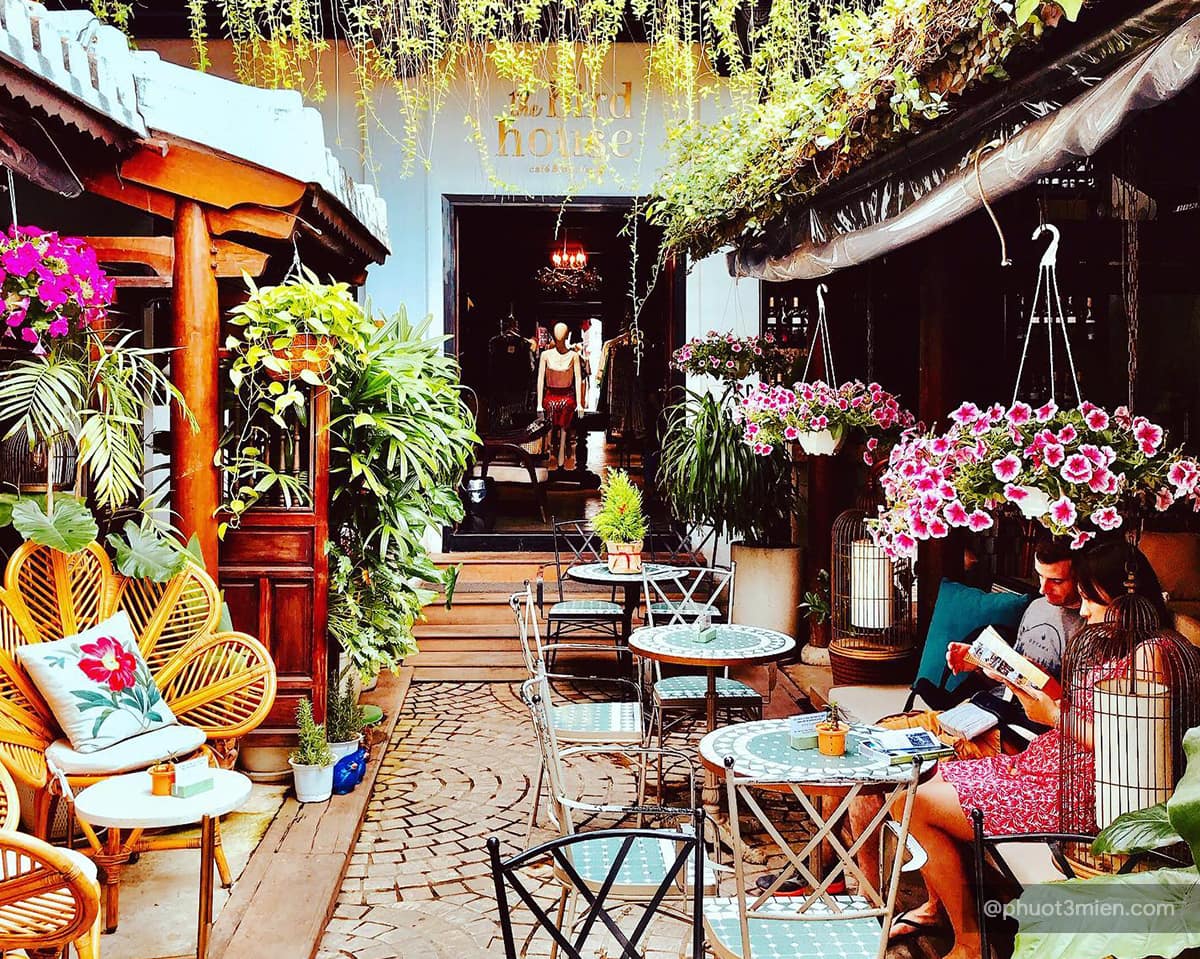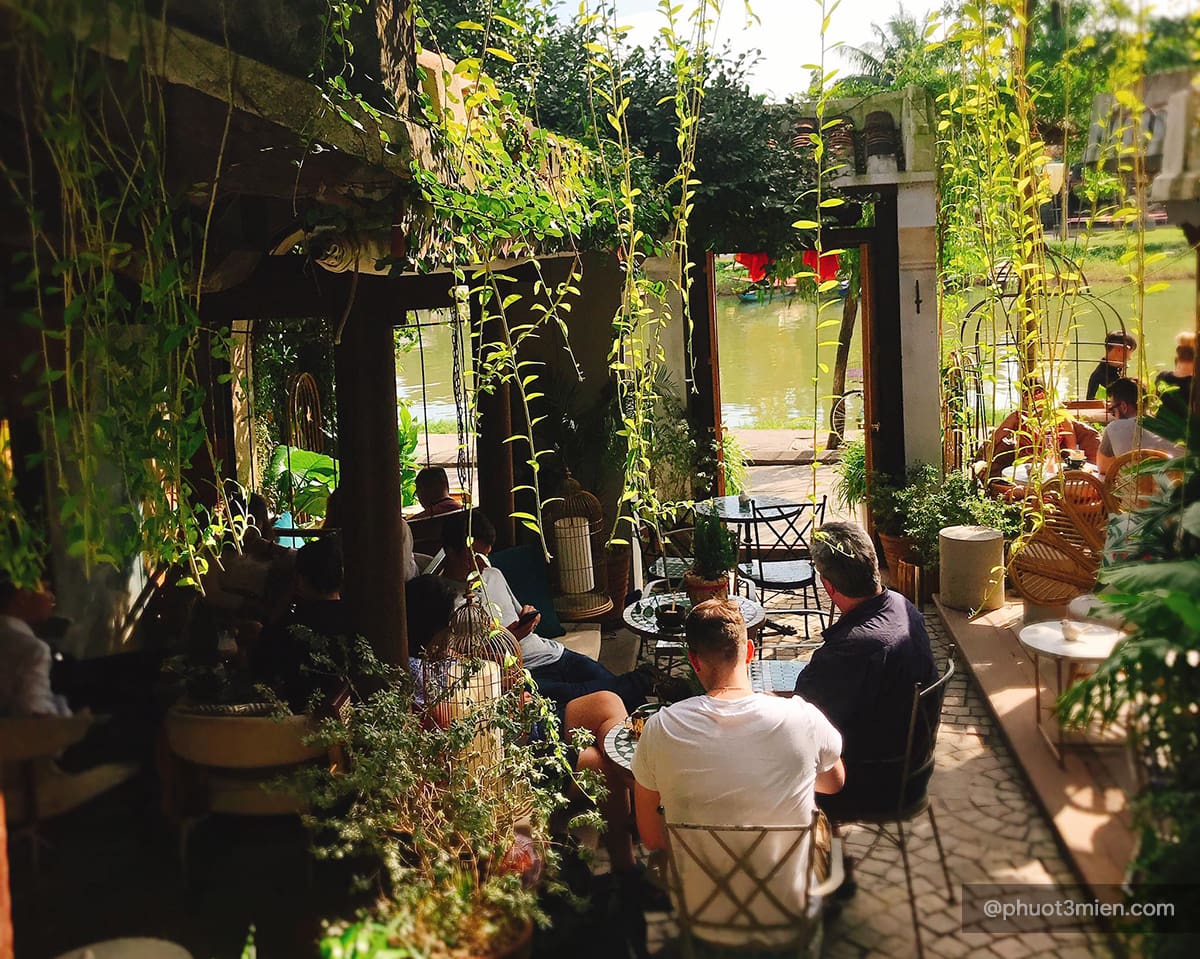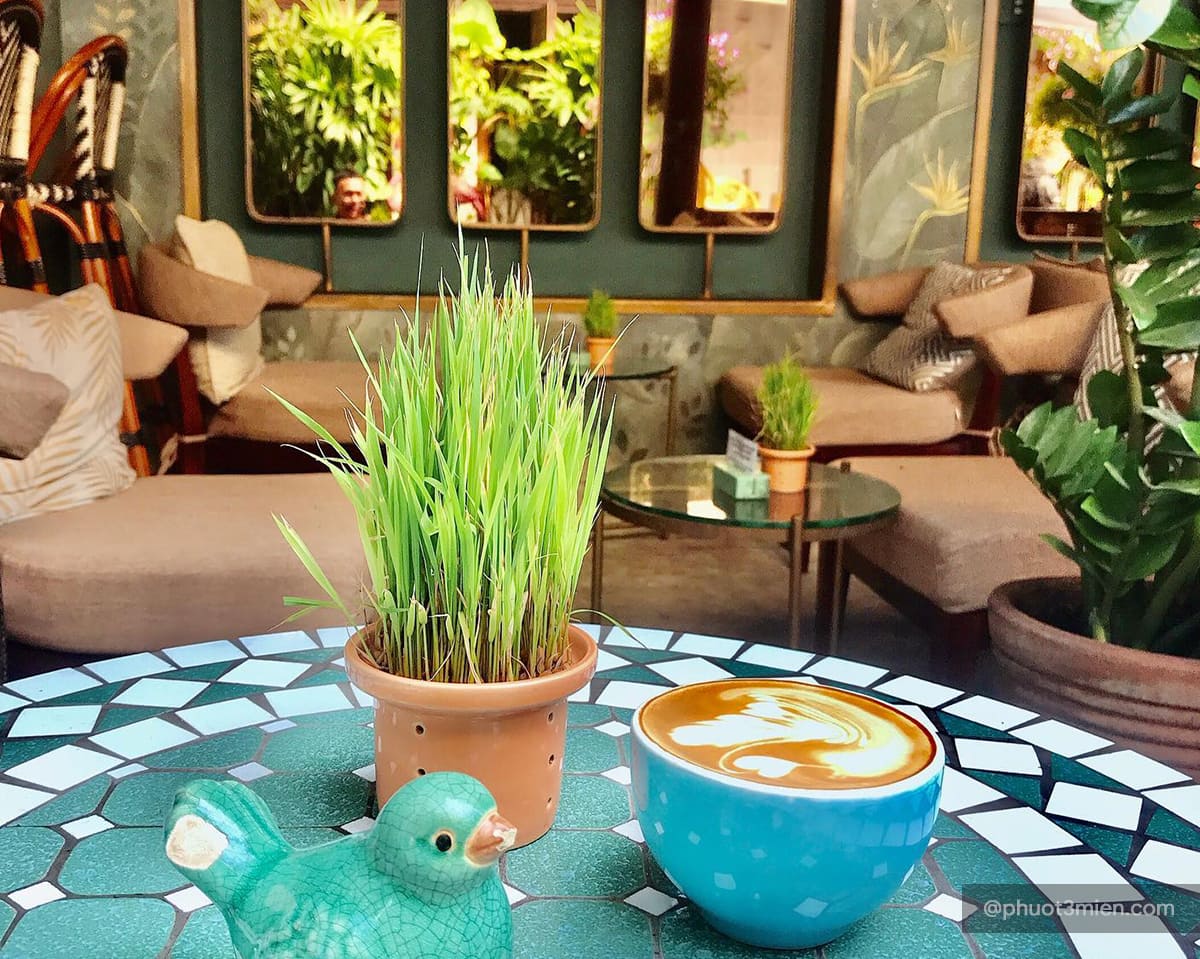 5. The Chef : panoramic rooftop view of Hoi An
The Chef is actually a restaurant, but it has various types of drinks on the menu. Coffee is served on the second floor, where you can encounter the dark wooden walls, offering an ancient space of East Asia. The top floor is decorated with lanterns, non la, and bamboo. From here, you will get a magnificent view of Hoi An ancient town. The dark-red roofs and sunlight combine to create an old but romantic scenery.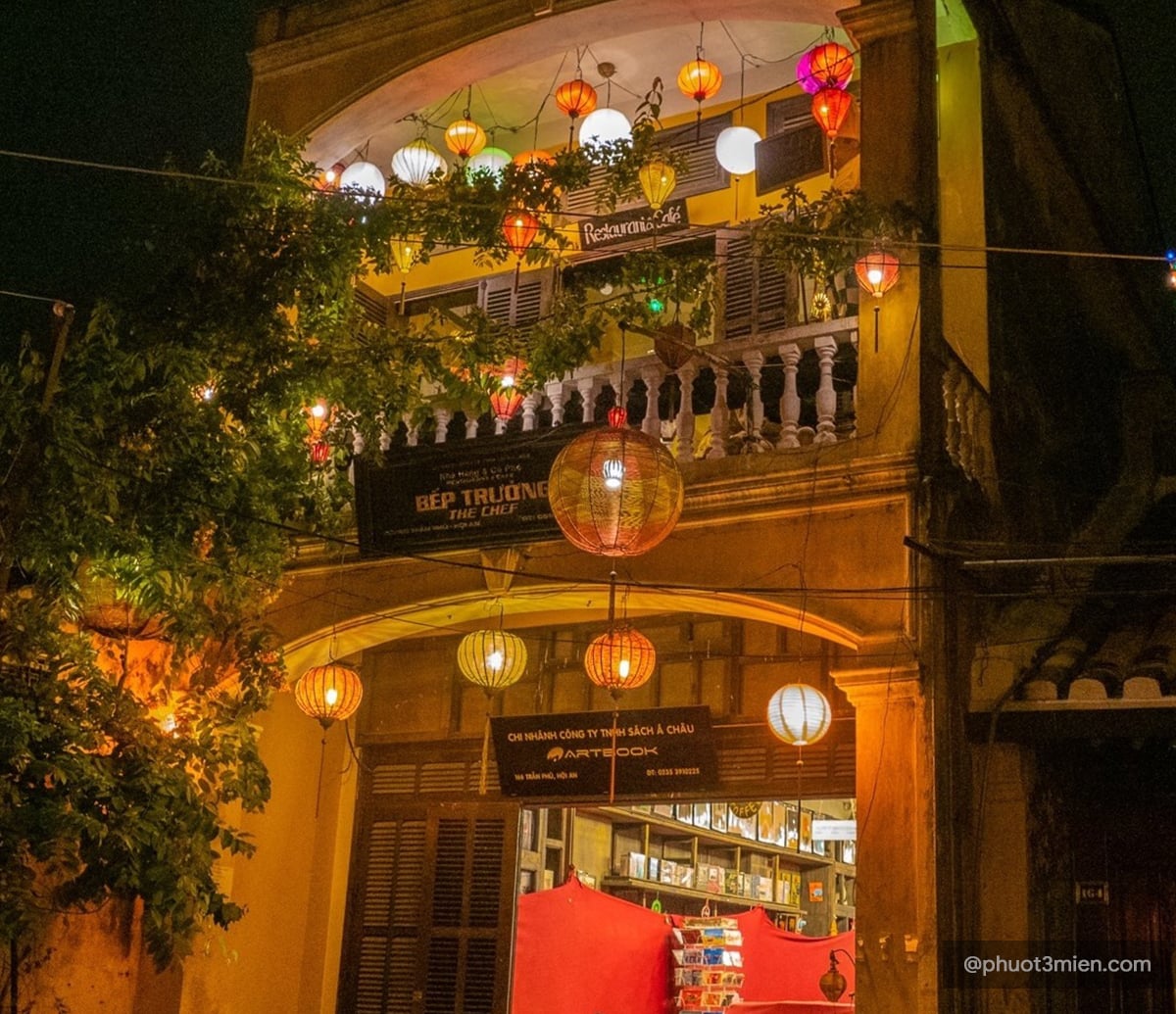 Peace is when sitting in a familiar corner, ordering a strong cup of coffee or a cool cup of tea. Enjoy the open space and silently admire the old town from the balcony and take excellent photos.
The money-making point of this top beautiful cafe in Hoi An is the terrace where you can watch the romantic sunset in the Old Quarter.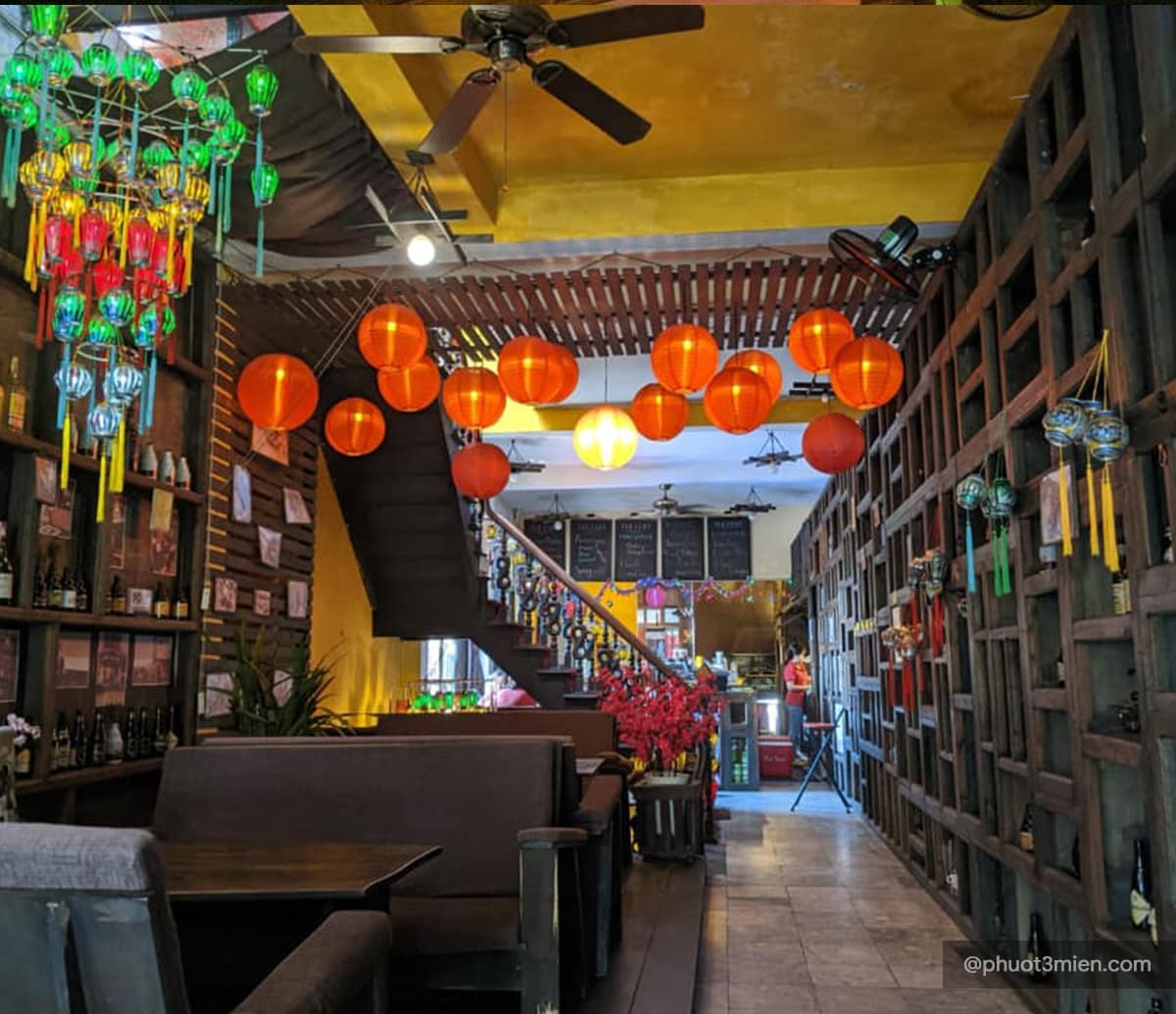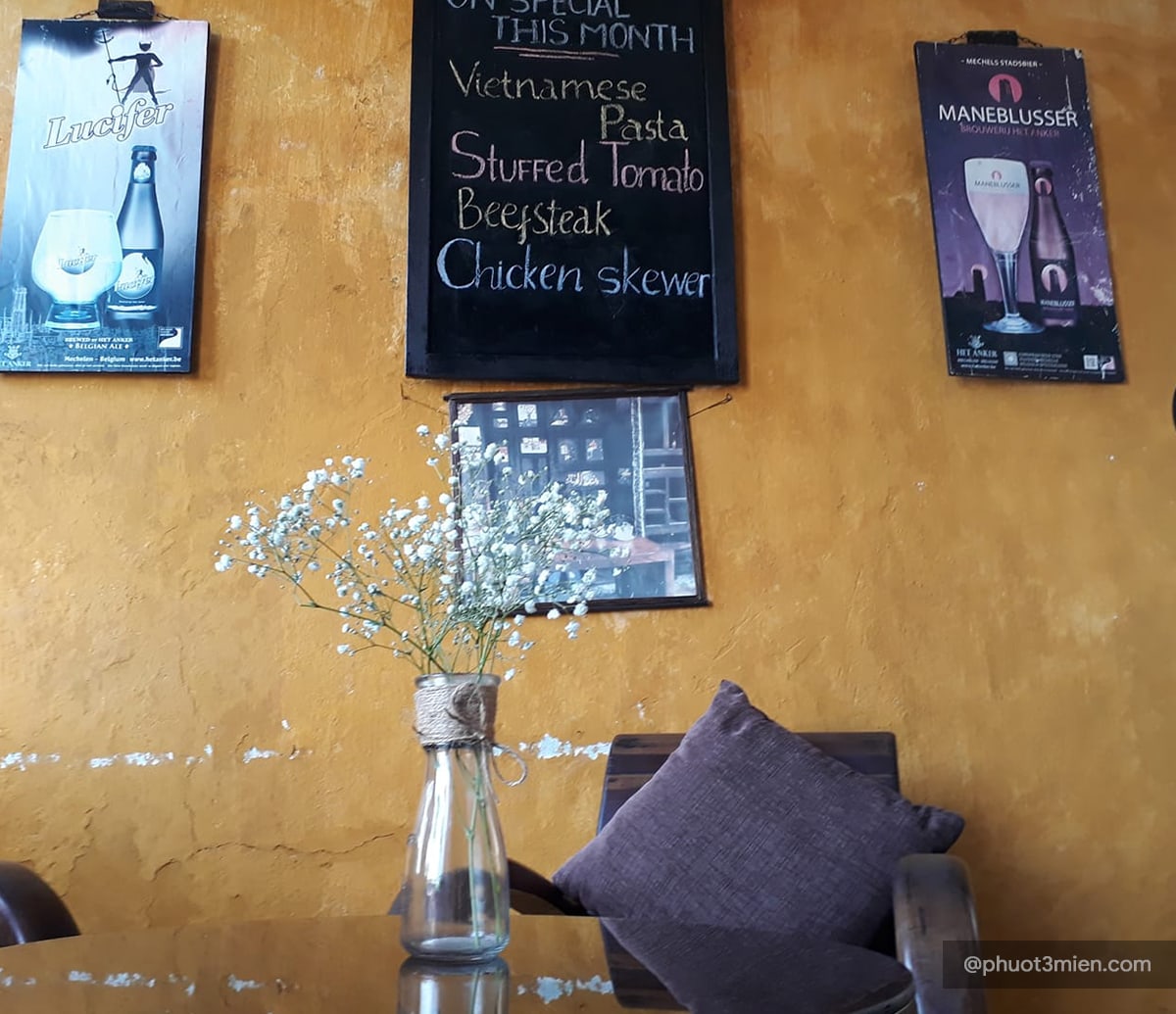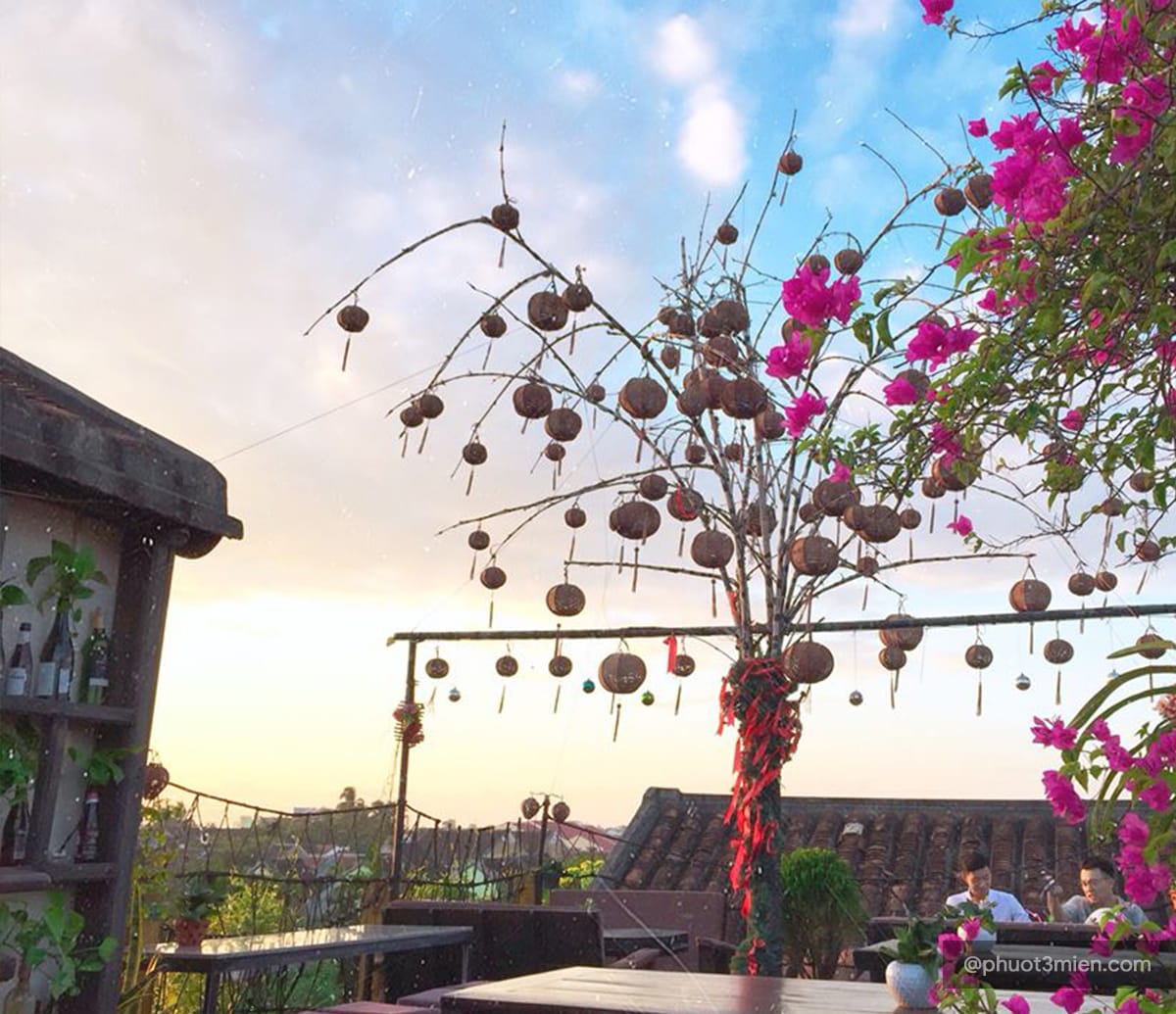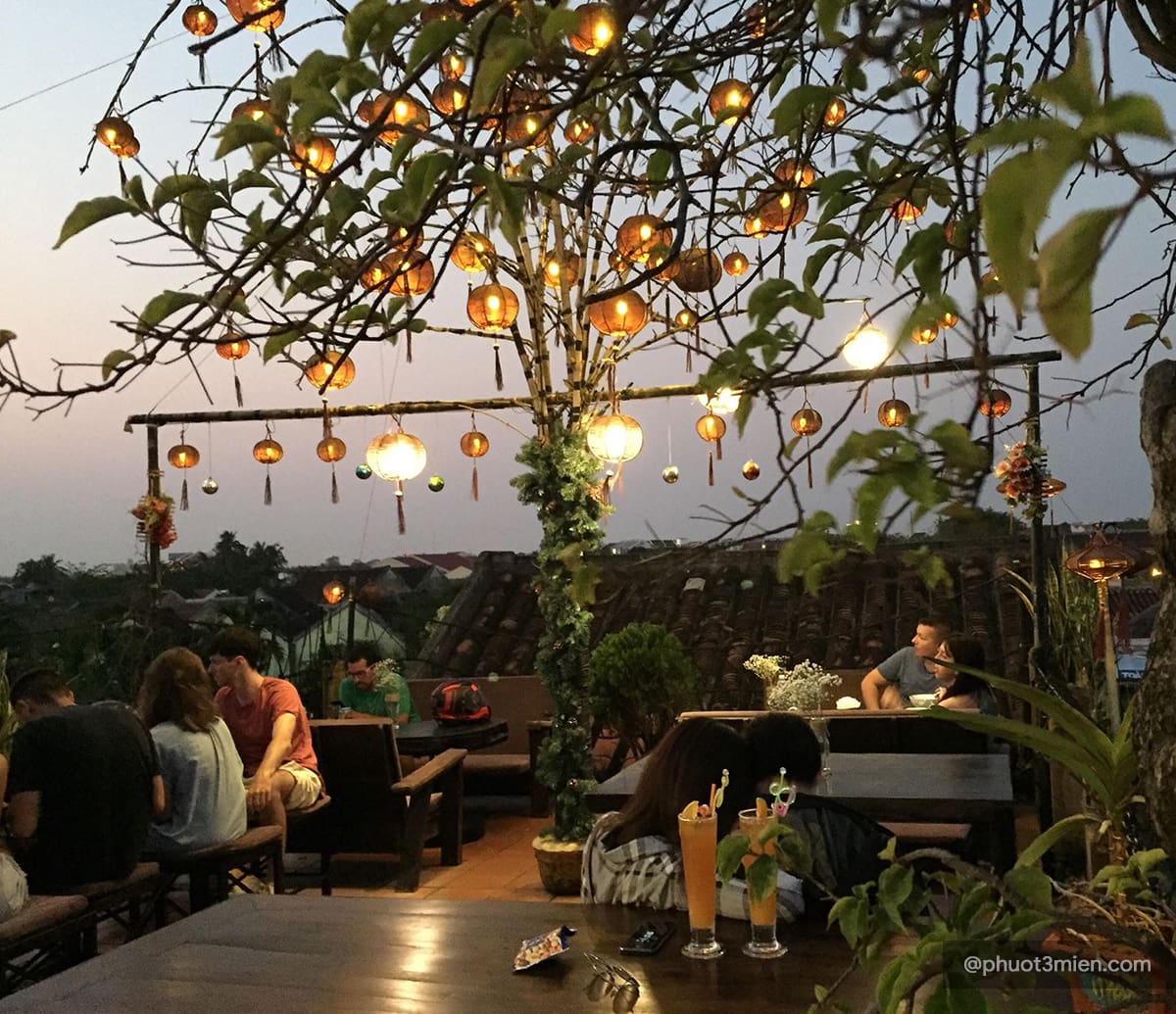 Sometimes, you will see photographers and models in The Chef using the wonderful scenery here as artistic material. The Chef is also an ideal place to read a book. A little sunlight, a little wind, a little tranquillity, a cup of coffee, and a fantastic book can make your trip more colorful.
Great rooftop terrace overlooking the whole old town of Hoi An. This is a place that is very well recommed, you should definitely visit when coming to Hoi An. Great menu, reasonable prices
MORE INFORMATION
Address: 166 Tran Phu street, Hoi An city

Phone number: +84 901 020 882

Opening hours: 8 AM – 10 PM 

Price range: 50,000 – 300,000 VND
6. Reaching Out Tea House – Quiet beauty
Have you ever seen the beauty of silence? Coming to Reaching out tea house, you will feel it more clearly than ever. You may find that this tea house is often silent. The reason for this is the employees here are deaf, you have just stepped into a tea house run by a charity organization that aims at empowering the disabled in Hoi An. It's one of the most silent areas in Hoi An, where you can discover the beauty of the quiet.
In a quiet ancient space but no less elegant and elegant, enjoying local organic teas or coffees with unique and interesting processing, we can feel it all. the charm of this place.
More specifically, the staff of the restaurant are mostly deaf people, but their dedication to serving customers and their smiles always make me forget their shortcomings, but on the contrary, I respect them very much. and admire their constant efforts in improving the quality of services and products they make.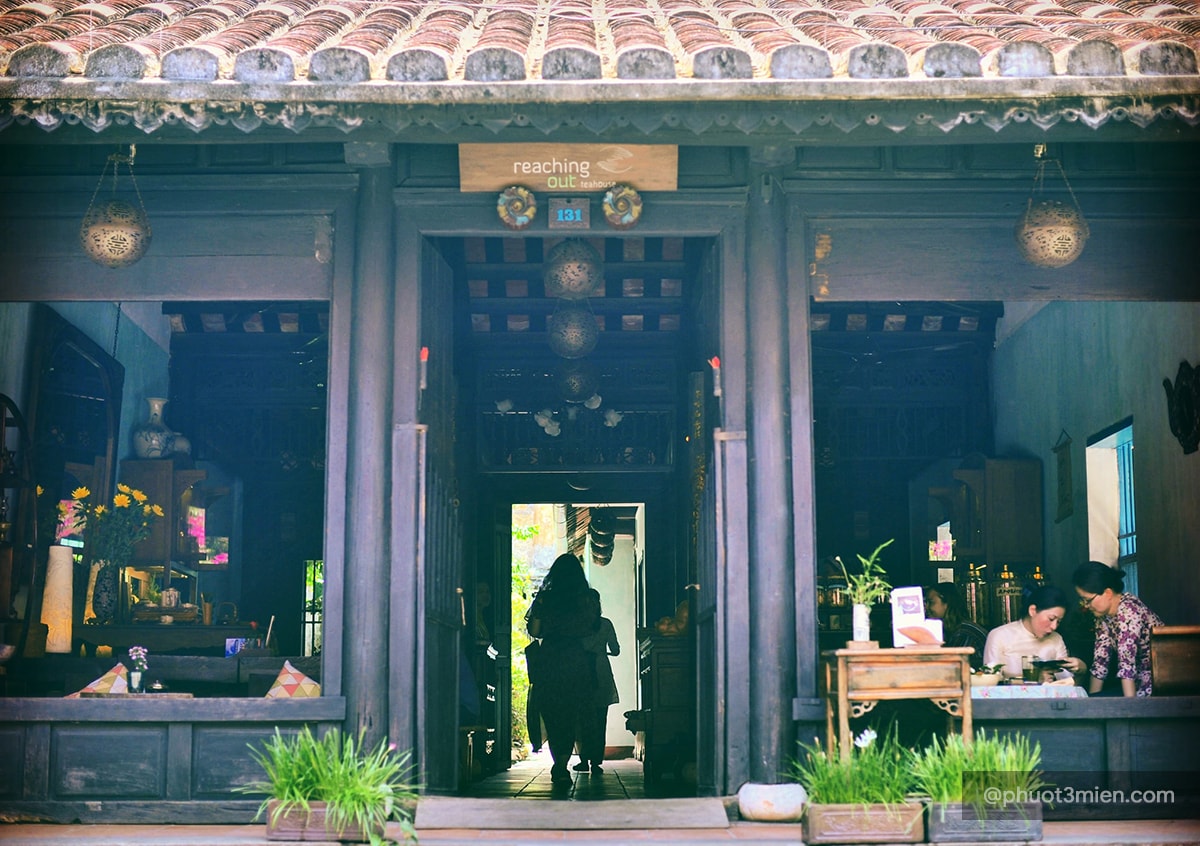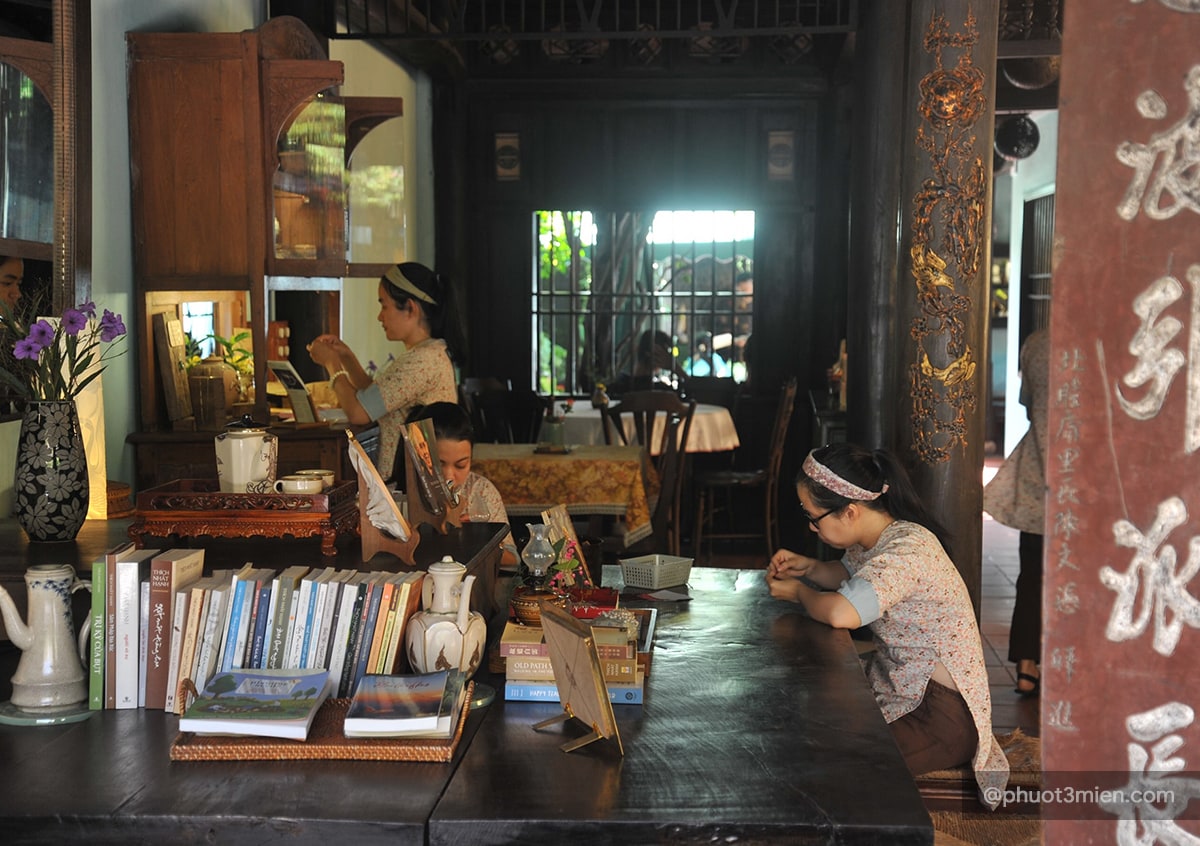 Two special dishes to try at Reaching Out Tea House are the Vietnamese tea set with 3 selections and the unique coffee set that will take you from one surprise to another and definitely won't let you down! The quality of the drinks is excellent and the menu has a wide variety to meet different ages and needs.
In addition, the shop also sells fresh homemade cookies every day and some snacks are one of the perfect options for you and your family. Reaching Out Tea House also has a lovely small garden and a quiet self-play corner for the little ones who come here with their families. Come and feel the beauty of silence!
Reaching Out Tea House offers tasty organic tea and coffee in the cozy space of an old house. It's not only cozy because of the space, but also because of its unique environment. Take its name for example: reaching out. Just spend one minute thinking about "reaching out": without words, without noise, without any expressive sounds. It is here that you will feel how magical it is to "talk" and understand, all in attentive silence. 
MORE INFORMATION 

Address: 131 Tran Phu street, Hoi An city

Phone number: +84 235 3910 168

Opening hours: 10 AM – 7:30 PM 

Price range: 80,000 – 150,000 VND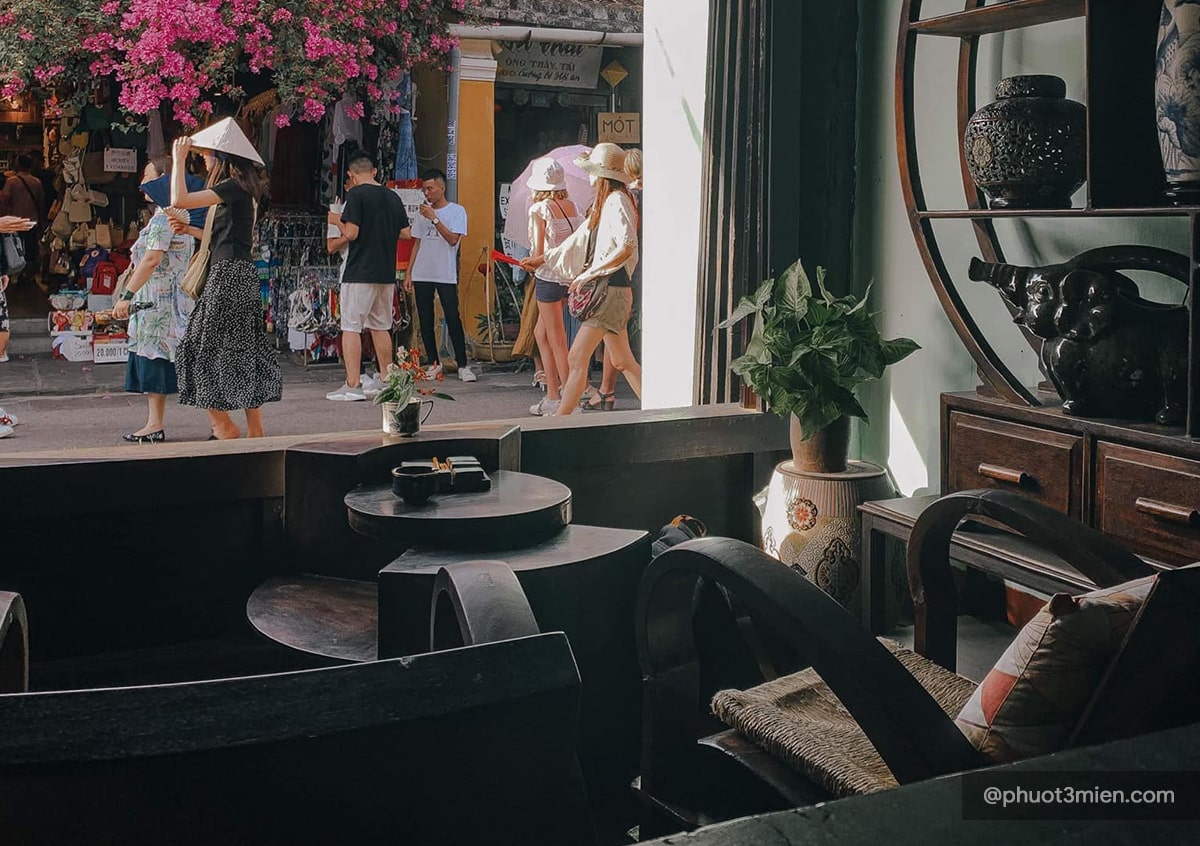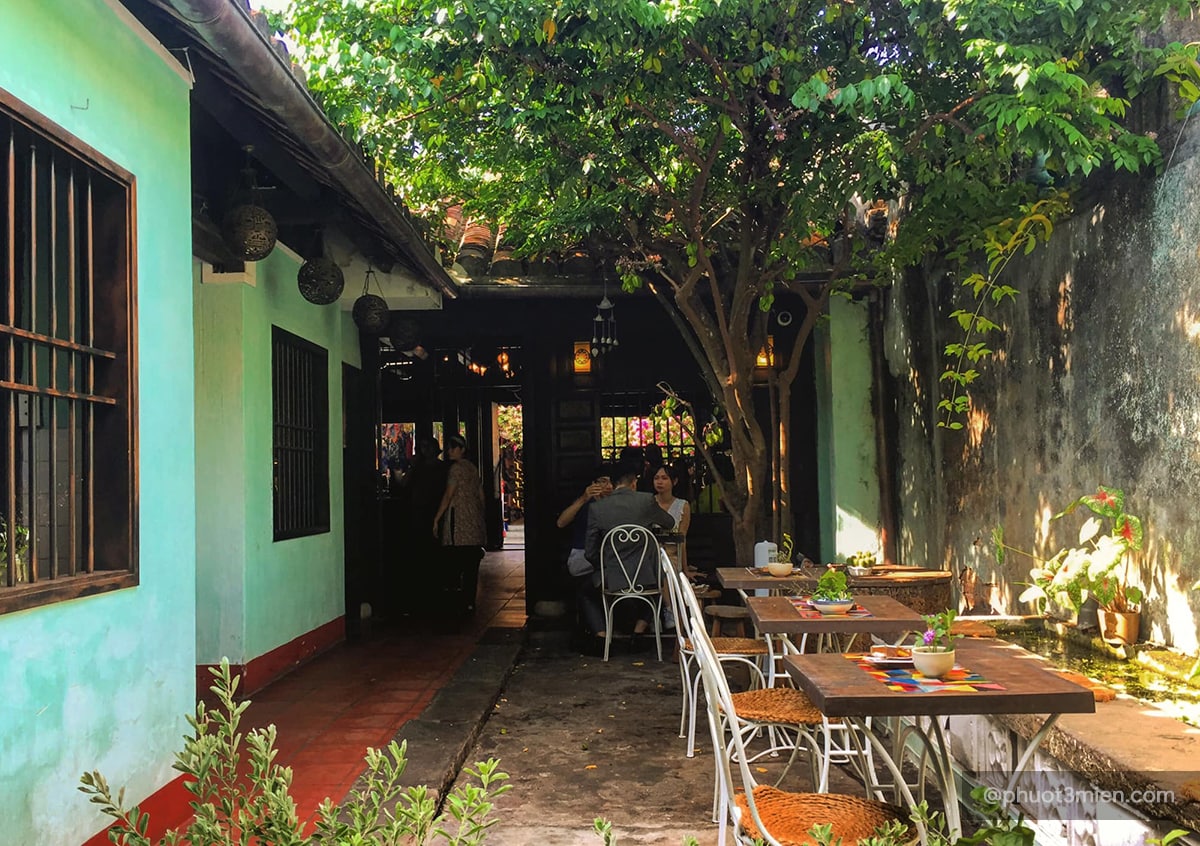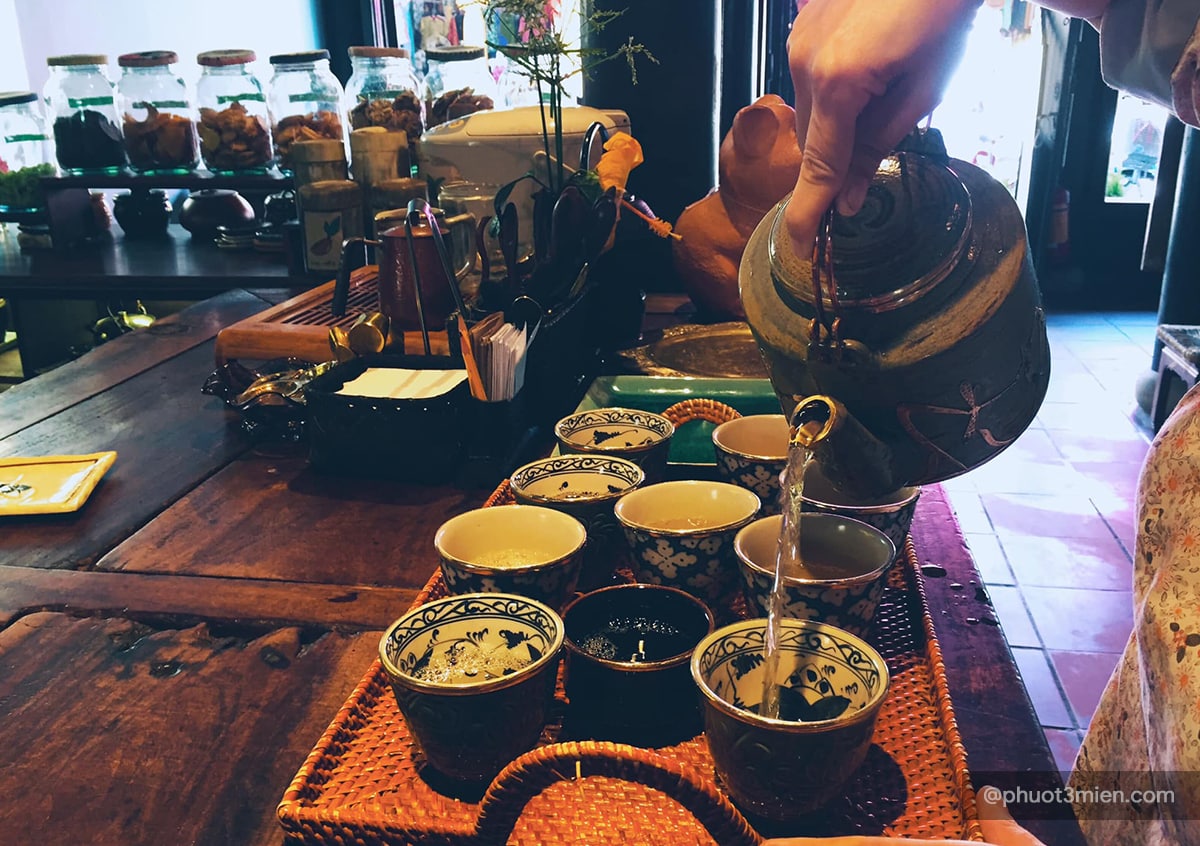 7. HOI AN ROASTERY – COFFEE HOME HOME
Hoi An Roastery is the common name of seven coffee shops located in different places in Hoi An city. These shops are unique because they roast and grind their own coffee beans, so don't worry about the coffee quality and taste. I guarantee that it's hard to find another cafe in Hoi An with better tasting coffee. As such, you can see the staff grind and make coffee on site.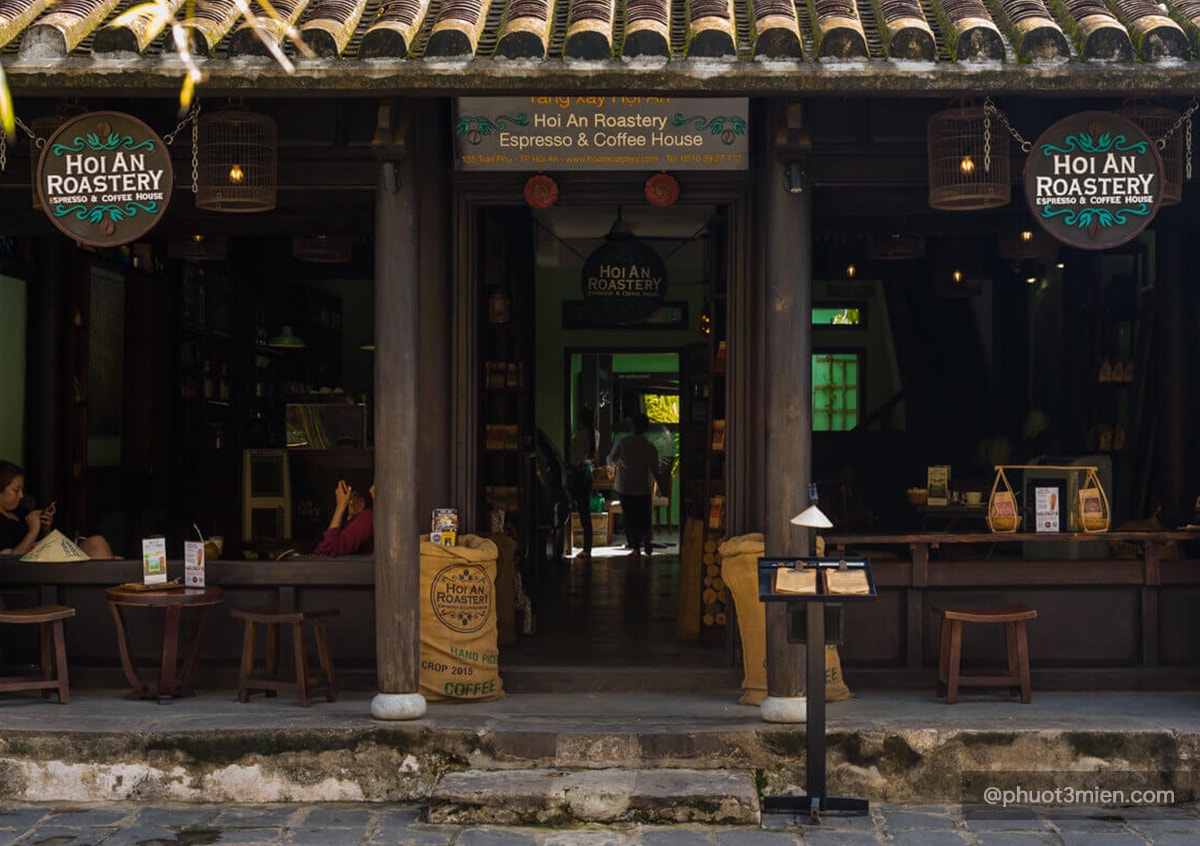 Compared to other coffee shops, Hoi An Roastery is only located in a small alley, but that is what makes the difference here.
If you are a "virtual living" enthusiast, you should definitely not miss this place, because in addition to delicious coffee and great drinking water, every corner of Hoi An Roastery has the perfect light to bring to life. You have photos for a lifetime that you can't get everywhere.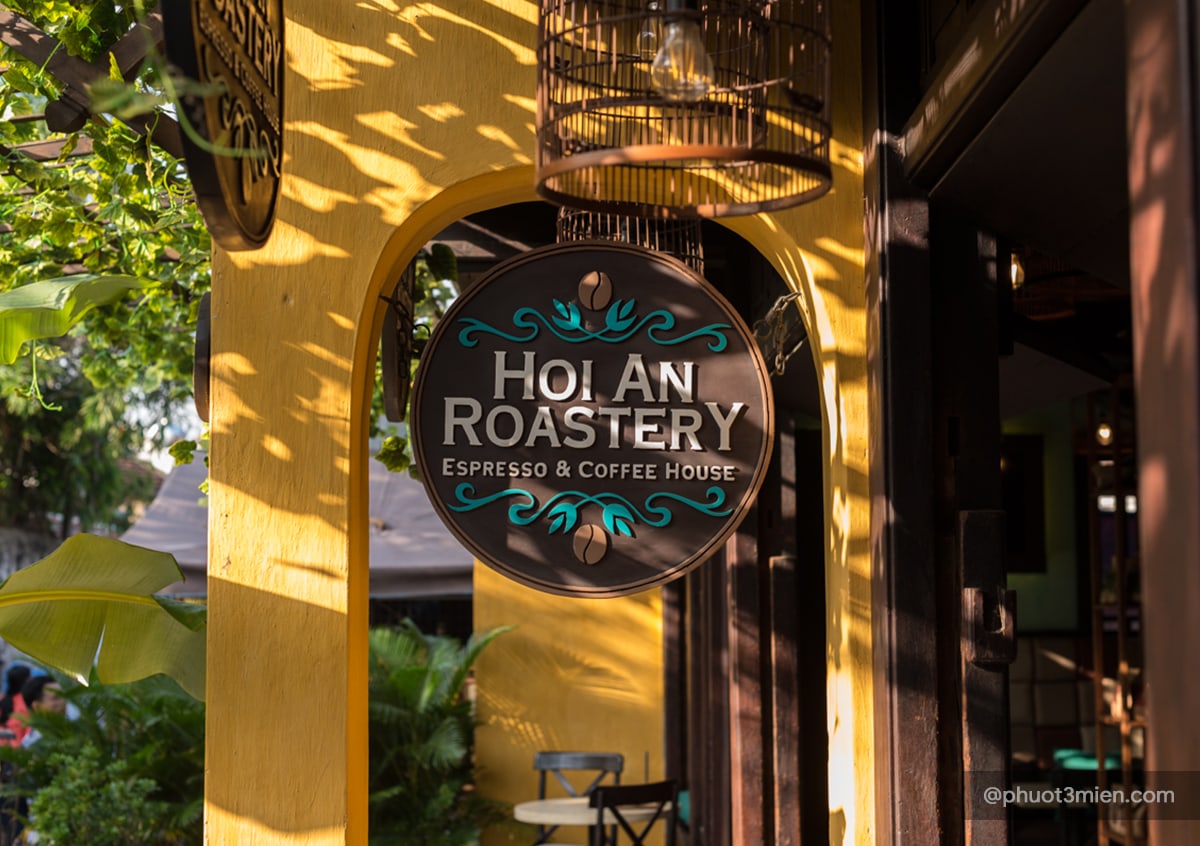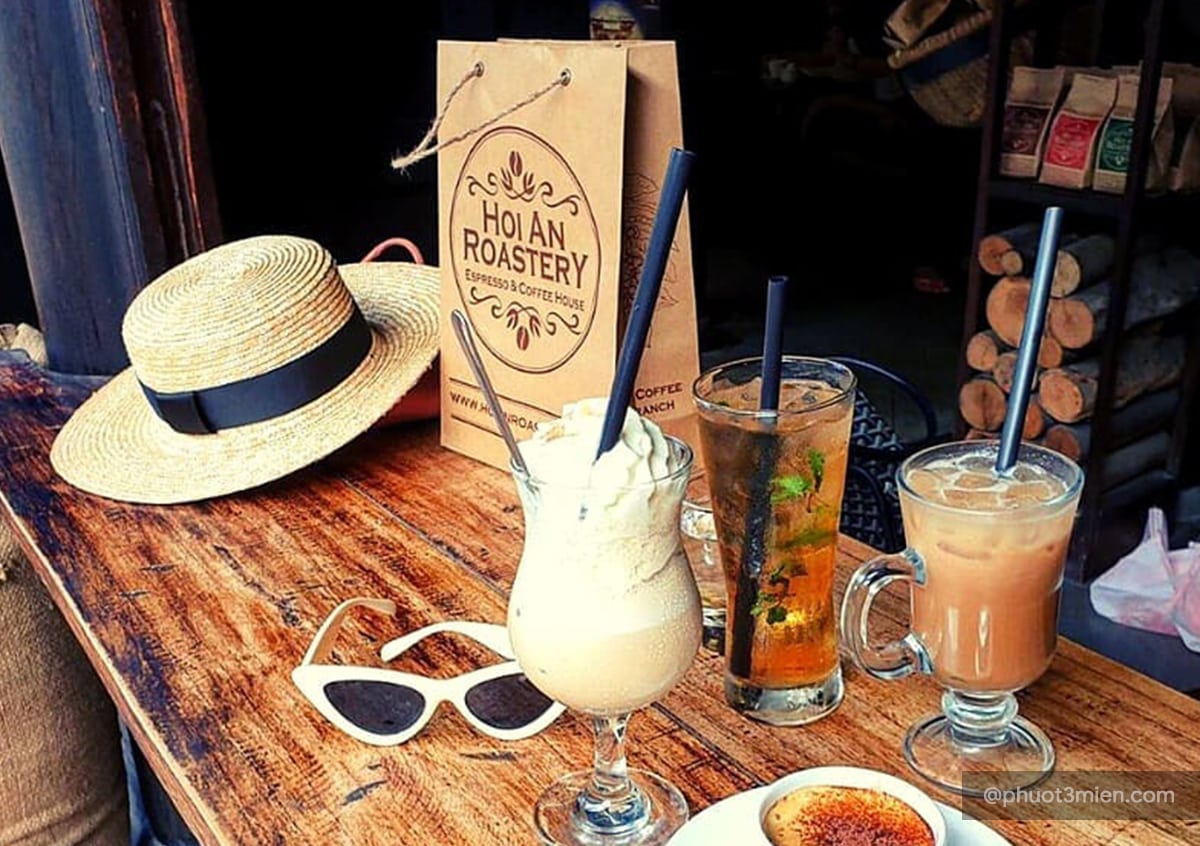 Along with the agile, friendly staff, you can find the dedication invested in every detail in the restaurant, giving visitors here the complete feeling and the most profound experience.
Although there are seven branches, Hoi An Roastery's most well-known location is 47 Le Loi street. This shop is preferred by many people because of its traditional and spacious design. You may love the wooden pillars and the chandeliers made of bird cages, which will bring you back to Hoi An of the 19th or 20th century.
Address: There are seven locations:
Roastery Japanese Bridge, 135 Tran Phu Street
Roastery Temple, 685 Hai Ba Trung Street
Roastery Center, 94 Le Loi Street
Roastery Riverside, 95 Bach Dang street
Roastery Market, 31 Tran Phu street
Roastery Lantern Street, 117 Nguyen Thai Hoc Street
Phone number: +84 235 392 7772

Opening hours: 7 AM – 10 PM

Price range: 30,000 – 50,000 VND
8. Mango Rooms Hoi An
The most impressive, probably most remarkable feature of this cafe is its design! One sentence that encompasses the feeling of Mango Rooms is this: You are entering the realm of colors, where contrasting hues play with one another emanating the feelings of youth and enthusiasm. The cafe has two distinct rooms: one faces a street of Hoi An ancient town and the other looks at Bach Dang street on Hoai riverside. While the former room is designed in an authentic Vietnamese style as if to match the background of the ancient town, the latter is dramatically more colorful and bright.
Each room offers different experiences, that's why this place is so unique. The one facing the ancient town will bring you back to the old times of Hoi An. A cup of tea is best for this space because tea is slow and gentle. The other room will bring you the fresh air from Hoai river. Coffee is better in this case, since coffee is a drink of energy, excitement, and creativity. Or how about trying them both? But hang on! The local cuisine served here is even more a†mazing than the beverages! Do you have brunch plans yet?
MORE INFORMATION 

Address: 111 Nguyen Thai Hoc street, Hoi An city

Phone number: +84 235 3910 839

Opening hours: 8:30 AM – 10:30 PM
Price range: 30,000 – 300,000 VND
9. COCO BOX – Adorable COFFEE COFFEE IN THE INTERNATIONAL COFFEE
Cocobox is an integration of selling coffee and organic agricultural products. In this shop, you can buy flavors and specialties such as Phu Quoc salt, pollen grains, fruit jam, and Marou chocolate made in Vietnam.
Coco Box is a cafe that is perfectly combined by modernity, beauty, and characteristics of Hoi An will definitely be a great and interesting place that you should not miss when coming to Coco Box. Hoi An.
True to its name, the restaurant is mainly served with dishes related to coconut and dishes associated with coconut such as coconut coffee, chocolate coconut or coconut smoothie are the highlights that create a unique feature. for Coco Box.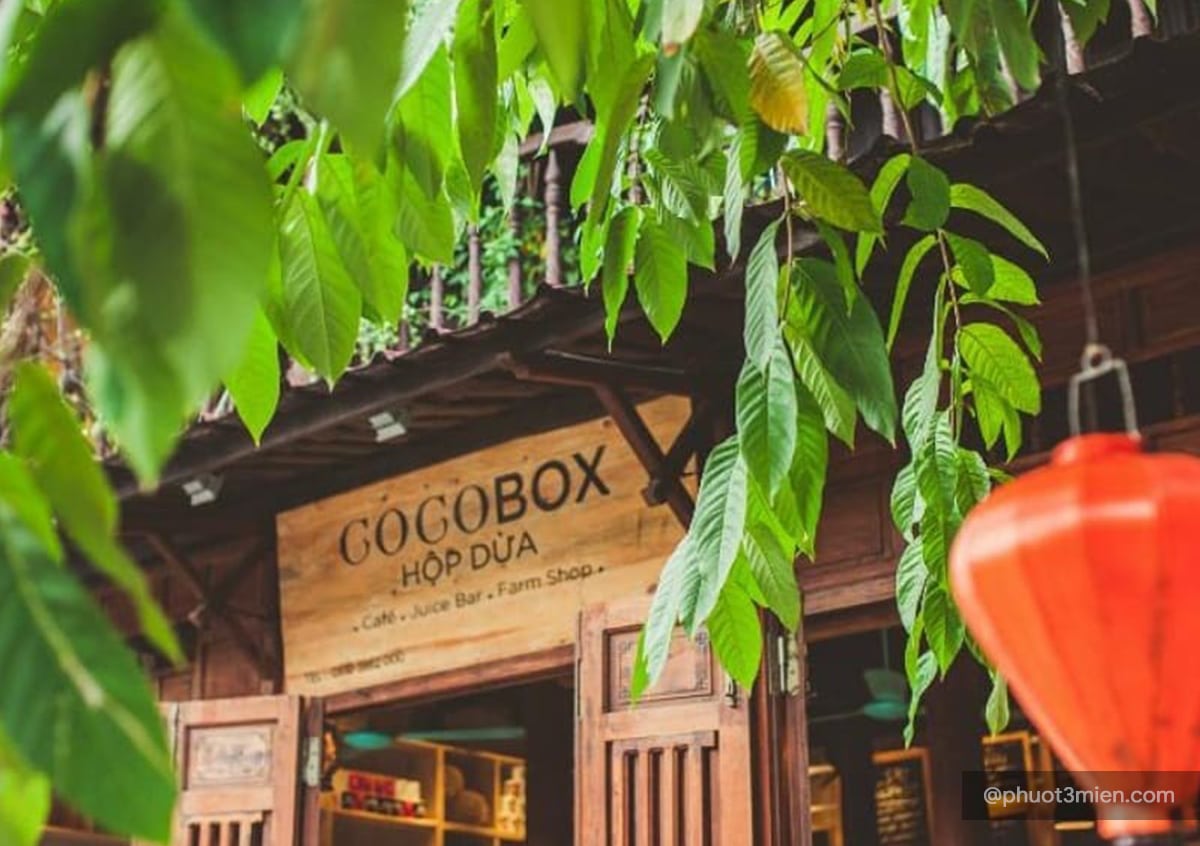 Cocobox has a classical European design, but it easily harmonizes with the conventional East Asian atmosphere of Hoi An. They offer European breakfast and a diversity of drinks. The signature of Cocobox is its menu of smoothies from fresh fruits and vegetables with many cool names like Relax Thu Bon (Thu Bon is the name of a river), Good Morning Hoi An, and An Bang Colada (An Bang is the name of a beach in Hoi An).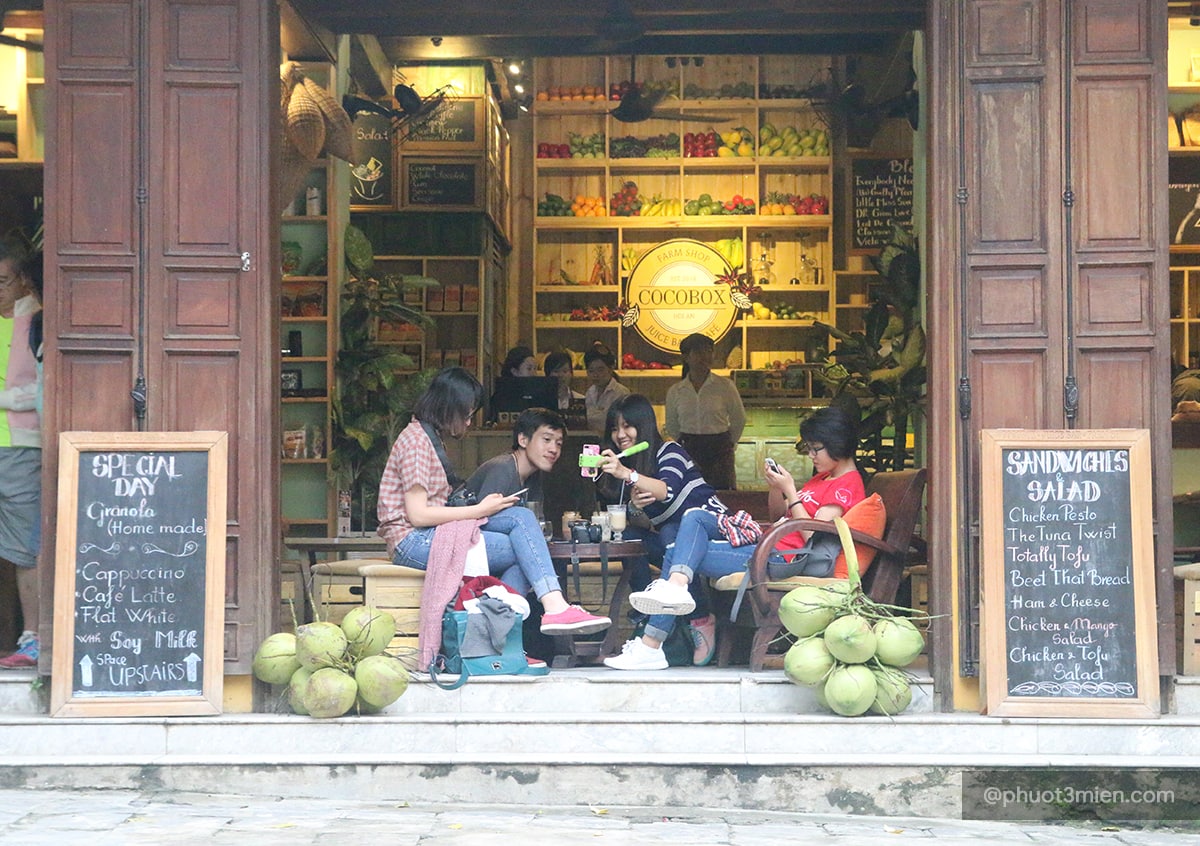 The shop operates in a very "Western" style with a model of fresh juices, fine coffee and some fast food like sandwiches. In addition, here also display and sell a number of specialty organic products such as pollen, coconut jam, … for visitors who want to shop as gifts for their loved ones.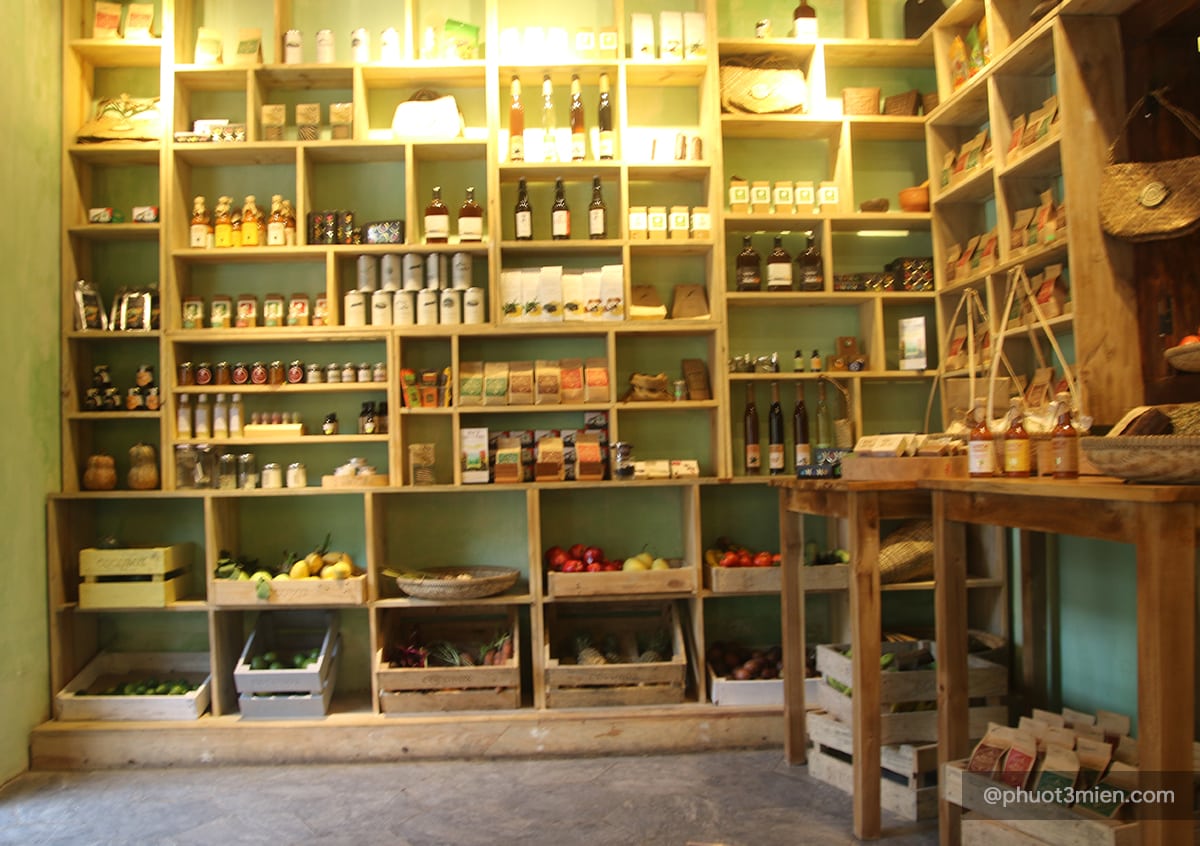 Coco Box also regularly organizes lessons on Vietnamese coffee for visitors who come here with interesting content such as: the history of Vietnamese coffee, the difference between Robusta and Arabica beans, how to Make a proper cup of Vietnamese coffee.
Cocobox has a balcony, so you can enjoy the beautiful view of Hoi An from above while sipping your healthy smoothie. Try it once and feel for yourself all the great things at Coco box Coffee! A beautiful bao cafe in Hoi An for you to explore.
Address: Cocobox has four locations for you to choose from:
94 Le Loi Street
3 Phan Boi Chau Street
95 Nguyen Thai Hoc Street
42 Bach Dang Street
Phone number: +84 235 3862 000

Opening hours: 7 AM – 10 PM

Price range: 20,000 – 50,000 VND
10. Hai Cafe Restaurant, Bar & Grill
Many travel bloggers and reviews recognize Hai Cafe as the most memorable cafe in the world. This coffee shop is located in the Hoi An ancient town center and has two main spaces: the garden yard and the area under the porch. Both areas face the street and are designed with vintage Vietnam in mind. From inside out, Hai Cafe houses many small green trees and vines, making the atmosphere more fresh and clean. 
In addition to its pretty spaces, this cafe is also famous for providing very good coffee and tea. If you are trying to sketch an ancient street of Hoi An, then sit under the porch, while letting your fingers play with the lines and colors. Oh, you may also have a chance to watch the cool performance of professional cooks at a Cooking Class at Hai Cafe. Contact the staff for more information about this program.
Address: 111 Tran Phu Street and 98 Nguyen Thai Hoc street, Hoi An city

Phone number: +84 905 409 406

Opening hours: 7 AM – 11 PM 

Price range: 25,000 – 200,000 VND
11. Cocobana Coffee Hoi An
Cocobana is one of the spotlights on the coffee shop map in Hoi An. This cafe occupies a small corner which combines simplicity and colorfulness, tradition and creativity. Bamboo ladders, non la (conical palm-leaf hat), and special furniture together create a cozy but lively space.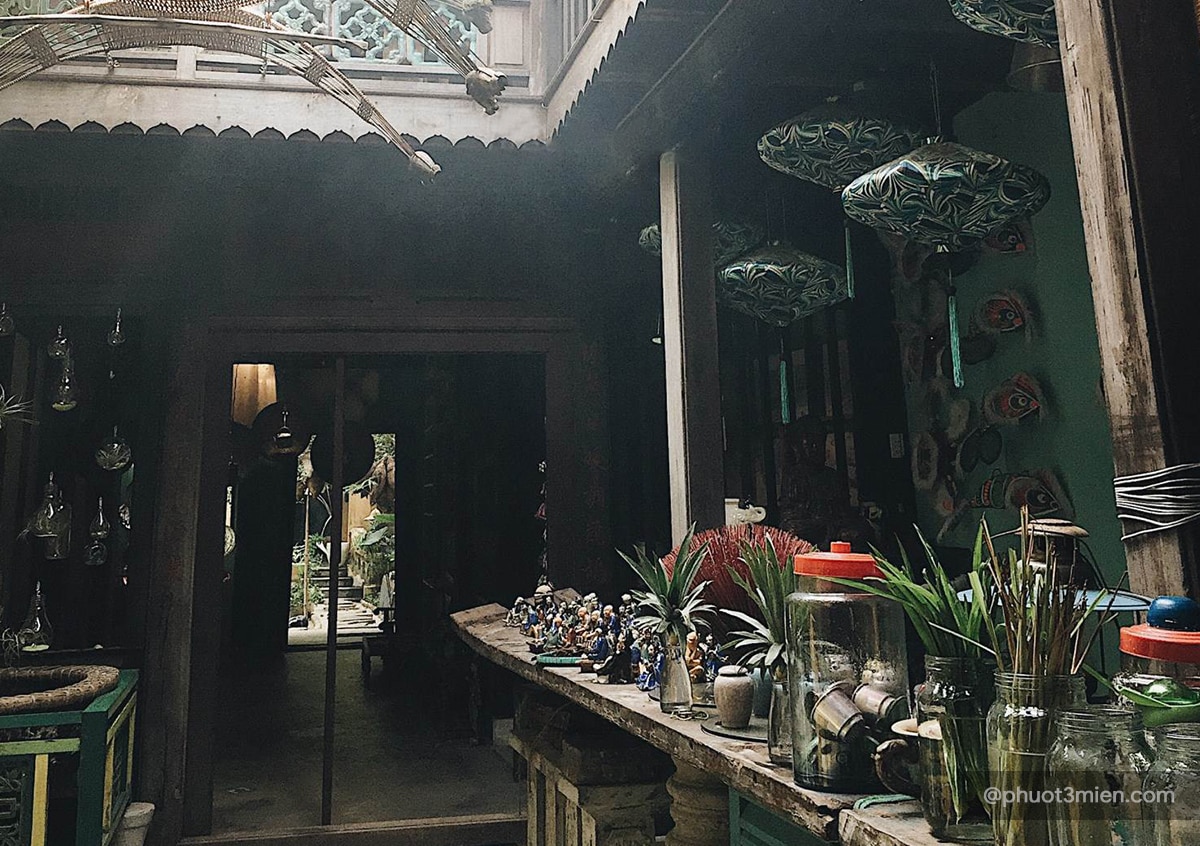 You can observe the traditional tools made of all different types of bamboo that decorate the shop such as fish catchers, chairs, and hammocks.
+ The space is spacious and extremely cool, going deep behind is the whole church
+ Stylish decor, peaceful and gentle
+ very good drink service
+ very cute and beautiful dog
+ but the chair is very comfortable and comfortable
The arrangement of these things may seem arbitrary, but in general, the space is harmonized and comfortable. The coolest part about Cocobana is there is an area dedicated to producing handmade paper! You can learn! In addition, this cafe has a small garden with a tiny lake and pretty fish.
From the main door, you go through the garden and then reach the tea room. The design of Cocobana makes you feel comfortable, as if you could spend your whole day enjoying the tranquil environment, sipping your coffee or tea, and floating with your book.
MORE INFORMATION
Address: 16 Nguyen Thai Hoc street, Hoi An city

Phone number: +84 90 388 26 88

Opening hours: 9 AM – 6 PM

Price range: 30,000 – 50,000 VND
12. Rosie's cafe
Located in the same alley that houses Vietnam Sustainable Space, Rosie's Cafe is a peaceful and silent corner of this ancient city. If you are in love with the elegance of the rose, Rosie's will bring you double the joy. The area welcomes you with an open space which receives as much sunshine as possible. 
Under the porch is the perfect seat if you long to inhale the fresh air while sipping your beautiful coffee. Make your way here in the quiet early morning to contemplate your journey before you embark on a new day.
Information:
Address: Alley 8/6 Nguyen Thi Minh Khai street, Hoi An city

Phone number: +84 905 312 433

Opening hours: 08:00 – 16:00

Fanpage: Rosie Cafe

Price range: 30,000 – 50,000 VND
13. Ca Phe Pho Co (The Cafe of the Ancient Town)
It's a bit tricky to find this cafe using GPS, since there are little to no advertisements about their business. For this reason, a morning at this cafe is truly a local experience. Inhale the fresh air blowing off the bank of the Thu Bon River and take a few much deserved sips of your coffee. 
Every morning, at 6:30 AM, Thao opens her business and works until roughly 9 AM, when the sun is high and its radiant light is a little too strong for guests. For this reason, do not come during the rain either since it is all outdoors.  
Sitting on the sidewalk and sipping the bitter taste of coffee is a norm in Vietnam. Not all travelers agree that this is the best way to drink coffee, but it is truly the most Vietnamese so you must try it at least once. At Pho Co Cafe, everything is casual, and it is for either the locals or travelers to enjoy this city in its most honest way.   
MORE INFORMATION
Address: Bach Dang street, Hoi An city (nearby An Hoi Bridge)

Opening Hours: 6:30 AM – 9:00 AM

Price Range: 15,000 ~ 30,000 VND
14. Pan Garden Juices & Fruits – 83 Nguyen Phuc Chu
(I highly recommend this shop, countless virtual shooting angles, delicious drinks and reasonable prices, best attention when it's sunny noon, bright light will make the photo beautiful. yours more beautiful)
And many other beautiful cafes in Hoi An
Ciao Coffee House – 42 Nguyen Cong Tru
Le Fê Cafétéria – 69/3 Phan Chu Trinh (Classic atmosphere, melodious Trinh music, drinks priced from only 30k)
U Café Hoi An – 120 Huyen Tran Princess
Fusion Café – 13 Hoang Dieu
Bounus: Mot Hoi An
The number 1 place of young people when coming to Hoi An
Address: 150 Tran Phu Street – Hoi An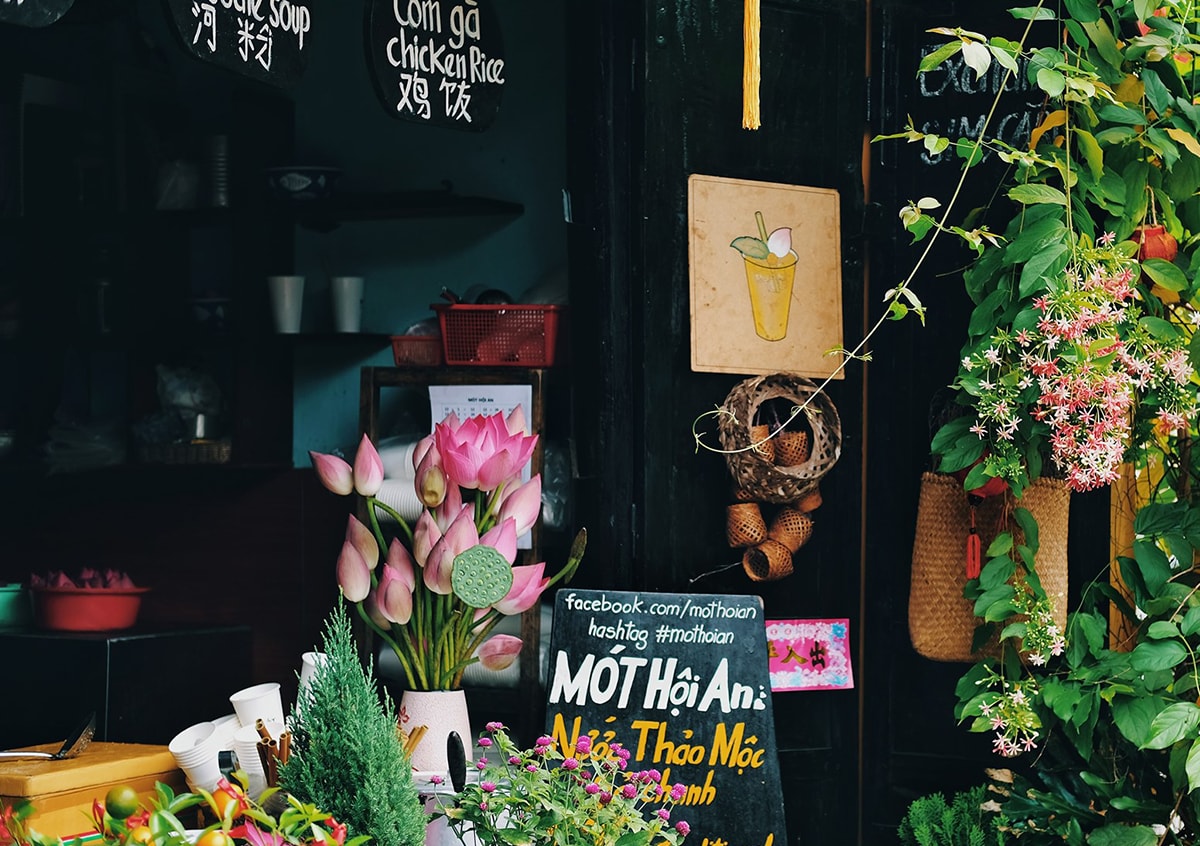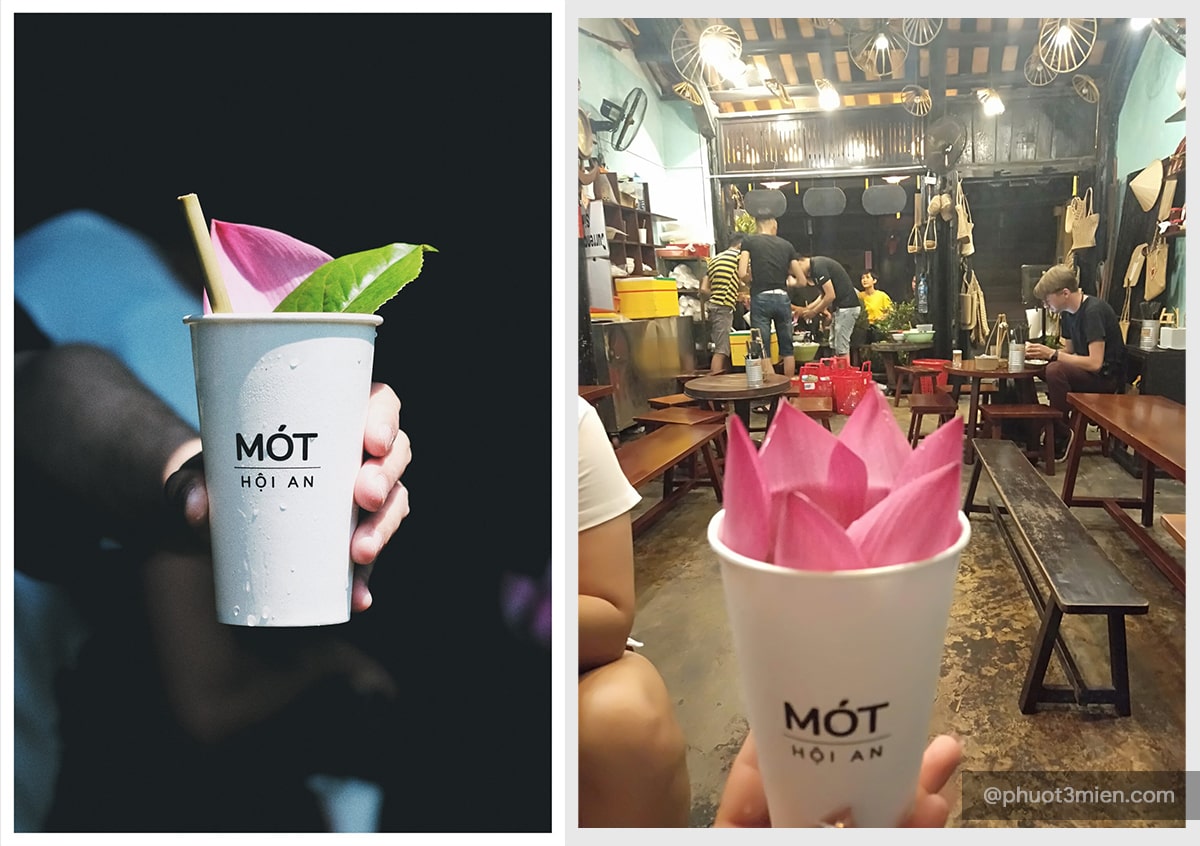 Hoi An and its ancient and mossy beauties always give visitors an unforgettable impression. Not only that, but Hoi An is also like an old lover who captivates people by the street corners with small but extremely poetic and charming cafes than ever.
Coming to Hoi An, stopping in a secluded corner to enjoy a cup of coffee or a glass of cool juice will definitely be one of the great experiences that will not disappoint you.
When we travel, we are eager to explore. Yet, the most amazing experience can come from the most unexpected situation. I remember reading a story in Chicken Soup for the Soul, when the American traveler happened to sit down with a group of local South Africans in a cafe, they started to chat about their way of life. And in the end, although seemingly separated by the entire earth, they formed a meaningful brotherhood.
You really should visit Hoi An at least once in your life to witness this beautiful heritage that has been there through wars and peace for half a millennium! And besides the many wonderful relics that tell you great stories of time, there are amazing cafes that, who knows, might bring you a very remarkable relationship that bridges the distance.
Enjoyed this article and want more information on fun things to do, see and eat in Vietnam? Follow us at Phuot3mien Blog.
See more:
Enjoy #5 Festival community activities imbued with national identity
Top 5 restaurants best chicken rice in Hoi An
15 Homestay "Cu Lao Cham" has the best, island tour service