"Mooc" Spring is currently a tourist destination – extremely hot backpacking in Quang Binh. Traveling to Quang Binh without going to "Mooc" Spring is a bit of a waste, I will guide you to go to Mooc Spring in the most detailed way to have an interesting experience
Normally, there are 3 ways to go to Quang Binh. The first choice can be a coach, airplane or train. Almost traffic is stopped in Dong Hoi Quang Binh
From Dong Hoi to Mooc Spring is quite far about 62km, Therefore, I recommended to go to Paradise Cave and Chay river or Dark cave because these three places are very close to each other.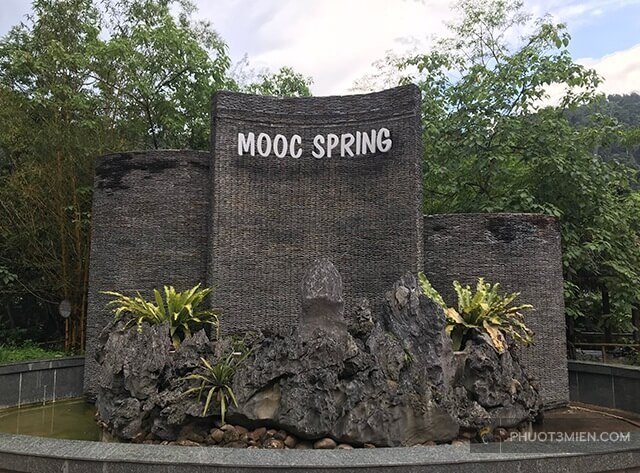 If the trip to Mooc spring is finished early, when the way back home you can visit Phong Nha cave, because they close each other.
And now I will write introduce details the way you can go to Mooc Spring fullest and what can you eat in here. All of the information is available in the article.
Where is Mooc Spring ???.
Located on Ho Chi Minh Tay road, Bo Trach district, Quang Binh province. You can buy a tour or go on your own to come here. If you are a traveling enthusiast, renting a motorbike in Dong Hoi is a great way to explore everything and the life of people here is so excited.
Drive a bike from Dong Hoi to Mooc Spring lost about 1 hour 30 minutes. Because on the way you will go passing the Paradise cave, can you combine climb to the Paradise cave before and back go to the Mooc Spring later, I think it is a good schedule
If it is possible to rent a car, it will be okay for your health. It takes more time to go to the Chay river Dark cave or Phong Nha cave
 Which the season should go to Mooc Spring ???
I heard that Mooc Spring has water all year, but it is not every season is beautiful. According to words of sharing a native of Quang Binh, there are 3 seasons here:
The time should you come here is after Tet holiday to the end of the may 
In June, July, or August, is the hot weather, really hot in here so if you come Mooc Spring in these months. After the trip you will have become a lump of coal hahaha
And after 2nd September is the rainy season and it is very cold. Should not go these months, but strange the foreigner to Quang Binh quite a lot this season, because it likes cold or something hehe !!!
Ticket price to visit Mooc Spring
There have two type of ticket is to visit Mooc Spring:
Type 1:  80.000VND/per ( about 4$)
This price does not include the service playing game as jumping, kayaking …, just stream bath
Type 2: 180.000VND /per ( about 9$)
The ticket is all in one, can you enter the private area. There are full games. View to bath  is better than type 1
Depending on each person's needs, choose the type of ticket that suits you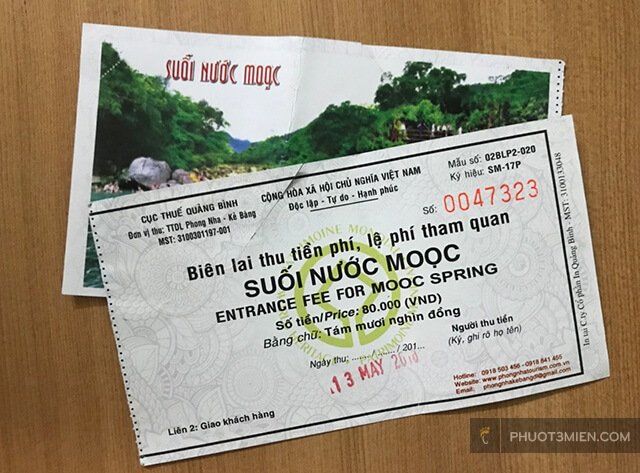 What can you eat in Mooc Spring ???
Here is a point to note: At Mooc Spring there is only one restaurant at the gate. Would you want to eat another restaurant must you go back out quite a bit too.
Therefore, there have two choices for you: Can you eat at the restaurant at the gate or can you bring fast food, but I'm not sure you can bring food go into, because when you come to the entrance gate you will be checked your bag is heavy? ( I think you can bring fast food because it is light-weight)
Mooc Spring Restaurant is designed nicely, made of bamboo. I forgot to take a picture, generally can you come is known hehe.
You can eat at the restaurant or you can order, they serve delivery.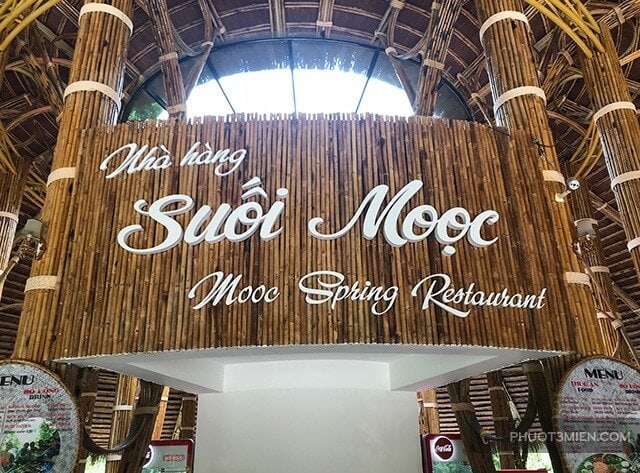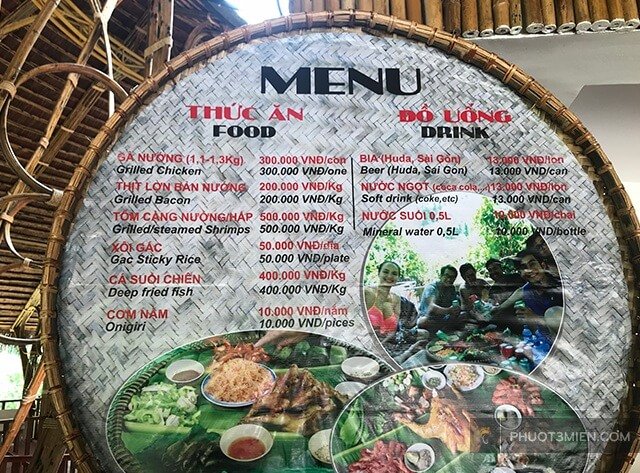 I order one chicken grill, two servings of sticky rice, two Pepsi can pay 400.000VND ( about 20$)
Mooc Spring stream bath
Enter the gate to follow the bamboo bridge to visit  Mooc Spring. Because of buying type 1 tickets, then  I was instructed to go straight to the beach
The stream is clear and the water is emerald. It is miraculous, not sure why it is so green
The number of visitors here is quite large, the water does not flow very well, shower quite ok. The water is cool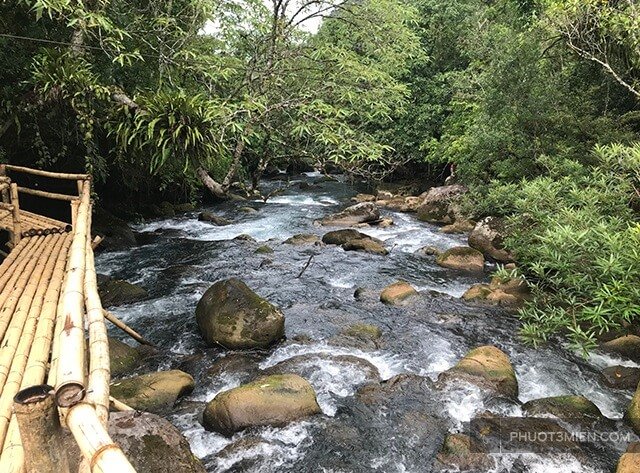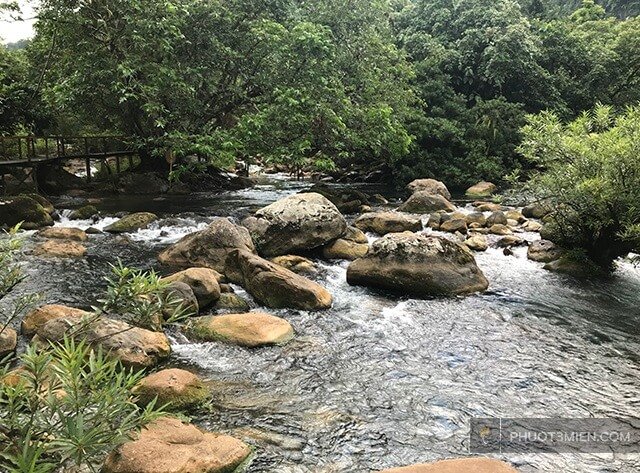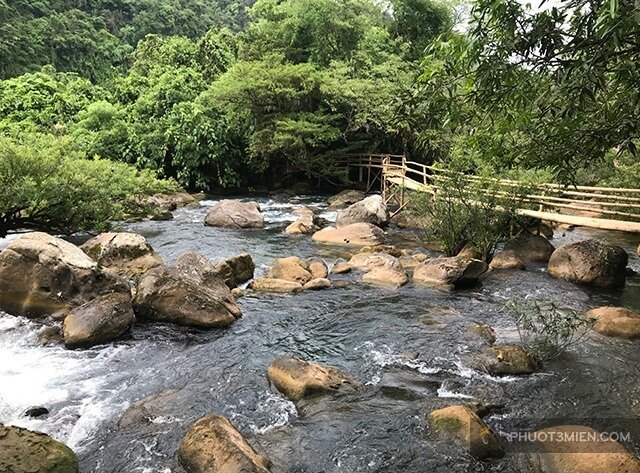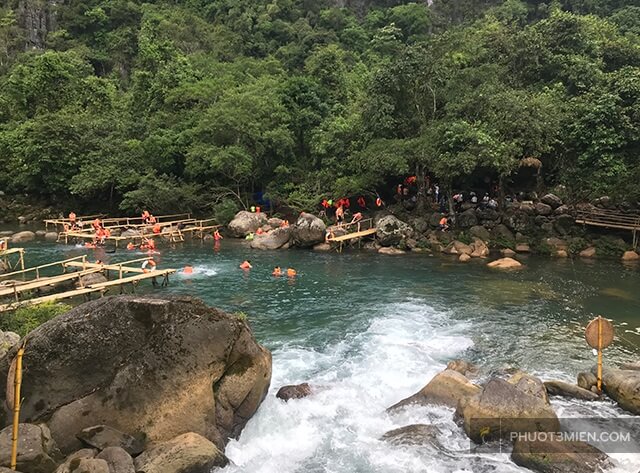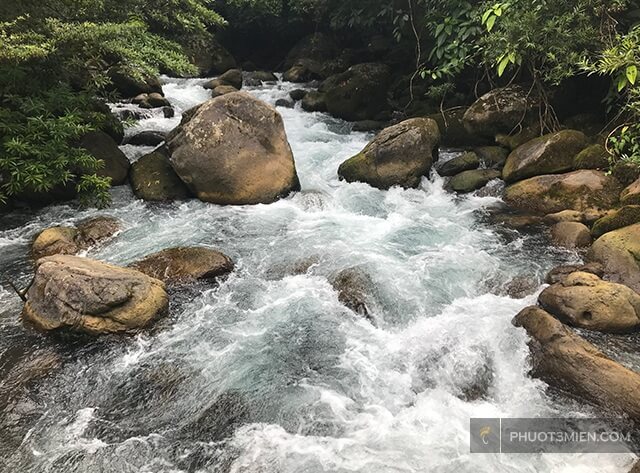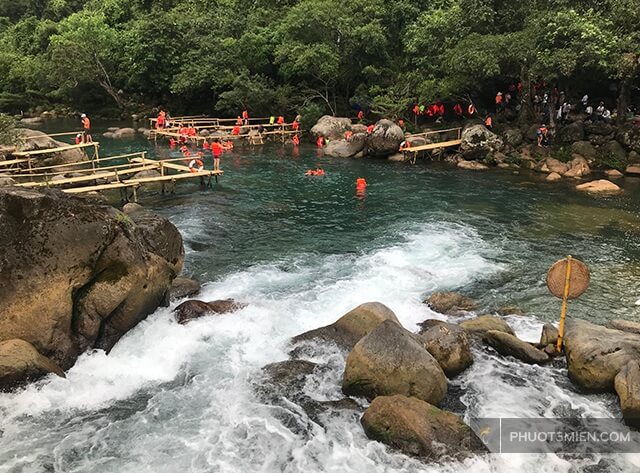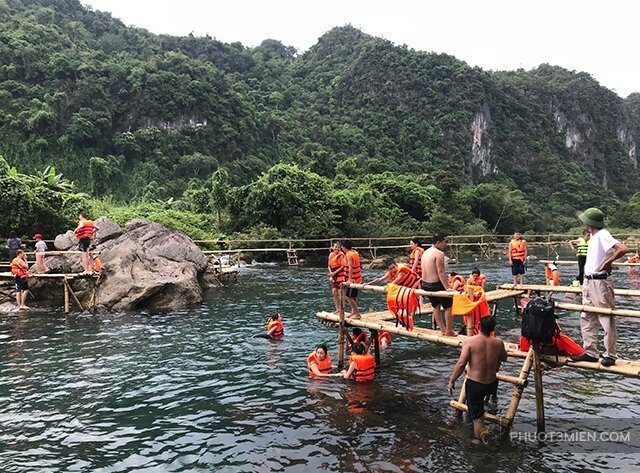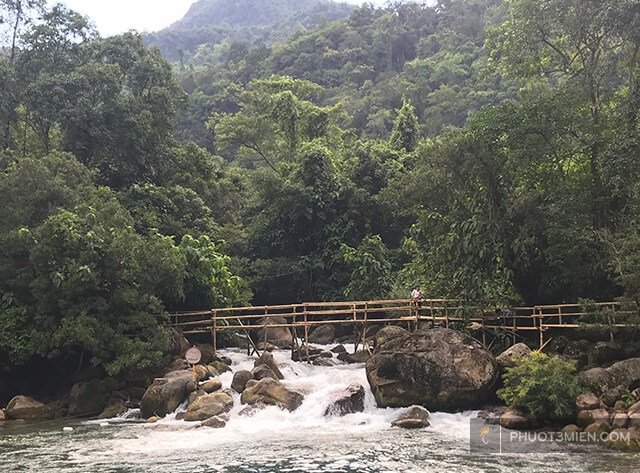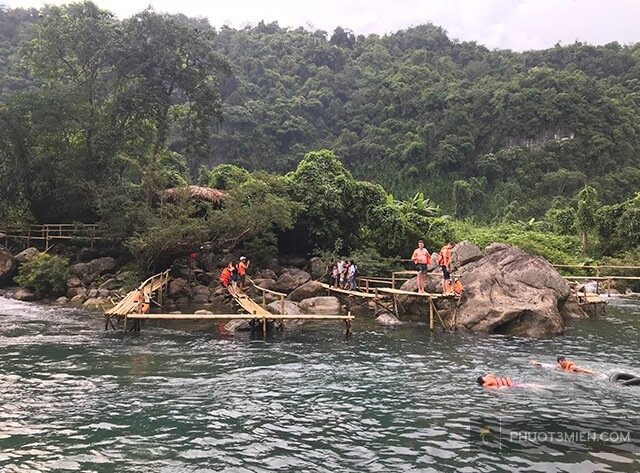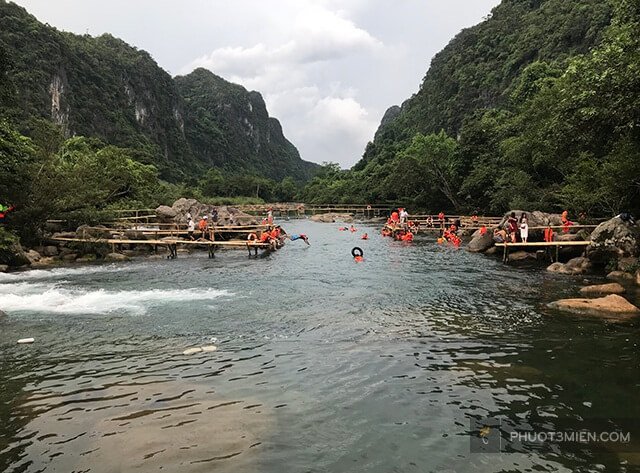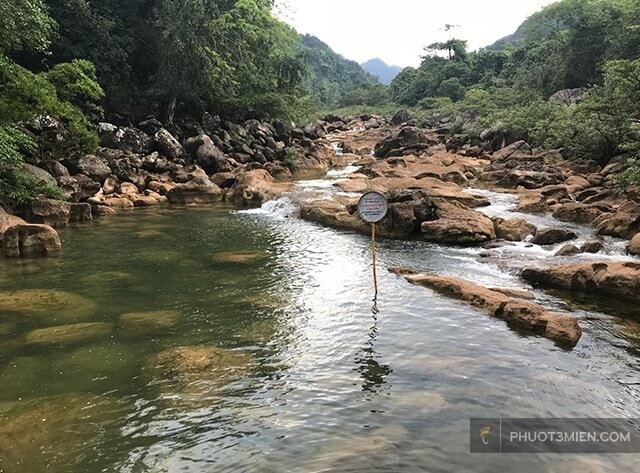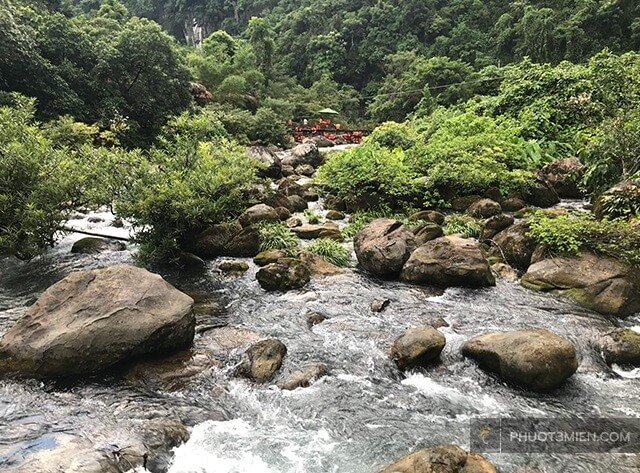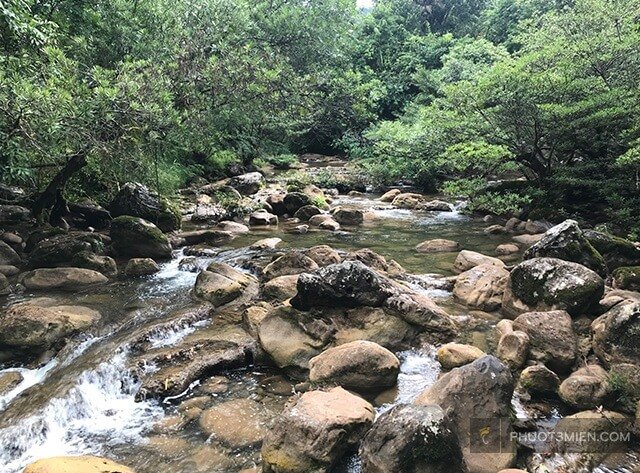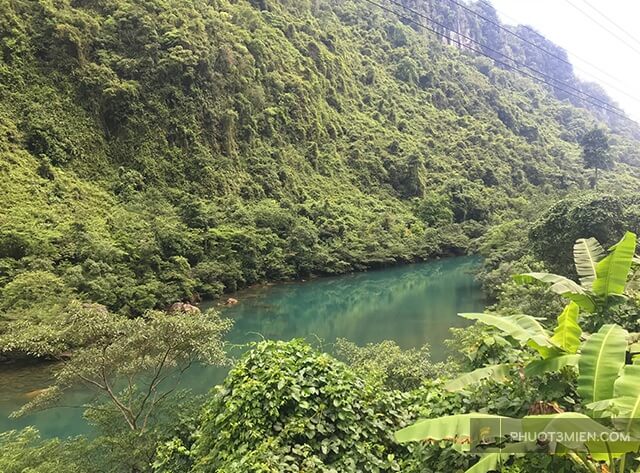 I spend time about 2 hour, if you buy the tickets type 2 (180.000VND) you will explore more service, if you just want to come here to stream bath, just buy a type 1 ( it cheap )
I hope some information about Mooc Spring will be help you have a good trip and arrange the schedule reasonable, save time, love guys and see you soon at the next article.