Quang Binh where has many beautiful, pristine and attractive caves. The most famous of them are Phong Nha – Ke Bang cave (water cave) and Thien Duong cave (dry cave). There are also some emerging places when traveling in Quang Binh such as Suoi Nuoc Co, Bich Hoa Canh Duong Village, Da Nhay Beach, Quang Phu sand hill watching the plane take off and land.
You can Spent time come here about 2 days, because if you moving a bit too much will be quite tired, depending on the strength of each person only.
My impromptu 3-day, 2-night trip to Quang Binh province and "Dong Hoi" City was scheduled by a native of Quang Binh. i will share for you streamlined arrangement to save time for this trip.
Frist day: Into the sea
Next day: Going to the Forest
Discover " Dong Hoi" for the last day. 
Where to rent a motorbike in Dong Hoi city, eat in Quang Binh. I will share all of my experient,let's to take pains the time to read article. Im sure it bring for you some poket tips
This paragraph travel to Quang Binh just have shared with you for reference. It is not forcing anyone to follow their schedule, so you can check it out if you feel that it is reasonable for excursion to apply to your trip
Now let's go!!!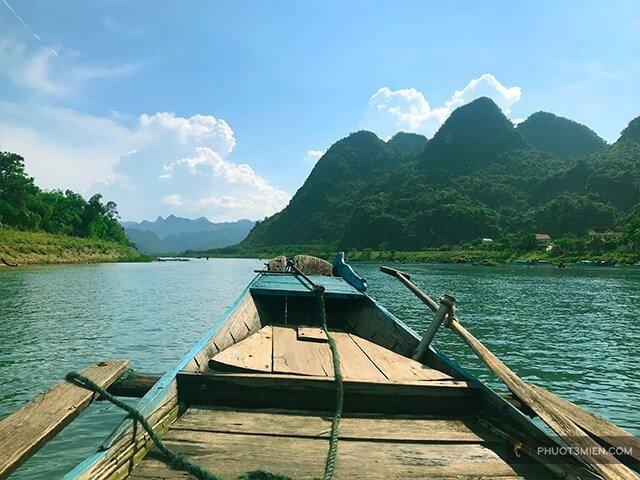 The first day of Quang Binh tourism is self-sufficien
Into the sea: Include "Deo Ngang: > "Lieu Hanh" Temple> "Tuong Giap" tombstone > "Da Nhay" ground > "Dong Hoi" city> "Quang Phu" Sand hill > Cafe near the sea > Back to homestay eat dinner.
Im was fortunate to have a native of Quang Binh make a tour guides, so i'm very secure about the trip, just bring backpack and go. when i arrive Dong Hoi airport then take a bus come to Sealand Homestay at Dong Hoi city for resting and begin the trip.
i am staying in this Homestay so i will write details of this place for everyone refer Sealand Homestay Đồng Hới
In addition, Homestay also has serve prestigious motorbike rental in Dong Hoi, all new bike. Quite satisfied
Contact: 0978 211 325 (Mrs Thu)
The way to arrive to Quang Binh im not mention , because depend on finace each person to choice the transpot to come here, example you can choice go by plane, train…, if you want to go by plane, you can find some deal with price cheap..
My trip begin on Morning Saturday,
**Travel experiences in Quang Binh: Should go in the months after "Tet" holiday to the end of May, June, July or August summer season have a sunny, 2th September onwards is the rainy and cold season.

At frist, Visit General "Vo Nguyen Giap" tombstone
'Deo Ngang", " Lieu Hanh" Temple
7 AM, Personal hygiene then go to eat breakfast at " Chao Canh 75″ 20k/bolw ( about 1$)
Located on Le Quy Don street, Dong Hoi city, It's quite crowded, the name is porridge soup, but it is actually like a noodle in Saigon. This food i recomend everyone should try hahah. Now, lets join the journey to check in Quang Binh.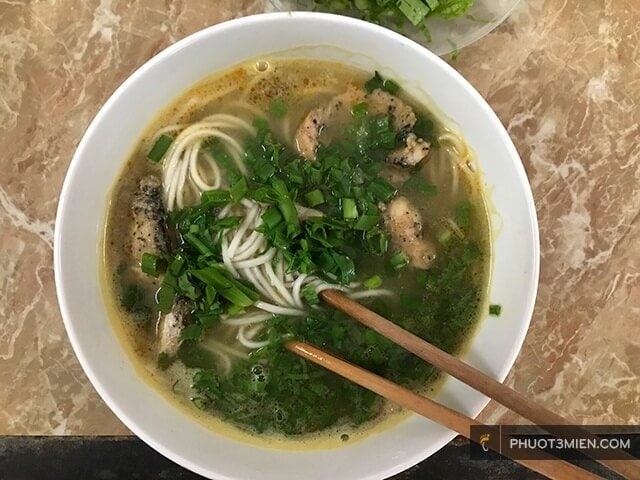 I was running toward the airport, go straight way to the highway 1A about 70km we lost about 2 hours will be arrive.
Đi tới hầm chui chân đèo Ngang luôn, qua cả địa phận Hà Tĩnh. Chợt nhớ lại bài thơ đã học mà quên mất lớp mấy
"Bước tới Đèo Ngang bóng xế tà
Cỏ cây đen đá lá chen hoa"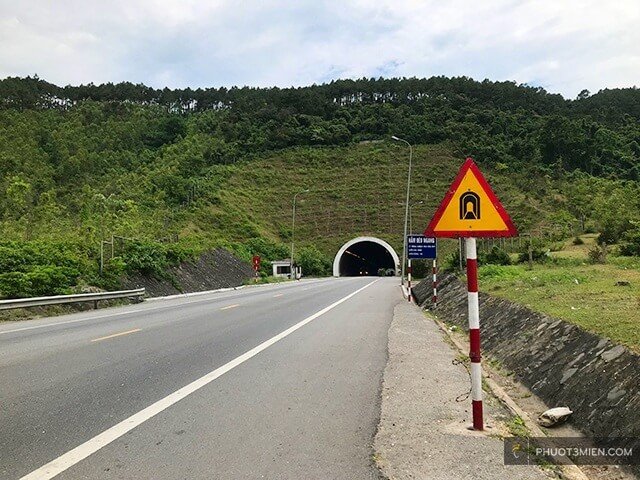 The Temple "Đức Liễu Hạnh' not far apart "Deo ngang"only few minute to go here. This is a very good combination for sightseeing, which is a national historical site, dating back more than 100 years.
The temple is very sacred, many people come to worship on Tet holiday or anywhere you want. At present, The Temple is correcting then it's haven't no longer beutiful orginal at the frist time.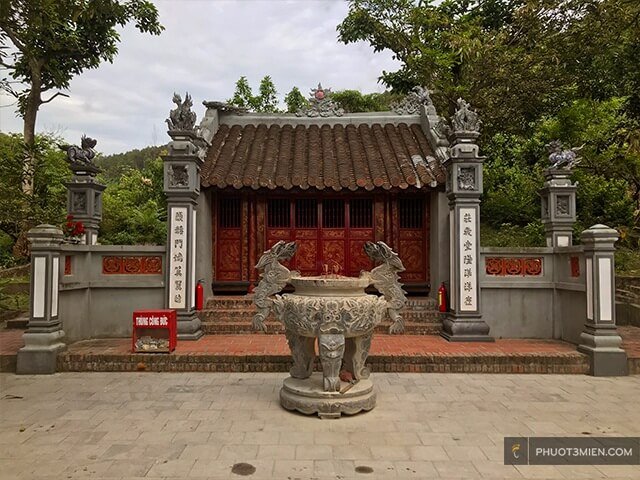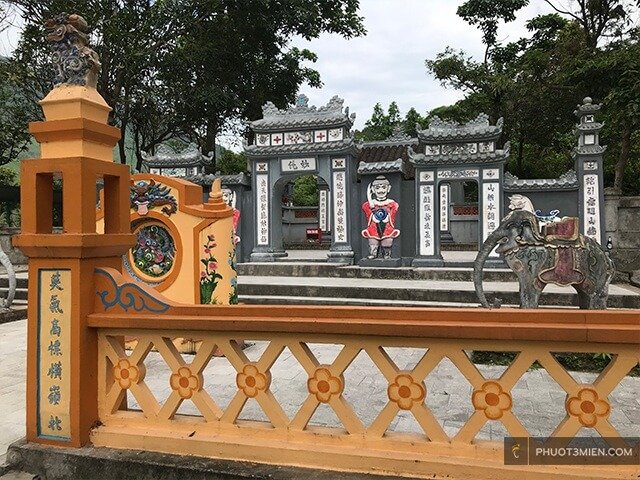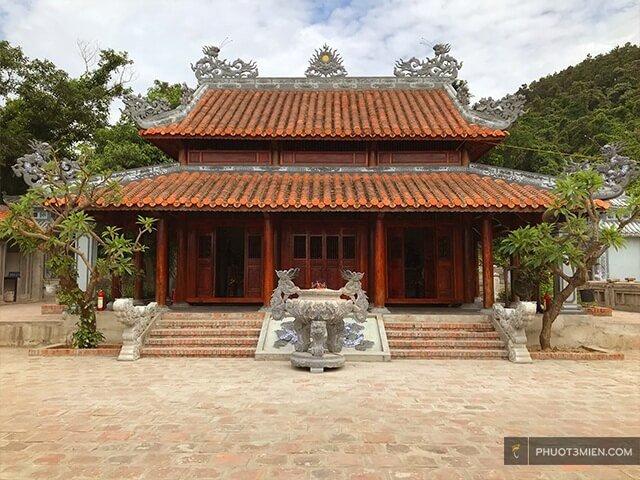 Visit General " Vo Nguyen Giap" tombstone
After visiting the Temple is 9am. I begin running return to the General's tombstone about 5km away, without directions or announcements so I had to ask people to come in.
The road to the tombstone is paved clean, very airy and cool. Located in Vung Chua, Dao Yen, Mo generals on the back are the forest in front of the sea and Dao Yen. The scenery is really so beautiful and peaceful
You must enter the entrance notice at the parking lot. Then you can come to the Tomstone of General to worship. The general's tomb is quite simple, only the mound surrounded by barriers
The road to the tombstone is paved with clean, very airy and cool. Located in Vung Chua, Yen island, the tombstone of generals on the back is the forest, in front of the sea and Yen island. The scene is really so beautiful and peaceful
You must enter notice at the parking lot in order to entrance. Then was lit incense, the general's tomb is quite simple, only the mound surrounded by barriers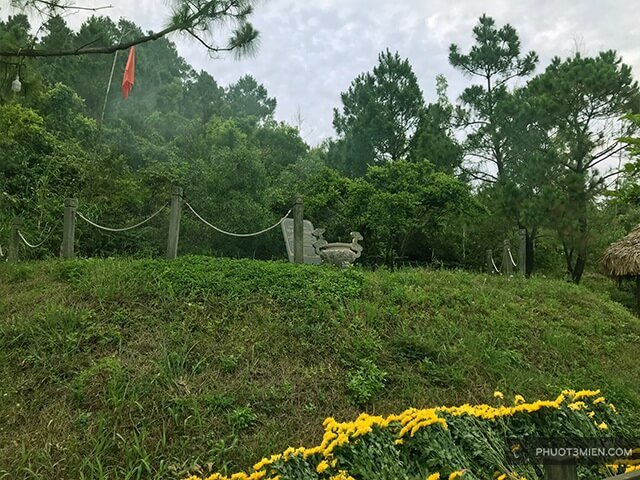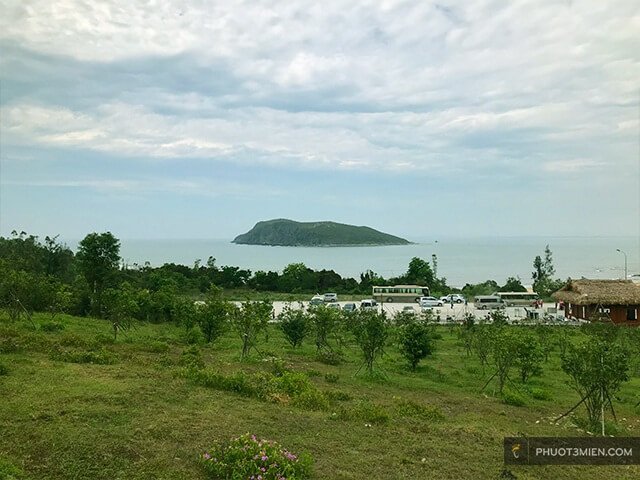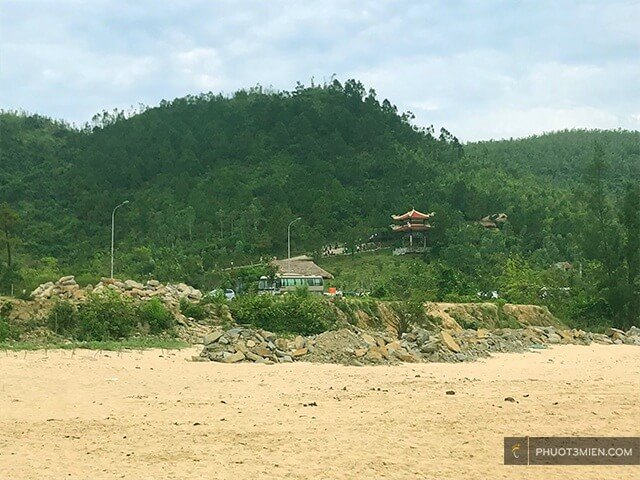 The amount of people visiting the grave of the general is quite large, most of them are a tourism. After incense , you can go to the beach to have some fresh air.
Around 10:30 am, I begin going back to Dong Hoi city to Bich Canh Duong Village.
Bích Hoạ Cảnh Dương Village
The village about 10km from the General's grave in the direction of Dong Hoi city, It's not far just few minute is arrive, Remember attention to the foot of Roon brigde, turn left and go straight ahead
You must pay 5.000 vnd for parking fee and start sightseeing . However, the number of paintings is small, only about 16 paintings in return, the paintings are drawn sharp and very beautiful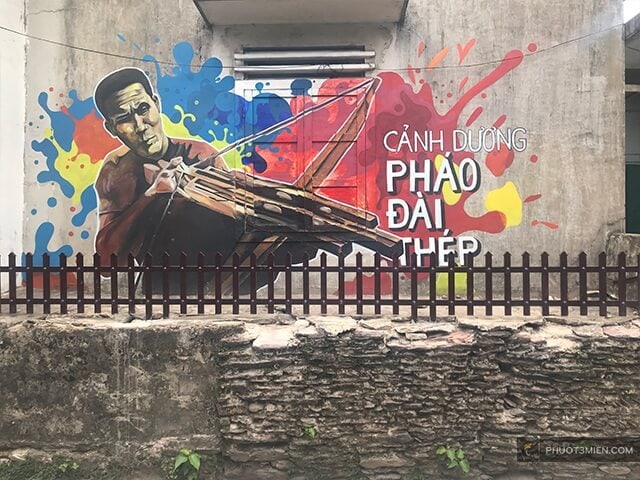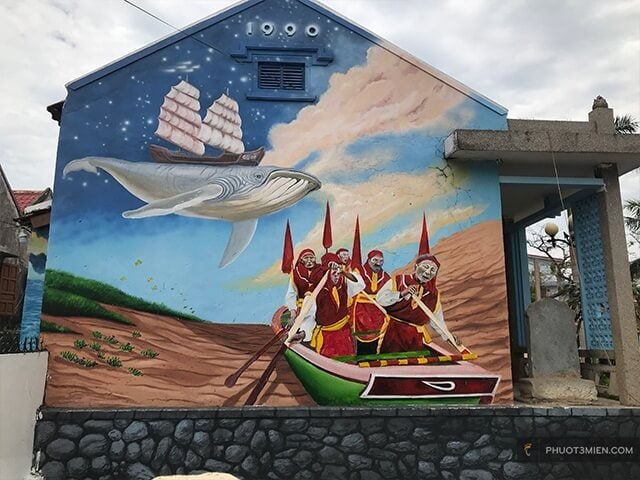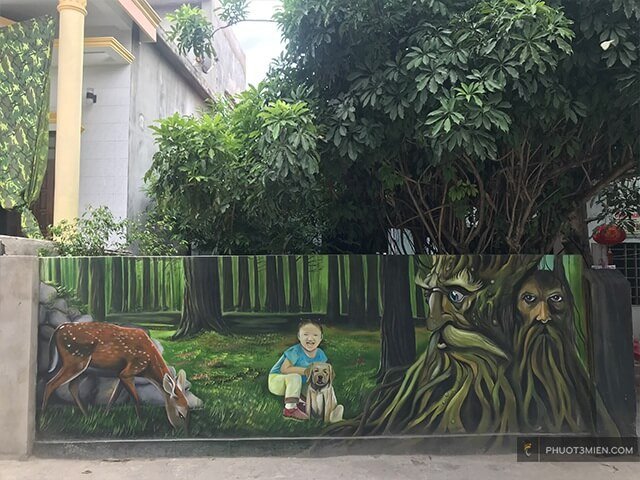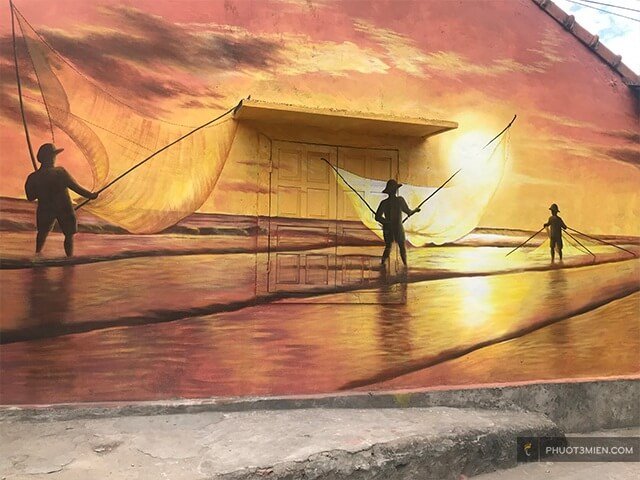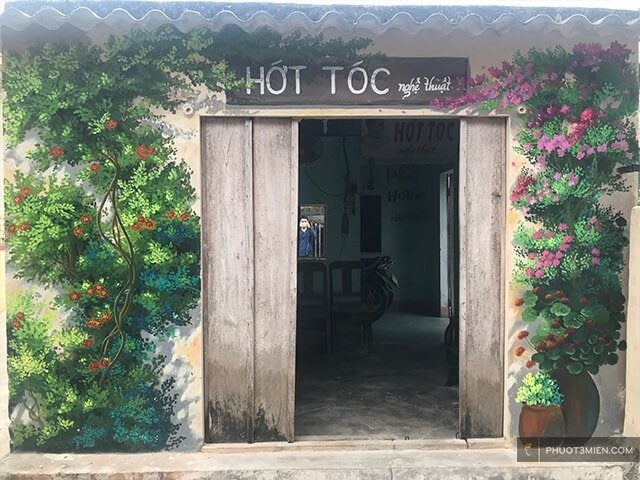 If you want to know more about " Bich Hoa Canh Duong" Village you can refer this link, i had reviewed retail.
I go to tour around the village about 30 minutes, i go on to Rock Jumping Beach eat lunch and prepare for next place.
What's have Rock Jumping Beach ?
From The village " Bich Hoa Canh Duong" to The Rock Jumping Beach about 30km. i arrive here about 12:30 PM. i attend will come "Nguyet" for lunch cause i had recommened,it's not ony delicious but also cheap, but i can't hahaha It's so crowded, so i go to the next restaurant family is " Hong Ha" for lunch.
i order a rice gruel and a cuttle, some bottle water, i must pay 300.000 vnd( about 15$).The price and taste is good,fesh sea food, they have serve hammock available for guest take a rest.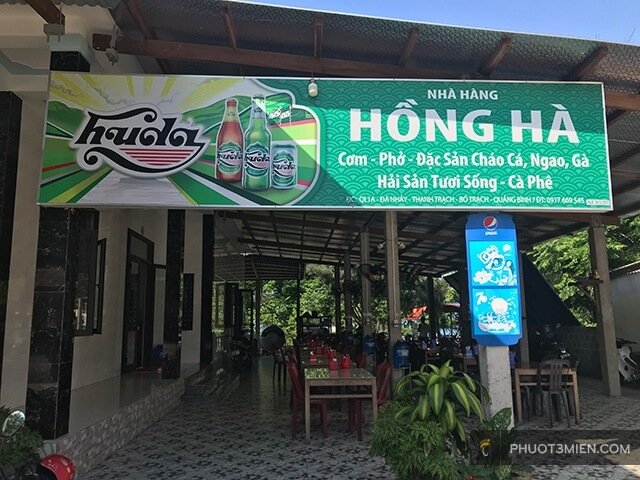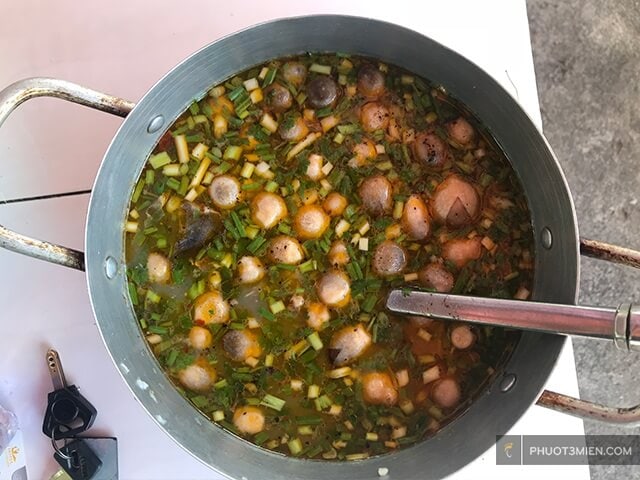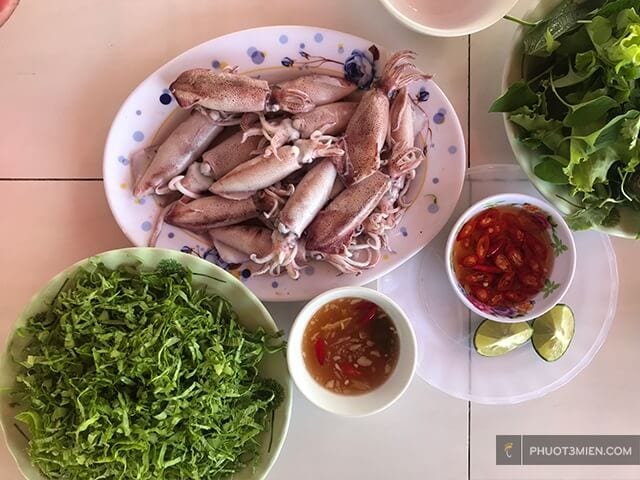 A pristine beach, not much service. When I first arrived there was a party who was starting an overnight service with a tent for you to stay
The beach is wide, clean, and a short walk to the rock. Where the netizens came here to take virtual pictures so beautiful.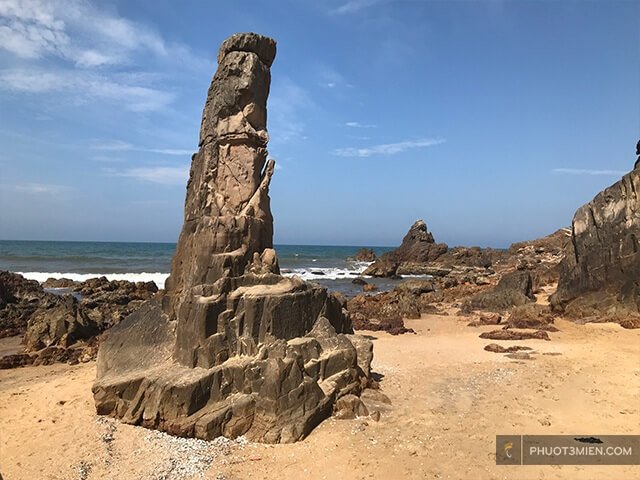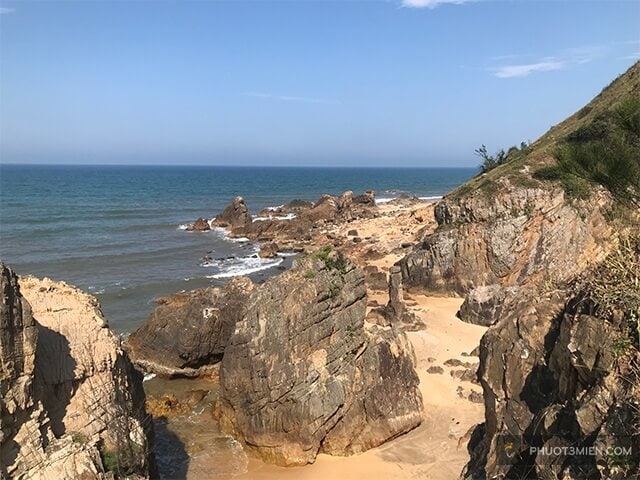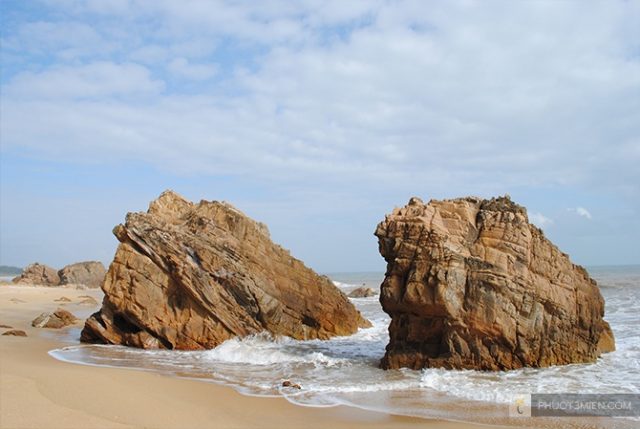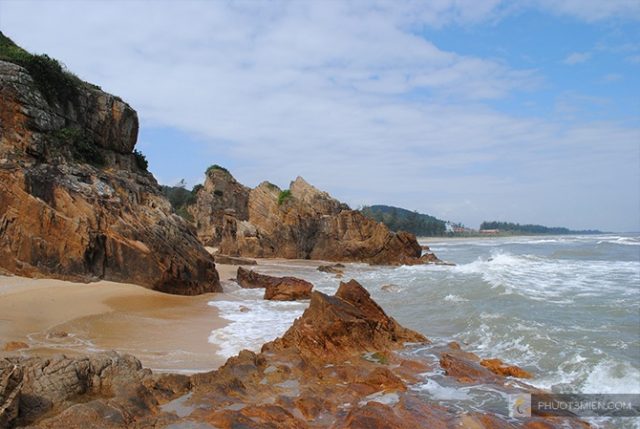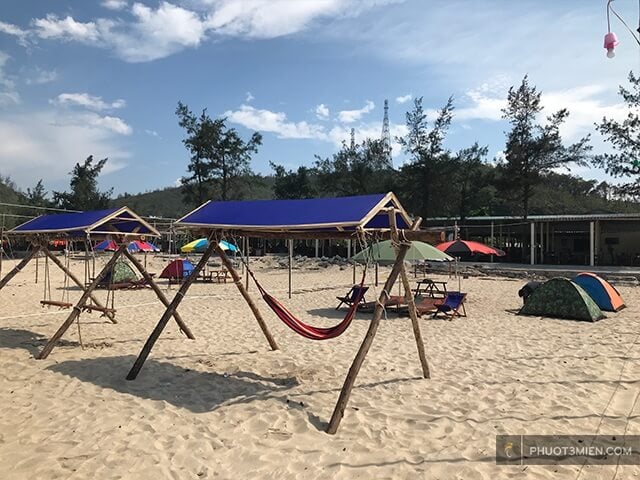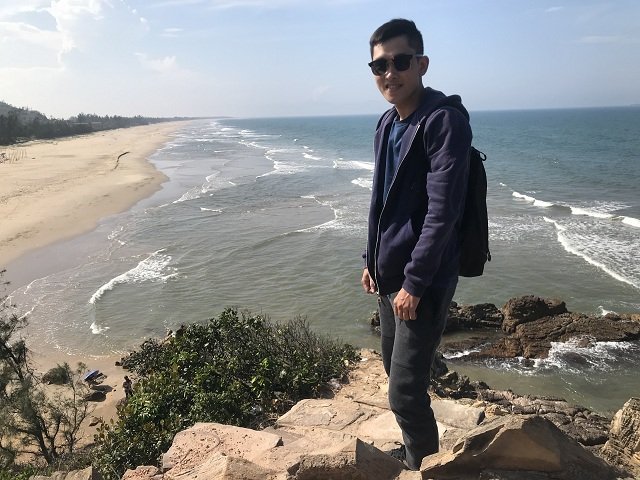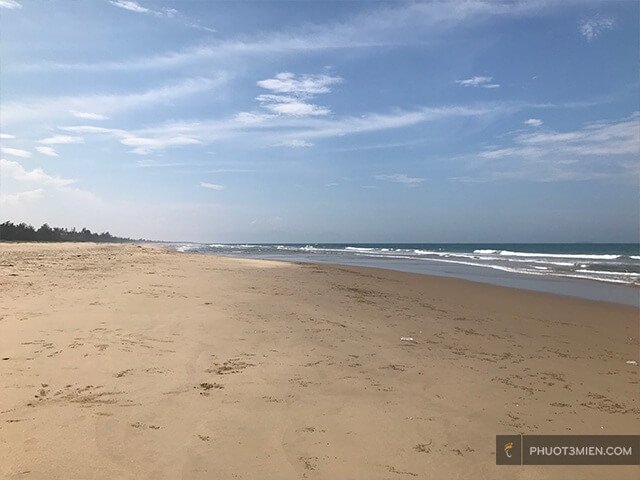 retail about Jumping Rock Beach for you reference: Bãi Đá Nhảy
You can climb to the peak by the steo of the stone, to enjoy the whole view of Jump Rock. Around 3 am, I will go back to Dong Hoi City to the next location of Quang Phu sand beach.
 Quang Phu Sand
Drive more than 20km to Dong Hoi City. At this time, the wether still quite sunny, but it did not flinch the spirit of checking the car, traveling in Quang Binh.
This is the place that you should visit when traveling to Quang Binh. Fine yellow sand with the  view perfect, i'm sure you will excited.You can see the airport, the blue sea, watch the plane take off and landing so good
There have a villa for rent, you can stay here if you want to stay long. When you come the sand. They have served skateboard for you try on the sand. For me, i don't rent to try because i saw the other people have a dificult when the sliding sand.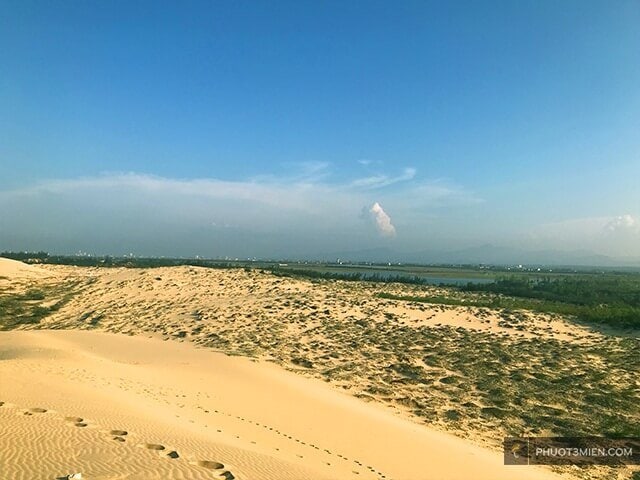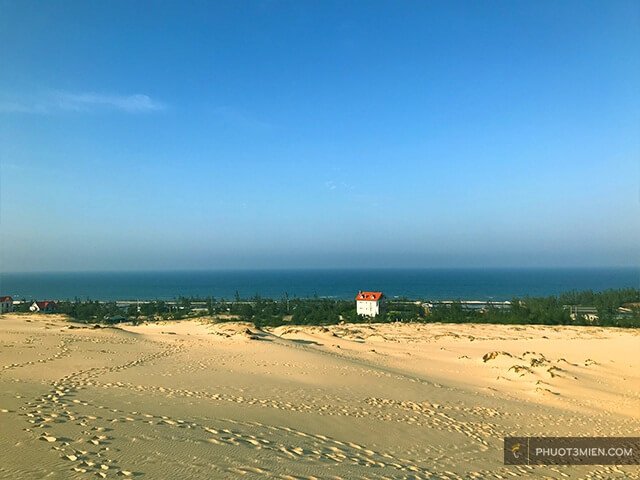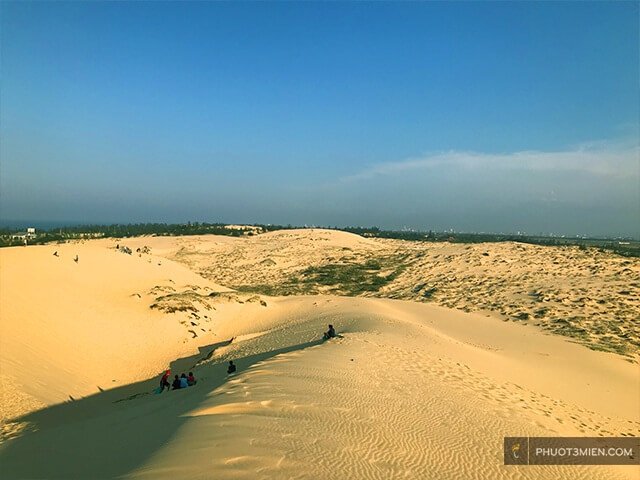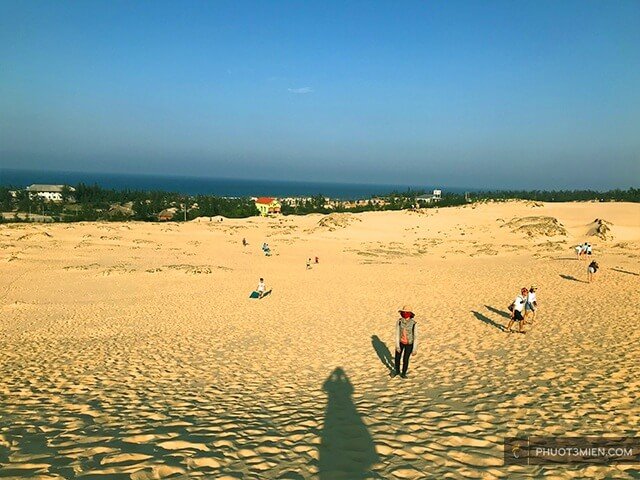 After visting the sand, my friend is a native of Quang Binh get me come to the most cool coffee in Dong Hoi city
BayHops Cafe
The distance from " Quang Phu" sand hill to the coffee shop about one hundred kilometer. This place i really want to introduce to you, it's so cool with the view towards the sea, bravo…
Remember to notice the board. Because it was a bit hard to see, the entrance was like a dead-end. hehe that will come in will be surprising
The owner decorate with style art, simple, specially the publican so cute
This view extremly cool with the wind, waves sound so fesh.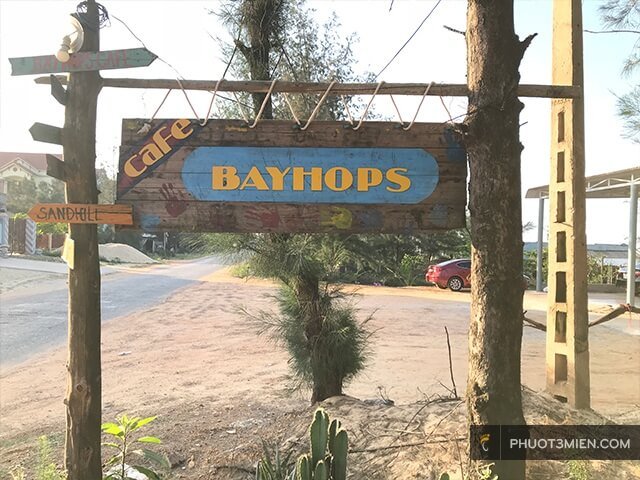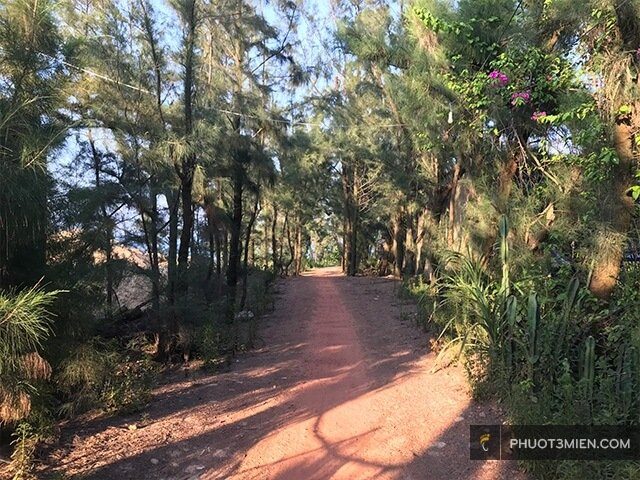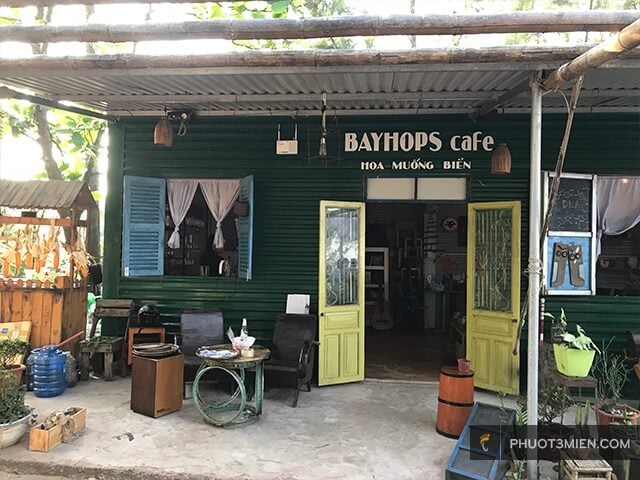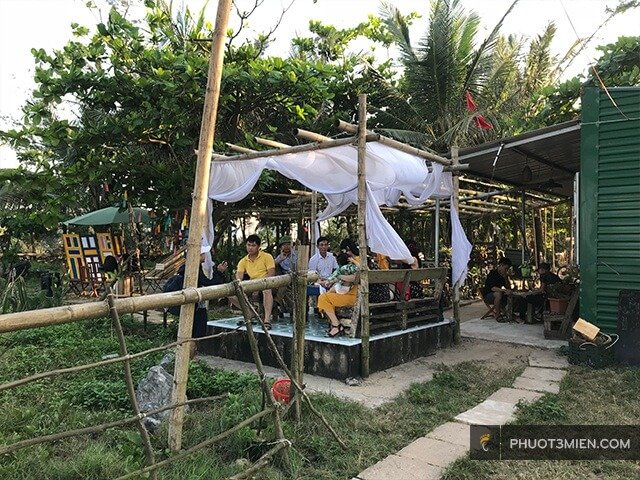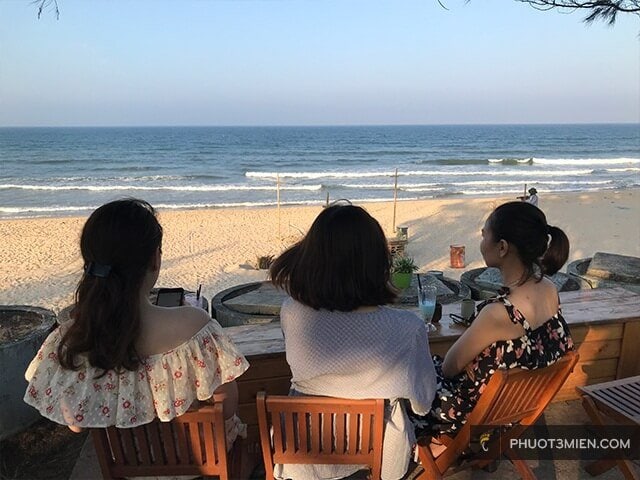 Around 6 am, go back to the homestay and take a shower. Having the homestay host cook for her to eat, too. With the first day moving relatively far, I will stay here to rest for this second trip with Quang Binh.Ngày thứ 2 ở Quảng Bình
schedule: " Thien Duong" Dynamic >  "Moọc" stream > "Chay" river – Black cave > Dong Hoi
Ticket price for sight seeing at Quảng Bình for you reference.
| | |
| --- | --- |
| Location | Price/ per |
| Phong Nha cave | 150.000 vnđ |
| Thien Đuong cave | 250.000 vnđ |
|  Moọc Stream | 80.000vnđ |
| all service at Mooc stream | 180.000vnđ |
| Zipline Chày river, black cave | 450.000vnđ |
Morning breakfast, i try Eal noodle, one of the most famous specialties of Quang Binh province, you can't to be missed, omg, it's so delicious.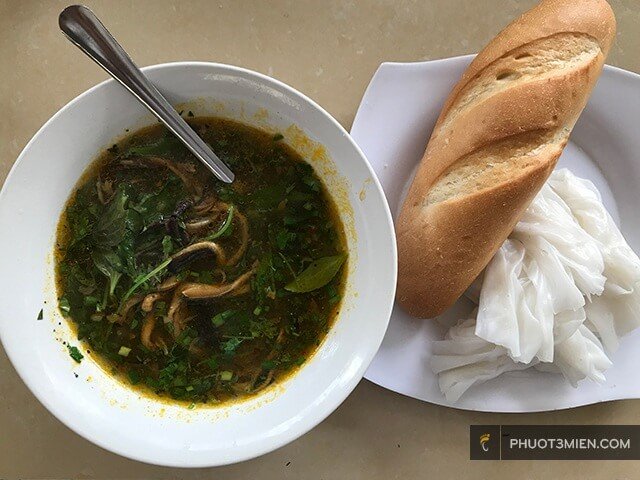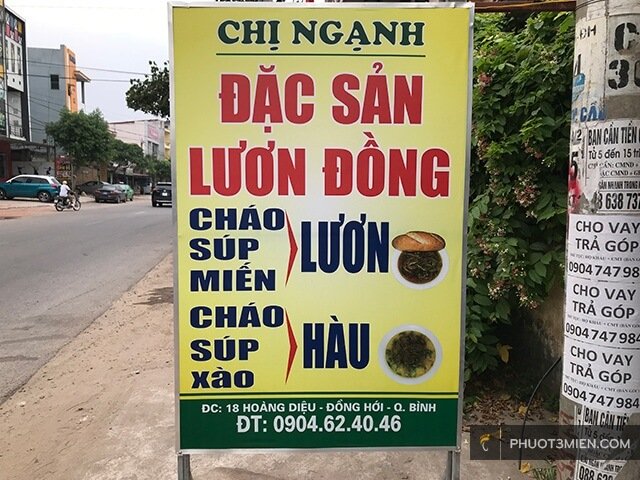 After eating, the frist destination i come is Thien Duong cave to explore . Traveling to Quang Binh without visiting Heaven Cave is too costly
The road to Heaven cave about 65km, you can feel the wind, the colors of flower was planted on both side of the road.
You must lost 1 hour 30 minutes to arrive here, if you tire cause the road so long, in return you can feel worth. The cave so wonderful, so amazing when i saw its
Check in The Paradise Cave
Paradise Cave in Quang Binh is the most of beautiful place of Viet Nam, we proud of them, you will immerse on neglected of the cave. The cave have build the strairs for guess convinient to sightseeing, dont need to climb or anything active risk.
The price ticket to visit Thien Duong Cave is 250.000vnd / person. You can take the tramcar or walk to reach the Heaven Cave
I chose to walk, about 1km away from the forest road . Because i want to discover the forest any arround here.
My experience is drawn from the trip to Quang Binh. If you don't have a time, you can only go to one of the two caves, so you should go to Thien Duong cave. This cave is much more beautiful than Phong Nha. It's nicer to go to Phong Nha, why i said that, I will make clear for you when i refer to Phong Nha cave.
when you come in Paradise Cave you never disapointed why you choose its. I have a small tip want to share hahaha, if you want to know more about the cave, let's remmeber to follow the tour to hear all of information heheh, cause the tour guide will explain to everyone know…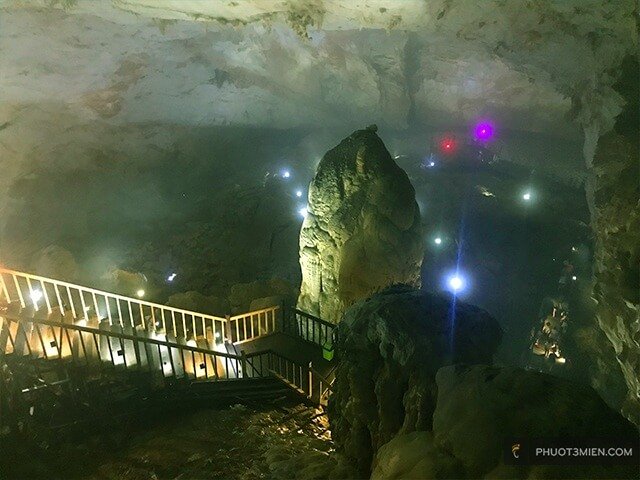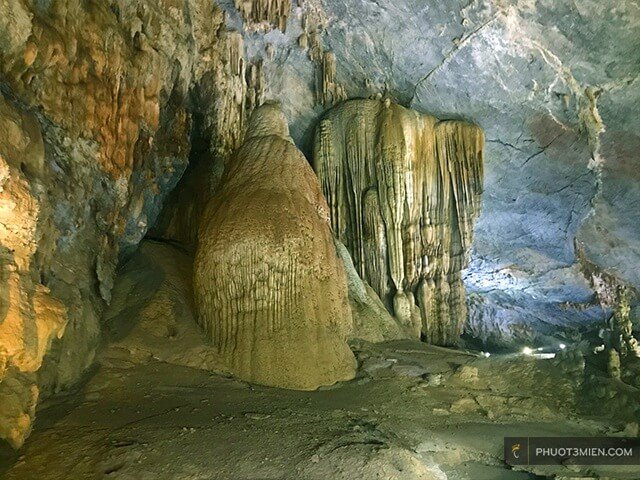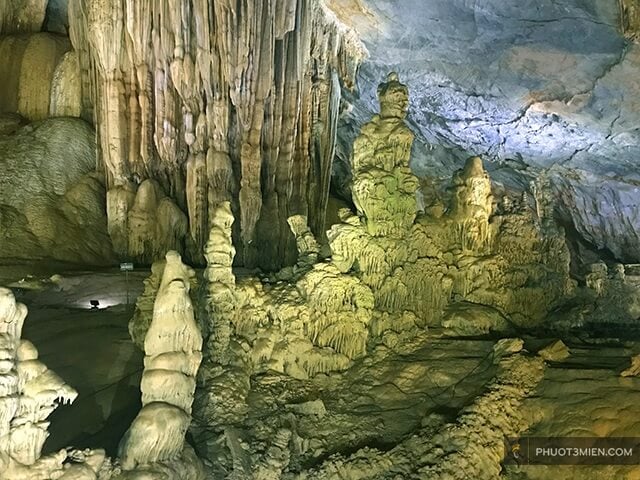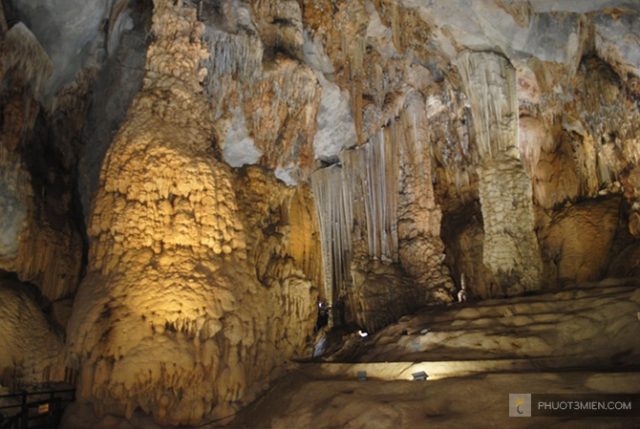 These stalactites are made from thousands of years to create a beautiful places here. Ashame of the name "Heaven Cave"  is the greatest three dynamic.
The end of the dynamic discovery is quite late, I go on come "Mooc" lake for lunch and sightseeing.
Come to "Mooc" Spring
About 3 km from Thien Duong cave. Then came the "Chay" river and Black cave.
There are hard to find the place sell food, so i go to restaurants here find some food.I order some barbecue, sticky rice bonus Pepsi cans. Total for meal about 460.000 VND ( about 20$)
The restaurant is at the beginning of the gate where tickets are always on.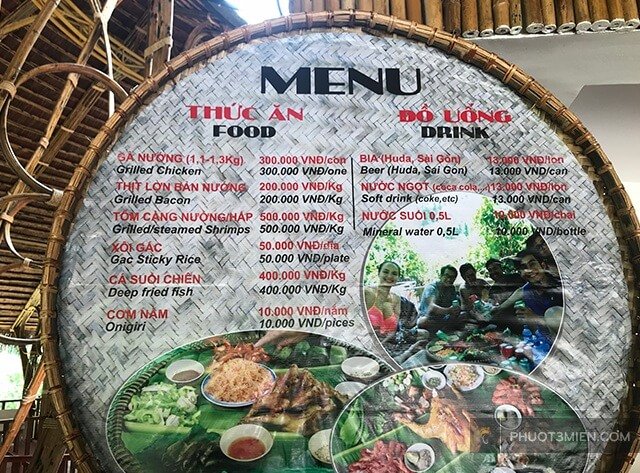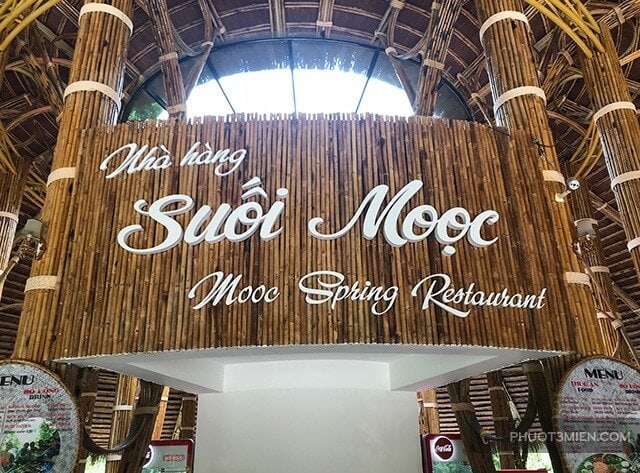 "Mooc" Spring with a cool water will make you feel refesh yourself
The weather  with temperature about 20 degrees Celsius, surrounded by majestic mountains. Having a kayaking service is also a unique experience.
Price ticket to sightseeing here is 80.000vnd (about 4$) . If you want to buy all service about 180.000 VND ( about 8$)  including stream bathing, kayaking, jumping, life jackets …
I only bought 80.000 vnd, visiting and stream bath is enough.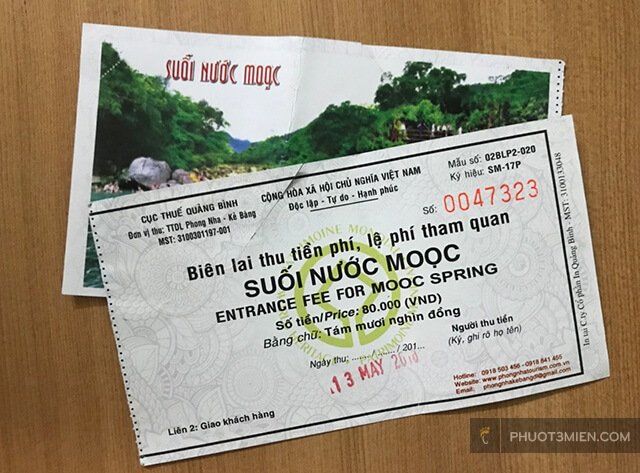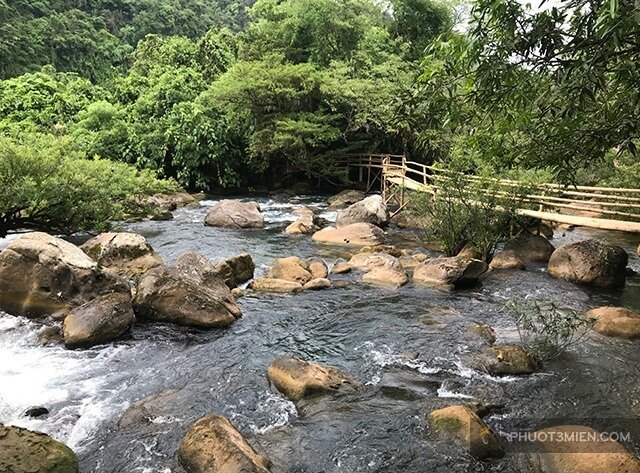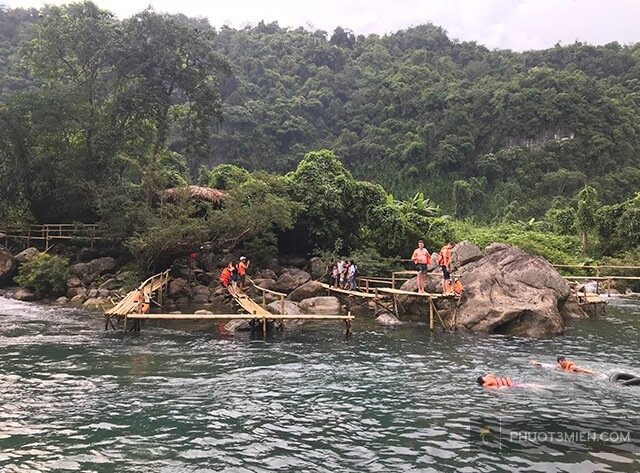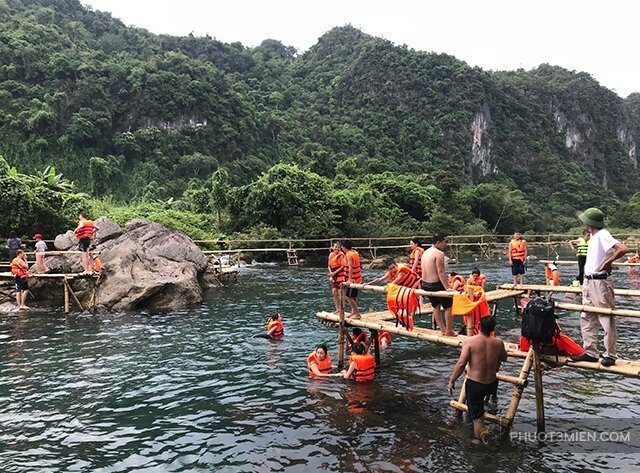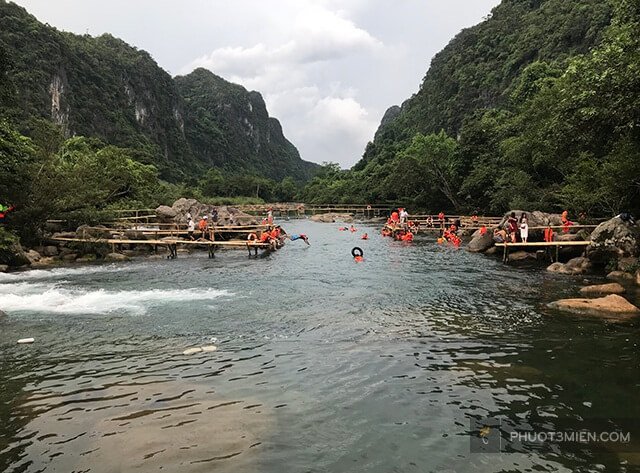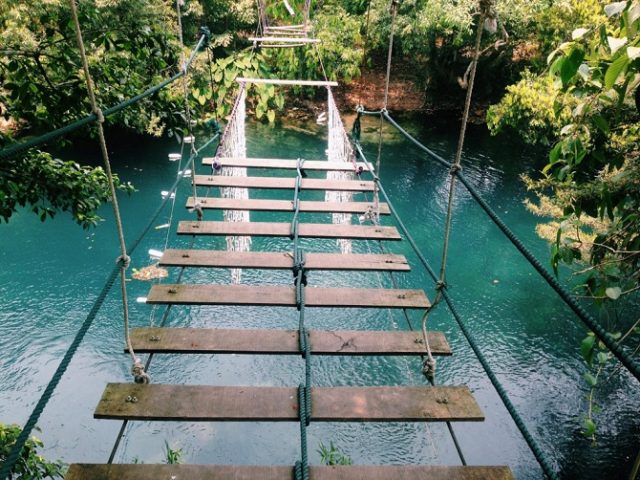 Do cũng khá ít thời gian cho chuyến du lịch Quảng Bình . Nên mình không ghé Sông Chày Hang Tối mà đi thẳng về Động Phong Nha để tham quan luôn
Nhưng mình sẽ để lại thông tin cho bạn tham khảo về Sông Chày Hang Tối luôn.
I don't have much time this trip and then i don't stop at "Chay" river, "Dark"cave, i go straight to Phong Nha" Cave
But I will leave information for you to refer to the Chay River and Dark Cave.
 "Chay" River – Dark Cave 
Tickets to visit and services here are 450.000VND / person ( about 20$). Chay River eco-tourism area so interesting, with zipline playing. Mud bathing in cave, paddling boat on the Chay river …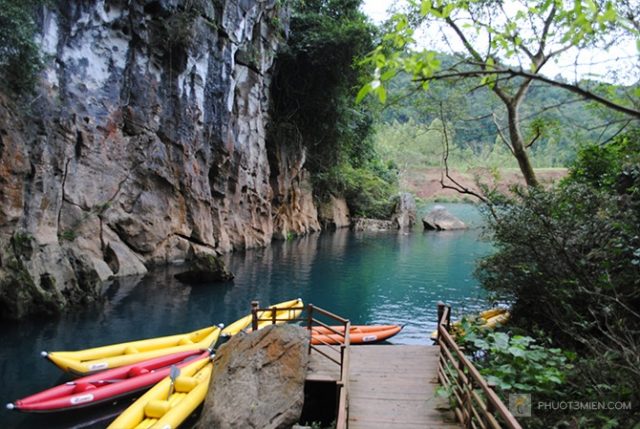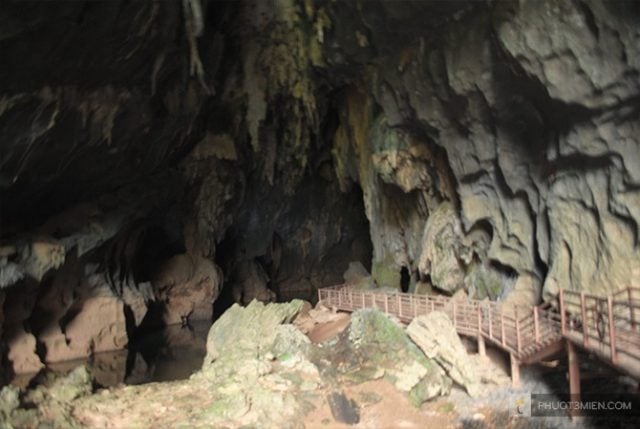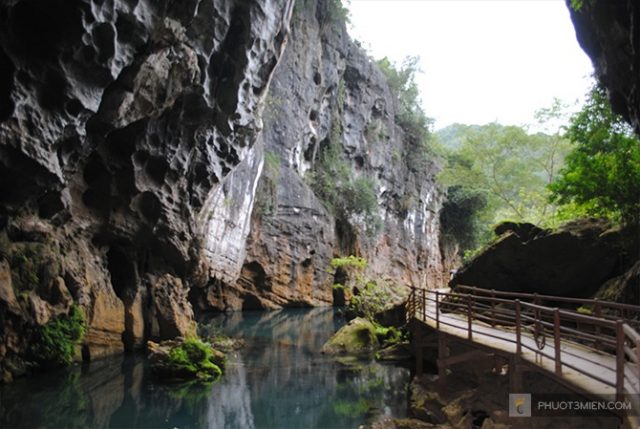 Dark Cave is located in the Chay River -Dark  cave E-co Tourism Area. Have a zipline activity (to the mouth of the cave), swim for about 30 meters then walk deep inside to mud bath, then paddle kayak , play short rope swing, etc
Video Dark cave
If you have entered the dark cave you can't miss experient mud bath, A very strange and unique experience. It's make you not only relax but also make you discover something new of natural.
Next schedule, i go to "Phong Nha" Cave- Ke Bang
Phong Nha Cave – Ke Bang
From "Chay" river to "Phong Nha", Ke bang cave about 21km.
3 pm i arrive here, i buy the ticket to entrance with price is 150.00VND/per (7$) for a boat òf 10 people. If a boat not enough 10 people you must wait or pay more money. Because my boat is not enough 10 peoples so i must pay 220.000VND /per (10$) to go.
The same sightseeing Ha Long Bay you must go by boat in order to go the cave. I board the boat on "Non" river into the Phong Nha cave. About 30 minutes arive the mouth of the cave and then you will paddle theo boat to visit Phong Nha cave.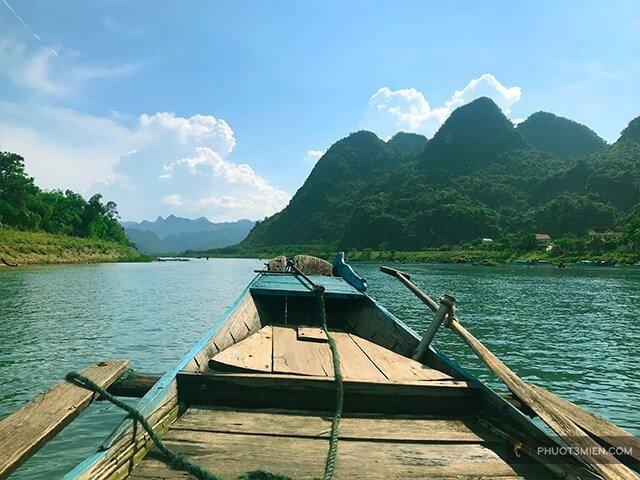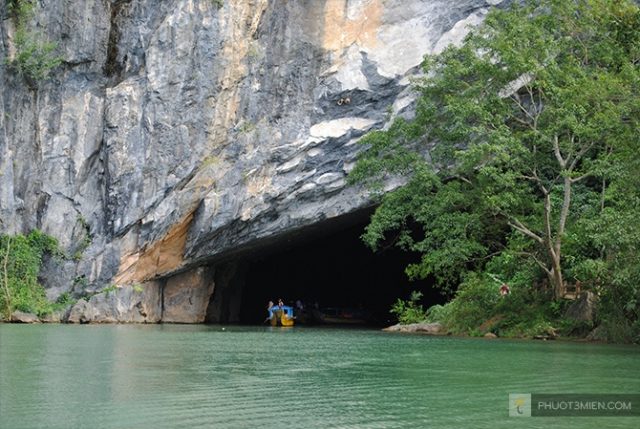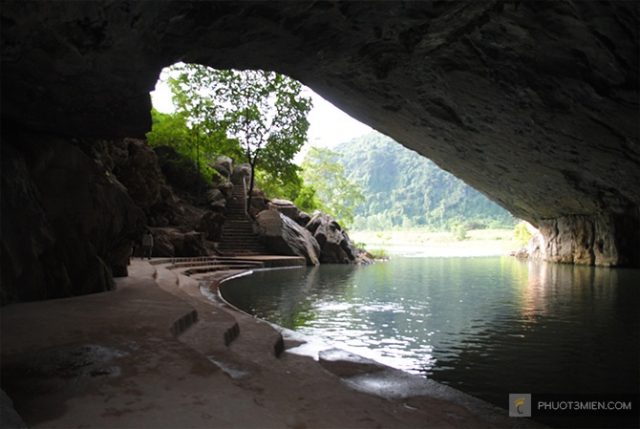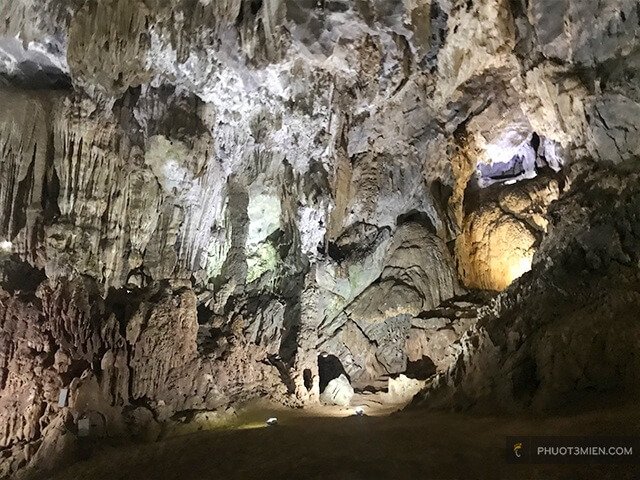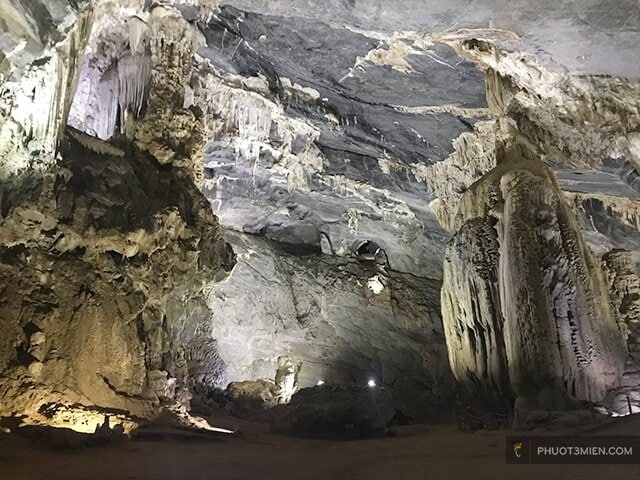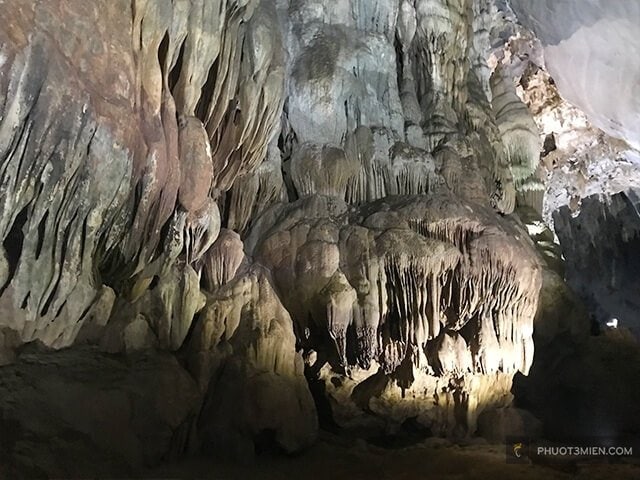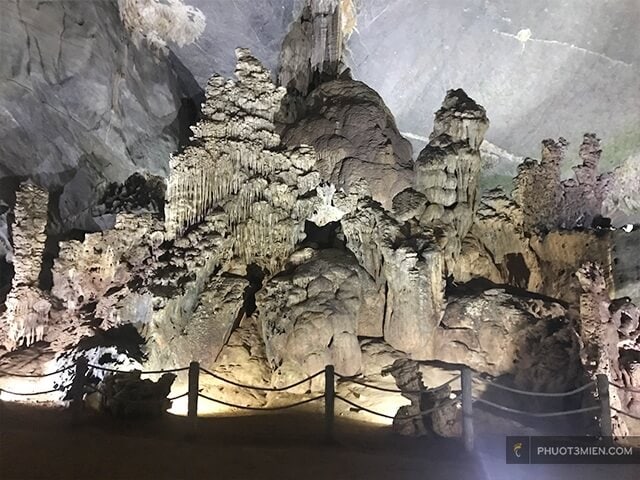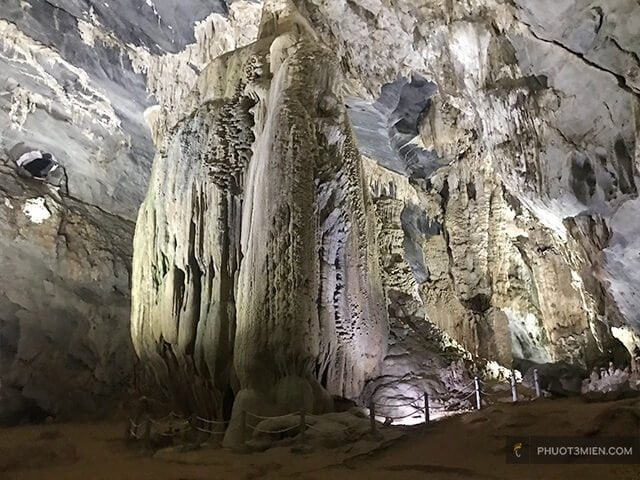 One of the most cultural heritage Cave of Viet Nam. The cave is quite dark so you hard to take a picture, but in return you will be spoiled in the beauty of nature.
When you finish, comback the marina and back to hotel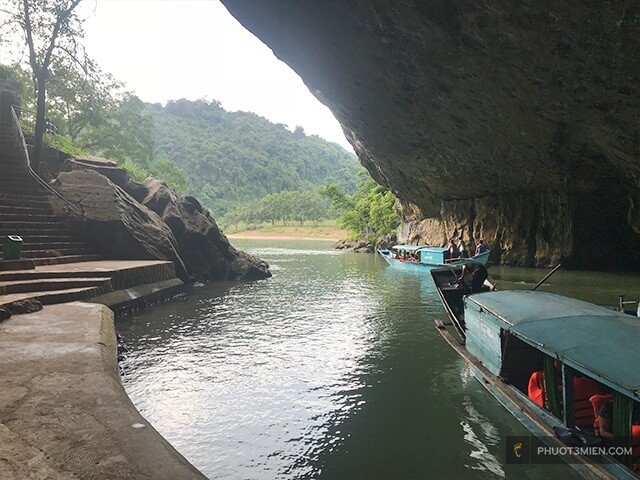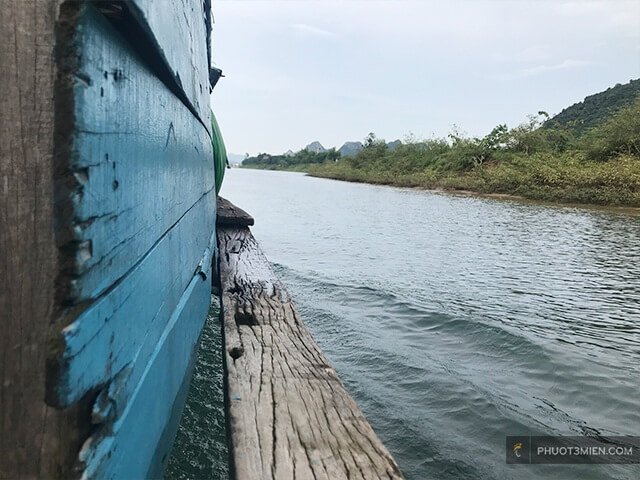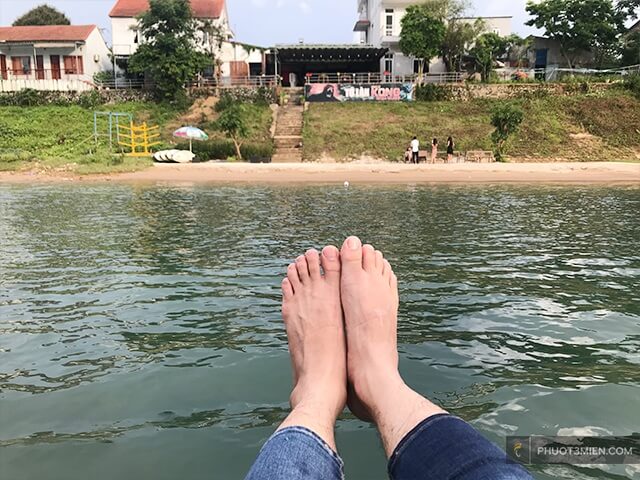 this link describe retail Phong Nha cave, if you want to know more: Review Động Phong Nha
If you have a time and want to stay here, can you reference some hotel on list Agoda under:
Im go back to Dong Hoi city to rest, at night i go for a walk Dong Hoi, find some food to eat…
"Dong Hoi" ancient wall
Incidentally, i saw it's when i have a dinner at lotte. Cross aroad take a picture introduce with everyone.This ancient wall  bears the hallmark of King Minh Mang. Cause the war, it not have original.
You can enter freely without any charge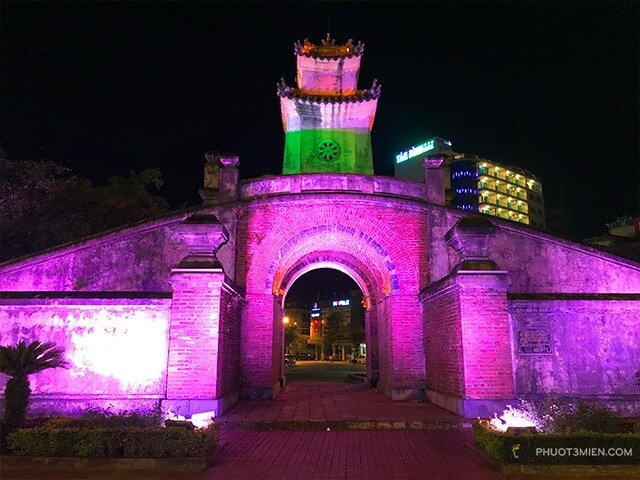 CoCo Coffee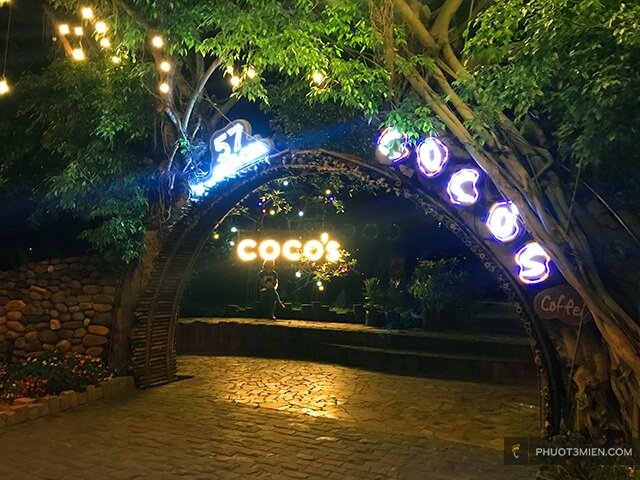 " Nhat Le" bridge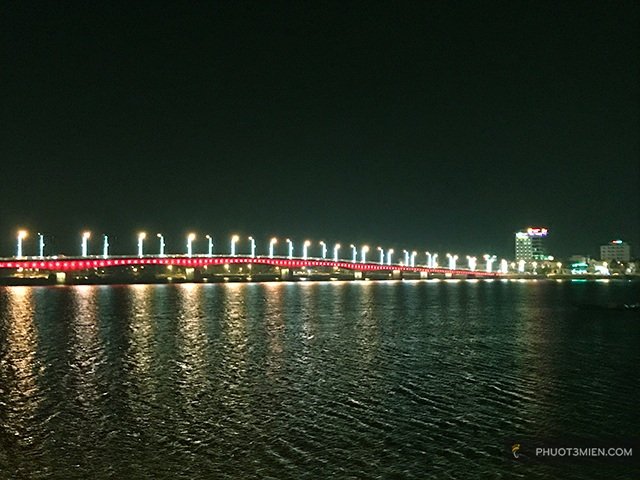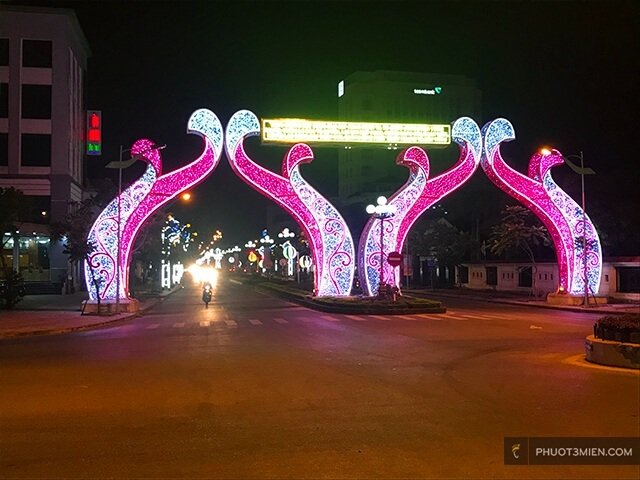 Last day in Quang Binh
Finish 2 days, i spent all time remain to discover Dong Hoi city, and convinient come to airport back to Sai Gon city.
Morning in Dong Hoi city with beef noodle at 99 store. There is the best noodle in Dong Hoi
Price 30.000vnd /bow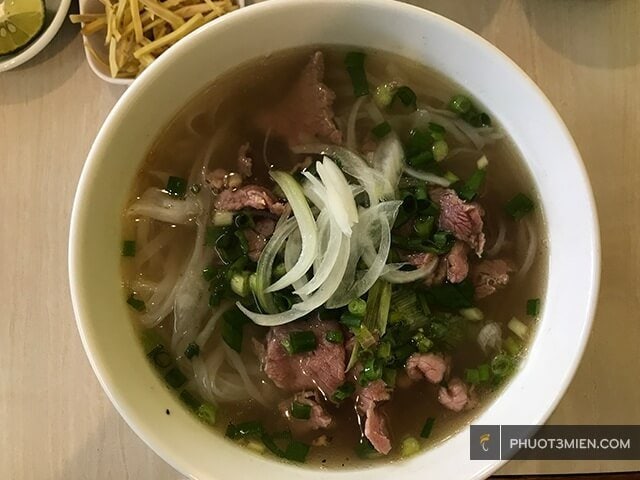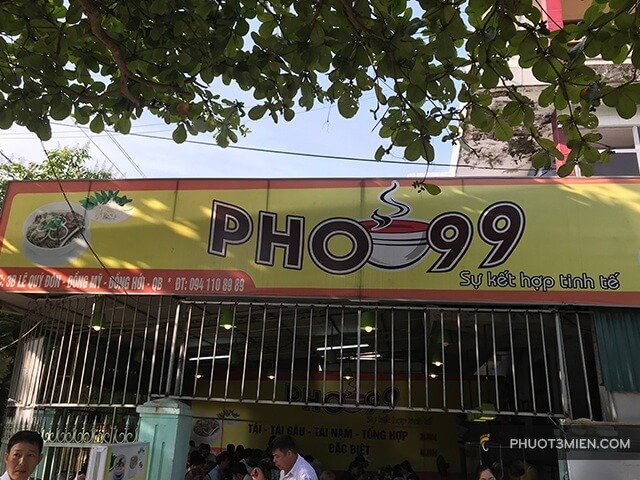 Nhat Le sea in DOng Hoi
From Dong Hoi city to Nhat Le sea nearest, you just need to cross brigde Nhat Le, you can see landcaps around so peace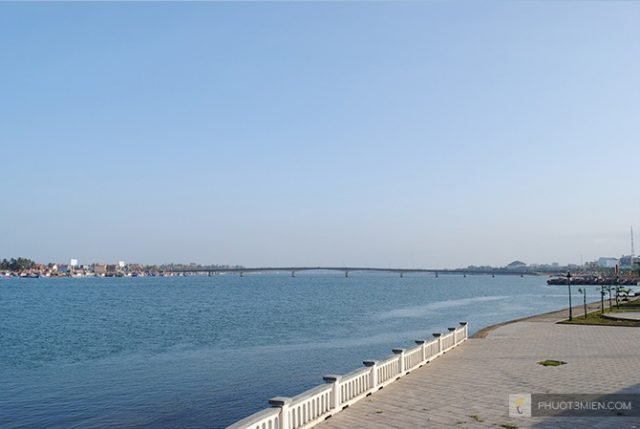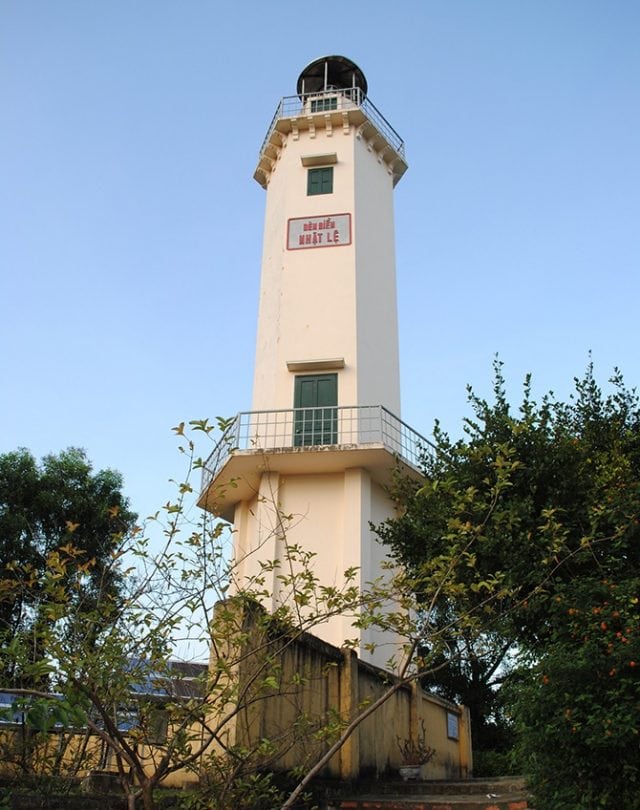 "Tam Toa" church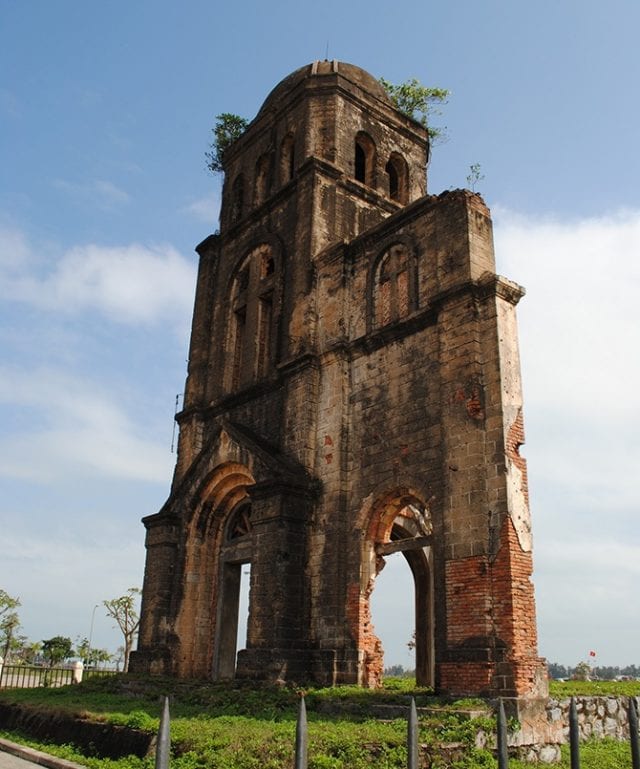 Finish the trip to Quang Binh . In general, emotions are hard to describe with beautiful scenes of Quang Binh. The people are friendly and honest. I will definitely come back to this place
Hopefully some information about Quang Binh travel experience will help you schedule Quang Binh Phuot with the most interesting experiences.
Like and share, everyone !!