Where can rent a motorbike reputation in Quang Binh??? The article I will summarize some of the places has a service for rent motorbike the best and have a good price here. The price for rent in Dong Hoi Quang Binh just from 120.000 đ ( about 5$/day) for you to go to one's heart's content.
Besides you can rent a motorbike, there are have a service advisory where should you go, where can you eat, really convenient and helpful for your trip. If you lazy search an information you have them guide visiting Quang Binh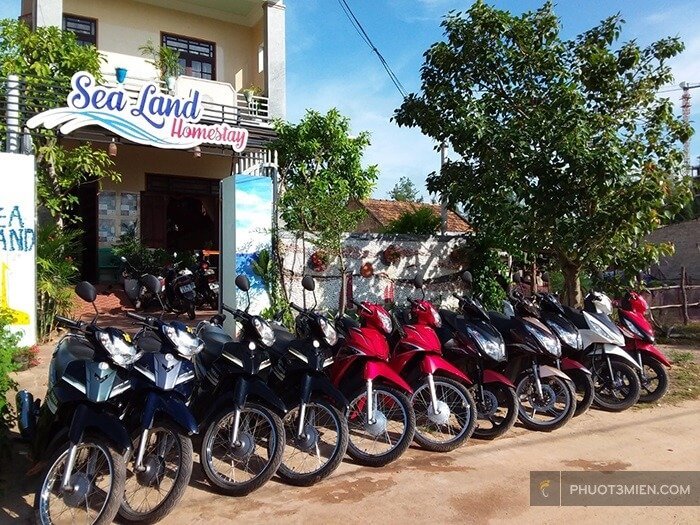 Where can you rent a Motorbike when travel to Quang Binh???
Travel to Quang Binh, you will discover beautiful places like Phong Nha – Ke Bang, Thien Duong Cave, Nhat Le Beach, spiritual relics like Tam Co Cave …
You should rent a motorbike to conveniently travel to explore the wonderful places of Quang Binh. This article will help you find a prestigious motorbike rental in Quang Binh to have a full trip.
Price for rent motorbike in Dong Hoi city:
| | |
| --- | --- |
| Loại xe | Giá thuê (vnđ/ngày) |
| Yamaha Serius | 120.000đ – 150.000đ/day |
| Honda Wave | 120.000đ – 150.000đ/day |
| Honda Lead | 150.000đ – 200.000đ/day |
| Air Blade 2018 | 150.000đ – 200.000đ/day |
| Xe Cào Cào (Honda Xr150) | 450.000đ/day |
| Honda Winner | 150.000đ/day |
1. Mrs. Thu- provide service for rent motorbike 

Mrs. Thu has provide motorbike for your trip to become happily hahaha. She will give a motorbike for you at Dong Hoi airport ( really lovely girl), she has available transit car-free.
Besides, Mrs. Thu have homestay ( she not only kind but also enthusiastic) 
Price for rent: From 120K/day ( about 5$), but mostly new cars
Address: Alley 105 Nguyen Thi Dinh, Bao Ninh, Dong Hoi, Quang Binh
Phone: 0915 960 481 (Click the number to call)
UPDATE 6/2018. Have a locusts bike  (honda xr150) for rent.
Commitment: a quality new car, love the job 200%. Delivery car, serving the new situation.
Phone: 0898 .73. 0000 (A. Lam) Click on the phone number to make a call. Best car rental in Dong Hoi city at the present time
Address: 60 Nguyen Du, Dong My, Dong Hoi.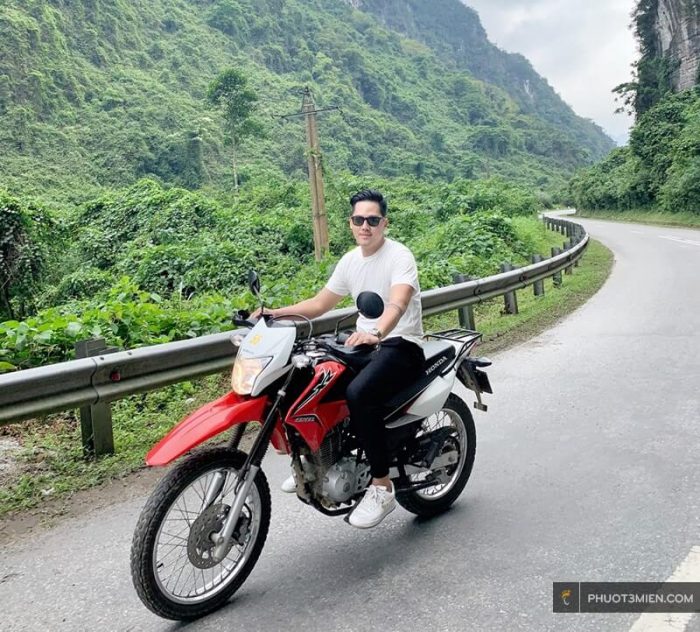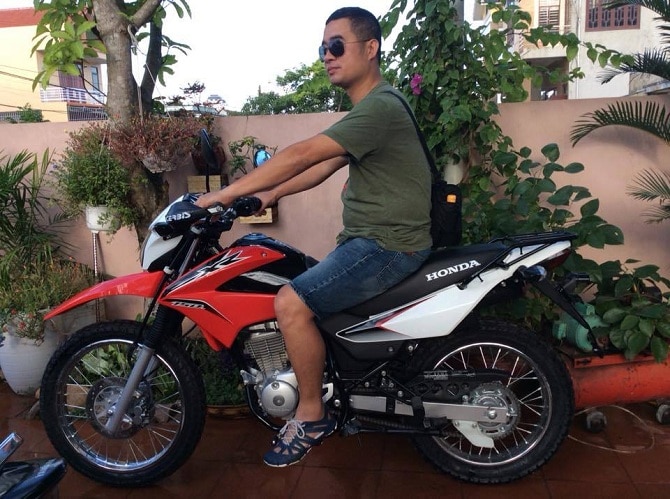 Remember to visit Sealand Homestay: Feel about Sealand Homestay, a great place of stay
2. Mr. Tung specializes in motorbike rental in Quang Binh
Contact : 0978 211 325
Address: 44 royal wonder (close to the train station) is quite cute and enthusiastic.
There are many new cars here. I also like this car rental here.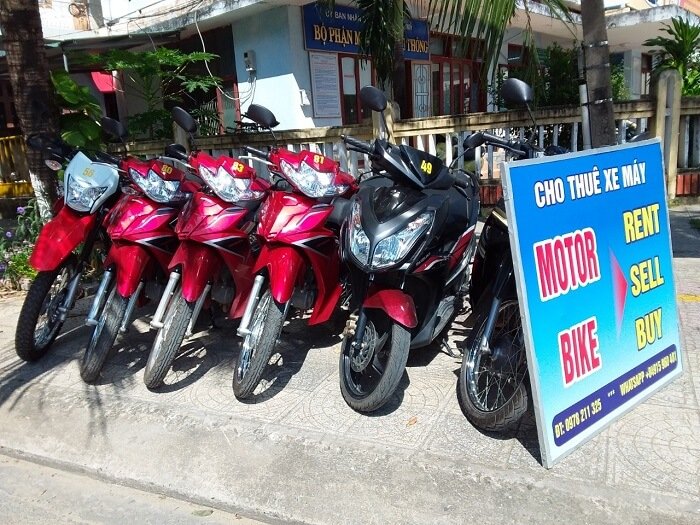 Rent a motorbike on Truong Phap Street – Dong Hoi City
Phone: 0978 211 325
Address: 07 Truong Phap – Dong Hoi (Anh Tung)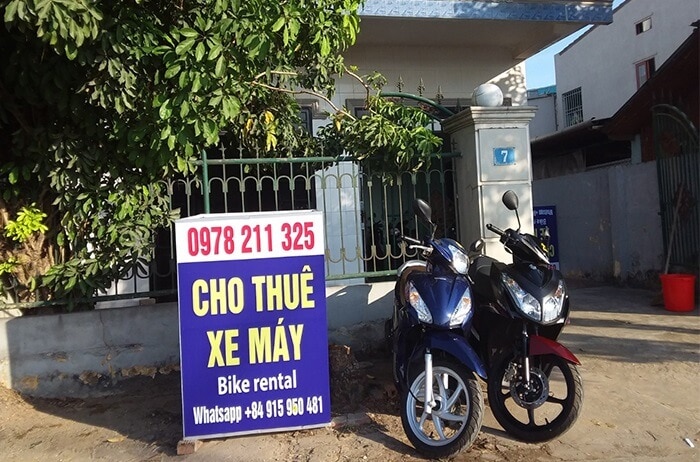 3.Motorbike Rental Service in Phong Nha – Quang Binh
Motorbike rental locations in Phong Nha abound. Most of the shops are right on the way to Phong Nha Marina, or friends. So you do not need to worry about renting a motorbike.
If you want to book a car in advance, you can contact:
Eagle Tourist (Eagle Tourist): 0905.066.818,
The price is only 80,000-100,000 VND / day, full type of cars for you to rent. However, check the car very carefully, avoid money loss disability, ruining your travel.
The procedure for renting a motorbike in Phong Nha is also extremely simple: Need an ID card or a driving license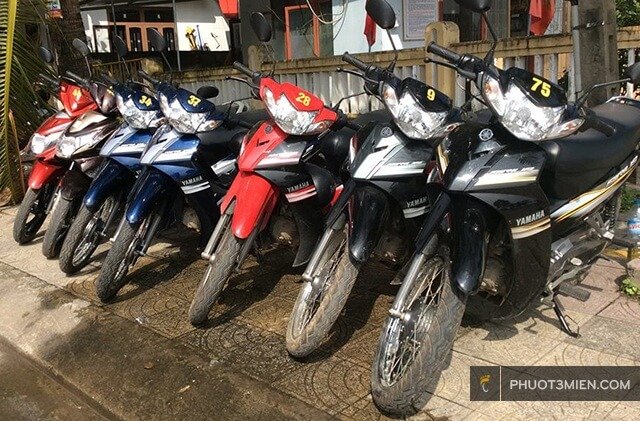 4.Rent a motorbike at Dong Hoi Airport
KHANH TOAN car rental service: Motorbike rental services at the airport (motorbike rental services)
Contact: 0947764000 – Motorbike rental:
LEAD HONDA – 180k – 200k / DAY – Yamaha Nouvo – 180k – 200k / DAY
Honda Airblade – 200k 250k / Day
WAVE RSX 150,000 VND / DAY
PRICE 150,000 VND / DAY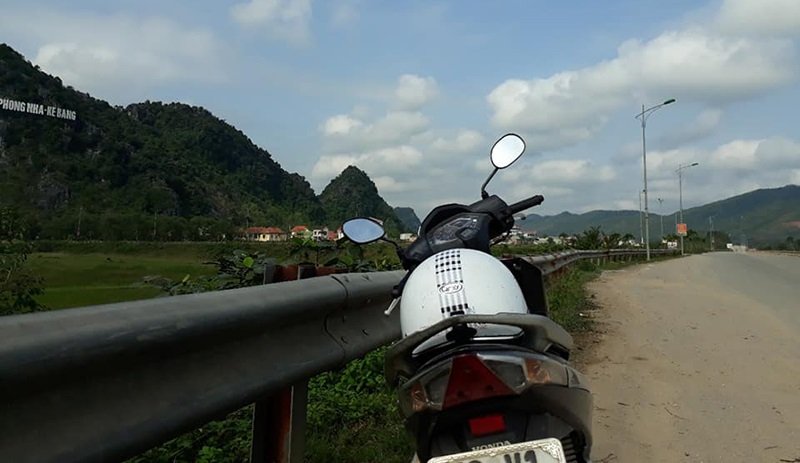 5. Rental motorbikes, cars Quang Binh
Quang Binh motorbike for rent is cheap 120,000 VND 1 car, ensure a good car, no damage in the middle of the road. Home delivery.
Attentive enthusiastic service (24/24) – The car is always new, clean, and beautiful – Ensuring the cheapest price Dong Hoi.
Free helmets, detailed maps, directions and notes of beautiful places on the map.
In addition, Quang Binh motorbike rental also has car rental service (04-16 seats) self-driving or having a driver.
To rent a Quang Binh motorbike, you can contact us right away
Phone number: 0931 390 038 (Thuy)
Address: 51 Nguyen Huu Canh, Dong Hoi, Quang Binh
Within 10 minutes, the car will be delivered to your current location.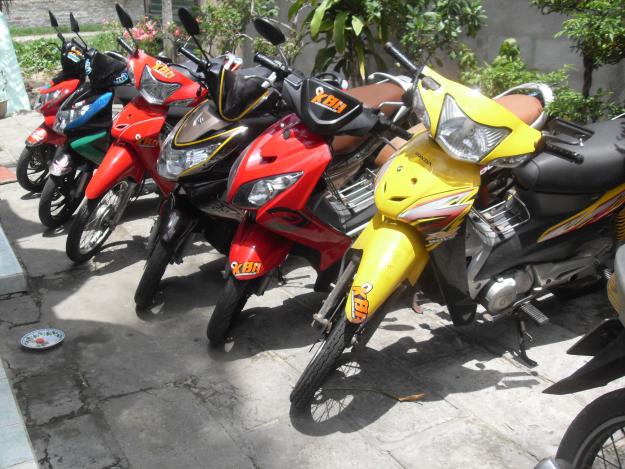 6. Rent a motorbike on Truong Phap Street
The number of cars is more than 50, the rent is from 150k / day. Many models such as: Jupiter, Jupiter gravita, Sirius, Wave S, Wave RSX, Wave RS, Taurus
There is free delivery of cars with a radius of 5km, and locations in the city such as airports, railway stations, bus stations …
Address: 189A Truong Phap – Đong Hoi – Quang Binh
Contact: 0911 079 136 ( SONG) – 094 777 4918 ( LỘC)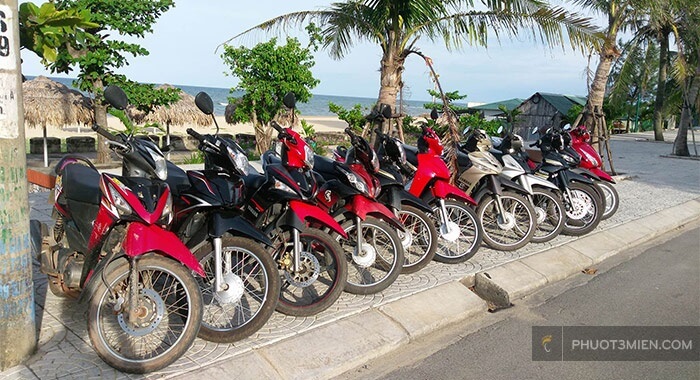 7. Specializing in motorbike rental in Dong Hoi
Quang Binh 150k/day.
They give a motorbike to your location. Address 377 Ly Thuong Kiet, Dong Hoi, Quang Binh
Contact: 089 861 3889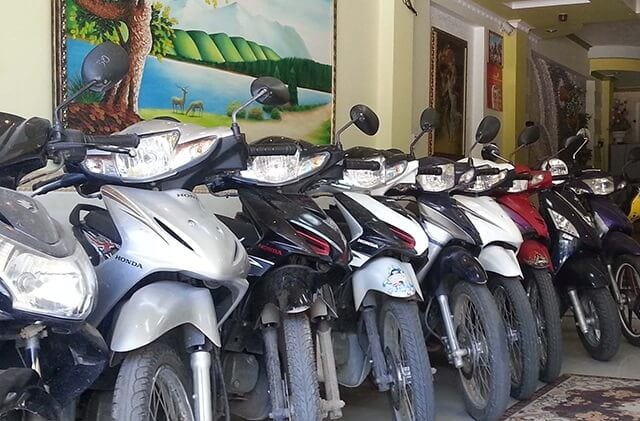 8. Other motorbike rental locations in Quang Binh
The cost of renting a motorbike to visit in Quang Binh is about 150,000 VND / day, quality cars (not Chinese cars), you are free of charge for consulting houses, hotels, dining places … Bicycle rental around the city.
Experience when renting a motorbike in Quang Binh or anywhere. Should check the car carefully before renting, if the car breaks down along the road, which party is responsible. Should not repair the car without consulting the rental service.
Contact the following rental services:
Mr.Nam
Including vehicles from 2015 and above. Depending on the needs and preferences for you to choose
Their delivery vehicles take place, with hats, raincoats … The rental price from 150K / day
Address: 15 Vo Thi Sau – Dong Hoi.
Phone: 0905485558 – 0968.608.608
Mr Tâm
Nam Lý , Đồng Hới , Quảng Bình. Contact: 0129.457.6067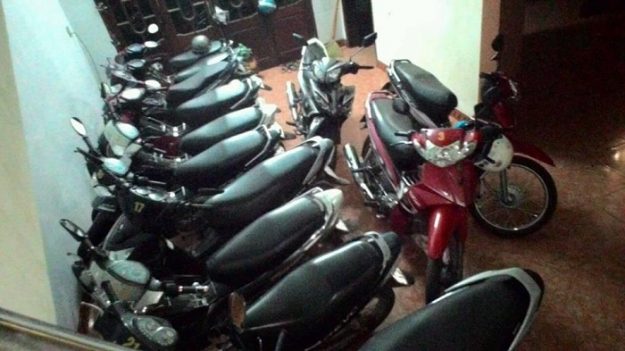 Eagle tourism service (Eagle Tourist)
39 Truong Phap – Dong Hoi City – Telephone: 052,626.86.86 – Hotline: 0905,066,818 (Mr. Hien)
Linh Hung Tourism Service
509 Ly Thuong Kiet, Dong Hoi City.
Contact: Ms Hien 0911 373 848/0979 476 413, Mr Hoang: 0917 883 345
Note
If you want to go to Phong Nha Ke Bang National Park, one more advice is that you should not go by motorbike because of the distance, danger and more importantly, not going to visit much because most of the time you have focus on running a motorbike and finding a way.
You should rent a car with a drive of 4 or 7 seats will save time and can visit 2 caves (Phong Nha cave, Thien Duong cave) always in 1 day.
The price of a 4-seater car rental is about 900k and a 7-seater is about 1,200k, you can contact 0978 211 325 to book a car and driver to schedule a car to pick you up at the hotel or at the meeting place anywhere in Dong Hoi.
Some hotel can you refer in Quang Binh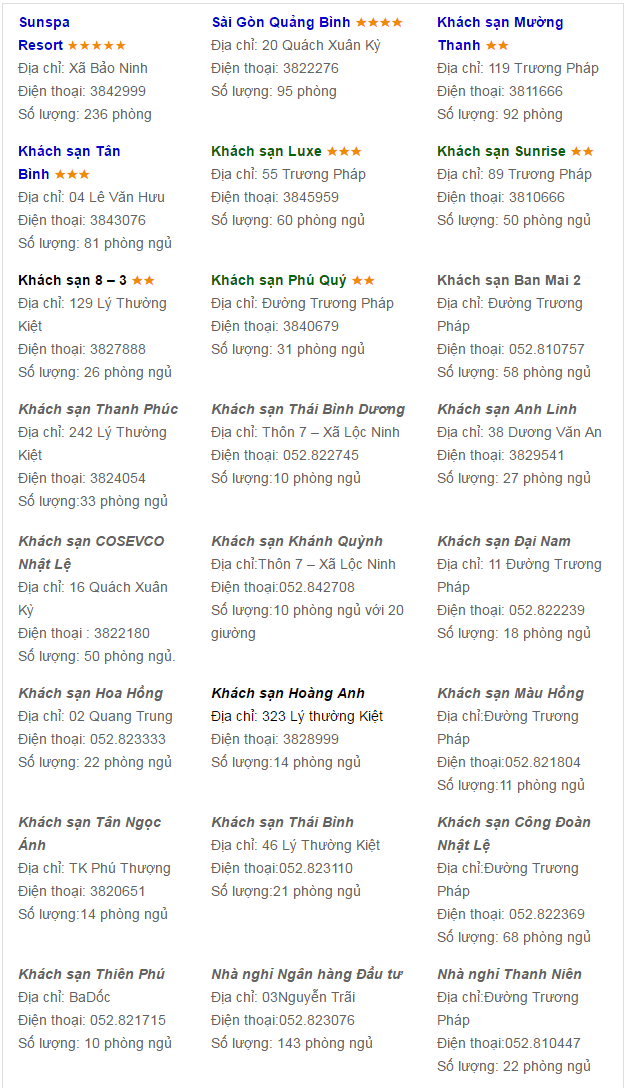 Tìm phòng khách sạn ở Đồng Hới trên Agoda.com , với các chương trình ưu đãi giảm giá lên tới 50%
Link: https://agoda.com
Hopefully some shared information about the location of renting a motorbike in Quang Binh will help you choose a suitable car rental place. Wish you have a fun trip!